Real Madrid at Baskonia
Date: 12/19
Time: 9:00 PM CET
Game Preview
A pair of Spanish teams will square off for the second time in three days when Baskonia hosts Real Madrid on Thursday. Madrid is one of the hottest teams in the league, winning eight straight games in a row, and they could cause problems for a Baskonia team that allowed at least 100 points in each of its last four losses. Baskonia big man Tornike Shengelia has been on a tear this season, but he's only one player, and Baskonia will need to be on top of its game if it hopes to knock off a deep and talented Madrid team.
Injuries
Kirolbet Baskonia
Patricio Garino - OUT - Knee
11/24 12:28 AM IST - Garino has been diagnosed with a torn ACL in his right knee. Garino left Friday's game and was sent to the hospital. It's been determined that he tore his ACL and that surgery is needed.
Jayson Granger - OUT - Achilles
10/1 3:36 AM IST - Granger will miss six months with a torn Achilles tendon, according to euroleague.net. Granger was injured in Baskonia's Spanish League opener, and will face a lengthy recover period after undergoing surgery. Assuming his recovery goes as planned, he should be able to rejoin Baskonia at some point during the second half of their season.
Real Madrid
Sergio Llull - OUT - Thigh
12/11 4:06 AM IST - Llull suffered a setback in his recovery from a thigh injury and will miss a couple more weeks, according to Carlos Sanchez Blas of Pobla FM. Llull was on track to return to action Thursday against Olympiacos, but it turns out he will need several more weeks to recover. Llull's updated recovery timetable means he will likely miss at least three more EuroLeague games, as two EuroLeague Rounds will be played next week instead of the usual one.
Jordan Mickey - GTD - Ankle
12/18 3:52 AM IST - Mickey sprained his ankle in Tuesday's victory over Milan, according to Planetacb. Mickey had one of his best games of the season in Round 14, scoring 15 points and grabbing six rebounds, but he also picked up the injury late in the contest. The extent of the setback is not yet known, but Mickey will not have much time to recover before the next game with Real Madrid playing again in just two days.
Felipe Reyes - OUT - Thigh
12/9 10:55 PM IST - Reyes will miss several weeks after suffering a right thigh injury in Sunday's domestic league game, according to marca.com. Reyes returned to action Sunday after missing nearly two months with a shoulder injury, but he is now facing another absence after suffering a different injury. A timeline for Reyes' return has not been revealed, but he may not play again until 2020.
Real Madrid Probable Starters
G - Facundo Campazzo
G - Fabien Causeur
F - Gabriel Deck
F - Anthony Randolph
C - Walter Tavares
Kirolbet Baskonia Probable Starters
G - Pierria Henry
G - Luca Vildoza
F - Nik Stauskas
F - Tornike Shengelia
C - Micheal Eric
Top picks:
(Captain) Tornike Shengelia, KB - Shengelia has got the job done on a week-by-week basis this season, scoring in double figures in all 14 EuroLeague games Baskonia has played. He has already set a career high with 24 three-pointers made this season and he also sits fifth in the league with an average of 6.3 rebounds per game.
Facundo Campazzo, RM - Campazzo has not been doing as much scoring lately, but that's because he has been too busy setting up his teammates for baskets, recording a whopping 35 assists over the last three Rounds. It could be another big day in the assist department for Campazzo if Baskonia's defensive struggles continue.
Anthony Randolph, RM - Randolph scored in double figures in six of the last seven Rounds and is leading the team with an average of 12.7 ppg. He should have no trouble reaching double digits if Madrid lights up the scoreboard.
Shavon Shields, KB - Shields has not been as productive as he was last season, but he has shown some flashes of late, putting up 16 points in Round 12 and a season-high 22 points in Round 14.
Captaincy Options
Dream11 Team: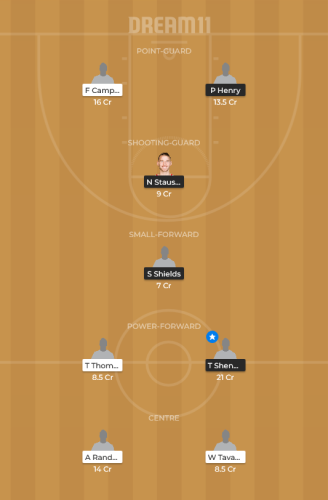 Grand League Combination
Shengelia, Campazzo, Thompkins, Shields
Small League Combination
Shengelia, Campazzo, Randolph, Tavares
The author(s) of this article may play in daily fantasy contests including – but not limited to – games that they have provided recommendations or advice on in this article. In the course of playing in these games using their personal accounts, it's possible that they will use players in their lineups or other strategies that differ from the recommendations they have provided above. The recommendations in this article do not necessarily reflect the views of RotoWire. Kevin O'Brien plays in daily fantasy contests using the following accounts: FanDuel: kevob100, DraftKings: kevob100.