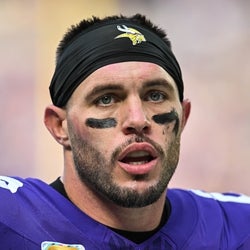 Rest-of-Season Projections
2023 Fantasy Outlook
At age 34, Smith is still playing at a high level entering his 12th season with the Vikings. He tied a career-high with five interceptions in 2022 to go along with 85 tackles (66 solo), 10 passes defended, and one forced fumble across 14 games. The six-time Pro Bowler will look to pick up where he left off in 2023.
Read Past Outlooks
$Signed a four-year, $64 million contract with the Vikings in August of 2021.

Smith had 14 tackles (eight solo), three sacks and a forced fumble in Sunday's 21-13 win over the Panthers.
ANALYSIS
Smith arguably had the best statistical performance of his six-time Pro Bowl career in Week 4. His 14 combined tackles were a single-game best, as were his three sacks. In fact, the 12-year pro previously never had more than three sacks in a single season. His forced fumble was also significant, coming on one of his three sacks of
Bryce Young
, which was then scooped up by
D.J. Wonnum
and taken in for a touchdown that gave the Vikings a 14-13 lead late in the third quarter. Smith now has 28 tackles (17 solo) in the 2023 campaign and will work to keep that momentum rolling in Week 5 against the Chiefs.
Read More News
NFL Stats
2023
2022
2021
2020
2019
2018
2017
2016
2023 NFL Game Log

Calculate Stats Over Time
Just click on any two dates.
2022 NFL Game Log

Calculate Stats Over Time
Just click on any two dates.
2021 NFL Game Log

Calculate Stats Over Time
Just click on any two dates.
2020 NFL Game Log

Calculate Stats Over Time
Just click on any two dates.
2019 NFL Game Log

Calculate Stats Over Time
Just click on any two dates.
2018 NFL Game Log

Calculate Stats Over Time
Just click on any two dates.
2017 NFL Game Log

Calculate Stats Over Time
Just click on any two dates.
2016 NFL Game Log

Calculate Stats Over Time
Just click on any two dates.
Snap Distribution / Depth Chart
2023 Harrison Smith Split Stats
Loading NFL Split Stats...
Measurables Review
How do Harrison Smith's measurables compare to other safeties?
This section compares his draft workout metrics with players at the same position. The bar represents the player's percentile rank. For example, if the bar is halfway across, then the player falls into the 50th percentile for that metric and it would be considered average.
Recent RotoWire Articles Featuring Harrison Smith
See More
Past Fantasy Outlooks
2022
2021
2020
2019
2018
2017
2016
2015
2014
2013
2012
Perhaps Smith has lost a step at age 33, but even if so it hasn't hindered his IDP production any. In 10 standout seasons, last year marked the first where Smith surpassed triple-digit tackles, breaking his previous career high by 16 despite missing two games. He should be in the hunt for another 100 tackles in 2022, and he's otherwise one of the league's best blitzers from the safety spot.
Smith remained an impact player last season, as he was the 14th rated safety by Pro Football Focus while recording 89 tackles, a half sack, 10 pass defenses and five interceptions in 16 games. He remained durable by playing 95.9 percent of the Vikings' defensive snaps. Harris will be counted on to anchor a secondary in 2021 that's going through a second year of high turnover.
The specter of decline will hover over any player who turns 31, and Smith is no exception, but his quality of play remained quite high in 2019. He was an uncommonly athletic safety when he entered the league out of Notre Dame, so there's a good chance he'll continue to age gracefully as long as he avoids injury. Unfortunately for his IDP purposes specifically, Smith's tackle rate isn't quite as high as it was in his first three seasons, resting lately in the 80-90 tackle range rather than the 90-100 tackle pace of his earlier years. If that continues, then it will generally be difficult for Smith to provide DB1 returns unless he has higher-range outcomes with blitz and coverage production. As much as Smith has three-sack, five-interception upside in any given season, sacks and turnovers are volatile stat categories, and not much is guaranteed there. Still, it would be disappointing if Smith didn't register in the top-20 among defensive back IDPs in 2020.
It's reasonable to rank Smith a bit lower if tackles are your only priority, as he has only 162 in his last 1,997 snaps, but he has shown 90-plus tackle upside multiple times. Where he stands out either way is with playmaking stats, because Smith is a very good real-life safety who makes game-changing plays as a blitzer (six sacks the last three years) and in coverage (eight interceptions the last two years). He also might be due for a touchdown after scoring four in his first three years but none in his last three.
Smith would be ranked in the top five if a 16-game season could be assured, so move him up in your rankings if per-game projections matter more to you than aggregate projections. Smith is an elite safety by real football standards, but injuries tend to follow him. He played through an ankle issue last year, and in the five prior seasons he played 16 games only twice. Unlike some other boom-or-bust guys on this list, Smith is too much of a name brand to come at a discount in most leagues. Still, skills like this can pay off even if you can't get him for cheap.
Whereas the previously listed players have both high ceilings and floors, Smith's entry marks the part of the list where the floors get lower. Smith is an excellent player who provides upside in all relevant IDP categories, but his injury history is a bit concerning. He played 16 games only twice in five years, missing a total of 13 games over the other three seasons. If he plays his third 16-game season this year, though, the sky would be the limit. His career production rates project to 97 tackles, two sacks, three interceptions and one touchdown per 16 games.
Smith has become one of the top safeties in the league and would be among the top few IDP selections except for occasional durability troubles. Smith has 314 tackles and 12 interceptions (as well as four touchdowns) in 53 career contests, which projects to about 95 tackles and four picks per 16-game stretch. The catch is that he's played 16 games only twice in his four seasons, missing eight outings in 2013 and three more in 2015. He's worth the risk, though. His talent can't be doubted, and the Minnesota defense is on the way up. There will be playmaking opportunities.
Smith is arguably the league's top playmaker at safety, with triple-digit tackle potential as well as the potential to rank among the league's interception leaders. Prorated over 16 games, Smith's three-year per-game production equals about 100 tackles, four interceptions and 1.5 sacks. Smith also has three career touchdowns. Playing in a Mike Zimmer defense that should apply heavy pressure this season, Smith will once again be in position to ball hawk. His only concern is durability. He had a nagging ankle injury last year and needed two finger surgeries this offseason in addition to a turf toe injury that cost him eight games two years ago.
Smith has been one of the league's top defensive back IDPs since the Vikings selected him 129th overall in the 2012 draft, carrying over the triple-digit tackle potential he showed at Notre Dame into the NFL by posting 156 tackles (117 solo) in 24 games, which projects to roughly 104 tackles (78 solo) per 16-game season. With good speed, excellent quickness and a big wingspan for a safety, Smith can cover ground better than most players at his position, and he should receive more playmaking opportunities now that Minnesota's defense will be run by coach Mike Zimmer, who generated a lot of pressure in Cincinnati. Considering Smith has five interceptions and two touchdowns in his first 24 games, any increase in turnover production would be icing on the cake. He has one of the highest ceilings among the top tier of IDP defensive backs. The only slight concern with Smith is his health, after he suffered a turf toe injury in 2013, but the fact that he returned from the injury in Week 15 would seem to imply that it's a thing of the past.
The first-round pick out of Notre Dame had an enormous IDP season as a rookie last year, just missing the triple-digit tackle mark with 98 stops. Smith also made an impact as a playmaker, posting one sack and intercepting three passes, two of which he took back for touchdowns. There's little reason to think Smith won't keep making plays in 2013 because Minnesota figures to have a powerful pass rush with Jared Allen, Everson Griffen, Kevin Williams, Sharrif Floyd and Brian Robison chasing quarterbacks.
Smith is a lock to start from Week 1 after the Vikings traded up to select him near the end of the first round of the 2012 draft, and his college production gives reason to expect good IDP numbers right away. He posted 181 tackles (109 solo) and seven interceptions in his final 26 college games, which projects to roughly 111 tackles (67 solo) and four interceptions in a 16-game season. Considering he'll be chasing a lot of bombs thrown by Aaron Rodgers and Matt Stafford – and a struggling Vikings offense should leave the Minnesota defense on the field for a high snap count – Smith should get more than his fair share of chances to make tackles in the secondary. Like Mark Barron in Tampa Bay, Smith is an elite target in dynasty leagues.
More Fantasy News