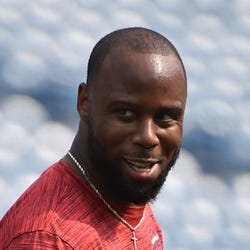 2022 Fantasy Outlook
A hip injury that eventually required season-ending surgery all but wiped out White's 2021 campaign, and after beginning this year's training camp on the PUP list, the 30-year-old announced his retirement from the NFL in August.
Read Past Outlooks
$Signed a two-year, $5 million contract with the Patriots in March of 2022.

ANALYSIS
The 30-year-old, whom the Patriots took in the fourth round of the 2014 NFL Draft, had been working his way back from a significant hip injury this summer, but he's now decided to end his playing career. Through much of his tenure with the franchise, White was a reliable change-of-pace back, and now that he's no longer in New England's backfield mix, players such as
Pierre Strong
and
Ty Montgomery
could see added opportunities to contribute as pass-catching backs this coming season.
Read More News
NFL Stats
Fantasy/Red Zone Stats
See red zone opportunities inside the 20, 10 and 5-yard lines along with the percentage of time they converted the opportunity into a touchdown.
Loading Fantasy/Red Zone Stats...
Advanced NFL Stats
Loading Advanced NFL Stats...
2021
2020
2019
2018
2017
2016
2021 NFL Game Log

Calculate Stats Over Time
Just click on any two dates.
Scoring
Standard
PPR
Half PPR
FanDuel
DraftKings
Yahoo DFS
2020 NFL Game Log

Calculate Stats Over Time
Just click on any two dates.
Scoring
Standard
PPR
Half PPR
FanDuel
DraftKings
Yahoo DFS
2019 NFL Game Log

Calculate Stats Over Time
Just click on any two dates.
Scoring
Standard
PPR
Half PPR
FanDuel
DraftKings
Yahoo DFS
2018 NFL Game Log

Calculate Stats Over Time
Just click on any two dates.
Scoring
Standard
PPR
Half PPR
FanDuel
DraftKings
Yahoo DFS
2017 NFL Game Log

Calculate Stats Over Time
Just click on any two dates.
Scoring
Standard
PPR
Half PPR
FanDuel
DraftKings
Yahoo DFS
2016 NFL Game Log

Calculate Stats Over Time
Just click on any two dates.
Scoring
Standard
PPR
Half PPR
FanDuel
DraftKings
Yahoo DFS
Receiving Alignment Breakdown
See where James White lined up on the field and how he performed at each spot.
Loading Alignment Breakdown...
Loading Alignment Breakdown...
Loading Alignment Breakdown...
Loading Team Alignment Breakdown...
2022 James White Split Stats
Loading NFL Split Stats...
How do James White's measurables compare to other running backs?
This section compares his draft workout metrics with players at the same position. The bar represents the player's percentile rank. For example, if the bar is halfway across, then the player falls into the 50th percentile for that metric and it would be considered average.
Recent RotoWire Articles Featuring James White
See More
Past Fantasy Outlooks
2021
2020
2019
2018
2017
2016
2015
2014
White's numbers in 2020 were a microcosm of the decline felt by the Patriots offense without Tom Brady at the helm. The passing-down back failed to reach 500 scrimmage yards for the first time since 2015, though he did look better down the stretch, catching 11 of 14 targets for 106 yards and his only receiving touchdown of the season the final three games, perhaps creating some hope he can rebound in 2021 if he meshes well with first-round pick Mac Jones at quarterback. It's plausible that the rookie signal-caller could look to pass more often than last year's starter, Cam Newton, while needing a security blanket when things break down, but even that might not work in White's favor with New England having revamped its tight end group in the offseason by signing Hunter Henry and Jonnu Smith. With Damien Harris in line to handle the bulk of the early down snaps and Henry and Smith looking for targets underneath, there may not be much of the pie left on offense for White.
The Patriots offense figures to undergo a degree of turmoil following the departure of Tom Brady, but White might be the player least affected by the change at quarterback. While it's certainly true that White earned the trust of the future Hall of Famer over the years - averaging about 68.8 catches for 594 yards on 94 targets the last four seasons - the Josh McDaniels scheme that produced such high volume remains the same. Whether he's on the other end of tosses from late-June acquisition Cam Newton or the unproven Jarrett Stidham, White figures to be a consistent part of the passing game. Meanwhile, Sony Michel or possibly Damien Harris figure to handle the bulk of the early down work, with Rex Burkhead also in the mix. In any case, if the Patriots want to move the ball through the air via their backfield, White remains their best option.
After spending the last few years as a pass-catching option in the Patriots' backfield committee, White thrived in 2018 with a much larger role both on the ground and through the air, nearly doubling his career rushing yards while getting a career-high 123 targets, second among running backs. His work in the red zone was a big driver of the increased production --- 23 targets inside the 20-yard line ranked second to Alvin Kamara among running backs, while 44 total touches ranked seventh, leading to 12 touchdowns after he had scored only 14 in his four prior NFL seasons. White doesn't run with much power and won't break many tackles outright, but the elusiveness and balance he showed in the open field as a receiver also served him well in the trenches. The question is whether his 2018 numbers are the new normal or represented a one-time ceiling. Sony Michel should continue to handle the bulk of work on early downs, and New England added to its backfield stable by drafting the versatile Damien Harris in the third round. White will remain Tom Brady's primary receiving option out of the backfield, but even last year's 181 touches will be hard to repeat.
While White's numbers last year were similar to his 2016 performance, his efficiency actually took a step backward as his yards per catch was his lowest since he first took on a major role in the New England backfield. His role also diminished as the season progressed. He caught at least seven passes in three of the first five games, but no more than four in a game after a Week 9 bye. White doesn't stand out as a ballcarrier, but his smooth routes and soft hands have made him a dependable option for Tom Brady the last three years. The front office continues to keep the pantry fully stocked in the backfield - Dion Lewis is gone, but in his place are Jeremy Hill and first-round pick Sony Michel, the latter of whom represents the biggest threat to White's snaps. If Michel eventually proves himself as a three-down option, White's target volume can't help but decline.
The 2014 fourth-round pick finally began to gain the confidence of Tom Brady and the Patriots' coaching staff last year, after barely seeing the field as a rookie and getting minimal snaps on offense in 2015. Even before his huge performance in the Super Bowl, the result was career-high numbers nearly across the board, as well as third-place finishes in both receptions and receiving yards among all NFL running backs. Even Dion Lewis' return in Week 11 didn't slow him down, as White caught at least three passes in every regular-season game after Lewis was back in the lineup. At 5-10, 205, White is perhaps a touch too small to be a reliable early down option, and he lacks the speed or power to make a consistent impact on the ground. However, his sure hands and sharp route-running have endeared him to Brady, and he has the elusiveness and balance to pick up extra yards after the catch. The competition for touches will be cutthroat between Lewis, Rex Burkhead, Mike Gillislee and White, but the latter may well be the most consistent week-to-week performer of the bunch, given his apparently secure role on passing downs.
Following the season-ending knee injury to surprising 2015 success story Dion Lewis, White emerged as the Patriots' primary pass-catching back, en route to hauling in 40 passes for 410 yard and four TDs, to go along with 22 carries for 56 yards and two rushing TDs in 14 games. With Lewis' recovery from his torn ACL stalled in advance of the coming season, White's role with the Patriots in 2016 should be key as long as Lewis is out. With that in mind, look for White to pick up some added carries out of the gate this season, but look for the team's power backs, notably LeGarrette Blount, to see most of the team's early-down work. Still, in the New England offense, the team's primary pass-catching back tends to see a decent amount of targets, a situation that vaults White to immediate relevance in PPR formats.
With the Patriots having parted ways with Shane Vereen and Stevan Ridley since last season, there are some opportunities in the team's 2015 backfield. While LeGarrette Blount (who will miss Week 1 due to a suspension) and Jonas Gray are the team's primary power backs, White is a candidate to help fill the pass-catching void created by the departure of Vereen. As a rookie, the 2014 fourth-rounder out of Wisconsin suited up for just three regular season games, recording nine carries for 38 yards and catching five passes for 23 yards. Keep in mind that as a rookie in 2011, Vereen carried just 15 times for 57 yards and did not catch a pass, so it's far to early to write White off despite his quiet first pro season. He'll contend with the likes of Travaris Cadet, Brandon Bolden, Tyler Gaffney and Dion Lewis for third-down/change-of-pace work, but a strong training camp/preseason could put White in a position to see a major increase in snaps this season, a scenario that could provide him with PPR utility.
An impressive and multitalented back out of Wisconsin, the compact White lacks ideal size and speed for an NFL starter, but is an accomplished receiver out of the backfield. He rushed for more than six yards per carry in his junior and senior seasons, totaling 25 touchdowns in that span, which was enough for the Pats to spend a fourth-round pick to acquire his services. However, White's fantasy utility this year will hinge on the health of third-down back Shane Vereen and the ball security of Stevan Ridley. He's not well suited to a three-down role, but Bill Belichick can surely find a use for White as a change-of-pace back.
More Fantasy News