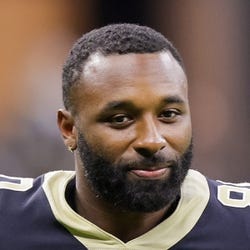 Questionable
Injury Ankle
Est. Return 10/8/2023
Rest-of-Season Projections
2023 Fantasy Outlook
During his lone campaign with the Saints, Landry brought in 25 of his 39 targets for 272 yards and a touchdown in nine games. Earlier in his career, the 2014 second-rounder saw plenty of targets while maintaining PPR utility. Over the last two seasons, though, the 30-year-old's volume has dipped, and a return to fantasy relevance in 2023 may hinge on Landry joining an offense in which he has a chance to emerge as the team's primary slot option.
Read Past Outlooks
RANKS
#

Overall
$Signed a one-year, $3 million contract with the Saints in May of 2022.

Unsigned one week before camp
ANALYSIS
The 30-year-old slot receiver sunk to 12 games and 570 receiving yards in his final season with the Browns in 2021, before dropping even further (nine games, 272 yards) in 2022 for the Saints. Landry was placed on injured reserve in December and may have had surgery at some point last winter, though no procedure has been reported. If he wants to continue playing, he should at least be able to find a team that'll allow him to compete for slot snaps during training camp.
Read More News
NFL Stats
Fantasy/Red Zone Stats
See red zone opportunities inside the 20, 10 and 5-yard lines along with the percentage of time they converted the opportunity into a touchdown.
Loading Fantasy/Red Zone Stats...
Advanced NFL Stats
Loading Advanced NFL Stats...
2022
2021
2020
2019
2018
2017
2016
2022 NFL Game Log

Calculate Stats Over Time
Just click on any two dates.
Scoring
Standard
PPR
Half PPR
FanDuel
DraftKings
Yahoo DFS
2021 NFL Game Log

Calculate Stats Over Time
Just click on any two dates.
Scoring
Standard
PPR
Half PPR
FanDuel
DraftKings
Yahoo DFS
2020 NFL Game Log

Calculate Stats Over Time
Just click on any two dates.
Scoring
Standard
PPR
Half PPR
FanDuel
DraftKings
Yahoo DFS
2019 NFL Game Log

Calculate Stats Over Time
Just click on any two dates.
Scoring
Standard
PPR
Half PPR
FanDuel
DraftKings
Yahoo DFS
2018 NFL Game Log

Calculate Stats Over Time
Just click on any two dates.
Scoring
Standard
PPR
Half PPR
FanDuel
DraftKings
Yahoo DFS
2017 NFL Game Log

Calculate Stats Over Time
Just click on any two dates.
Scoring
Standard
PPR
Half PPR
FanDuel
DraftKings
Yahoo DFS
2016 NFL Game Log

Calculate Stats Over Time
Just click on any two dates.
Scoring
Standard
PPR
Half PPR
FanDuel
DraftKings
Yahoo DFS
Receiving Alignment Breakdown
See where Jarvis Landry lined up on the field and how he performed at each spot.
Loading Alignment Breakdown...
Loading Alignment Breakdown...
Loading Alignment Breakdown...
Loading Team Alignment Breakdown...
2023 Jarvis Landry Split Stats
Loading NFL Split Stats...
How do Jarvis Landry's measurables compare to other wide receivers?
This section compares his draft workout metrics with players at the same position. The bar represents the player's percentile rank. For example, if the bar is halfway across, then the player falls into the 50th percentile for that metric and it would be considered average.
* The 40-Yard Dash, Shuttle Time, and Cone Drill metrics are from his Pro Day. All others are from the NFL Combine.
Recent RotoWire Articles Featuring Jarvis Landry
See More
Past Fantasy Outlooks
2022
2021
2020
2019
2018
2017
2016
2015
2014
Landry was born in Louisiana and played at LSU, but a perfect match in real life won't necessarily equate to fantasy value. Now 29 and three years removed from his last 1,000-yard effort, the veteran slot receiver missed five games in 2021 after missing only one (in 2020) his first seven seasons. He also had a career-low 4.3 catches per game last year, bringing in only 59.8 percent of his targets while playing with QB Baker Mayfield. The Saints' duo of Jameis Winston and Andy Dalton won't necessarily be any better, but Landry is still young enough to rebound after an MCL sprain impacted both his availability and effectiveness last season. It's just hard to see much upside, as Landry has never drawn many deep targets and isn't likely to pile up big-time volume in an offense that just used a first-round pick on WR Chris Olave and hopes to get WR Michael Thomas back from his multi-year ankle saga. As always, Landry is more valuable in PPR leagues than standard, but even there his value is on the ropes.
For the first time in his seven-year career, Landry missed a game last season, though it wasn't due to an injury, but COVID, and it's not even clear whether he had the virus or merely was in close contact with someone who did. Landry also played through a broken rib, though it didn't cost him any games. At 5-11, 196, Landry is stout, physical and as tough as they come. He's slow — he ran a dreadful 4.77 40 at the 2014 combine — but quick in short spurts, a good route runner and has solid hands. Even with Odell Beckham out last year, Landry drew a career-low 101 targets, in part due to some bad-weather games that wiped out the aerial attack and contributed to the Browns finishing 28th in pass attempts (501). For 2021, Beckham should be back — though for how long is anyone's guess — but he and Landry are still far and away the top targets on the team. The Browns took speedster Anthony Schwartz in Round 3, but he's a field-stretcher to keep the safeties back, not a likely threat to Landry's targets. Coach Kevin Stefanski deploys a run-first scheme, but there should be enough targets to go around for both top receivers.
The most durable receiver in the NFL, Landry has played 16 games for six consecutive years since coming into the league. But he did so last season on a bad hip down the stretch, an injury that eventually required surgery in February. Even so, amidst a dysfunctional system, Landry had the most efficient season of his career - 14.1 YPC and 8.5 YPT and 20 catches of 20-plus yards (T-6th) - despite largely lining up in the slot. At 5-11, 196, Landry is stout and quick, and he has excellent hands (four drops all year), but he ran a glacial-for-his-size 4.77 40 at the 2014 combine. Somehow, he knows how to get open, and no matter what team he plays for or who his quarterback is, Landry always gets his targets. The Browns should be improved all around this year. Freddie Kitchens is gone, and new coach Kevin Stefanski should be a significant improvement with a better zone blocking/play-action passing scheme that gives Baker Mayfield more time to throw. But with a presumably healthy Odell Beckham on the outside and newly acquired tight end Austin Hooper often lining up in the slot, Landry's target share theoretically should decline, were it not for his mysterious power to compel passes his way. In any event, Landry's recovery from hip surgery is likely to keep him out until August, but his status for the start of the year does not appear to be in too much jeopardy.
Landry wasn't good in 2018. It wasn't just his inefficiency (6.6 YPT, 24th among the league's 28 receivers), but his drops (six) and lack of scoring (only four TDs on 149 targets) despite having little competition on the roster and playing with one of the more dynamic young quarterbacks in the league. At 5-11, 196, and running a glacial 4.77 40 at the 2014 combine, Landry doesn't profile well athletically, but he's quick, strong, stout and typically reliable. He also has a mysterious power to force QBs and play callers to target him - in his five-year career, he's never seen fewer than 112 targets, and the last four years he's averaged 151.8. Landry's also durable, never missing a game. This year, the Browns traded for Odell Beckham Jr., a true No. 1 who should occupy defenses and let Landry do his work unencumbered in the slot. Usually you prefer your WR to be the only game in town, but Landry frankly didn't seem up to the task last year, so Beckham's presence could actually help. Antonio Callaway and Rashard Higgins will also be in the mix, but they're long shots to push the two alpha dogs and former college teammates for work. The arrival of offensive coordinator Todd Monken, who got a lot of mileage out of slot man Adam Humphries in Tampa last year, should only help.
Landry is short, slow and inefficient. He runs only short routes and has only seven catches of 40-plus yards in his 570-target career. Over the last two years, Landry has hauled in 22 catches of 20-plus yards - on 292 targets. Michael Thomas had that same number last year alone on 149 targets. And Thomas was only fourth in the league. Finally, Landry's 6.1 YPT ranked him 26th of the league's 27 100-target WR, barely ahead of Michael Crabtree. Yet somehow, you want Landry on your fantasy team, especially in PPR leagues. Landry led the league with 112 catches, and over the last three seasons is averaging 105. He has never missed a game in his career, and rarely even shows up on the injury report despite doing most of his work in crowded areas of the field and taking frequent hits from linebackers. At 5-11, 208, Landry is stout for his height, and quick even if his 4.77 40 time from the combine is glacial for anyone too small to play tight end. Landry finally broke through in the TD department last year with nine, thanks to 14 targets inside the 10-yard line (2nd). Of course, usage patterns with the Dolphins are moot because Landry was traded in March to Cleveland, where he'll compete with Josh Gordon, Duke Johnson and David Njoku for targets. Expect a reduced workload from last year's 161 looks (T-3rd), but don't be surprised if he becomes Tyrod Taylor's (or Baker Mayfield's) security blanket and ultimately leads the team in targets.
Landry had his best year as a pro in 2016, setting career highs -- by a mile -- in YPC (12.1) and YPT (8.7). For a possession receiver who doesn't run many downfield routes, it was an especially efficient performance. Put differently, Landry had only 21 fewer receiving yards than in 2015, despite seeing 35 fewer targets. At 5-11, 206 and with 4.60 speed, Landry's never going to be the team's big-play threat -- his 16 catches of 20 plus and three for 40 or more probably represent his ceiling. And his red-zone targets dropped off a cliff (from 23 in 2015 to only nine last year), though Landry caught the same meager number of TDs (four) both years. Landry makes his living with good hands, strong route running, toughness, competitiveness and reliability. He'll catch anything in the short and intermediate areas of the field and rack up high catch totals as Jay Cutler's likely top target. DeVante Parker and Kenny Stills have the speed and athletic ability to strike for big plays, while Parker and newly-signed tight end Julius Thomas should see most of the looks near the goal line. Nonetheless, Landry's floor, especially in PPR, is high even if his days of getting 166 targets are probably over given the talent around him. Landry is also durable -- he has yet to miss a game in his three seasons (409 targets) in the league.
Being small and slow doesn't prevent one from having fantasy value when he sees 166 targets. At 5-11, 202, and having run a 4.6 40 at the NFL Combine, Landry is one of the least impressive athletes at the position, but he makes up for it with crisp route-running, sure hands, above-average quickness and opportunity disproportionate to his skills. Landry managed 10.5 YPC and 7.0 YPT, passable for a possession receiver, but nothing special. And he scored only four TDs, despite getting 23 red-zone targets (5th) and 14 targets inside the 10 (T-2nd). If you can't get into the end zone on heavy volume from in close and rarely make big plays – 10 catches of 20-plus yards and three of 40-plus on 166 targets – scoring touchdowns is not a big part of your game. On the bright side, Landry's a PPR machine (110 catches), and he chipped in with 113 rushing yards, a rushing score and a punt return for a TD. In 2016, we suspect DeVante Parker's role will grow significantly. While it's likely to cost Landry some targets and catches, it could boost his efficiency, especially if new head coach Adam Gase is able to help Ryan Tannehill take the next step.
Yet another productive member of last year's historic rookie receiver class, Landry emerged as the Dolphins most reliable pass catcher and led the team in receptions, despite not once seeing double-digit targets until Week 9. During the season's final eight games, however, Landry caught 54 of 72 targets for 457 yards and three scores, numbers that prorate to something approaching Julian Edelman's line over a full season. At 5-11, 202, and running only a 4.6 40, Landry's strictly a possession receiver (6.8 YPT, 33rd among the league's 41 100-target WR), but he's sure-handed, runs excellent routes and is tough enough to operate in the middle of the field. While the Dolphins parted ways with Mike Wallace, Brian Hartline, Brandon Gibson and Charles Clay this offseason, they brought in Kenny Stills to stretch the field, veteran Greg Jennings for three-WR sets and tight end Jordan Cameron to work the seam and red zone. They also used the 14th overall pick on DeVante Parker, so if anything, the Dolphins receiving corps has as much depth as last year, only with better quality players. Still, Landry's role as a short pass catcher is safe, and he should be especially useful in PPR formats.
Known for his excellent hands, toughness, route running and blocking, the 63rd overall pick in the 2014 draft will likely compete with Brandon Gibson and perhaps Rishard Matthews for the Dolphins' No. 3 receiver role behind starters Mike Wallace and Brian Hartline.
More Fantasy News