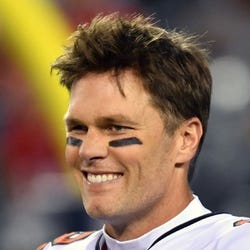 2023 Fantasy Outlook
There was no outlook written for Tom Brady in 2023. Check out the latest news below for more on his current fantasy value.
RANKS
#

Overall
$Signed a one-year, $15 million restructured contract with the Buccaneers in April of 2022.

ANALYSIS
The 45-year-old signal-caller thus ends his stellar 23-year pro career as the league's all-time leader in passing yards (89,214) and touchdown passes (649). This past season, Brady, a seven-time Super Bowl winner, five-time Super Bowl MVP and three-time NFL MVP, threw for 4,694 yards and 25 touchdowns in his third and final campaign with the Buccaneers.
Read More News
NFL Stats
Fantasy/Red Zone Stats
See red zone opportunities inside the 20, 10 and 5-yard lines along with the percentage of time they converted the opportunity into a touchdown.
Loading Fantasy/Red Zone Stats...
Advanced NFL Stats
How do Tom Brady's 2022 advanced stats compare to other quarterbacks?
This section compares his advanced stats with players at the same position. The bar represents the player's percentile rank.
The longer the bar, the better it is for the player.
Bad Pass %

The percentage of passes that were considered to be poorly thrown.

Avg Target Depth

The average number of yards thrown per pass by the quarterback – including incomplete passes.

Sack Rate

The percentage of dropbacks where the quartback was sacked. The longer the bar below, the more often they are sacked relative to other QBs.

Avg Receiver YAC

The average number of yards after the catch that receivers gained on passes thrown by this quarterback.

Receiver Drop %

The percentage of passes dropped by receivers on passes thrown by this quarterback. The longer the bar, the more sure-handed his receivers have been.
Loading Advanced NFL Stats...
2022
2021
2020
2019
2018
2017
2016
2022 NFL Game Log

Calculate Stats Over Time
Just click on any two dates.
Scoring
Standard
PPR
Half PPR
FanDuel
DraftKings
Yahoo DFS
2021 NFL Game Log

Calculate Stats Over Time
Just click on any two dates.
Scoring
Standard
PPR
Half PPR
FanDuel
DraftKings
Yahoo DFS
2020 NFL Game Log

Calculate Stats Over Time
Just click on any two dates.
Scoring
Standard
PPR
Half PPR
FanDuel
DraftKings
Yahoo DFS
2019 NFL Game Log

Calculate Stats Over Time
Just click on any two dates.
Scoring
Standard
PPR
Half PPR
FanDuel
DraftKings
Yahoo DFS
2018 NFL Game Log

Calculate Stats Over Time
Just click on any two dates.
Scoring
Standard
PPR
Half PPR
FanDuel
DraftKings
Yahoo DFS
2017 NFL Game Log

Calculate Stats Over Time
Just click on any two dates.
Scoring
Standard
PPR
Half PPR
FanDuel
DraftKings
Yahoo DFS
2016 NFL Game Log

Calculate Stats Over Time
Just click on any two dates.
Scoring
Standard
PPR
Half PPR
FanDuel
DraftKings
Yahoo DFS
2022 Tom Brady Split Stats
Loading NFL Split Stats...
Measurables Review
How do Tom Brady's measurables compare to other quarterbacks?
This section compares his draft workout metrics with players at the same position. The bar represents the player's percentile rank. For example, if the bar is halfway across, then the player falls into the 50th percentile for that metric and it would be considered average.
Recent RotoWire Articles Featuring Tom Brady
See More
Past Fantasy Outlooks
2022
2021
2020
2019
2018
2017
2016
2015
2014
2013
2012
2011
2010
2009
2008
2007
2006
2005
2004
2003
Brady's retirement lasted barely a month before his competitive juices called him back, or until he realized the Bucs weren't going to let him out of his contract to play for another team. He did - allegedly - manage to exile Bruce Arians to the front office, however. The team's offensive philosophy - throw deep, and often - belonged to Arians, but the play-calling belonged to offensive coordinator Byron Leftwich, which he will continue under new head coach Todd Bowles. Then again, the offense belongs to Brady. His time in Tampa has produced arguably the best two-year run of his career - 9,949 yards, 83 TDs. Brady's efficiency isn't quite what it once was (12th in YPA, 19th in on-target rate), but he makes up for it with volume. Brady's 719 attempts last season were 47 more than any QB, and his 42.3 attempts per game ranked sixth all-time. The last two years he attempted 184 passes at least 20 yards downfield, 34 more than any QB. This season begins with less stability - Chris Godwin is recovering from a late-season ACL injury, Rob Gronkowski retired and Pro Bowl guard Ali Marpet unexpectedly retired - but the Bucs signed wide receivers Russell Gage and Julio Jones and tight end Kyle Rudolph, plus Brady's trusted three-down back Leonard Fournette returns. Brady might be superhuman, but he isn't risk-free (he can't stiff-arm Father Time forever, right?). As long as he gets 40 throws a game, though, he's a solid fantasy bet.
Brady put to rest questions about Father Time in his first year in Tampa Bay, throwing 40 TD passes, second only to his 50-TD 2007 MVP campaign. And, yes, he won another Super Bowl. Brady improved his TD pass rate from 25th in the league to sixth at 6.6 percent, and increased his YPA by a full yard to 7.6 (11th) over his last year in New England. After a league-high 40 throwaways in 2019, he had just 13, as his Tampa Bay receivers consistently got the separation that his New England teammates could not. Brady wasn't great throwing downfield, though. His 40.4 on-target percentage on passes of 20-plus yards ranked 29th, and he completed only 37.2 percent (21st). But he had volume — a career-high and league-high 94 deep attempts — as his 9.7-yard average target depth ranked second (8.1 in 2019). He also beat up on bad defenses. In six games against top-10 defenses, Brady had nine TDs, seven INTs and 5.9 YPA. In his remaining games, he went for 31 TDs, five INTs and 8.4 YPA. In any event, the offense returns all 11 starters (as does the defense), including Mike Evans, Chris Godwin and Rob Gronkowski. Antonio Brown returns as well, along with the backfield tandem of Leonard Fournette and Ronald Jones. The Bucs even added RB depth with Giovani Bernard, another quality pass catcher. With Bruce Arians' aggressive playcalling, Brady again should have hefty downfield volume, but his 44-year-old arm isn't getting any stronger and his downfield accuracy isn't likely to improve. It took 40 TD passes and his highest TD pass rate in a decade (6.6 percent) just to reach QB8 last year. With a tougher schedule and, as usual, no rushing stats, he's more likely to fall out of the top 10 than leap into the top 5.
Did age finally catch up to Brady or was the Patriots' lack of weapons last season the reason he finished bottom 10 in the league in completion percentage (27th), YPA (27th) and TD pass percentage (25th)? We'll soon find out, because the 43-year-old Brady has no shortage of weapons at his new home in Tampa Bay. Mike Evans, Chris Godwin and the unretired Rob Gronkowski give Brady a more explosive trio of receivers than he's had in years. Brady had a league-leading 40 throwaways last season as his receivers failed to get open, but his environment can't shoulder all the blame. His bad-pass percentage rose to 19.6 (13th) and his 8.1-yard average depth of target ranked 22nd. Never fleet of foot, Brady really struggled under pressure, posting the lowest completion percentage (30.2) and YPA in the league (2.9). He was no better on play action, ranking last in completion percentage (58.9). His play really suffered in the second half of the season, too, as he lost nearly 10 points off his completion percentage while his YPA dropped to a mere 5.9 after Week 10. His new crew figures to benefit him in the red zone where he had the league's third-lowest TD pass percentage last season (14.3). And an aggressive offense under coach Bruce Arians should also afford plenty of downfield opportunities — Brady attempted 55 passes longer than 20 yards last season; Arians' QB, Jameis Winston, attempted 98. Brady was middle of the pack on most downfield metrics last year, and with better receivers, he could see improved numbers. Still, his arm strength and skills are more likely to keep eroding than make a comeback.
Brady's numbers were down a bit last year as he attempted only 570 passes, his fewest in a full season since 2010, to put him outside the top 10 of fantasy QBs. Brady also didn't help himself with the deep ball, as he was not as efficient throwing downfield last season, posting four-year lows in completion percentage (29.8) and YPA (10.5) on attempts longer than 20 yards. An MCL sprain late in the season contributed to the sluggishness, but his durability remains remarkable - he did not lose a game to injury for the 17th time in 18 seasons as a starter. The Patriots, eighth in rushing percentage last season (44.5), likely will be just as balanced this season, preventing Brady from approaching 600 attempts. There are questions surrounding his supporting cast, with Rob Gronkowski retired and Chris Hogan gone. Meanwhile, Josh Gordon was conditionally reinstated from his suspension in August, but what he'll bring to the table after a lengthy absence remains to be seen. And the team's major offseason additions have significant questions: Ben Watson is 38 and suspended the first four games, Demaryius Thomas is coming off his second Achilles tear, and while first-round pick N'Keal Harry is an impressive prospect, he's still a rookie. The team did at least grab some insurance with cheaper signings like Matt LaCosse and Lance Kendricks at tight end and Maurice Harris at wide receiver. Brady is still effective for the Patriots, but at 42 this year, don't expect him to climb back into the top 10.
Brady is back for another year, and why not? He only led the league in yards last season and finished top five in TDs, completion percentage, YPA, interception percentage and a slew of other stats on his way to another MVP award. He continues to be a master in the red zone, throwing a league-high 26 touchdowns without an interception, and he threw 12.6 percent of his attempts longer than 20 yards (6th) with 28 completions (3rd) on 73 attempts. Brady's durability is impressive. Outside of 2008 when he went down with a torn ACL, he's never missed a game for injury since becoming the starter Week 3 of 2001. That is, he's avoided losing a game to injury in 16 of 17 seasons as the starter. He'll be 41 this season - first-round pick Sony Michel was a kindergartner when Brady made his NFL debut - and while he's a constant, the team around him changed again this year. Dion Lewis, Brandin Cooks and Danny Amendola are gone, replaced by Jeremy Hill, Eric Decker and Cordarrelle Patterson. Rob Gronkowski, who flirted with retirement, is back, but Julian Edelman, who missed last season with a knee injury, faces a four-game suspension. Brady is disproving the adage, "you can't play forever." Who wants to bet against him?
Brady was suspended the first four games last year and played with Rob Gronkowski for only six games and yet still had one of his best seasons ever. He posted his highest YPA since 2011 and his highest completion percentage since 2007, also setting NFL records for lowest interception rate at 0.5 percent (min. 250 attempts) and highest TD:INT ratio (14.0). And he won his fifth Super Bowl. A four-year high 10.0 percent of his attempts came on passes of 21-plus yards, where he ranked fifth the league in passer rating (117.0). He also dominated in the red zone (even without Gronk), posting a league-leading 69.4 completion rate with 20 TDs. He will be 40 when this season starts, but why would that slow him? He gets rid of the ball so fast in the Patriots' quickstrike passing game that he doesn't get hit much -- third-fewest sacks per dropback last season and just three non-sack knockdowns per game -- though his wife let it slip in May that he had a concussion last year. But the veracity of that is uncertain. This season he has his best downfield threat since Randy Moss with the trade for speedster Brandin Cooks, who should also ensure more single coverage for Gronkowski.The Patriots signed Dwayne Allen as Gronk insurance and built a backfield full of capable receivers. Brady looks prepped for an even bigger year. Though key target Julian Edelman will miss the season due to a torn ACL, which stings, the likes of Chris Hogan and Danny Amendola are capable of stepping in to help fill the void.
A last-minute reprieve from his Deflategate suspension right before Week 1 allowed Brady to play in 16 games for the seventh consecutive season — and the future Hall of Famer didn't disappoint, racking up his most passing yards and best YPA since 2012 and most TDs since 2011. With a (mostly) healthy Rob Gronkowski as his primary weapon and an ever-shifting cast of slippery secondary targets, Brady kept the Patriots' quick-strike offense humming, ranking third in QB rating on throws of 15 yards or less while letting his receivers' ability after the catch account for over half of his total passing yards. The end result was the team's 12th AFC East title in the last 13 years and a two-year contract extension for the soon-to-be 39-year-old QB that could keep him in New England through 2019. Things don't look quite as rosy for this year, however, despite the additions of veteran tight end Martellus Bennett and wide receiver Chris Hogan. The league's court appeal was upheld, re-instating Brady's four-game suspension and sidelining him for the first month of the season. Thus, Jimmy Garoppolo will be New England's starter for the first quarter of the season, looking to keep the team afloat until its leader returns.
Critics pronounced Brady finished when he had 5.77 YPA and more turnovers than touchdowns in September last year. But as Rob Gronkowski, who was coming off ACL and MCL surgery, got healthy, so did the Patriots' offense, and so did Brady, whose numbers for the season finished on par with his previous five-year averages. Gronkowski averaged just 35 snaps a game the first four weeks. But from Week 5, when the league's best tight end returned to full play, through Week 16, Brady ranked second in passing touchdowns with 29 and fifth in yards per game with 294.4; his YPA was 7.55. Gronk's skills and mere presence open up the passing offense, but Brady and the Patriots still have no downfield game to speak of. Partly because Brady lacks the arm at this stage of his career (38 in August) and partly because the team lacks a deep threat, Brady completed just 24.4 percent (12 of 49) of his throws of 21-plus yards, ranking 32nd among quarterbacks with at least 20 attempts. He also had just three completions on throws of 31-plus yards. While Julian Edelman, Brandon LaFell and Danny Amendola form a competent wide-receiver group, none has field-stretching deep speed. For Brady to finish among the top fantasy quarterbacks this season, a healthy Gronk is essential. On the plus side, just one week before the 2015 regular season opened, Brady's NFL-imposed four-game suspension for his alleged role in "Deflategate" was nullified, paving the way for him to start the Patriots' regular season opener.
The unavailability of Rob Gronkowski and Aaron Hernandez predictably had a powerful negative effect on Brady's production in 2013, as he failed to reach the 30-touchdown plateau for the first time since 2009, and his YPA dropped to a surprisingly low 6.9. There's some hope that Gronkowski will be ready for Week 1 after a Dec. 8 ACL tear, but there's once again a large degree of uncertainty with Brady's pass catchers. The one certainty is Julian Edelman, who the Patriots re-signed after catching 105 passes last year. Second-year back Shane Vereen proved to be a major factor in the receiving game, too, though a wrist injury knocked him out for eight games. Free agent signee Danny Amendola was a bust, producing just 633 yards and two touchdowns, and rookie second-round pick Aaron Dobson proved inconsistent as the team's primary deep threat. The offseason signing of Brandon LaFell is not particularly reassuring, though the 27-year-old topped 600 receiving yards in three of his four seasons with the Panthers. Still, if 4,343 yards and 25 touchdowns is one of the worst-case scenarios, then maybe Brady and his fantasy owners aren't in such bad shape. It appears his days of fantasy dominance might be in the past, however, barring the acquisition of a talented pass catcher or two.
Don't look now, but we actually saw a minor dip in efficiency from Brady in 2012. The All-World quarterback posted a career-high in passing attempts with 637, yet still checked in nearly 400 yards below his 2011 passing total. That's because of a "sub-par" 7.6 YPA – Brady's worst mark in a full season since 2006. Could it be that Brady is slowing down heading into his age 36 season? Not so fast. Quarterbacks have historically been able to sustain a very high level of play well into their 30s, and there's no reason to think Brady would break down earlier than past quarterbacks. It's probable you'll see Brady's efficiency increase, perhaps substantially, but he's still going to air the ball out plenty with Josh McDaniels calling the plays. The loss of Wes Welker obviously doesn't help Brady, but it probably won't hurt as much as one might think. Newly signed Danny Amendola can play the slot and has more long speed than Welker, while Rob Gronkowski – when healthy – is an effective target in the middle of the field and end zone. Moreover, great quarterbacks like Brady tend to make ordinary receivers better, so don't be surprised if one of the team's rookies or second-tier signees like Donald Jones plays better than expected. Finally, aside from Drew Brees, no one attempts more passes from in close than Brady – 91 from inside the red zone and 47 from inside the 10. That alone gives him a high floor for touchdowns.
Brady didn't throw 50 touchdown passes in 2011, but his year was arguably just as good as his historic 2007 season. His total of 5,235 passing yards was 429 more than his 2007 number (4,806 yards), and his 39 touchdowns from 2011 were a mammoth total in their own right. He even added a career-high three rushing touchdowns last year. Heading into 2012, there's no reason to expect Brady to slow down. The entirely unstoppable tight-end duo of Rob Gronkowski and Aaron Hernandez returns after combining for 2,237 yards and 24 touchdowns through the air, and wideout Wes Welker is back after catching 122 passes and posting career highs in yardage (1,569) and touchdowns (nine.) In fact, the arrival of free-agent wide receiver Brandon Lloyd could even make things easier for Brady, as Lloyd provides the Patriots with the acrobatic downfield playmaker the offense mostly lacked in 2011. It was just two years ago when Lloyd totaled 1,448 yards and 11 touchdowns for offensive coordinator Josh McDaniels in Denver, so he could be a big hit as he often faces single coverage in New England.
The league's reigning MVP returns off an ungodly 36:4 TD:INT ratio and 7.9 yards per attempt, despite losing his top downfield threat in Randy Moss and his go-to possession receiver Wes Welker playing most of the year at less than full health. Brady only threw for 3,900 yards thanks to a five-year low 492 pass attempts, something that could persist given the team's running-back heavy draft. But with a touchdown percentage of 6.97 over the past three years, Brady's scoring efficiency is unmatched league wide, so the TD strikes should be there regardless. While incremental chain movers Deion Branch and Welker are slated to start, the team traded for Chad Ochocinco, who should provide Brady with another solid weapon down field. Brady had offseason surgery to repair a stress fracture in his foot, but he's expected to be 100 percent healthy for the start of the season.
We figured he'd get 30-plus TDs last year, and he mildly disappointed with 28. This year, Wes Welker is a big question mark, and Randy Moss seems human now heading into what he says will be his final season in New England. Optimists look at Julian Edelman being Welker-like until Welker returns. At that point, he can bedevil teams as the third WR. The tight ends are a big question mark and are not likely to be the reliable weapons that Brady will need. Brady will have to pile up numbers now more with quantity than quality. Plus the weather can be tricky late in the year. Bottom line for Brady: his fantasy production will lack his true-ability as this is a transitional year for the Patriots offense with the sun setting on the Moss era and major questions surrounding Welker.
You might as well just reprint last year's write-up. The 50-TD amusement park ride wasn't ever going to happen again. But pencil him in again for the 35 or so projected last year before disaster struck about seven minutes into the 2008 season. OC/QB coach Josh McDaniels is now heading the Broncos. Bill Belichick replaced McDaniels with Bill O'Brien, who was the WR coach last year and will serve only as QB coach in 2009 as Belichick takes a greater role in offensive strategy and play calling – just like he did in working with McDaniels when Charlie Weis left town in 2005. It's wise to restate how other QBs have fared after magical seasons. Peyton Manning went from 49 TDs to 28. Dan Marino from 48 to 30 and then from 44 to 28. Kurt Warner averaged about two TDs in his 11 starts after his 41-TD season. So, 30-to-35 is the range, and we'll go high side because the Patriots are clearly going to be a passing team. The team shockingly did not draft a back with all those picks and thus seem content to let Brady carry the offensive load, and why not? And don't argue that Fred Taylor is a solution here, as he's a situational runner now at best. Laurence Maroney has proven too unreliable to be a feature back. Kevin Faulk is a jack-of-all-trades, but functions best as a third-down back. QBs make the receivers, not vice versa. But Randy Moss is still capable of physically dominating defensive backs as the original freak at wide receiver. He alone takes Brady from the high-20s to mid-30s in terms of TD projections – not just for what he gets himself but for the opportunities he creates for others. If he were to get hurt, dial those projections back significantly. Put another way, if Matt Cassel could generate 21 TD passes in this offense as a total ingénue, imagine what Brady will do rebuilt and fully loaded in '09.
We said last year that the Patriots approached their 2007 offseaon "as if their objective was to turn Tom Brady into a prolific fantasy QB." Of course, we didn't see 50 TD passes in the forecast. It's best now to dial down the expectations near the "35, easy" that we expected last year should Randy Moss pan out. Still a very attractive number but not worthy of the early first-round pick he'll likely cost. And that's not a conservative projection considering how other QBs have fared after magical seasons. Peyton Manning went from 49 to 28; Kurt Warner from 41 to 21 (though he only played 11 games); Dan Marino went 48, 30, 44 and 28 in four straight years. Only Brett Favre stayed consistently well above 30 for multiple consecutive seasons. NFL teams collectively go to work to figure out a way to slow down an offensive juggernaut, building on small successes until a tipping point is reached, forcing the offensive team to make an adjustment. For the Patriots, the challenge is going to be to throw the ball more aggressively downfield. Brady was 25th in the NFL in throwing the ball 11-to-20 yards, just 18 percent of attempts and 15 percent of completions – average is 21 and 18.5 percent, respectively. He did throw 10.4 percent of passes over 20 yards – better than the league average of about seven percent – but you need time to do that, and pass protection was a problem in the postseason. And we know Moss is great, but 13 TD passes on 60 long passes is a ridiculous percentage that won't repeat itself unless the Patriots do a better job of attacking the second-level of the defense. Don't worry about the loss of Donte' Stallworth, who is solid, but not spectacular. He should be replaced by former second-round pick Chad Jackson who had size and good speed before tearing up his knee.
The Patriots approached their offseason as if their objective was to make Brady a prolific fantasy QB. He was already seventh in passing yards and fourth in TD passes last year with Reche Caldwell as his primary weapon. Caldwell is now the fourth WR after the Pats acquired Randy Moss, Donte Stallworth and Wes Welker. Expect more three-WR formations, with Welker operating in the slot. Moss is the key to the Brady projection. If Moss performs at the Hall of Fame-level he displayed as a Viking, Brady goes from a 25-TD QB to 35, easy. If you think there's only a 50 percent chance of Moss capturing near-peak form (and he ran a sub-4.4 40 this spring), then you must project close to 30 TD passes for Brady. If Moss implodes, 25 TDs is the floor. As usual Brady struggled with his accuracy last year, but it's reasonable to think his shoulder troubles caused this because he threw only 16 percent of passes 11-to-20 yards, well below average and below what he attempted in 2005 (23 percent). And his rating on these throws was 62, near the bottom and well off from his 99 rating in 2005. He was also less efficient on deeper throws than in the past – he was always one of the better bomb throwers in football. The Pats threw 54 percent of the time in the first half of games, OK but nothing special. But it's clear the Pats plan on deemphasizing the running game, as you must do in the NFL today with every rule change in recent history favoring the passing game. Brady always offers production near the end zone, throwing 15 TDs inside-the-10 last year. There's no significant injury risk for Brady, either, as he was dumped just 26 times in 2006 and his shoulder has not been mentioned as an issue this offseason.
The numbers say the Patriots don't throw enough in the red zone. Last year, they were 16th in red-zone pass percentage, right at the NFL average of 46 percent. But New England was third behind only Washington and Seattle in percentage of attempts turned into TD passes (31 percent). It's noteworthy that all of the high-percentage teams who converted attempts into scores finished at or below the NFL average in red-zone pass percentage. No doubt, purists will argue that there are diminishing returns with more red-zone pass attempts. So, why the high ranking? Well, Carson Palmer is too questionable heading into training camp. And there is good news in our numbers. The Patriots were eighth in first-down pass frequency and all the teams ahead of them had losing records. So, we know that Belichick is aggressive on first downs, where Brady averaged 8.1 per attempt. Critics will argue the Pats threw this much last year only because of their defensive struggles, but little was done to address those weaknesses in the offseason. Of course, there is a lot of evidence that Brady is really good. Given the Pats' struggles for much of 2005, it's surprising that Brady had just 24 attempts plus/minus seven points in the final quarter, where his QB rating was 114 (as if we don't know he can play under pressure). Brady has always been streaky with the accuracy and, last year, 16.6 percent of his passes were poor throws. But his good timing in getting the ball to his receivers allowed New England to lead the NFL last year with 34 pass plays of more than 25 yards. Fantasy owners shouldn't be too concerned about the loss of David Givens, as tight ends rule in New England. Last year, with two or more tight ends, Brady's QB rating was 137 on 76 attempts (13 TDs). At the end of the day, Brady's consistency and penchant to rack up yards and deliver timely scores make him one of the safest picks out there.
In real football, the debate is whether Manning, McNabb or Brady is the best quarterback in the league. In fantasy, however, Brady will have to settle for a spot in the top 10. Brady won't drop any jaws with his arm strength or his scrambling ability, but he makes excellent decisions and seems to play better as the stakes get higher. In each of the last three seasons, Brady's had 23-plus touchdowns and 3,600-plus yards, and in two of those seasons, he's had 28 touchdowns. Brady hasn't missed a game since he took over for Drew Bledsoe in 2001, and with his best receivers, Deion Branch and David Givens, back, things should be business as usual for the Patriots passing game. Brady's big-game heroics were rewarded this offseason with a six-year, $60 million contract, which includes a $14.5 million signing bonus and a $12 million option bonus due next spring. While getting the big payday might affect the preparation and practice habits of some, it doesn't worry us with Brady, who has essentially been a rock star since he won his first Super Bowl in 2002. Don't expect Brady to lead the league in anything other than reliability, and that makes him one of the safest picks on the board.
Brady is sure to be a good value in most drafts not held in New England. He has a very good receiving corps and is completely in synch with his offensive coordinator. Brady is just okay in terms of accuracy (15 percent of his throws last year were poor, which is about average), and he has a tendency to be streaky bad. His arm strength is also nothing special. But Brady processes information very quickly when the bullets are flying. The Patriots don't take a lot of chances, so big plays are rare. Look for the home run ball when New England is near midfield and when they have two tight ends on the field (thus providing maximum protection). Brady killed teams out of this look last year, averaging over 10 yards per attempt and a 108 passer rating, with seven TD passes on just 86 attempts (this is why the Pats spent another first-round pick on a TE). Brady is a good bet to repeat or exceed last season's numbers as his young receivers (Deion Branch and David Givens) will only get better, and Corey Dillon's impact will likely be negligible, as running backs with that many carries coming off poor, injury-plagued years rarely recapture past glory.
Looking to win a few bar bets? Ask your buddies who led the NFL in touchdown passes last year. Chances are your cronies won't recall it was Brady, with 28. Even with the pretty 2002 stats (which included 3,764 passing yards), Brady won't be a high pick in most leagues, mostly because he doesn't contribute much as a runner (153 yards, one touchdown in two years as a starter). Fantasy owners will also remember how Brady faded in the latter stages of both of the last two seasons. He didn't have a touchdown pass in three of his last seven starts last year, and he had just two scoring passes over the final five games of 2001. If New England can generate a reliable rushing game again this fall, Brady could easily slip to the 16 to 20 range for touchdown passes.
More Fantasy News