Speed Kills for Rookie Running Backs

The 2008 NFL Scouting Combine was one for the ages, particularly for the rookie running backs. Everyone remembers Chris Johnson's record-breaking 4.24 40-yard dash, but numerous backs were burning up the track that day in Indianapolis. All told, 13 running backs recorded sub-4.5 times, including Darren McFadden (4.33), Jamaal Charles (4.38), Rashard Mendenhall (4.41), Ray Rice (4.42), Felix Jones (4.44), Matt Forte (4.44), Steve Slaton (4.45) and Jonathan Stewart (4.46). In comparison, only four running backs checked in under 4.5 at the 2009 Combine, with the fastest time at just 4.45 (Cedric Peerman).

It's really no surprise that the 2008 rookie running back class is one of the greatest of all-time. Of the leaders in approximate value per season (a great judge of fantasy value) since 2005, nine of the top 19 came from the 2008 class. Although no one could have completely envisioned the future success of the 2008 class, there were certainly signs its backs would tear it up in the NFL.

I collected data on every running back 40-yard dash from 2005 to 2009 (giving a few years for the running backs to develop to allow for accurate assessments of their value). It's cliché to say, but for NFL running backs, speed kills.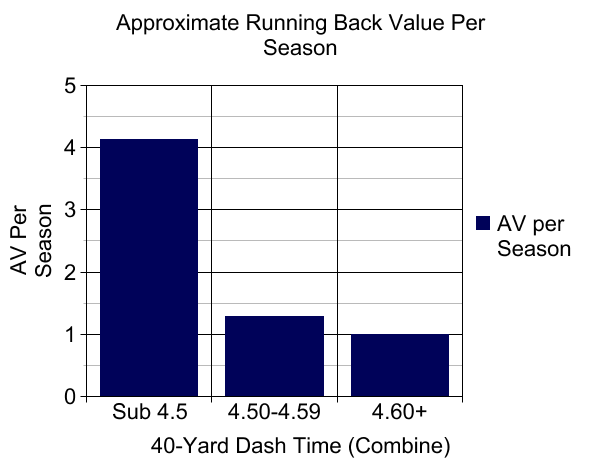 The results couldn't be more apparent; if a running back doesn't check in somewhere in the 4.4s or lower, the odds are stacked against a productive NFL career. The average value of running backs in that range is nearly four times that of backs in the 4.50 to 4.59 range. The fact that running backs who ran over 4.60 have actually performed nearly as well as those between 4.50 and 4.59 confirms that after a certain point, it's probably not worth investing in a rookie running back.

The results are particularly shocking because, from 2005 to 2009, only 31.8 percent of the running backs who ran at the Combine clocked a sub-4.5. Exactly one-third of them actually ran above 4.60. Many of those backs got drafted despite overwhelming odds against succeeding in the big leagues.

Of the 25 most successful running backs (in terms of AV per season) drafted between 2005 and 2009, the average 40-yard dash time was 4.46. Only eight of those players ran a 4.50 or worse, and only two (Shonn Greene and Frank Gore) ran worse than 4.60.

That's not to say there's some "magic" 40-yard dash time that predicts future NFL success, but it's probably accurate to claim that there's a narrow range that acts as a sort of "tipping point" (probably in the low-4.5s) for rookie running backs and, of course, faster is probably better.

That's confirmed further when you look at the "hit rate" of rookie backs; of the six backs to run sub-4.40 between 2005 and 2009, five (83.3 percent) have recorded an AV per season of at least 5.0, and the average is 7.88. Of the 38 running backs who ran between 4.40 and 4.49, only 11 (28.9 percent) have posted at least a 5.0 AV per season. Their average drops to 3.50 - less than half that of the sub-4.4 backs. And of the remaining 90 backs to check in at 4.50 or greater, only six (6.7 percent) recorded an AV per season of at least 5.0. Their average is just 1.14.

It's important to note that there's a selection bias at work; the fastest running backs typically get drafted highest, meaning they get more opportunities to play. Nonetheless, the amazing gap between sub-4.5 runners and 4.50-plus backs is substantial enough that it can't be explained solely by draft spot.

When you're examining the 2013 rookie running back class, there will be a variety of factors to consider (many of which I'll dig into deeper at a later time). If you're deciding between two different rookies, though, it's probably best to side with the speed. You could hit on a Frank Gore (4.65) once in a blue moon, but you're far more likely to find value in a Jamaal Charles (4.38) or Maurice Jones-Drew (4.39).

Further, be very critical of any running back that runs higher than a 4.50, regardless of his draft spot. Had the Cardinals been playing the percentages in the 2009 NFL Draft, they almost certainly wouldn't have wasted a pick on Beanie Wells (4.59).

Jonathan Bales is the author of Fantasy Football for Smart People: How to Dominate Your Draft. He also runs the "Running the Numbers" blog at DallasCowboys.com and writes for the New York Times.