Fantasy Contributions from Players Listed as 'Questionable'
The dreaded 'Q.' Absolutely the worst letter out there for fantasy owners. Not only is it scared to go anywhere without it's big brother 'U,' but it also often necessitates last-minute roster changes. And even if 'Q' plays, who knows if he's going to give you his regular production?
Well, I do. I can't tell you how many times I've made close lineup decisions based on player health. If I were deciding between two players, and one was questionable while the other wasn't on the injury report, you better believe I was getting as far away from 'Q' as possible.
I owe you an apology, 'Q.' You make my life a little harder, I guess, but you aren't as poisonous as I thought. I charted the fantasy points scored by questionable players relative to their average points scored during that season, and here's the distribution: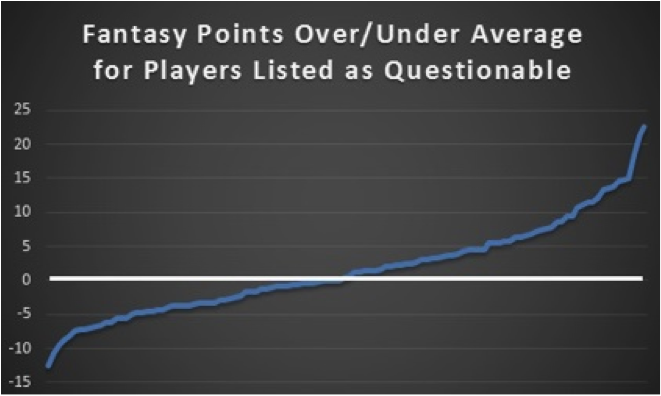 The b
You've reached the end of our free article preview.
See below to find out how you can read the full version of this article.
Subscribe to RotoWire now and you'll be reading the full version of this article in minutes.
At RotoWire, we give our subscribers everything. That means not only will you be able to read this article, you'll be able to read ALL our articles.
Plus, you'll get all of these great benefits:
| | |
| --- | --- |
| ➤ Amazing draft kits. | ➤ Full stat projections. |
| ➤ Exclusive cheat sheets. | ➤ Customizable rankings. |
| ➤ Instant news updates. | ➤ Free multi-sport access. |
| ➤ Private expert Q&A. | ➤ And much more! |
Already Registered? Login Now
If you already have a RotoWire account, please login below with your username and password.
Forgot your password?
Click here to have your user info emailed to you.
Questions? Need Assistance?
Talk to a live person toll free at (888) 201-3057.
---