Rules for Drafting Rookies
Even though the majority of NFL organizations seem to make draft picks using a combination of a Ouija board and, even worse, the opinions of scouts, the top draft picks still turn into the best pros. That's probably mainly a self-fulfilling prophecy because the highest picks get the most playing time and more opportunities to succeed.
It doesn't really matter why the highest draft choices record the best fantasy numbers; for our purposes, we just want to know how much better a first-rounder is than, say, a third-round pick, and how we can use that data to predict rookie stats at each position.
Here's how rookies in each draft round have been able to contribute since 2000: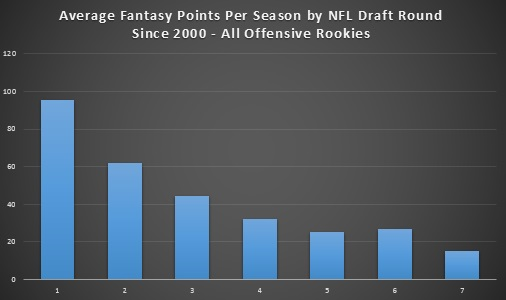 Third-round picks have provided around half as much bulk production as first-rounders. Interestingly, the difference between a fourth and sixth-rounder hasn't been all that much. Onc
You've reached the end of our free article preview.
See below to find out how you can read the full version of this article.
Subscribe to RotoWire now and you'll be reading the full version of this article in minutes.
At RotoWire, we give our subscribers everything. That means not only will you be able to read this article, you'll be able to read ALL our articles.
Plus, you'll get all of these great benefits:
| | |
| --- | --- |
| ➤ Amazing draft kits. | ➤ Full stat projections. |
| ➤ Exclusive cheat sheets. | ➤ Customizable rankings. |
| ➤ Instant news updates. | ➤ Free multi-sport access. |
| ➤ Private expert Q&A. | ➤ And much more! |
Already Registered? Login Now
If you already have a RotoWire account, please login below with your username and password.
Forgot your password?
Click here to have your user info emailed to you.
Questions? Need Assistance?
Talk to a live person toll free at (888) 201-3057.
---