Get started by redeeming the Rivals Fantasy promo code ROTOWIRE23 to get a risk-free first play worth up to $50. If you lose, Rival Fantasy will refund your first entry, worth up to $50. Why not play with house money at Rival Fantasy?
Sign up for Rivals Fantasy Now
What Is The Rival Fantasy Promo Code?
| | |
| --- | --- |
| 🎁 Rival Fantasy Promo Code | ROTOWIRE23 |
| 🖊️ Rival Fantasy Bonus Offer | $50 Risk-Free First Play |
| 🥇 Why Play At Rival Fantasy? | Sleek app and top-tier user experience |
| ✅ Promo Code Last Validated | May, 2023 |
To redeem the Rival Fantasy promo code, all you have to do is click on the links on this page and use the promo code ROTOWIRE23 to get started.
Get Started With Promo Code ROTOWIRE23
What States Can I Play Rival Fantasy In?
Rivals Fantasy is available in 28 states, including some of the largest in the US. Here is a list of states.
California
Texas
Florida
Colorado
New Hampshire
Illinois
Georgia
North Carolina
Maryland
Wisconsin
Minnesota
South Carolina
Kentucky
Oregon
Oklahoma
Utah
New Mexico
Nebraska
West Virginia
Rhode Island
South Dakota
North Dakota
Alaska
Washington DC
Wyoming
Kansas
New York
Massachusetts
You must be 18+ years of age in most states, 19+ in Nebraska, and 21+ in Alaska, Illinois, Kansas, Massachusetts, and West Virginia.
Sports Available To Play At Rivals Fantasy
There are just a handful of sports available to play at Rivals Fantasy, including the "big three" professional sports in the US.
NFL
NBA
MLB
More coming soon!
Sign up for Rivals Fantasy Now
Game Types Available And How To Play At Rival Fantasy
There are a few types of games available at Rivals Fantasy, as there is something for everyone. Below, we look at the types of gaming available and how to play each.
Challenges
Challenges is a game where a user selects two players that play against each other to see which player will get the most fantasy points. To join, you can choose your player and battle against other Rival users for cash prizes.
There are only four easy steps to follow. First, look at who is playing who. Second, choose the player you think will get the most points in your fantasy sport. Third, choose how much you want to play. The last step is to confirm your entry and begin playing.
There are two ways to play "Challenges" as there are social challenges and traditional. Social allows you to challenge a friend in a one-on-one matchup. Traditional is more widespread, and you can challenge anyone on the Rivals platform.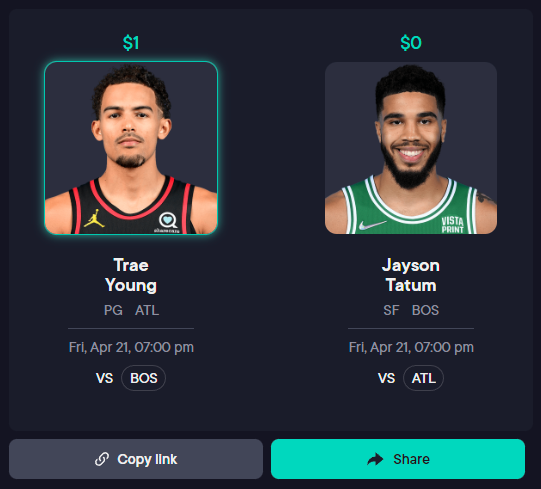 Fantasy Bingo
Fantasy Bingo is a fantasy version of the traditional of bingo. You get achievements instead of numbers. To play, you have to buy a $1 bingo card with a 5x5 grid that has 25 achievements on it.
There are four steps to playing. Buy a bingo card first. Second, look at the achievements you received. Third, you need to add people to your roster. Finalize your team, and then start playing.
To win, you need either five achievements in a row or four achievements in a corner. If no one wins, the jackpot carries over to the next day.
NFL Fantasy bingo is shown below, and MLB bingo is coming soon (as of spring 2023).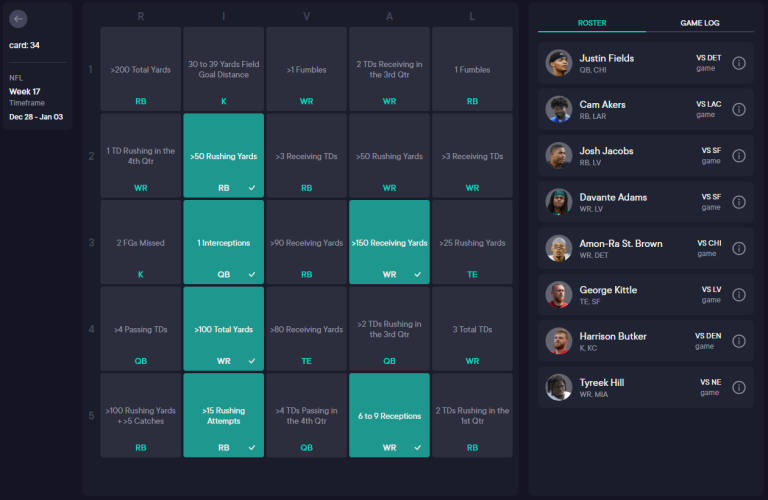 FantasyBook
Fantasybook is a game where you pick whether a fantasy player will get more or less points than they were projected to get. To play, you need to pick 2–5 players and decide if each one will score more or less than their expected fantasy total.
There are three steps to playing. First, choose 2–5 players. Second, look over your choices to be sure of your players. Third, pick "over" or "under" and put the amount you want to enter. You can start playing once you confirm your entry amount.
You can make entries with people from the same sport or from different sports, and you can play between $1 and $10 on each entry. The amount of money you win depends on how many picks you get right.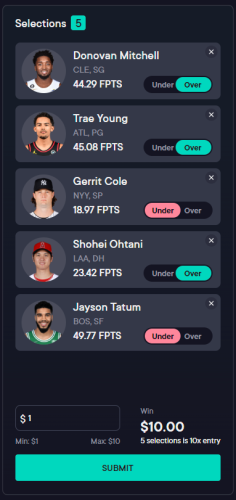 Rules and Scoring At Rivals Fantasy
The scoring varies for different sports available at Rivals. Here are the scoring systems, taken directly from the Rivals scoring page.
NFL Scoring
Passing Yards = 0.04 Pts
Passing Touchdowns = 4 pts
Passing Interceptions = -2 pts
Rushing Yards = 0.1 pts
Rushing Touchdowns = 6 pts
Receptions = 1 pt
Receiving Yards = 0.1 pts
Receiving Touchdowns = 6 pts
Two-Point Conversions = 2 pts
Fumbles Lost = -2 pts
PAT Made = 1 pt
FG Made (0-49 yards) = 3 pts
FG Made (50+ yards) = 5 pts
NBA Scoring
Three Point Field Goals = 3 pts
Two Point Field Goals = 2 pts
Free Throws Made = 1 pt
Rebounds = 1.2 pts
Assists = 1.5 pts
Blocked Shots = 2 pts
Steals = 2 pts
Turnovers = -1 pt
MLB Scoring
Batters
Single = 3 pts
Double = 5 pts
Triple = 8 pts
Home Run = 10 pts
Run = 2 pts
Run Batted In = 2 pts
Base on Balls = 2 pts
Hit By Pitch = 2 pts
Stolen Base = 5 pts
Pitchers
Innings Pitched = 2.25 pts
Strikeout = 2 pts
Earned Run Allowed = -2 pts
Hit Against = -0.6 pts
Base on Balls Against = -0.6 pts
Hit Batsman = -0.6 pts
Win = 4 pts
Complete Game = 2.5 pts
Complete Game Shutout = 2.5 pts
No Hitter = 5 pts
For a full list of rules, check out Rival Fantasy's rules and scoring page here. You can also get a full rundown of terms and conditions at Rival Fantasy, here.