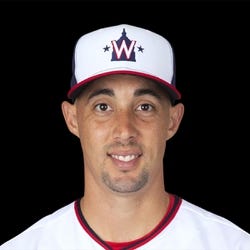 Rest-of-Season Projections
2023 Fantasy Outlook
There was no outlook written for Aaron Sanchez in 2023. Check out the latest news below for more on his current fantasy value.
$Signed a one-year, minor-league contract with the Twins in February of 2023.

ANALYSIS
Sanchez was cut by the Twins in July after putting up a 5.30 ERA and 1.74 WHIP through 73 innings in Triple-A, and he'll now look to make the most of a second chance with Arizona. The 31-year-old righty has regressed significantly from his impressive 2021 campaign and will serve as organizational depth in Triple-A Reno.
Read More News
Pitching Stats
Loading Pitching Stats...
2022 MLB Game Log

Calculate Stats Over Time
Just click on any two dates.
Scoring
FanDuel
DraftKings
Yahoo DFS
Loading Pitching Game Log...
2021 MLB Game Log

Calculate Stats Over Time
Just click on any two dates.
Scoring
FanDuel
DraftKings
Yahoo DFS
Loading Pitching Game Log...
2019 MLB Game Log

Calculate Stats Over Time
Just click on any two dates.
Scoring
FanDuel
DraftKings
Yahoo DFS
Loading Pitching Game Log...
2018 MLB Game Log

Calculate Stats Over Time
Just click on any two dates.
Scoring
FanDuel
DraftKings
Yahoo DFS
Loading Pitching Game Log...
2017 MLB Game Log

Calculate Stats Over Time
Just click on any two dates.
Scoring
FanDuel
DraftKings
Yahoo DFS
Loading Pitching Game Log...
Minor League Game Log

Calculate Stats Over Time
Just click on any two dates.
Loading Minor League Pitching Game Log...
Left/Right Pitching Splits
BAA
K
BB
H
HR
Since 2021

vs Left

.247
29
12
39
3
Since 2021

vs Right

.323
38
18
71
7
2023

vs Left

0
0
0
0
0
2023

vs Right

0
0
0
0
0
2022

vs Left

.265
18
4
26
1
2022

vs Right

.364
23
11
52
7
2021

vs Left

.217
11
8
13
2
2021

vs Right

.247
15
7
19
0
More Splits

→

View More Split Stats
Home/Away Pitching Splits
ERA
WHIP
IP
K/9
BB/9
Since 2021

Home

4.93
1.19
42.0
6.2
2.1
Since 2021

Away

5.57
1.69
53.1
6.4
3.4
2023

Home

0
0
0
0
0
2023

Away

0
0
0
0
0
2022

Home

6.39
1.38
25.1
6.0
1.4
2022

Away

6.75
1.67
34.2
6.2
2.9
2021

Home

2.70
0.90
16.2
6.5
3.2
2021

Away

3.38
1.71
18.2
6.8
4.3
More Splits

→

View More Split Stats
Advanced Pitching Stats
Loading Advanced Pitching Stats...
Loading MLB Defensive Stats...
Our full team depth charts are reserved for RotoWire subscribers.
Subscribe Now
Recent RotoWire Articles Featuring Aaron Sanchez
See More
Past Fantasy Outlooks
2021
2020
2019
2018
2017
2016
2015
2014
2013
2012
Sanchez made 27 starts for the Blue Jays and Astros in 2019, but he dealt with a shoulder issue at the end of the season that forced him to miss the entire 2020 campaign. The right-hander's injury could have contributed to his woes in 2019, as he posted a career-worst 5.89 ERA along with a 1.62 WHIP over 27 starts. His 5.15 xFIP was more on par with his marks from the two prior seasons, but he struggled to limit meaningful contact with a 39.8% hard-hit rate, the worst mark of his career. Sanchez didn't have the strikeout rates to compensate for those issues, remaining fairly steady at a 19.0 K%. The use of his changeup has spiked over the past several seasons, and it's safe to wonder whether he'll lean on his fastball more going forward now that he's fully healthy heading into 2021. Sanchez should serve as a back-end starter in 2021, but he will have to prove himself in order to regain some fantasy value.
Injuries limited Sanchez's playing time last season, and he underwent surgery on his throwing shoulder in mid-September that could cause him to miss the entire 2020 season. The 27-year-old's recovery timetable was estimated at 12-to-14 months, limiting him to a late-season return at best. Sanchez was traded to the Astros at the trade deadline last year and was masterful in his first outing with the club before going down with the shoulder issue shortly thereafter. He was non-tendered in the offseason. Sanchez bumped his K-rate up slightly but he continued to struggle with walks (11.2%) and hitters teed off when he did challenge in the zone. The only area in which he graded out as a real plus by Statcast metrics was curveball spin, which explains why the Astros wanted to give him a look. His 2016 season will live forever, but the dream of a return to that level is not worth holding onto in dynasty leagues.
Injuries took their toll on Sanchez for the second season in a row, and he was limited to just 20 starts in 2018. He was unable to find consistent success when on the mound, finishing with a gaudy WHIP for the second season in a row. Sanchez was one of the more effective pitchers in the league in 2016, so there will inevitably still be believers in 2019 drafts and auctions. However, for as good as Sanchez can look when healthy and on his game, the strikeouts have never really been there. Even in that breakout 2016 season in which he posted a 3.00 ERA, he had just a 20.4% strikeout rate. His control has been a mess the past two seasons and the division is filled with tough opponents and hitter-friendly ballparks. In short, Sanchez should be viewed primarily as a late-round dart.
It was a disappointing 2017 season for Sanchez, as the right-hander was only able to make eight starts due to a recurring blister issue. His last appearance came in mid-July, and throughout the course of the year he posted a 4.25 ERA and 1.72 WHIP; Sanchez was unable to get into any sort of groove. This came on the heels of a breakout 2016 campaign in which Sanchez recorded a 3.00 ERA over 192 innings with the peripherals to mostly back it up (7.6 K/9, 3.0 BB/9, 0.70 HR/9). He wasn't able to make another leap into the upper echelon of hurlers this past season, but there's legitimate hope that he will regain his form following a full offseason of rest, although it's no lock that the blister epidemic will just fade away. Health provided, the 25-year-old should slide into the front-end of Toronto's rotation, just behind Marcus Stroman.
Few saw Sanchez's 2016 campaign coming. In his first big league season as a starter, the 23-year-old posted Cy Young-caliber numbers, leading the AL in ERA and win percentage (.882) while managing the league's ninth-best WHIP (1.17) and win total (15). The right-hander's refined curveball proved a perfect complement to his elite fastball that routinely sat in the mid-90s. Sanchez's biggest battle was his own organization. From the start, Jays upper management declared they would limit his innings and even planned to move him to the bullpen by midseason. However, his unexpected dominance changed things, and he wound up logging 192 regular-season innings with an average of 97.3 pitches per start while notching 23 quality starts (tied for third in the AL) over 30 starts. Including the playoffs, the righty tossed 203.2 frames. He seems ripe to regress, especially considering he only struck out 7.55 per nine innings while walking 2.95. Those peripherals don't jive with such a low ERA and he looks even riskier coming off almost a 100-inning jump.
After shining out of the Toronto bullpen as a rookie in 2014, Sanchez won a spot in the starting rotation to begin the 2015 season. He struggled in April, but was really turning it around in May and June before a shoulder strain forced him onto the DL. Upon his return in late July, Sanchez was assigned to the bullpen where he developed into the team's setup man down the stretch. His overall numbers do not jump off the page, but Sanchez had a 2.39 ERA, 0.87 WHIP and .467 OPS allowed in his 30 relief appearances. Sanchez is known for an electric mix of pitches that allows him to strike batters out at a high clip, and he has shown an ability to control his pitches better in shorter spurts. Still, the team has not said officially whether Sanchez will be in the bullpen or the starting rotation in 2016. If his proven success in relief keeps him in the bullpen, he should continue working as a primary setup man.
Sanchez finally debuted his electric stuff with the Blue Jays in 2014, excelling in a late-inning role out of the bullpen. The 6-foot-4 righty started the season at Double-A New Hampshire, where the refrain about his poor control continued, as he walked 14 percent of the batters he faced in 66 innings. Sanchez was then promoted to Triple-A Buffalo for a five-week stretch and then made the jump to the majors in late July, where he worked exclusively as a reliever. The 22-year-old was fantastic out of the bullpen, posting a 1.09 ERA and 0.70 WHIP with 27 strikeouts in 33 innings. He also notched three saves, splitting time with Casey Janssen in the closer role down the stretch. Sanchez's dominance as a big-league reliever, and his struggles as a starter in the upper levels of the minors combine to lend credence to the idea that he profiles best as a dominant closer long term. To begin 2015, he'll likely get a look in the rotation following the loss of Marcus Stroman to a torn ACL in March, with the fallback option of moving back into the bullpen if he's unable to harness his control in the expanded role.
Sanchez spent nearly all of 2013 at High-A Dunedin, finishing with a 3.34 ERA, 7.8 K/9, and 4.2 BB/9 over 83.1 innings, as a shoulder injury cost him part of the season. The walk rate, while still not very good, reflects improved control compared to 2011 and 2012. Meanwhile, Sanchez couldn't carry over his strikeout totals to the next level, after posting a 9.7 K/9 for Low-A Lansing in 2012. Poised to open 2014 at Double-A New Hampshire, Sanchez is considered a potential frontline starter for the Jays down the line, but it would be encouraging to see him miss bats at an elevated clip again in the Eastern League this season.
Sanchez spent most of the 2012 season working as a starter at Low-A Lansing, where lapses with control (5.1 BB/9) offset an impressive ability to miss bats (9.7 K/9) and record a large number of outs on the ground (2.22 G/F). If his secondary pitches don't develop as expected, Sanchez possesses a big enough fastball to succeed with a transition toward a late-inning relief role. Still just 20 years old, the Jays can afford to give Sanchez plenty of time to hone his command in the lower levels of the minors, and it's possible that he will return to the Midwest League to start 2013 before getting his first exposure to High-A.
The tall, lanky (6'4", 190) righty flashes plus-velocity with an easy delivery and many scouts believe he has a very high upside. He needs to wok on his control but the 18-year old held his own in 2011, striking out 56 batters in 54.1 innings between Rookie and Low-A.
More Fantasy News