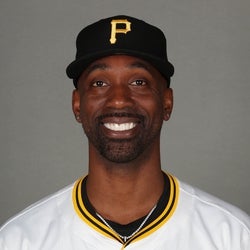 Rest-of-Season Projections
2023 Fantasy Outlook
McCutchen joined Milwaukee on a one-year, $8.5 million pact for 2022 and split time between designated hitter and the outfield. He played in 134 games and had a .237/.316/.384 slash line with 17 home runs, 69 RBI and eight stolen bases. His 98 wRC+ was the worst of his career, as was his .147 ISO. In recent years he's enjoyed most of his success against left-handed pitching, but that production fell off last season with a .738 OPS. McCutchen's decline will likely only continue as he enters his age-37 campaign, though he was still able to secure a $5 million pact with the Pirates for 2023. Now back at his old stomping grounds in Pittsburgh, McCutchen should be a lineup regular for a team short on established talent, which is likely to further limit his potential for runs and RBI.
Read Past Outlooks
$Signed a one-year, $5 million contract with the Pirates in January of 2023.

Productive against Oakland
McCutchen went 0-for-1 with three walks and two RBI on Monday against the Athletics.
ANALYSIS
It was an unusual -- yet productive -- line for McCutchen, as he drew a bases-loaded walk and hit a sacrifice fly to tally his two RBI. He's now reached based multiple times in five consecutive games, during which he's drawn six free passes combined with six hits. His combination of a .373 on-base percentage and .442 slugging percentage across 217 plate appearances this season gives him his highest OPS since the 2019 campaign.
Read More News
Batting Stats
2023
2022
2021
2020
2019
2018
2017
2023 MLB Game Log

Calculate Stats Over Time
Just click on any two dates.
Scoring
FanDuel
DraftKings
Yahoo DFS
Loading Batting Game Log...
2022 MLB Game Log

Calculate Stats Over Time
Just click on any two dates.
Scoring
FanDuel
DraftKings
Yahoo DFS
Loading Batting Game Log...
2021 MLB Game Log

Calculate Stats Over Time
Just click on any two dates.
Scoring
FanDuel
DraftKings
Yahoo DFS
Loading Batting Game Log...
2020 MLB Game Log

Calculate Stats Over Time
Just click on any two dates.
Scoring
FanDuel
DraftKings
Yahoo DFS
Loading Batting Game Log...
2019 MLB Game Log

Calculate Stats Over Time
Just click on any two dates.
Scoring
FanDuel
DraftKings
Yahoo DFS
Loading Batting Game Log...
2018 MLB Game Log

Calculate Stats Over Time
Just click on any two dates.
Scoring
FanDuel
DraftKings
Yahoo DFS
Loading Batting Game Log...
2017 MLB Game Log

Calculate Stats Over Time
Just click on any two dates.
Scoring
FanDuel
DraftKings
Yahoo DFS
Loading Batting Game Log...
Minor League Game Log

Calculate Stats Over Time
Just click on any two dates.
Loading Minor League Batting Game Log...
Batting Order Slot Breakdown
#1
#2
#3
#4
#5
#6
#7
#8
#9
#1
#2
#3
#4
#5
#6
#7
#8
#9
Left/Right Batting Splits
OPS
PA
HR
RBI
AVG
Since 2021

vs Left

.876
434
25
58
.254
Since 2021

vs Right

.694
951
27
114
.228
2023

vs Left

.794
74
3
7
.230
2023

vs Right

.821
157
5
16
.287
2022

vs Left

.738
165
7
19
.221
2022

vs Right

.685
415
10
50
.243
2021

vs Left

1.027
195
15
32
.293
2021

vs Right

.650
379
12
48
.186
More Splits

→

View More Split Stats
Home/Away Batting Splits
OPS
PA
HR
RBI
AVG
Since 2021

Home

.766
677
25
85
.240
Since 2021

Away

.736
708
27
87
.232
2023

Home

.822
112
3
11
.289
2023

Away

.803
119
5
12
.250
2022

Home

.735
277
10
36
.235
2022

Away

.669
303
7
33
.238
2021

Home

.775
288
12
38
.227
2021

Away

.782
286
15
42
.217
More Splits

→

View More Split Stats
Stat Review
How does Andrew McCutchen compare to other hitters?
This section compares his stats with all batting seasons from the previous three seasons (minimum 400 plate appearances)*. The bar represents the player's percentile rank. For example, if the bar is halfway across, then the player falls into the 50th percentile for that stat and it would be considered average.
* Exit Velocity and Barrels/PA % are benchmarked against 2019 data (min 400 PA) and Hard Hit Rate is benchmarked against last season's data (min 400 PA).
See here for more exit velocity/barrels stats
plus an explanation of current limitations with that data set.
BB/K

Walk to strikeout ratio

BB Rate

The percentage of plate appearances resulting in a walk.

K Rate

The percentage of plate appearances resulting in a strikeout.

BABIP

Batting average on balls in play. Measures how many of a batter's balls in play go for hits.

ISO

Isolated Power. Slugging percentage minus batting average. A computation used to measure a batter's raw power.

AVG

Batting average. Hits divided by at bats.

OBP

On Base Percentage. A measure of how often a batters reaches base. Roughly equal to number of times on base divided by plate appearances.

SLG

Slugging Percentage. A measure of the batting productivity of a hitter. It is calculated as total bases divided by at bats.

OPS

On base plus slugging. THe sum of a batter's on-base percentage and slugging percentage.

wOBA

Weighted on-base average. Measures a player's overall offensive contributions per plate appearance. wOBA combines all the different aspects of hitting into one metric, weighting each of them in proportion to their actual run value.

Exit Velocity

The speed of the baseball as it comes off the bat, immediately after a batter makes contact.

Hard Hit Rate

A measure of contact quality from Sports Info Solutions. This stat explains what percentage of batted balls were hit hard vs. medium or soft.

Barrels/PA

The percentage of plate appearances where a batter had a batted ball classified as a Barrel. A Barrel is a batted ball with similar exit velocity and launch angle to past ones that led to a minimum .500 batting average and 1.500 slugging percentage.

Expected BA

Expected Batting Average.

Expected SLG

Expected Slugging Percentage.

Sprint Speed

The speed of a runner from home to first, in feet per second.

Ground Ball %

The percentage of balls put in play that are on the ground.

Line Drive %

The percentage of balls put in play that are line drives.

Fly Ball %

The percentage of balls put in play that are fly balls.
Advanced Batting Stats
Loading Advanced Batting Stats...
Games By Position
Defensive Stats
Loading Games Played by Position...
Loading MLB Defensive Stats...
Batted Ball Stats
Loading Batted Ball Stats...
Stats Vs Upcoming Pitchers
Our full team depth charts are reserved for RotoWire subscribers.
Subscribe Now
Recent RotoWire Articles Featuring Andrew McCutchen
See More
Past Fantasy Outlooks
2022
2021
2020
2019
2018
2017
2016
2015
2014
2013
2012
2011
2010
2009
2008
2007
2006
Heading into his age-35 season, McCutchen's days as an above-average everyday outfielder may be over. After struggling to a barely above-average 102 wRC+ in 2020, he wasn't much better in 2021, as his .222/.334/.444 slash line was good for a 107 wRC+. That would have played fine when paired with the solid defense in center field that McCutchen provided early in his career, but it's not nearly good enough for a player who's now well below-average defensively in the outfield corners. That's not to say McCutchen is completely cooked, however, as his 27 homers in 2021 represented the third-best mark of his career, while his 14.1 BB% means he continued to get on base consistently even as his batting average declined. He continued to mash lefties, hitting .293/.405/.622 against them, but his anemic .186/.298/.352 line against righties may mean he fits best on the small side of a platoon going forward. McCutchen signed with the Brewers on a one-year deal and is expected to see most of his action at designated hitter.
The delayed start bought McCutchen the time to return from his torn ACL without missing any games. He remained healthy all year, though he couldn't escape the effects of aging. His .253/.324/.433 slash line was far from terrible, though it was good for a modest 103 wRC+, the lowest mark of his 12-year career. His 19.9 K% was right in line with his numbers from recent seasons, but his 9.1 BB% represented a career low. It's possible his eye got worse, or it's possible pitchers simply don't fear him like they used to. Statcast suggests he was the victim of some bad luck, giving him a .277 xBA and a .485 xSLG, and the Phillies will hope he can move towards those numbers this season, as a barely above-average line isn't good enough for a corner outfielder. He remained a solid all-around contributor, adding 10 homers and four steals, but if his numbers take another step back, there's a risk he loses playing time.
McCutchen was thriving atop the Phillies' lineup early in the season, taking advantage of a hitter-friendly home park and a good lineup behind him. In 59 games, he hit .256/.378/.457 with 10 homers and 45 runs scored. Unfortunately, he tore his ACL in early June, requiring season-ending surgery. He's expected to be ready for the start of the season, and his career-best 16.4% walk rate hinted at the sort of growth a veteran needs to make to offset declining physical abilities. He had only stolen two bases prior to suffering the injury, so the days of McCutchen being a five-category asset are probably over, and he may only be a four-category anchor in OBP leagues at this point. It will be important to monitor his health this spring, but if he is indeed on track to be ready for Opening Day, McCutchen's home park and lineup context should allow him to serve as a reliable source of runs, RBI and home runs.
After nearly a decade in Pittsburgh, McCutchen was one of many core players the Pirates sent packing in last winter's retooling. The move to San Francisco unsurprisingly hurt McCutchen's power output, with the 32-year-old finishing with a career-worst .424 slugging percentage that may have slid further if not for a late-August trade to the Yankees. Aside from that, McCutchen's skills otherwise seemed to hold steady, as he maintained his usually stellar plate discipline and was active on the basepaths, though his efficiency took a hit. With little in McCutchen's batted-ball profile foreshadowing a major decline, it looks safe to pencil him in for another season of above-average production at the dish, with a ninth straight 20-homer campaign well within reach with half his games coming at Citizens Bank Park in Philadelphia.
It wasn't a return to MVP form for McCutchen in 2017, but he did bounce back considerably and in turn quieted the naysayers (for now). Much was made of the wear and tear on McCutchen's lower half from all the years of patrolling center field, but he generated good bat speed last season, posting the second-highest home-run total of his career. He did that despite nursing a nagging thumb injury during the summer months. McCutchen trimmed his strikeout rate by more than three percentage points and added back to his walk rate, resulting in a .360 wOBA (.354 xwOBA). While he did fade down the stretch with a .260/.341/.433 line in the second half while taking a slight step back on the whole against right-handed pitching, McCutchen proved he still has something left in the tank as he enters his age-31 campaign. In January, the Giants acquired him from the Pirates for Kyle Crick and Bryan Reynolds, and it's expected that McCutchen will stabilize a San Francisco outfield that desperately needed upgrades after a dismal 2017 campaign.
What happened to the Andrew McCutchen who finished top-five in NL MVP voting four straight seasons from 2012 to 2015? Fantasy owners saw the 30-year-old unexpectedly drop off a cliff last summer. He batted just .241/.311/.408 with a 35:107 BB:K through July. A final two-month rally -- .284 batting average, .852 OPS and 34:36 BB:K -- helped salvage a terrible showing, but serious questions remain. Defensively, McCutchen finished last in defensive runs saved (-28) and numerous other metrics, leading to speculation Pittsburgh might move him from center field. They should. He swiped only six bases (in 13 attempts) and rarely showed the athleticism that made him elite. The outfielder will likely rebound to some extent in 2017, but even his late-season improvement wasn't on par with his previous All-Star seasons. Waiting on him to drop in drafts might be the best route to take.
McCutchen's 2015 season wasn't too far off from what he did in his MVP season in 2014. However, he did have fewer extra-base hits, hit below .300 for the first time in three seasons and the stolen bases were noticeably absent. From a skills perspective, he is very stable as a guy that gets on base at an elite rate and makes contact better than the league average. Baseball statistics are anything but linear, though the three-year downward trend in McCutchen's steals is worth watching because it could pull him out of a lock status as first-round pick if he doesn't trade the steals out for more power. Another 20/20 season is possible, but so is a 30/10 with some favorable HR/FB fluctuation. At worst, he's a top-20 pick, but he can finish in the top 10 again. An incredibly safe pick.
A rib avulsion fracture forced McCutchen to the disabled list for the first time in his six big-league seasons, but he still suited up for 146 games in 2014. The 28-year-old batted .314/.410/.542 with 25 homers and 18 steals in 648 plate appearances, making his third straight appearance as an NL MVP finalist (he won in 2013). Opponents continue to pitch McCutchen carefully; his zone percentage (pitches thrown inside the strike zone) dropped for the sixth consecutive campaign to a career-low 42.2%, but the center fielder still found a way to put up big numbers. He led the NL with a .952 OPS and is primed for yet another big season in 2015.
McCutchen enters his age 27 season with a shiny new NL MVP Award under his belt. His league-leading 8.2 WAR in 2013 included 21 homers, 27 steals, 97 runs scored and a .911 OPS. He saw action in 157 games, making it four straight years McCutchen's played in at least 154 contests. Cutch wrecked left-handed pitching to the tune of a .388 batting average and 1.130 OPS, which was actually worse than his 2012 numbers (.392 BA and 1.141 OPS). After tailing off the past couple seasons, the Pittsburgh center fielder avoided a late-season collapse at the plate. McCutchen is in the prime of his career and could easily contend for a second straight MVP in 2014.
McCutchen nearly won Pittsburgh's first MVP award since 1992, when Barry Bonds turned the trick. Cutch finished third in NL MVP voting, compiling a slash line of .327/.400/.553 with 31 homers and 20 stolen bases in 593 at-bats. His season could be broken into three speeds; slow, Mach 5 and idling. He didn't homer until the 26th game, but then lit up major league pitching to the tune of a .393/.452/.700 slash line in his next 81 contests. From August 9 to season's end, however, McCutchen saw his MVP hopes dashed with a .240/.341/.408 mark. It's hard to fault him for expanding his strike zone as opponents intentionally walked him 13 times and right-handers consistently fed him breaking pitches low-and-outside off the plate. Southpaws had no such answer for him -- McCutchen shredded lefties to the tune of a .392 batting average (51-for-130) and 1.141 OPS. On the basepaths, his struggles continued -- he was thrown out 12 times in 32 stolen base attempts and picked off six times as well. He's not the biggest guy around at 5-foot-10, 185 pounds and the Pirates would do well to give him more days off in the early season. Still, he's just 26 years old and trending in the right direction.
McCutchen went big in 2011, setting career-highs in homers (23) and RBI (89). Unfortunately, the strikeouts increased from 89 to 126 as he added power to his repertoire. He finished with a .259 batting average after a second-half slump saw him compile a .227/.336/.416 line in 185 at-bats the last two months of the season. He stole 23 bases in 33 attempts based on sheer speed but lacks the base-stealing instincts to double those numbers. It's pretty safe to pencil in another 20/20 campaign for McCutchen in 2012. At 25, he's still working on different aspects of the game and if he puts it all together, look out, because Cutch hasn't yet peaked.
When it comes to fantasy prowess, McCutchen represents the best Pittsburgh has to offer. In his first full season at the big league level, McCutchen put up a composite line of .286/.365/.449 with 16 homers and 56 RBI. He also finished 12th in the NL with 94 runs scored and fifth with 33 stolen bases (in 43 tries). The 24-year-old center fielder shows a decent eye at the plate (70:87 BB:K ratio), but tries to pull everything during slumps. His BABIP of .311 was strangely low, given his fantastic speed. There was talk that he played through a knee injury for much of the season, meaning that a healthy McCutchen might even do better in 2011.
McCutchen made a statement with his rookie season in 2009, putting up marks of .286/.365/.471 while hitting 12 homers with 22 steals in 108 games. He showed a flair for the dramatic with a three-homer game and a walk-off dinger, becoming the heart and soul of the team despite not coming up from Triple-A until June 4. The Pirates will eventually move him down from first to third in the order, giving him an opportunity for more RBI. There's always a chance for a second-year letdown, but McCutchen is the real deal and is one of the Bucs' best prospects since Barry Bonds. The combination of McCutchen and Pedro Alvarez figures to get its first look at some point in 2010. At 22, McCutchen's keeper value may even be higher than what fantasy owners can expect in the coming season.
McCutchen seems older than 22 if only because he's been touted as a star since being drafted in 2005. One of the youngest players at Triple-A last season, McCutchen hit an uninspired .283 with nine home runs and 50 RBI in 512 at-bats. To his credit, he did attempt a career-high 53 stolen bases, successfully nabbing 34, and improved his BB:K ratio from 48:94 to 68:87. Pittsburgh has handled McCutchen with kid gloves, keeping him away from winter ball in the offseason to give him some additional rest. At some point, the organization needs to find out what it has in him, especially with Nate McLouth as the team's only other entrenched outfielder. Expect to see McCutchen in the majors after the arbitration clock passes another year in 2009.
McCutchen got his first taste of cold-weather baseball in 2007, and the results were not pretty. Playing in the Pennsylvanian mountains of Altoona, the outfielder struggled for the first time in his professional career. McCutchen, Pittsburgh's No. 1 pick in 2005, batted .214 the first two months of the season. He warmed up after that, however, finishing with a .258 Double-A batting average before hitting .313 in 67 Triple-A at-bats. Still just 21, McCutchen figures to start the 2008 campaign with Triple-A Indianapolis. If he does make the majors this summer, his biggest fantasy impact figures to be on the basepaths, where he stole 21 bases last year. Eventually he'll also hit for power, but he went deep just 11 times in 2007, including an inside-the-park job.
McCutchen is the most highly touted prospect in the Pirates organization. He has demonstrated both power and speed in the low minors since being selected with Pittsburgh's No. 1 pick in 2005. Playing primarily for High-A Hickory, McCutchen batted .291 with 14 homers, 62 RBI and 22 stolen bases in 114 games. As a reward, the speedy center fielder was promoted to Double-A Altoona where he hit .308 with three dingers and 12 RBI in 78 at-bats. Generously listed as 5-foot-11, 170, McCutchen will likely start 2007 with Altoona. Should he continue to produce at the higher levels of minor-league play, it would not be surprising to see McCutchen called up mid-season. More likely he'll make his major-league debut in September, but stranger things have happened.
McCutchen, 19, got off to a great minor league start last summer after the Pirates chose him with their No. 1 pick in June. Compared with the likes of Marquis Grissom, McCutchen hit a combined .310 (65-for-210) between Rookie ball and A-ball. The wiry-framed outfielder, who hit a pair of homers and stole 17 bases last year, will likely hone his game for Low-A Hickory in 2006. It wouldn't be surprising to see him end up at Double-A level with another strong season, however.
More Fantasy News