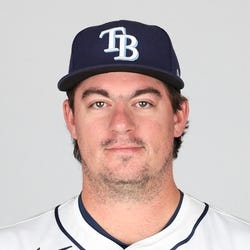 60-Day IL
Injury Elbow
Est. Return 2/1/2024
Rest-of-Season Projections
2023 Fantasy Outlook
There was no outlook written for Brendan McKay in 2023. Check out the latest news below for more on his current fantasy value.
$Signed a two-year, minor-league contract with the Rays in December of 2022.

ANALYSIS
The Rays released McKay in mid-November, though it didn't take long for him to return to the club. He won't pitch at all in 2023 as he rehabs from Tommy John surgery, though the team will hope he can retake the mound with renewed health for the 2024 campaign.
Read More News
Pitching Stats
Loading Pitching Stats...
Batting Stats
2022 MLB Game Log

Calculate Stats Over Time
Just click on any two dates.
Scoring
FanDuel
DraftKings
Yahoo DFS
Loading Pitching Game Log...
2019 MLB Game Log

Calculate Stats Over Time
Just click on any two dates.
Scoring
FanDuel
DraftKings
Yahoo DFS
Loading Pitching Game Log...
Minor League Game Logs

Calculate Stats Over Time
Just click on any two dates.
Loading Minor League Pitching Game Log...
Loading Minor League Batting Game Log...
Prospect Rankings History
Advanced Pitching Stats
Loading Advanced Pitching Stats...
Advanced Batting Stats
Loading Advanced Batting Stats...
Games By Position
Defensive Stats
Loading Games Played by Position...
Loading MLB Defensive Stats...
Batted Ball Stats
Loading Batted Ball Stats...
Stats Vs Upcoming Pitchers
Stats Vs Today's Lineup
Our full team depth charts are reserved for RotoWire subscribers.
Subscribe Now
Recent RotoWire Articles Featuring Brendan McKay
See More
Past Fantasy Outlooks
A shoulder injury that first popped up in February and ultimately required surgery wiped out McKay's 2020 season and his chance to progress from a rough rookie campaign. The brief time he did spend on the mound gives little insight into what might have been, as McKay balanced one impressive spring-training appearance in relief with one ugly start. His dominance in the minors (1.78 ERA, 0.84 WHIP, 11.8 K/9 over 172 innings) oversells his realistic MLB upside moving forward. From a stuff standpoint, he looks much more like a No. 4 starter than a No. 2 starter, and he also has the shoulder surgery and the Rays' frustrating pitcher usage to contend with. Even if he gets back for part of spring training, it seems likely that he would open the year at Triple-A or in extended spring training. This is his final minor-league option year and there are more reasons than not to avoid McKay in redraft mixed leagues.
McKay, the No. 4 overall pick in 2017, had a 1.21 ERA, 0.79 WHIP and 88:15 K:BB in 66.2 innings at Double-A and Triple-A when he got the call for his MLB debut on June 29. He pitched OK in his first three outings, but logged a 7.34 ERA and 1.79 WHIP over his next 30.2 MLB innings, with a few trips back to Triple-A mixed in. The strikeouts and walks were fine for McKay. The big difference between the minors and majors was hard contact. His groundball rate plummeted from 47.1% at Triple-A to 35.2% and he gave up eight home runs after giving up just three in the minors. Touted as a big southpaw with command of a deep arsenal, McKay threw his four-seam fastball and curveball a combined 83.3% of the time in the big leagues, so perhaps working in his cutter and changeup more would help keep hitters off balance. There is strikeout upside, but he will have to earn a true starter's role for the free-thinking Rays.
The bulk of the MLB value McKay will provide will come as a starting pitcher, but he will continue to be developed as a two-way player, for now. The 6-foot-2 southpaw dominated across 78.1 innings, primarily at Low-A and High-A. McKay works with a plus fastball (92-94 mph) and plus cutter, mixing in a curveball and changeup that are solid third and fourth pitches. His advanced strike-throwing ability allows his arsenal to play up. He missed a month in the middle of the season with a strained oblique and his GB% plummeted from an elite 61.0% in the Midwest League to a below-average 37.7% in the Florida State League. Already 23 years old, McKay seems destined to be a No. 3 starter, as early as 2020. At the plate, he walks almost as much as he strikes out, but that passivity prohibits him from regularly getting to his plus power. He is no Shohei Ohtani, but could get some starts at first base or DH against righties when he is not pitching.
The dream of a true two-way player is alive with McKay, who received the second highest bonus in the 2017 draft. He was Hudson Valley's starting pitcher every Sunday, got Wednesday's off for his side session, and saw time at first base and DH in between. On the mound, the 6-foot-2 lefty has a quality four-pitch mix, led by his 93-94 mph fastball. He notched a 21:5 K:BB in 20 innings while holding hitters to a .147 average, looking the part of a future mid-rotation starter. As a hitter, he slashed .268/.374/.454 with four home runs in 97 at-bats against righties, but was completely overmatched in a small sample against lefties. The Rays have said they envisioned him as a hitter when they drafted him, so he may still end up as a full-time first baseman. He worked strictly as a hitter in fall instructs after reaching his innings limit on the mound, but given his relative success in both roles, he will probably go back out as a two-way player again this season.
More Fantasy News