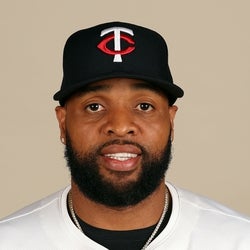 Rest-of-Season Projections
2023 Fantasy Outlook
Santana made the financial decision to take the contract with the Pirates and get paid to play one year removed from a fun stretch of play with Seattle that saw him provide some key moments in their improbable run to the postseason. Santana is often cited as one of the players who should most benefit from the new limitations on shifting, but even a 40-point surge in batting average (that is never happening!) would still keep him below the league averag. Santana has hovered at or under the Mendoza Line for three consecutive seasons after his last big fantasy season in 2019. Santana makes a nice first base platoon partner for Ji-Man Choi when a lefty starter is on the mound if the club wants to give him time in the field rather than DH him every day in the lineup. He should be a volume producer as he has been each of the past two seasons, but that volume comes with a severe batting average penalty. The new shifting conditions could push him back into the .220's, but wishcasting anything more than that is just greedy. We strongly encourage you to take a long look at his Stat Review section below because that section looks much better than his actual production last season.
Read Past Outlooks
$Signed a one-year, $6.73 million contract with the Pirates in November of 2022. Traded to the Brewers in July of 2023.

Batting third again in Game 2
Santana (hand) is
starting at first base
and batting third in Game 2 of the NL Wild Card Series on Wednesday versus the Diamondbacks.
ANALYSIS
Santana jammed his left (glove) hand while applying a hard tag Tuesday in the Brewers' Game 1 loss to Arizona, but he wasn't forced to make an early exit and is right back in action Wednesday as Milwaukee sticks with the same exact starting nine and batting order against the visiting D-backs.
Read More News
Batting Stats
2023
2022
2021
2020
2019
2018
2017
2023 MLB Game Log

Calculate Stats Over Time
Just click on any two dates.
Scoring
FanDuel
DraftKings
Yahoo DFS
Loading Batting Game Log...
2022 MLB Game Log

Calculate Stats Over Time
Just click on any two dates.
Scoring
FanDuel
DraftKings
Yahoo DFS
Loading Batting Game Log...
2021 MLB Game Log

Calculate Stats Over Time
Just click on any two dates.
Scoring
FanDuel
DraftKings
Yahoo DFS
Loading Batting Game Log...
2020 MLB Game Log

Calculate Stats Over Time
Just click on any two dates.
Scoring
FanDuel
DraftKings
Yahoo DFS
Loading Batting Game Log...
2019 MLB Game Log

Calculate Stats Over Time
Just click on any two dates.
Scoring
FanDuel
DraftKings
Yahoo DFS
Loading Batting Game Log...
2018 MLB Game Log

Calculate Stats Over Time
Just click on any two dates.
Scoring
FanDuel
DraftKings
Yahoo DFS
Loading Batting Game Log...
2017 MLB Game Log

Calculate Stats Over Time
Just click on any two dates.
Scoring
FanDuel
DraftKings
Yahoo DFS
Loading Batting Game Log...
Minor League Game Log

Calculate Stats Over Time
Just click on any two dates.
Loading Minor League Batting Game Log...
Batting Order Slot Breakdown
#1
#2
#3
#4
#5
#6
#7
#8
#9
#1
#2
#3
#4
#5
#6
#7
#8
#9
Left/Right Batting Splits
OPS
PA
HR
RBI
AVG
Since 2021

vs Left

.767
493
13
68
.273
Since 2021

vs Right

.675
1291
48
147
.200
2023

vs Left

.807
161
6
27
.266
2023

vs Right

.727
458
17
59
.231
2022

vs Left

.789
142
3
21
.265
2022

vs Right

.655
364
16
39
.178
2021

vs Left

.718
190
4
20
.283
2021

vs Right

.636
469
15
49
.184
More Splits

→

View More Split Stats
Home/Away Batting Splits
OPS
PA
HR
RBI
AVG
Since 2021

Home

.719
894
27
103
.234
Since 2021

Away

.681
890
34
112
.206
2023

Home

.789
290
10
31
.260
2023

Away

.711
329
13
55
.223
2022

Home

.686
265
10
32
.201
2022

Away

.699
241
9
28
.203
2021

Home

.683
339
7
40
.237
2021

Away

.636
320
12
29
.190
More Splits

→

View More Split Stats
Stat Review
How does Carlos Santana compare to other hitters?
This section compares his stats with all batting seasons from the previous three seasons (minimum 400 plate appearances)*. The bar represents the player's percentile rank. For example, if the bar is halfway across, then the player falls into the 50th percentile for that stat and it would be considered average.
* Exit Velocity and Barrels/PA % are benchmarked against 2019 data (min 400 PA) and Hard Hit Rate is benchmarked against last season's data (min 400 PA).
See here for more exit velocity/barrels stats
plus an explanation of current limitations with that data set.
BB/K

Walk to strikeout ratio

BB Rate

The percentage of plate appearances resulting in a walk.

K Rate

The percentage of plate appearances resulting in a strikeout.

BABIP

Batting average on balls in play. Measures how many of a batter's balls in play go for hits.

ISO

Isolated Power. Slugging percentage minus batting average. A computation used to measure a batter's raw power.

AVG

Batting average. Hits divided by at bats.

OBP

On Base Percentage. A measure of how often a batters reaches base. Roughly equal to number of times on base divided by plate appearances.

SLG

Slugging Percentage. A measure of the batting productivity of a hitter. It is calculated as total bases divided by at bats.

OPS

On base plus slugging. THe sum of a batter's on-base percentage and slugging percentage.

wOBA

Weighted on-base average. Measures a player's overall offensive contributions per plate appearance. wOBA combines all the different aspects of hitting into one metric, weighting each of them in proportion to their actual run value.

Exit Velocity

The speed of the baseball as it comes off the bat, immediately after a batter makes contact.

Hard Hit Rate

A measure of contact quality from Sports Info Solutions. This stat explains what percentage of batted balls were hit hard vs. medium or soft.

Barrels/PA

The percentage of plate appearances where a batter had a batted ball classified as a Barrel. A Barrel is a batted ball with similar exit velocity and launch angle to past ones that led to a minimum .500 batting average and 1.500 slugging percentage.

Expected BA

Expected Batting Average.

Expected SLG

Expected Slugging Percentage.

Sprint Speed

The speed of a runner from home to first, in feet per second.

Ground Ball %

The percentage of balls put in play that are on the ground.

Line Drive %

The percentage of balls put in play that are line drives.

Fly Ball %

The percentage of balls put in play that are fly balls.
Advanced Batting Stats
Loading Advanced Batting Stats...
Games By Position
Defensive Stats
Loading Games Played by Position...
Loading MLB Defensive Stats...
Batted Ball Stats
Loading Batted Ball Stats...
Stats Vs Upcoming Pitchers
Recent RotoWire Articles Featuring Carlos Santana
See More
Eric Timm has his best bets for Phillies at Braves in the NLDS for Oct. 9.
Eric Timm gives his betting breakdown for Tuesday night's Wild Card matchup between the Brewers and Diamondbacks with the best bets and props to target.
Dan Marcus has your playoff picks for Tuesday's Wild Card slate.
Past Fantasy Outlooks
2022
2021
2020
2019
2018
2017
2016
2015
2014
2013
2012
2011
2010
2009
Santana's 2021 season provided a painful reminder that Father Time is undefeated and eventually wins the battle players try to avoid losing as long as possible. It was just two seasons ago that Santana tied his career high in homers while breaking his career bests in runs, RBI, batting average and OBP. Since that career year at 33, his numbers have declined more rapidly than your favorite roller coaster, and he only got the playing time he did last season because Kansas City had nothing better to roll out there. Santana still makes good contact and will accept his walks, but he gets eaten alive by the shift as one of the slowest players in the league. He still has first-base eligibility, but in name only as he is a terrible defender, and now 36, Santana has little left to offer a club other than veteran leadership. This feels like the Dale Murphy path to retirement all over again. He is only an option in single-league formats.
Coming off a 2019 campaign inflated by the Happy Fun Ball, Santana was due some regression, but not the worst season of his career. If 2019 and 2020 are combined, the slash is almost the same as 2016 and 2017, Santana's prior two years with Cleveland before spending a season with the Phillies and ultimately returning to the Tribe. Last season's Statcast metrics resembled those from 2017 and 2018, suggesting 2019 was the outlier and he was unlucky last season. That being said, Santana's K% was its highest since 2015 and his average exit velocity was its lowest since Statcast began tracking that same year. Santana has missed just five games since 2018 and projects for everyday playing time after signing a two-year deal with the Royals. However, there are signs of declining skills, and as a result the discount on Santana will be even greater in 2021.
Santana was a huge profit earner in 2019; he was taken just inside the top 200 on average in the NFBC last March and was the 32nd ranked hitter when it was all said and done. The big surprise was his .281 BA, 13 points above his previous career high and more than 50 points above his 2018 mark. His 91.8 mph average exit velocity ranked in the 95th percentile (min. 100 PA) and it seemed like Santana was making a conscious effort to use the whole field more, as his Pull% was 45.6 after sitting in the 50s for most of his career. Even so, Statcast says he deserved a BA closer to .265. His power numbers could dip too if MLB deadens the ball again, but Santana has some of the best and most consistent plate skills in the game (16.5 K%, 15.4 BB% for career). Further, he has missed a total of five games over the past two years, so this is extremely bankable production, likely at a cost-effective price once again.
Santana's numbers were a disappointment for the Phillies, who signed him for three years and $60 million last winter. There are reasons to be encouraged by his season, however. His walk rate spiked to 16.2% while his strikeout rate fell to a career-low 13.7%, leaving him with a 1.18 BB/K, second in the league to Jose Ramirez. He ran into a lot of bad batted-ball luck, finishing with a .231 BABIP, which fell far below his career .265 mark. It's not outrageous to think he can get back close to the .259 batting average he posted for two straight years before coming to Philadelphia as long as he holds onto his plate discipline improvements. Age concerns can't be ignored, as Santana turns 33 in early April, but the trade back to the American League and into a likely DH role with the Indians should help keep him fresh.
For the sixth time in the last seven seasons, including the last five in a row, the durable Santana played in at least 152 games. As usual, Santana's calling card was patience, as he walked 13.2 percent of the time, which was surprisingly a career-low mark. However, he made up for it with an uptick in contact rate. Coming off a season where Santana slugged 34 homers, 23 is a bit disappointing, but that mark was in line with totals previous to his outlying 2016 campaign. Santana swatted 37 doubles, his second-highest total ever, so he was just a few timely breezes away from a few extra homers. Santana's skill set allows him to lead off, or bat in the heart of the order, but he'll likely serve in the latter capacity after signing a three-year deal with the Phillies in December. He's better in OBP and points leagues scoring walks, and while Santana's upside is limited, his floor and durability allow you to take some chances elsewhere on your roster.
Santana set career highs in homers, runs, and RBI while tipping his batting average over the league average for the first time in three seasons. His days of playing up the defensive spectrum are done, but he returned to hitting with the power fantasy owners like to see from first basemen. His RBI production dipped as he spent most of his time hitting leadoff, thanks to his abilities to work counts and accept walks (.365 career OBP). Those skills are always going to ensure he hits in the top half of the lineup, and he has been durable, racking up six consecutive seasons of 600 or more plate appearances. While a switch hitter, the power comes from the left side, as 30 of his 34 homers last year were as a lefty and 77 percent of his career homers are as a lefty. As long as prospective owners realize his potential pitfalls -- mainly a batting average that could be on the wrong side of .250 -- he'll deliver, even more so in OBP leagues.
Santana is never going to bat for a high average, having hit above .260 in just one of his five full seasons in the big leagues, but the plate skills remain steady. He matched his career-high with 85 RBI and managed to score 72 runs by drawing 108 walks. Unfortunately, the power dipped in 2015, well below the league average among qualifiers. In fact, his career-worst .395 slugging percentage was bested by the likes of Kevin Pillar, Francisco Cervelli and Marcus Semien, to name a few. The Indians were hopeful that the transition from behind the plate and the hot corner would help resurrect his bat but that hasn't been the case, and what's left is a declining player who is now just first-base eligible. Regardless, Santana still has two years left on a club-friendly five-year, $21 million deal, and appears likely to open 2016 as the everyday first baseman.
Santana was looking like one of the bigger fantasy busts after the first two months of the season, as he hit just .159/.327/.301 and suffered a concussion late in May that sent him to the 7-day DL. The Indians did away with his limited role behind the plate following the scare and also put an end to his audition at third base, having him instead focus primarily on improving at the dish, and indeed he did improve, hitting .310 (54-for-174) with 14 homers in June and July. Although the power numbers and batting average slipped in August and September (.225 average, seven homers), Santana matched his career-high with 27 homers in 2014 and set a new career high with 85 RBI, while leading the major leagues with 113 walks and maintaining a strikeout rate (18.8%) right around his career norm (18.0%). His BABIP was down at .249, suggesting the average will rebound in 2014, and he made enough appearances at third base (26) to earn eligibility in most leagues. He'll lose catcher eligibility in many formats, however, after making just 11 appearances at the position.
Santana's gradual move from behind the plate was accelerated with the development of Yan Gomes, but he still figures to see enough action behind the plate to qualify in most formats for at least a few more years. The power he flashed back in 2011 may have been his peak, but he's still driving in and scoring runs at a nice clip for a catcher thanks to his hold on a place in the heart of the Cleveland lineup. Santana was reportedly unhappy about yielding a significant share of time behind the plate, but the move should help him avoid the bumps and bruises that tend to mount with heavy use at the position, while also boosting his offensive numbers. Look for his playing time to come in the form of a rotation between catcher, first base and DH again in 2014.
Santana had a fine season, but it wasn't quite the encore performance many were expecting after his 2011 season. He was dreadful in the first half (.675 OPS, five homers) before rebounding in the second half (.887 OPS, 13 homers) to help salvage his season. The Indians may try to get him out from behind the plate more often, but he'll still spend most of his time as the team's starting catcher. He'll continue to offer plus-power from the behind the dish, and Santana is certainly capable of delivering two halves in line with the post-break numbers of a year ago.
Santana had his share of struggles in his first full year in the bigs, hitting just .239. The power and patience remained, as evidenced by his 35 doubles, 27 homers and 97 walks in 658 plate appearances. The Indians did a nice job of splitting his duties between catcher and first base and that trend should continue again this season. He still does a fine enough job behind the plate to avoid moving over to first base on a permanent basis, and the power and patience point to a breakout season despite last year's disappointing batting average.
Santana bludgeoned his way to a promotion in June (1.045 OPS at Triple-A) and then saw his rookie season come to an abrupt end with a season-ending knee injury in early August. He hit .260 with six homers and drew a remarkable 37 walks over 150 at-bats for the Indians. He'll give you plus-power for a catcher and an excellent OBP as the Indians' primary backstop and all signs point to him being completely healed by spring training. There's a good chance his injury will lead you to a discount on draft day, so be ready to invest for Year 2.
Santana had a monster season at Double-A Akron, hitting .290/.413/.530 with 30 doubles and 23 homers and earning the Eastern League MVP award. The switch hitter has power to all fields, an excellent batting eye and a solid contact rate for a player with his power (283 K in 1925 plate appearances in his minor league career). He's shown enough behind the plate to avoid any talk of shifting him over to first base, but his bat is good enough to play there as well. Lou Marson, Wyatt Toregas and Chris Gimenez will keep the position warm to start the season, but Santana will be the team's primary catcher at some point this season.
Santana exploded onto the prospect radar with a .326/.431/.568 season between High-A stops for Los Angeles and Cleveland after coming over to the Indians in the Casey Blake trade. He's got plus-power (21 homers and 39 doubles), an excellent batting eye (89 walks in 463 at-bats) and an adequate defensive reputation. We'll see how he fares at Double-A this season but so far the results are good. He should be on everyone's prospect radar by now.
More Fantasy News