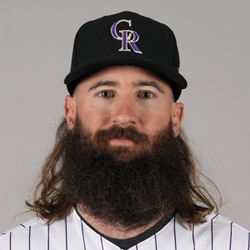 Rest-of-Season Projections
2023 Fantasy Outlook
Blackmon hit below .280 in 2021 for the first time since his rookie campaign, and he took another step back last season with a .264/.314/.419 slash line in 135 games. He clubbed 16 home runs and had his walk rate drop nearly four percentage points to 5.7 percent. Blackmon primarily served as a designated hitter but still played 50 games in right field, so he'll retain his positional eligibility. He'll turn 37 years old in July and unsurprisingly exercised his $18 million player option for 2023, but his fantasy utility will likely continue to wane, especially when away from Coors Field (where he had a .793 OPS in 2022).
Read Past Outlooks
$Signed a one-year, $13 million contract extension with the Rockies in September of 2023.

ANALYSIS
Blackmon had been scheduled to become a free agent this winter at age 37, but he'll stay in Colorado for what will be his 14th major-league season. He was selected by the Rockies in the second round of the 2008 MLB Draft out of Georgia Tech and has tallied 1,688 career big-league hits, all in the purple and black. The new one-year deal carries a $13 million guarantee with another $2 million available in performance-based incentives, per
Steve Adams of MLBTradeRumors.com
.
Read More News
Batting Stats
2023
2022
2021
2020
2019
2018
2017
2023 MLB Game Log

Calculate Stats Over Time
Just click on any two dates.
Scoring
FanDuel
DraftKings
Yahoo DFS
Loading Batting Game Log...
2022 MLB Game Log

Calculate Stats Over Time
Just click on any two dates.
Scoring
FanDuel
DraftKings
Yahoo DFS
Loading Batting Game Log...
2021 MLB Game Log

Calculate Stats Over Time
Just click on any two dates.
Scoring
FanDuel
DraftKings
Yahoo DFS
Loading Batting Game Log...
2020 MLB Game Log

Calculate Stats Over Time
Just click on any two dates.
Scoring
FanDuel
DraftKings
Yahoo DFS
Loading Batting Game Log...
2019 MLB Game Log

Calculate Stats Over Time
Just click on any two dates.
Scoring
FanDuel
DraftKings
Yahoo DFS
Loading Batting Game Log...
2018 MLB Game Log

Calculate Stats Over Time
Just click on any two dates.
Scoring
FanDuel
DraftKings
Yahoo DFS
Loading Batting Game Log...
2017 MLB Game Log

Calculate Stats Over Time
Just click on any two dates.
Scoring
FanDuel
DraftKings
Yahoo DFS
Loading Batting Game Log...
Minor League Game Log

Calculate Stats Over Time
Just click on any two dates.
Loading Minor League Batting Game Log...
Batting Order Slot Breakdown
#1
#2
#3
#4
#5
#6
#7
#8
#9
#1
#2
#3
#4
#5
#6
#7
#8
#9
Left/Right Batting Splits
OPS
PA
HR
RBI
AVG
Since 2021

vs Left

.781
434
5
55
.297
Since 2021

vs Right

.760
1130
32
141
.262
2023

vs Left

.841
104
1
6
.299
2023

vs Right

.813
301
7
34
.280
2022

vs Left

.756
172
1
31
.304
2022

vs Right

.723
405
15
47
.247
2021

vs Left

.768
158
3
18
.287
2021

vs Right

.758
424
10
60
.265
More Splits

→

View More Split Stats
Home/Away Batting Splits
OPS
PA
HR
RBI
AVG
Since 2021

Home

.839
842
26
121
.293
Since 2021

Away

.680
722
11
75
.246
2023

Home

.939
227
6
28
.322
2023

Away

.666
178
2
12
.237
2022

Home

.793
312
9
42
.284
2022

Away

.663
265
7
36
.241
2021

Home

.814
303
11
51
.283
2021

Away

.703
279
2
27
.257
More Splits

→

View More Split Stats
Stat Review
How does Charlie Blackmon compare to other hitters?
This section compares his stats with all batting seasons from the previous three seasons (minimum 400 plate appearances)*. The bar represents the player's percentile rank. For example, if the bar is halfway across, then the player falls into the 50th percentile for that stat and it would be considered average.
* Exit Velocity and Barrels/PA % are benchmarked against 2019 data (min 400 PA) and Hard Hit Rate is benchmarked against last season's data (min 400 PA).
See here for more exit velocity/barrels stats
plus an explanation of current limitations with that data set.
BB/K

Walk to strikeout ratio

BB Rate

The percentage of plate appearances resulting in a walk.

K Rate

The percentage of plate appearances resulting in a strikeout.

BABIP

Batting average on balls in play. Measures how many of a batter's balls in play go for hits.

ISO

Isolated Power. Slugging percentage minus batting average. A computation used to measure a batter's raw power.

AVG

Batting average. Hits divided by at bats.

OBP

On Base Percentage. A measure of how often a batters reaches base. Roughly equal to number of times on base divided by plate appearances.

SLG

Slugging Percentage. A measure of the batting productivity of a hitter. It is calculated as total bases divided by at bats.

OPS

On base plus slugging. THe sum of a batter's on-base percentage and slugging percentage.

wOBA

Weighted on-base average. Measures a player's overall offensive contributions per plate appearance. wOBA combines all the different aspects of hitting into one metric, weighting each of them in proportion to their actual run value.

Exit Velocity

The speed of the baseball as it comes off the bat, immediately after a batter makes contact.

Hard Hit Rate

A measure of contact quality from Sports Info Solutions. This stat explains what percentage of batted balls were hit hard vs. medium or soft.

Barrels/PA

The percentage of plate appearances where a batter had a batted ball classified as a Barrel. A Barrel is a batted ball with similar exit velocity and launch angle to past ones that led to a minimum .500 batting average and 1.500 slugging percentage.

Expected BA

Expected Batting Average.

Expected SLG

Expected Slugging Percentage.

Sprint Speed

The speed of a runner from home to first, in feet per second.

Ground Ball %

The percentage of balls put in play that are on the ground.

Line Drive %

The percentage of balls put in play that are line drives.

Fly Ball %

The percentage of balls put in play that are fly balls.
Advanced Batting Stats
Loading Advanced Batting Stats...
Games By Position
Defensive Stats
Loading Games Played by Position...
Loading MLB Defensive Stats...
Batted Ball Stats
Loading Batted Ball Stats...
Stats Vs Upcoming Pitchers
Our full team depth charts are reserved for RotoWire subscribers.
Subscribe Now
Recent RotoWire Articles Featuring Charlie Blackmon
See More
Past Fantasy Outlooks
2022
2021
2020
2019
2018
2017
2016
2015
2014
2013
2012
2011
How the mighty have fallen. Just five seasons ago, Blackmon was hitting over 20 home runs and stealing double-digit bags with a .300 batting average. Most of that is nowhere to be found at 35 years old. He's only stolen seven combined bases over the past three seasons, so that facet of his game should be considered completely gone. He hit just 13 homers last season, mainly because his groundball rate jumped to a career-high 47.2%. He did improve in the second half with his OPS jumping from .722 to .809, with most of the change being power driven (.102 ISO to .186 ISO, 51.2 GB% to 41.9 GB%). Even if he has a resurgence, he is probably still only startable at home. While he's never previously been considered a streaming option, he is now.
Blackmon remained relatively consistent during his age-34 season in 2020. His OBP remained over .350 for a fifth straight season, but his wOBA fell slightly to .340, his lowest mark since 2014. Although his on-base stats held steady, his hard-hit rate fell from 40.3% in 2019 to 29.7% in 2020, and his HR/FB rate dropped to 10.5%. His six home runs were only on pace for 16 over a full season after he averaged 31.8 home runs per season over the four prior years. Additionally, his swinging-strike rate has steadily crept up over the past five seasons. The number was in double figures (10.3%) for the first time during the 60-game season. The left-handed hitter fared much better against southpaws in 2020 (1.012 OPS) than he did against righties (.736 OPS). Blackmon isn't in danger of losing playing time and remains a high-end fantasy option, but he has some minor question marks for the first time in recent memory.
Consistency is a rare thing in fantasy baseball, but Blackmon is about as consistent as they come. You could pencil in 30 homers, 110 runs scored and a .300 average for him every year and he's met those markers in each of the past four seasons. Last year was the first time in that span that Blackmon was a below-average offensive player on the road, but he more than made up for it with a massive year at Coors Field, hitting .379/.435/.739 in 306 plate appearances. He will always have those type of home/road splits, but as long as you are not playing head-to-head format in a week where the Rockies are on the road, who cares? Blackmon has two more seasons in Colorado before he can exercise an out clause, at which time a move to first base or DH appears inevitable. The running game is gone, but enjoy him for what he is now until we may be forced to embrace a new reality in 2022.
Blackmon was a top fantasy option just two years ago. Sure, he'll turn 33 in July and there are signs of skills decline, but chances are rumors of his demise are premature. Blackmon's 19.3 K% last season was the highest of his career, but assuming it doesn't get much worse, it's still better than average. His power waned due to a four-point drop in flyball rate, but his 17.7 % HR/FB was his second best ever. Blackmon's running has curtailed, but remember he swiped only 14 bags in his stellar 2017 season, a number certainly still within reach. Aside from playing in Coors Field, Blackmon's numbers are driven by volume, playing at least 154 games four of the past five seasons, averaging 678 PA during that span. The market appears to be over-penalizing a fantasy stud for a down age-32 season. He may not rebound to a first-round, $30 level, but Blackmon has plenty left in his tank.
Blackmon's fourth full season with the Rockies was his best yet, as he established new career-highs in nearly every meaningful offensive category while becoming the fourth Colorado player in the last five seasons to capture the National League batting title. With another step forward in power, Blackmon's stolen-base output dropped slightly, and his lower success rate (14-for-24, 58.3 percent) could lead to fewer green lights in the future. Other than the declining efficiency on the basepaths, he's proven to be a very good player in an excellent situation. Over the past two seasons, he's shown significant improvement against lefties, topping out with a .952 OPS against southpaws in 2017. Blackmon was extremely productive at home last season, posting a .391/.466/.733 line at Coors Field, improving his home OPS by 300 points from 2016, and topping his road OPS (.784) by 455 points. Expecting a repeat is unfair, but he was nearly a top-five player with his 2016 numbers, so he'll likely be among the first 10-12 players off the board in 2018.
Although some toe injuries hampered Blackmon's ability to run last season (only 28 stolen base attempts, as opposed to 56 in 2015), those issues did not hold him back at the plate. The 30-year-old hit 35 doubles and 29 homers which propelled him to a stellar .324/.381/.552 slash line. Blackmon managed to bring his strikeout rate down below 16 percent, and his road splits were perhaps the most encouraging numbers of all. While most Rockies hitters have gaudy numbers at home that drop off as soon as they're away from Coors Field, the outfielder's OPS on the road was a mere 13 points lower than his OPS at home. If he can bring the stolen bases back into his game while maintaining this solid approach away from Coors Field, Blackmon should carry his weight as an early pick.
Blackmon ran a bit in the minors — he stole 30 bases as a 22-year-old in 2009 at High-A — but scarcely looked like a burner in his first few major league seasons. Blackmon was unleashed in 2015, and stole a career-high 43 bases in a tidy 56 attempts (76.7 percent). He now has 71 stolen bases over the past two years. Blackmon has also been a quality hitter, primarily due to his plus contact skills, as evidenced by his .288/.336/.437 career batting line. Thanks to the statistical inflation that is Coors Field, he has been good for 16 homers per 162 games and a .288 average since coming up in 2011. With Blackmon showing that he can be an efficient basestealer, he should have a green light throughout the 2016 season. Now that he's running wild, he can add an elite skill to an already well-rounded talent base.
The Rockies were prepared to go with a timeshare in both center field and the leadoff spot to open 2014, but Blackmon quashed those plans following a six-hit game in the season's first week. It was a harbinger of what was to come over the rest of April for Blackmon, who was arguably the fantasy MVP during that month with an incredible .389 batting average, five homers, seven steals and 23 runs scored over 28 games. Alas, the first-year starter wasn't able to sustain that level of production when his BABIP and HR/FB rate normalized, slashing a more earthly .271/.318/.405 from May onward. That larger sample represents a reasonable approximation for Blackmon's 2015 line, and while certainly not eye-popping, the 28-year-old's base-stealing skills and moderate power profile will allow him to rack up the counting stats while he retains a regular role at the top of the order. However, like many Rockies, Blackmon was prone to dramatic home/road splits last season, making him an optimal play in home-heavy slates to avoid the batting average drain away from Coors Field.
Foiled by a turf toe issue just a season before, Blackmon was actually the beneficiary of injuries in 2013. With Carlos Gonzalez and Dexter Fowler sidelined for large swaths of the second half, Blackmon received his first extended opportunity at regular duty in the majors and was magnificent, batting .309/.336/.467 in 258 at-bats, while showing moderate speed and power. He could stand for some improvement in plate discipline (2.7 percent walk rate), but his well-rounded skill set allows him to compensate for the deficiency. For the first time in his career, he'll now have a legitimate chance at earning a starting gig out of spring training, with Dexter Fowler out of the picture. Blackmon will face stiff competition from Corey Dickerson and Brandon Barnes for the job but should have the upper hand heading into the spring given his impressive finish to the previous campaign.
Blackmon missed nearly the entire first half dealing with a turf toe issue, taking him out of the running for a backup outfield spot during spring training. After a run of strong play at Triple-A Colorado Springs, Blackmon earned his callup to the Rockies. Late-season injuries in the outfield resulted in a de facto 2013 audition for Blackmon, who batted .362 while playing regularly in September. Though Blackmon's power has not been as quick to develop as some might have expected, his ability to hit for contact, get on base, and steal the occasional bag somewhat offset a lack of home runs. Blackmon's all-around skill set could give him an edge over much of the existing competition in the Rockies' outfield logjam, but he will likely be relegated to no better than fourth outfielder status entering the season.
Blackmon tore up the Pacific Coast League to earn a promotion to the big leagues last season, but he slumped in 27 games with the Rockies before a fractured left foot ended his season in July. On some teams, Blackmon might be a lock to grab a starting job during spring training, but he's currently in position with Colorado to enter a battle for a bench job barring a move or two by the Rockies' front office. In addition to carrying a steady contact rate through each stop in the minors, Blackmon has displayed a combination of power and speed that could make him a 20-20 threat capable of hitting for a good average at some point down the road. While the Rockies signed Michael Cuddyer as a free agent to start in right field, the trade of Seth Smith to Oakland increases Blackmon's chances of becoming the fourth outfielder this season.
Blackmon, the Rockies' 2008 second-round pick, profiles as a future everyday outfielder who can play all three positions and hit for a bit of power with some nice speed. In 2010, he hit .297/.360/.484 at Double-A Tulsa with 11 homers and 19 stolen bases. He finished the year with a nice showing in the Arizona Fall League with a .264/.372/.417 batting line. Thanks for the outfield depth ahead of him, Blackmon will probably spend much of 2011 at Triple-A Colorado Springs, while he waits for a callup. At 24 years old, he's a prospect worth tracking.
More Fantasy News