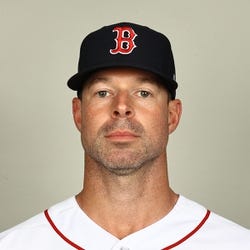 60-Day IL
Injury Shoulder
Est. Return 2/1/2024
Rest-of-Season Projections
2023 Fantasy Outlook
Kluber was everything the Rays asked him to be, and nothing more. They gave him a one-year deal for $8M with a workload bonus for $5 more, and he exceeded that workload target making all 31 starts with flashes of previous awesomeness while helping mentor the younger upside arms in the rotation. He resumed his stinginess with walks which evaded him in 2021, but the strikeout rate fell to below league average for a starting pitcher and his fastball and cutter were simply too hittable. He went six innings or more in 16 of his 31 starts, which is saying something given Cash's tendencies to pull guys and he still managed a quality start in 15 of his 31 outings. The overall numbers were punished by a handful of rough outings which saw him allow 26 earned runs in 12 innings of work. He may have another serviceable year in him for the Red Sox after he signed another one-year deal, though he'll likely take a step back with Fenway Park being more friendly to hitters and Boston's defense not being anything special.
Read Past Outlooks
$Signed a one-year, $10 million contract with the Red Sox in December of 2022. Contract includes $11 million team option for 2024.

ANALYSIS
Kluber has been throwing off a big-league mound since late June due to shoulder inflammation, but he'd been working his way back, making a pair of rehab appearances for Triple-A Worcester over the last week. With the Red Sox falling out of the playoff race, they won't ask the 37-year-old righty to put more miles on his arm in what have become essentially meaningless games. The fact that Kluber at least made it back for some rehab games bodes well for his readiness for the start of next season, though his 7.04 ERA in 55 innings this season means his opportunities may be limited.
Read More News
Pitching Stats
Loading Pitching Stats...
2023
2022
2021
2020
2019
2018
2017
2023 MLB Game Log

Calculate Stats Over Time
Just click on any two dates.
Scoring
FanDuel
DraftKings
Yahoo DFS
Loading Pitching Game Log...
2022 MLB Game Log

Calculate Stats Over Time
Just click on any two dates.
Scoring
FanDuel
DraftKings
Yahoo DFS
Loading Pitching Game Log...
2021 MLB Game Log

Calculate Stats Over Time
Just click on any two dates.
Scoring
FanDuel
DraftKings
Yahoo DFS
Loading Pitching Game Log...
2020 MLB Game Log

Calculate Stats Over Time
Just click on any two dates.
Scoring
FanDuel
DraftKings
Yahoo DFS
Loading Pitching Game Log...
2019 MLB Game Log

Calculate Stats Over Time
Just click on any two dates.
Scoring
FanDuel
DraftKings
Yahoo DFS
Loading Pitching Game Log...
2018 MLB Game Log

Calculate Stats Over Time
Just click on any two dates.
Scoring
FanDuel
DraftKings
Yahoo DFS
Loading Pitching Game Log...
2017 MLB Game Log

Calculate Stats Over Time
Just click on any two dates.
Scoring
FanDuel
DraftKings
Yahoo DFS
Loading Pitching Game Log...
Minor League Game Log

Calculate Stats Over Time
Just click on any two dates.
Loading Minor League Pitching Game Log...
Pitching Appearances Breakdown
How many pitches does Corey Kluber generally throw?
What part of the game does Corey Kluber generally pitch?
% Games Reaching Innings Threshold
% Games By Number of Innings Pitched
Left/Right Pitching Splits
BAA
K
BB
H
HR
Since 2021

vs Left

.272
124
34
143
16
Since 2021

vs Right

.271
139
41
178
29
2023

vs Left

.311
22
14
37
8
2023

vs Right

.283
20
7
32
9
2022

vs Left

.279
64
11
80
8
2022

vs Right

.270
75
10
98
12
2021

vs Left

.218
38
9
26
0
2021

vs Right

.267
44
24
48
8
More Splits

→

View More Split Stats
Home/Away Pitching Splits
ERA
WHIP
IP
K/9
BB/9
Since 2021

Home

4.06
1.25
157.1
8.3
2.5
Since 2021

Away

5.40
1.41
141.2
7.5
2.0
2023

Home

6.75
1.60
30.2
7.9
4.4
2023

Away

7.40
1.68
24.1
5.5
2.2
2022

Home

3.71
1.09
87.1
7.9
1.0
2022

Away

5.05
1.36
76.2
7.3
1.3
2021

Home

2.75
1.32
39.1
9.4
4.3
2021

Away

4.87
1.35
40.2
9.1
3.1
More Splits

→

View More Split Stats
Stat Review
How does Corey Kluber compare to other starting pitchers?
This section compares his stats with all starting pitcher seasons from the previous three seasons (minimum 120 innings)*. The bar represents the player's percentile rank. For example, if the bar is halfway across, then the player falls into the 50th percentile for that stat and it would be considered average.
* Exit Velocity, Barrels/BBE %, Balls Hit 95+ MPH %, and Spin Rate are benchmarked against 2019 data (min 120 IP).
See here for more exit velocity/barrels stats
plus an explanation of current limitations with that data set.
K/BB

Strikeout to walk ratio.

K/9

Average strikeouts per nine innings.

BB/9

Average walks per nine innings.

HR/9

Average home runs allowed per nine innings.

Fastball

Average fastball velocity.

ERA

Earned run average. The average earned runs allowed per nine innings.

WHIP

Walks plus hits per inning pitched.

BABIP

Batting average on balls in play. Measures how many balls in play against a pitcher go for hits.

GB/FB

Groundball to flyball ratio. The higher the number, the more likely a pitcher is to induce groundballs.

Left On Base

The percentage of base runners that a pitcher strands on base over the course of a season.

Exit Velocity

The speed of the baseball as it comes off the bat, immediately after a batter makes contact.

Barrels/BBE

The percentage of batted ball events resulting in a Barrel. A Barrel is a batted ball with similar exit velocity and launch angle to past ones that led to a minimum .500 batting average and 1.500 slugging percentage.

Spin Rate

Spin Rate is the rate of spin on a baseball after it is released. It is measured in revolutions per minute (rpm).

Balls Hit 95+ MPH

The percentage of batted balls hit that met or exceeded the 95 MPH threshold.

Swinging Strike

The percentage of pitches that result in a swing and a miss.
Advanced Pitching Stats
Loading Advanced Pitching Stats...
Loading MLB Defensive Stats...
Our full team depth charts are reserved for RotoWire subscribers.
Subscribe Now
Recent RotoWire Articles Featuring Corey Kluber
See More
Past Fantasy Outlooks
2022
2021
2020
2019
2018
2017
2016
2015
2014
2013
2012
2011
In 80 innings with the Yankees, Corey Kluber posted a 3.83 ERA, 1.34 WHIP, 24% K%, and 9.7% BB%. It's a small sample, but Kluber's fastball velocity dipped to a career-low at 90.3 mph versus 93 mph in his career. In 2021, Kluber mixed in four pitches at a double-digit rate, including the curve/slider and cutter eliciting quality swinging-strike rates with the breaking pitch at 17% and cutter at 13.7%. The breaking pitch continues to possess above-average horizontal movement with 5.8 inches more than the average to induce weak contact with a .243 wOBA allowed. After signing a one-year deal with the Rays, Kluber will provide a veteran presence in the rotation assuming health. Although Kluber probably isn't the 200 innings workhorse at 36 years old, there's a good chance he bounces back in 2022.
Kluber suffered a season-ending shoulder injury early on in 2020, hitting the 45-day injured list following a Grade 2 tear of the teres minor muscle in his right shoulder. He pitched just one inning for the Rangers, fanning one and walking one in a scoreless frame. The 34-year-old has now pitched just 36.2 innings over the last two seasons as a result of various injuries. Kluber's fastball velocity has noticeably declined in recent years, averaging 92.0 mph in his last full season (215 innings). As a result, he's started to rely more on his cutter and curveball, something he'll need to continue on the back nine of his career. The Yankees saw enough during Kluber's January showcase to sign him to a one-year, $11 million contract. It's a nice landing spot from a job security and run support standpoint -- Kluber could be New York's No. 2 starter behind Gerrit Cole -- although performance and health risk abound.
The perils of drafting a pitcher early were realized with Kluber in 2019. One year removed from a 20-win, sub-3.00 ERA season, the Klubot pitched in just seven games with bad results. The first injury was a broken arm from a line drive suffered May 1, and then he had oblique tightness rehabbing from that injury in late August and was shut down for the season. Only twice in the seven starts he made before the injury did Kluber look like himself, and that was on Opening Day against Minnesota and again two starts later against Detroit. The other outings were marred by either multiple homers or uncharacteristic walks. Kluber's fastball velocity continues its decline, and even he recognizes it as he is not throwing it as much as he did earlier in his career. The two-time Cy Young winner will head up the Rangers' 2020 rotation, likely starting the first game ever at Globe Life Field, following a December trade.
Despite another superb all-around campaign, Kluber is eliciting some trepidation from the "better to run away a year early" crowd. The consternation emanates from a marked drop in Kluber's velocity in the final month of the season -- he lost a couple ticks off his four-seamer. The conundrum is he posted his highest swinging-strike rate in September (over 18%), resulting in a monthly-best 35.3 K%. The assumption is September was more fluke than fact and Kluber can't sustain that dominance with less velocity. For the season, he posted his usual stellar ratios, eclipsing the 200-inning plateau for the fifth straight season, the fourth hurling at least 215 frames. Perhaps amassing 1,091.1 regular-season innings the past five years with another 45.1 tacked on in the playoffs has taken its toll, but assuming he doesn't exhibit any health issues in the spring, it's well worth any discount you may get on what should be another elite year.
Despite missing most of May with lower-back discomfort, Kluber won the American League Cy Young Award and joined Max Scherzer and Jeff Samardzija as the only pitchers to toss more than 200 innings in each of the last four seasons. Kluber shattered career bests in both strikeout (34.1) and walk (4.6) percentages, resulting in his lowest ERA ever. While back issues often resurface, there's doesn't seem to be any real reason to be concerned about Kluber. The righty threw at least seven frames in 19 of his 29 outings. Of the 10 shorter efforts, three were in April as he battled blisters, one was his only May start when his back began barking, two were the games right after he came off the disabled list in June while another was his last start of the season as he was readying for the playoffs. Kluber's skills and reliability place him among the elite, warranting first-round consideration in leagues that push pitching.
Kluber is wrongly perceived as underrated. He's quiet and prior to 2016, Cleveland didn't get a lot of national run, but that hasn't muted Kluber's price. Consider that he was the 35th overall pick on the heels of his Cy Young win in 2015 draft season and then even after a 9-16 season that saw his ERA rise by a full run, the fantasy market still understood just how good he was and slotted him as the 38th overall pick on average. He rewarded that faith with another Cy-worthy effort that saw minimal erosion in his skills with an ERA and WHIP that essentially split the difference on his 2014 and 2015 seasons. Even with the overall stock of SPs dropping, Kluber will likely set a new best Average Draft Position, going somewhere in the top 30 picks. He has the occasional blowup (five starts of five-plus earned runs), but his eight starts of at least eight innings were third-most in MLB. Those five starts were virtually his only bad ones out of 32. He's elite.
For those still trying to use wins as a measure of pitcher quality, Kluber's 2014-15 should finally convert you. Yes, his ERA jumped by 1.05 runs, but there is no way that was worth nine wins, especially when the skills were actually better in the 9-16 season. He lost a tick on his strikeout rate, but also dropped his walk rate resulting in a slightly better 5.4 K/BB ratio. The most frustrating thing about Kluber's season was that his hot streaks were best-pitcher-in-baseball good and they always seemed to get broken up by a blow-up start. He had 11 starts of eight-plus innings, the most in baseball, but also five starts of five-plus earned runs allowed. Part of the problem is that despite the velocity, Kluber doesn't have a great fastball. It got a bit better last season, but it remains below average, especially for an ace-level talent. The record will definitely drop his cost on draft day, but the fact that you are reading this means you are smart enough not to make that mistake.
Kluber showed devastating secondary stuff throughout 2013 which hinted at a breakout, but his fastball command lagged behind meaning he was no sure thing. Understanding that, Kluber shifted from a four-seamer to a two-seamer and actually gained velocity, giving him a reasonable fastball offering to set up the elite secondaries, the best of which was an incredible curveball that was arguably baseball's best pitch in 2014. The .241 OPS-against was the best for any single pitch with 150 batters faced and the .091 AVG was second to only Dellin Betances' breaking ball (.075). It's hard to believe that Kluber could get better, but if he began commanding his two-seamer like the breaking pitches, then his 2.35 FIP might be in reach. Batters still hit .304 on the two-seamer, but hitting .172 on the rest of his pitches mitigates that damage. He has improved his fastball OPS yearly, down to .821 last year. Another jump could stifle an ERA dip. Even with a backslide in ERA, he's still a Tier-1 asset.
Kluber stepped into the rotation when Brett Myers hit the disabled list in late April and never looked back. He missed a chunk of time in August with a finger injury and didn't fare well upon his return, but was effective enough overall to pitch himself into the team's plans heading into 2014. Kluber struggles at times with the long ball, but helps out his cause by missing plenty of bats (8.3 K/9) and not allowing many free passes (2.0 BB/9). He'll head into spring training with a spot in the team's starting rotation, and there is very little in the underlying numbers (.329 BABIP., 72.9% LOB, 3.10 xFIP) that suggest his breakout can't be repeated.
Kluber showed better control (3.5 BB/9) and an uptick in his strikeout rate (9.2 K/9) at Triple-A Columbus and earned a midseason promotion to the Indians. He struggled with the long ball in his time with the Indians and does not have the nasty power stuff you might expect from someone his size (6-foot-4, 215 pounds). He will compete for a rotation spot this spring despite some pretty ugly numbers (5.14 ERA, 1.49 WHIP, 1.3 HR/9 in 12 starts) unless the Indians are able to upgrade their rotation options this winter.
Kluber struggled in his first full season at Triple-A (5.56 ERA, 1.480 WHIP, 8.5 K/9IP in 27 starts) despite a nice strikeout rate. The 6-foot-4 righty doesn't have the power arsenal you might expect from his size, and that figures to limit the success he might have if the Indians move him into a relief role. He'll start the season again at Triple-A Columbus, but it doesn't appear that a breakout season is coming any time soon.
Kluber struggled a bit at Double-A Akron after coming over to the Indians from the Padres midseason, but he pitched well enough in the Texas League to warrant some attention. He's always posted nice strikeout totals in his minor league career, but Kluber might get lost in what has become a pretty deep Indians farm system. He was added to the team's 40-man roster this winter, so apparently he did enough to get noticed by the front office and figures to spend most of the year making the jump to Triple-A.
More Fantasy News