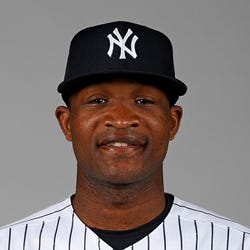 Rest-of-Season Projections
2023 Fantasy Outlook
The shoulder issue which prematurely ended German's 2021 season lingered well into 2022 as the hurler did not make his regular season depbut until late July. He made 14 starts, of which just 3 were quality starts and those were the three times he worked into the seventh inning in 2022. The 11 homers in 72.1 innings was a problem, but the low walk rate helped limit the damage to his ERA. German's fastball velocity has declined every season he has pitched in the big leagues as he debuted in 2017 with 97th percentile velocity but finished 2022 with 37th percentile velocity. The stuff still has plenty of spin, but just the curve has a better than average whiff rate to it. The consistent velocity drop reduces his margin for error, which is a risk for someone with a career 1.6 HR/9 rate in over 400 major league innings. The signing of Carlos Rodon likely bumps German to the No. 6 option among New York's starting pitchers, so he could be utilized as a swingman to begin 2023.
Read Past Outlooks
$Signed a one-year, $2.6 million contract with the Yankees in January of 2023. Elected free agency in November of 2023.

ANALYSIS
The transaction comes a few days after German was removed from the Yankees' 40-man roster. Beyond his uneven performance on the field, German has had multiple off-the-field issues that figure to impact his allure as a free agent.
Read More News
Pitching Stats
Loading Pitching Stats...
2023
2022
2021
2020
2019
2018
2017
2023 MLB Game Log

Calculate Stats Over Time
Just click on any two dates.
Scoring
FanDuel
DraftKings
Yahoo DFS
Loading Pitching Game Log...
2022 MLB Game Log

Calculate Stats Over Time
Just click on any two dates.
Scoring
FanDuel
DraftKings
Yahoo DFS
Loading Pitching Game Log...
2021 MLB Game Log

Calculate Stats Over Time
Just click on any two dates.
Scoring
FanDuel
DraftKings
Yahoo DFS
Loading Pitching Game Log...
2020 MLB Game Log

Calculate Stats Over Time
Just click on any two dates.
Scoring
FanDuel
DraftKings
Yahoo DFS
Loading Pitching Game Log...
2019 MLB Game Log

Calculate Stats Over Time
Just click on any two dates.
Scoring
FanDuel
DraftKings
Yahoo DFS
Loading Pitching Game Log...
2018 MLB Game Log

Calculate Stats Over Time
Just click on any two dates.
Scoring
FanDuel
DraftKings
Yahoo DFS
Loading Pitching Game Log...
2017 MLB Game Log

Calculate Stats Over Time
Just click on any two dates.
Scoring
FanDuel
DraftKings
Yahoo DFS
Loading Pitching Game Log...
Minor League Game Log

Calculate Stats Over Time
Just click on any two dates.
Loading Minor League Pitching Game Log...
Pitching Appearances Breakdown
How many pitches does Domingo German generally throw?
What part of the game does Domingo German generally pitch?
% Games Reaching Innings Threshold
% Games By Number of Innings Pitched
Left/Right Pitching Splits
BAA
K
BB
H
HR
Since 2021

vs Left

.210
128
42
110
21
Since 2021

vs Right

.238
142
38
127
27
2023

vs Left

.195
58
21
42
9
2023

vs Right

.220
56
13
41
11
2022

vs Left

.230
22
12
31
5
2022

vs Right

.243
36
7
34
6
2021

vs Left

.214
48
9
37
7
2021

vs Right

.251
50
18
52
10
More Splits

→

View More Split Stats
Home/Away Pitching Splits
ERA
WHIP
IP
K/9
BB/9
Since 2021

Home

4.40
1.14
139.0
9.1
2.8
Since 2021

Away

4.23
1.13
140.1
8.3
2.4
2023

Home

4.23
1.07
61.2
10.2
2.3
2023

Away

4.98
1.09
47.0
8.4
3.4
2022

Home

3.78
1.14
33.1
7.6
2.7
2022

Away

3.46
1.18
39.0
6.9
2.1
2021

Home

5.11
1.23
44.0
8.8
3.5
2021

Away

4.14
1.14
54.1
9.1
1.7
More Splits

→

View More Split Stats
Stat Review
How does Domingo German compare to other starting pitchers?
This section compares his stats with all starting pitcher seasons from the previous three seasons (minimum 120 innings)*. The bar represents the player's percentile rank. For example, if the bar is halfway across, then the player falls into the 50th percentile for that stat and it would be considered average.
* Exit Velocity, Barrels/BBE %, Balls Hit 95+ MPH %, and Spin Rate are benchmarked against 2019 data (min 120 IP).
See here for more exit velocity/barrels stats
plus an explanation of current limitations with that data set.
K/BB

Strikeout to walk ratio.

K/9

Average strikeouts per nine innings.

BB/9

Average walks per nine innings.

HR/9

Average home runs allowed per nine innings.

Fastball

Average fastball velocity.

ERA

Earned run average. The average earned runs allowed per nine innings.

WHIP

Walks plus hits per inning pitched.

BABIP

Batting average on balls in play. Measures how many balls in play against a pitcher go for hits.

GB/FB

Groundball to flyball ratio. The higher the number, the more likely a pitcher is to induce groundballs.

Left On Base

The percentage of base runners that a pitcher strands on base over the course of a season.

Exit Velocity

The speed of the baseball as it comes off the bat, immediately after a batter makes contact.

Barrels/BBE

The percentage of batted ball events resulting in a Barrel. A Barrel is a batted ball with similar exit velocity and launch angle to past ones that led to a minimum .500 batting average and 1.500 slugging percentage.

Spin Rate

Spin Rate is the rate of spin on a baseball after it is released. It is measured in revolutions per minute (rpm).

Balls Hit 95+ MPH

The percentage of batted balls hit that met or exceeded the 95 MPH threshold.

Swinging Strike

The percentage of pitches that result in a swing and a miss.
Prospect Rankings History
Advanced Pitching Stats
Loading Advanced Pitching Stats...
Loading MLB Defensive Stats...
Recent RotoWire Articles Featuring Domingo German
See More
Past Fantasy Outlooks
2022
2021
2020
2019
2018
2016
2015
German had his 2021 season cut short by a 57-day stint on the injured list due to shoulder inflammation that limited him to only one appearance after Aug. 1. When on the mound, German's skills remained relatively stable, which is both good and bad. He posted a solid 17.3 K-BB%, in line with his 18.3% rate across 341.1 career innings. However, he also allowed 1.6 HR/9, inflating his ERA on the season to 4.58. As has been the case, his trouble keeping the ball in the yard was more pronounced at home, where he surrendered 2.9 HR/9 while posting a 5.11 ERA. Of the six occasions, in which German allowed multiple home runs in a start, five came at Yankee Stadium. Given that he has now allowed 1.5 HR/9 or more in each of his last three seasons - excluding 2020 which he missed due to a suspension - the long ball figures to continue to be German's main roadblock to consistent fantasy value, though it has not caused him to lose his role as a starter to this point. He was placed on the 60-day injured list in mid-March with a shoulder impingement, so he won't be taking the mound for the Yankees until at least early June.
Nothing much can be said about German's 2020 season, as he spent the entirety of it off the field while serving a suspension for violating the league's domestic violence policy back in 2019. He made headlines briefly by appearing to announce his retirement, but he later stated that he had no such intentions. He completed his ban at the end of the season, and if the Yankees don't deem him to be too unsavory to employ, he should at least compete for a rotation spot. He looked like a rotation fixture when we last saw him in a big-league uniform, as his 4.03 ERA in 2019 came with a 25.8 K% and 6.6 BB%, offsetting a low 38.1% groundball rate. That represents the approximate upside here, but it comes with plenty of risk. He's only had one season at that level and wasn't a particularly exciting prospect, so if he's not the same following a year off, he might not get the chance to stick around.
An injury to Luis Severino allowed German to open the year in New York's rotation, and he was in the midst of a breakout season before being placed on administrative leave in September under the league's domestic violence policy. He will serve the remaining 63 games of a suspension handed down in January to begin 2020. When on the field in 2019, German provided surprising value across 27 outings (24 starts), racking up 18 wins -- tied for fourth most in the majors -- and 153 strikeouts to go with a 4.03 ERA and 1.15 WHIP in 143 innings. While he whittled his walk rate down to 6.6%, like many others last season, German struggled mightily with the long ball (1.89 HR/9). There would seem to be performance upside if he can fix his homer problem, but that upside is probably not great enough to warrant a two-month-long stash on a mixed-league reserve list.
After opening the season in the minors, German was quickly summoned to the big club to fill a middle-relief role, and shortly thereafter he joined the rotation in place of the injured Jordan Montgomery. His first extended trial in the big-league rotation went about as expected for a young pitcher, with plenty of ups and downs that resulted in a 6.19 ERA and 10.4 K/9 in 14 starts (68.1 innings). He was sent to the minors in July and subsequently missed a month and a half due to a nerve issue in his elbow before returning to the Yankees for the final two weeks of the season. German flashed upside (14.9% swinging-strike rate), and the estimators suggest he was unlucky to finish with such a high ERA (4.39 FIP, 3.94 xFIP). Still, the Yankees aren't in a position to let him work things out as a starter, so he figures to open the season in a relief role, and it would likely take a trade for German to see meaningful innings in 2019.
After quietly putting up impressive numbers at every stop along the way in the minors, the 25-year-old finally got the chance to make his big-league debut in 2017. German performed solidly in his seven relief appearances, flashing his high strikeout ability with 18 strikeouts in 14.1 innings, though he also issued nine free passes in that time. Down in the minors, the righty was used mainly as a starter, posting a 2.83 ERA and 9.6 K/9 in 14 appearances (13 starts) with Triple-A Wilkes/Barre. Given his impressive track record in the minors, German will likely get a real look in camp with a chance to break spring training in the big-league bullpen, though it would likely be in a low-leverage role. Alternatively, New York could look to keep him stretched out as a starter in the minors, but either way the team's pitching depth will likely block him from seeing many meaningful innings.
Packaged as part of the deal that sent Nathan Eovaldi to the Bronx, German was shipped to the Yankees prior to the 2015 season but never got the chance to pitch for his new club. He suffered an elbow injury in the spring and underwent Tommy John surgery in early April, effectively ruling him out for most, if not all, of the first half of the upcoming season. Before that, the 23-year-old had dazzled at the lower levels with the Marlins, using a 94 mph fastball with a slider and changeup as his secondary offerings. Once healthy enough to return to the mound, German figures to move his way up the organizational ladder and should get his first chance at some of the higher levels in the minors.
German continues to climb the up the Marlins' prospect ladder as he moved to Low-A Greensboro during his age-21 season. In addition to hurling a career-best 123.1 innings pitched while compiling a 9-3 record, 2.54 ERA, 1.15 WHIP and 113 strikeouts compared to just 25 walks in 25 starts. The young righty works with a 94-mph fastball, slow looping slider and a work-in-progress changeup as he continues to develop the command he needs to be an efficient and effective starting pitcher. German should move up to High-A to begin 2015 and his progress against left-handed bats will be critical in determining just how quickly he can continue to move through the minors. The next step in his development will take place with the Yankees, after he was included in the December trade that sent Martin Prado to Miami.
More Fantasy News