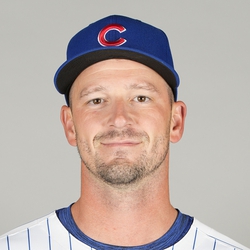 Rest-of-Season Projections
2023 Fantasy Outlook
Brought in as a veteran option on a rebuilding team, Smyly pretty much delivered as advertised for the Cubs in 2022. The lefty made 22 starts, compiling a strong 3.47 ERA and 1.19 WHIP across 106 innings. He missed some time with oblique and shoulder issues, but for someone who last topped 130 innings in a season back in 2016, it would have been unrealistic to expect much more in terms of workload. Smyly recorded a 7.70 K/9 last year, which was a tick below his 8.79 career mark, though his average fastball sat at 92.6 mph, which was a bit ahead of his fastball in 2021 and mostly in line with his career numbers. Smyly declined his portion of a $10 million mutual option with the Cubs but will return to Chicago on a two-year, $19 million deal. He'll turn 34 during the 2023 season, so he's unlikely to take a huge step forward as a pitcher, and injuries remain a concern. However, Smyly should again provide a veteran presence in the rotation, and it's reasonable to expect production that looks similar to his 2022 numbers, especially with the signings of Dansby Swanson and Cody Bellinger lifting the floor of Chicago's defense.
Read Past Outlooks
$Signed a two-year, $16.5 million contract with the Cubs in December of 2022. Contract includes $10 million mutual option ($2.5 million buyout) for 2025.

Smyly (11-11) allowed three runs on two hits while retiring only a single batter to take the loss Sunday against the Brewers. He walked three.
ANALYSIS
Smyly struggled badly in the season finale, throwing just 11 of his 28 pitches for strikes and retiring only the one batter. The veteran southpaw bounced between the bullpen and rotation this year, ultimately making 23 starts and 18 relief appearances. Smyly finishes 2023 with an even 5.00 ERA across 142.1 innings. He's under contract next season in Chicago, though he's not an appealing fantasy option at this point in his career.
Read More News
Pitching Stats
Loading Pitching Stats...
2023
2022
2021
2020
2019
2018
2017
2023 MLB Game Log

Calculate Stats Over Time
Just click on any two dates.
Scoring
FanDuel
DraftKings
Yahoo DFS
Loading Pitching Game Log...
2022 MLB Game Log

Calculate Stats Over Time
Just click on any two dates.
Scoring
FanDuel
DraftKings
Yahoo DFS
Loading Pitching Game Log...
2021 MLB Game Log

Calculate Stats Over Time
Just click on any two dates.
Scoring
FanDuel
DraftKings
Yahoo DFS
Loading Pitching Game Log...
2020 MLB Game Log

Calculate Stats Over Time
Just click on any two dates.
Scoring
FanDuel
DraftKings
Yahoo DFS
Loading Pitching Game Log...
2019 MLB Game Log

Calculate Stats Over Time
Just click on any two dates.
Scoring
FanDuel
DraftKings
Yahoo DFS
Loading Pitching Game Log...
2018 MLB Game Log

Calculate Stats Over Time
Just click on any two dates.
Scoring
FanDuel
DraftKings
Yahoo DFS
Loading Pitching Game Log...
2017 MLB Game Log

Calculate Stats Over Time
Just click on any two dates.
Scoring
FanDuel
DraftKings
Yahoo DFS
Loading Pitching Game Log...
Minor League Game Log

Calculate Stats Over Time
Just click on any two dates.
Loading Minor League Pitching Game Log...
Pitching Appearances Breakdown
How many pitches does Drew Smyly generally throw?
What part of the game does Drew Smyly generally pitch?
% Games Reaching Innings Threshold
% Games By Number of Innings Pitched
Left/Right Pitching Splits
BAA
K
BB
H
HR
Since 2021

vs Left

.282
86
29
103
16
Since 2021

vs Right

.252
261
91
276
53
2023

vs Left

.338
36
14
47
6
2023

vs Right

.238
103
39
98
20
2022

vs Left

.191
13
8
17
2
2022

vs Right

.258
78
18
84
14
2021

vs Left

.285
37
7
39
8
2021

vs Right

.263
80
34
94
19
More Splits

→

View More Split Stats
Home/Away Pitching Splits
ERA
WHIP
IP
K/9
BB/9
Since 2021

Home

4.28
1.19
153.2
9.4
2.6
Since 2021

Away

4.35
1.43
221.1
7.7
3.1
2023

Home

5.60
1.29
62.2
10.3
2.4
2023

Away

4.20
1.47
79.1
7.8
4.1
2022

Home

2.42
1.07
44.2
8.1
2.2
2022

Away

4.23
1.28
61.2
7.4
2.2
2021

Home

4.27
1.17
46.1
9.3
3.1
2021

Away

4.59
1.49
80.1
7.7
2.8
More Splits

→

View More Split Stats
Stat Review
How does Drew Smyly compare to other starting pitchers?
This section compares his stats with all starting pitcher seasons from the previous three seasons (minimum 120 innings)*. The bar represents the player's percentile rank. For example, if the bar is halfway across, then the player falls into the 50th percentile for that stat and it would be considered average.
* Exit Velocity, Barrels/BBE %, Balls Hit 95+ MPH %, and Spin Rate are benchmarked against 2019 data (min 120 IP).
See here for more exit velocity/barrels stats
plus an explanation of current limitations with that data set.
K/BB

Strikeout to walk ratio.

K/9

Average strikeouts per nine innings.

BB/9

Average walks per nine innings.

HR/9

Average home runs allowed per nine innings.

Fastball

Average fastball velocity.

ERA

Earned run average. The average earned runs allowed per nine innings.

WHIP

Walks plus hits per inning pitched.

BABIP

Batting average on balls in play. Measures how many balls in play against a pitcher go for hits.

GB/FB

Groundball to flyball ratio. The higher the number, the more likely a pitcher is to induce groundballs.

Left On Base

The percentage of base runners that a pitcher strands on base over the course of a season.

Exit Velocity

The speed of the baseball as it comes off the bat, immediately after a batter makes contact.

Barrels/BBE

The percentage of batted ball events resulting in a Barrel. A Barrel is a batted ball with similar exit velocity and launch angle to past ones that led to a minimum .500 batting average and 1.500 slugging percentage.

Spin Rate

Spin Rate is the rate of spin on a baseball after it is released. It is measured in revolutions per minute (rpm).

Balls Hit 95+ MPH

The percentage of batted balls hit that met or exceeded the 95 MPH threshold.

Swinging Strike

The percentage of pitches that result in a swing and a miss.
Advanced Pitching Stats
Loading Advanced Pitching Stats...
Loading MLB Defensive Stats...
Our full team depth charts are reserved for RotoWire subscribers.
Subscribe Now
Recent RotoWire Articles Featuring Drew Smyly
See More
Past Fantasy Outlooks
2022
2021
2019
2018
2017
2016
2015
2014
2013
2012
After allowing just two homers in 26.1 innings the previous season with the Giants, Smyly's long ball issue returned last year as he surrendered 27 dingers in 126.2 frames with the Braves. However, he caught a break as a fortunate 77.4 percent LOB mark helped keep his 4.48 ERA somewhat respectable. That said, Smyly's 21.4 percent strikeout rate was the lowest of his career as his cutter wasn't as effective as normal. Smyly had one only IL stint, a two-week stay in April for a sore forearm. After posting a 6.08 ERA in August, Atlanta moved the lefty to the bullpen. The veteran is slated to embark on his age-32 season and will begin the year with a back-end rotation spot for the Cubs. With his injury history and home run proclivity, he's hard to trust for fantasy purposes. Favorable matchups in pitcher's parks could be in play, but that's not the sort of outlook worthy of a roster spot.
You could be forgiven for forgetting about Smyly heading into last year, as he missed 2017 and 2018 due to Tommy John surgery before struggling to a 6.24 ERA in 2019. A solid 25.9 K% and 8.0 BB% in 12 starts that year after a mid-season trade to the Phillies hinted at a modest amount of promise, but few would have predicted his 37.8 K%, 3.42 ERA and 2.01 FIP for the Giants last season. That came in a tiny sample of 26.1 innings, as he missed time with a strained finger, but was backed by a 2.6-mph jump in fastball velocity, enough to convince the Braves to give him a one-year, $11 million deal. It's not like his success came completely out of nowhere, as the lefty managed a 3.24 ERA over his first four seasons, and getting back to that level now that he's fully healthy could certainly be sustainable. He's still firmly in lottery-ticket territory, but he's one of the most interesting members of that group.
When the Cubs signed Smyly prior to the 2018 season, they understood that he might not contribute much in his first season with the club. The southpaw spent the early portion of the campaign continuing to rehab from the Tommy John surgery he underwent in June of 2017, and he progressed to simulated games after the All-Star break. Just when he appeared to be closing in on a return from the disabled list, the Cubs opted to shut him down for the season. After the extra-long layoff, the hope is that Smyly will be fully healthy and ready to compete for a spot in the Rangers' rotation following a November trade. He turns 30 in June and his medical history is lengthy, but in AL-only leagues and deep draft-and-hold formats, there are worse late-round speculations.
A strong showing last spring -- which he split between the Mariners and Team USA in the WBC -- signaled that Smyly was ready to bounce back from a poor 2016 season, but an elbow injury suffered in late March prevented him from being ready for the start of the season. His season was ultimately over for good when it was decided he would need Tommy John surgery in June. Smyly will not be ready to return until the middle of the 2018 season at the earliest, and it's possible he could miss the entire year. His respectable career marks of a 3.74 ERA and 8.7 K/9 make him worth holding onto in deep keeper leagues, but it's a long shot that he will pay off as a long-term stash in single-season leagues in 2018. The Cubs signed him to a two-year deal in December, likely banking on his Year 2 contributions with the club once he's completely healthy again.
The 27-year-old left-hander managed to stay healthy but struggled through the majority of the 2016 campaign. His first half of the season was particularly poor, with Smyly tallying just a pair of victories against 10 losses to go along with a 5.47 ERA. He rebounded in the second half to forge a 5-2 record and generate a more respectable 4.08 ERA, but still saw a significant drop in his K/9 and the home runs have become a major issue at this point (43 allowed in 242 innings over the past two seasons). There was no accompanying rise in BABIP to blame for his struggles in 2016, as that figure remained at a reasonable .291. A full offseason of rest will create further distance from the shoulder problems and he's relatively safe in his role even after a trade to Seattle, but Smyly remains a risk in the ratio categories.
After a pair of DL stints and just 66.2 innings pitched in 2015, Smyly is officially an injury risk who is more potential than performance at this point. He has spent some time in the bullpen so we can't just judge him strictly on the innings, but four DL stints, major shoulder issues in 2015, and a max of 153 innings as a big leaguer all ding his reliability, especially at 27 years old now. There is still a lot to like when he does pitch, including the strikeout surge from last season. He needed an 87 percent strand rate to limit the damage of a 1.5 HR/9 rate, but both were career outliers and should be expected to regress. His fastball has experienced a four percent jump in swinging-strike rate with Tampa Bay and the key difference has been elevating it. The pitch has been instrumental in cutting his platoon split with righties posting a .641 OPS against him with Tampa Bay, down from .799 with Detroit. Intriguing skills, but the health history has to temper expectations.
At the trade deadline, Smyly was 6-9 with a 3.93 ERA, 1.35 WHIP and had struck out 20 percent of the batters he faced. He was then shipped to Tampa Bay as part of the David Price deal and things took a different course. He made seven starts for the Rays and posted a 1.70 ERA, 0.76 WHIP, and struck out 25 percent of the batters he faced. The amazing part is the Rays barely made a tweak to his mechanics as they typically do not like doing many changes during a season. Smyly increased the strikeouts with sequencing more than a new pitch, and there is a very good chance the team teaches him a changeup this offseason as every pitcher within the organization is encouraged to throw the pitch. There is some concern with Smyly since his innings total jumped from 76 to 153 last season, which is why the team shut him down in early September. He will not come at a discount in 2015.
After working as a starting pitcher and reliever for Detroit in 2012, Smyly was moved to a full-time role in the bullpen last season. The 25-year-old lefty excelled in his new role, finishing 6-0 with a 2.37 ERA and a 1.04 WHIP in 63 appearances. He improved both his strikeout rate (9.6 K/9), walk rate (2.0 BB/9) and limited the long ball (0.5 HR/9). The young southpaw was lights-out against left-handed hitters (.189 BAA), but he also limited right-handed hitters to a .242/.374/.293 line, proving that he's far more than a situational pitcher. Originally a starter, Smyly has a steady five-pitch arsenal at his disposal. His fastball usually sits in the 90-92 mph range. He also mixes in a curveball with plus-pitch upside, a cutter and a changeup that needs some work. While none of his pitches are dominant, Smyly does a great job locating and keeping hitters off balance. The Tigers traded Doug Fister to the Nationals in December, opening the door for Smyly to take a permanent spot in the rotation and making him an excellent sleeper for 2014.
Smyly was an early-season surprise in 2012, as he earned the No. 5 spot in the rotation out of spring training. The 23-year-old lefty got off to a great start in April, posting a 1.23 ERA and 22:8 K:BB in 22 innings, but his performance dropped off in May and he eventually lost a spot in the rotation when Detroit acquired Anibal Sanchez in a midseason deal. Despite the up-and-down season, there was plenty to like with Smyly. He aptly mixed in a low-90s fastball with an effective slider to post a 3.99 ERA while striking out nearly one hitter per inning (8.5 K/9). The big question mark with Smyly is whether or not he can earn a spot in the Opening Day rotation again. With the Tigers' decision to re-sign Sanchez, Smyly will be left battling out for a rotation spot with Rick Porcello, who would likely hold the edge. Keep a close eye on Smyly's competition this spring, as he could be a decent rotation filler for mid-sized leagues.
Selected in the second round by the Tigers in 2010, Smyly has quickly moved up the team's prospect list. He impressed during his first season in the minors, going 11-6 with a 2.07 ERA and 130:36 K:BB ratio while splitting time between High-A Lakeland and Double-A Erie. The 22-year-old southpaw's two best pitches are a sinking 89-92 mph fastball and a mid-80s cutter. He also mixes in a curveball and change-up but needs to refine both pitches. Unless the Tigers go out and sign a proven veteran prior to spring training, Smyly is expected to compete with fellow prospects Jacob Turner, Duane Below and Andy Oliver for the final spot in the rotation. Despite being named as part of the competition, Smyly is a long shot to earn a place on the Opening Day roster, but he could see his first cup of coffee in the big leagues in 2012 if he shows continued success in the upper levels of the minors. He's worth keeping an eye on in keeper leagues.
More Fantasy News