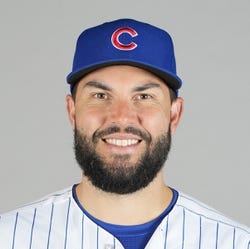 Rest-of-Season Projections
2023 Fantasy Outlook
Hosmer was released by the Red Sox in December but latched on with the Cubs, and he should split time at first base with Trey Mancini in 2023. Hosmer's .268/.334/.382 slash line was good for a technically above-average 104 wRC+, but that sort of mediocre performance doesn't cut it at first base. Hosmer's fantasy appeal was even more muted, as he homered just eight times in 419 plate appearances. There's little reason to bet on a bounce back in 2023. Outside of a brief blip in 2020 (when he played just 38 games), that 104 wRC+ represents his best mark of the last five years, with his extreme groundball tendency the culprit as usual. He makes plenty of contact, posting a 15.3 K% last season, but his 3.1 degree average launch angle means most of that contact is harmless. Even if the shift ban means more of those grounders squeak through, it's unlikely to make him much of fantasy asset.
Read Past Outlooks
$Signed a one-year, $720,000 contract with the Cubs in January of 2023. Released in May of 2023.

ANALYSIS
Hosmer's struggles paired with the arrival of
Matt Mervis
pushed Hosmer off the Cubs' roster Friday. The Padres are still responsible for paying most of the $32 million left on his contract, meaning Hosmer will likely have plenty of suitors to pick from.
Read More News
Batting Stats
2023
2022
2021
2020
2019
2018
2017
2023 MLB Game Log

Calculate Stats Over Time
Just click on any two dates.
Scoring
FanDuel
DraftKings
Yahoo DFS
Loading Batting Game Log...
2022 MLB Game Log

Calculate Stats Over Time
Just click on any two dates.
Scoring
FanDuel
DraftKings
Yahoo DFS
Loading Batting Game Log...
2021 MLB Game Log

Calculate Stats Over Time
Just click on any two dates.
Scoring
FanDuel
DraftKings
Yahoo DFS
Loading Batting Game Log...
2020 MLB Game Log

Calculate Stats Over Time
Just click on any two dates.
Scoring
FanDuel
DraftKings
Yahoo DFS
Loading Batting Game Log...
2019 MLB Game Log

Calculate Stats Over Time
Just click on any two dates.
Scoring
FanDuel
DraftKings
Yahoo DFS
Loading Batting Game Log...
2018 MLB Game Log

Calculate Stats Over Time
Just click on any two dates.
Scoring
FanDuel
DraftKings
Yahoo DFS
Loading Batting Game Log...
2017 MLB Game Log

Calculate Stats Over Time
Just click on any two dates.
Scoring
FanDuel
DraftKings
Yahoo DFS
Loading Batting Game Log...
Minor League Game Log

Calculate Stats Over Time
Just click on any two dates.
Loading Minor League Batting Game Log...
Batting Order Slot Breakdown
#1
#2
#3
#4
#5
#6
#7
#8
#9
#1
#2
#3
#4
#5
#6
#7
#8
#9
Left/Right Batting Splits
OPS
PA
HR
RBI
AVG
Since 2021

vs Left

.706
293
5
32
.283
Since 2021

vs Right

.716
790
17
91
.259
2023

vs Left

.528
18
0
4
.188
2023

vs Right

.618
81
2
10
.244
2022

vs Left

.773
117
2
9
.324
2022

vs Right

.693
302
6
35
.245
2021

vs Left

.676
158
3
19
.262
2021

vs Right

.754
407
9
46
.272
More Splits

→

View More Split Stats
Home/Away Batting Splits
OPS
PA
HR
RBI
AVG
Since 2021

Home

.726
514
12
53
.273
Since 2021

Away

.703
570
10
70
.258
2023

Home

.535
53
1
7
.188
2023

Away

.689
47
1
7
.283
2022

Home

.707
192
4
14
.278
2022

Away

.723
227
4
30
.260
2021

Home

.777
269
7
32
.287
2021

Away

.690
296
5
33
.253
More Splits

→

View More Split Stats
Stat Review
How does Eric Hosmer compare to other hitters?
This section compares his stats with all batting seasons from the previous three seasons (minimum 400 plate appearances)*. The bar represents the player's percentile rank. For example, if the bar is halfway across, then the player falls into the 50th percentile for that stat and it would be considered average.
* Exit Velocity and Barrels/PA % are benchmarked against 2019 data (min 400 PA) and Hard Hit Rate is benchmarked against last season's data (min 400 PA).
See here for more exit velocity/barrels stats
plus an explanation of current limitations with that data set.
BB/K

Walk to strikeout ratio

BB Rate

The percentage of plate appearances resulting in a walk.

K Rate

The percentage of plate appearances resulting in a strikeout.

BABIP

Batting average on balls in play. Measures how many of a batter's balls in play go for hits.

ISO

Isolated Power. Slugging percentage minus batting average. A computation used to measure a batter's raw power.

AVG

Batting average. Hits divided by at bats.

OBP

On Base Percentage. A measure of how often a batters reaches base. Roughly equal to number of times on base divided by plate appearances.

SLG

Slugging Percentage. A measure of the batting productivity of a hitter. It is calculated as total bases divided by at bats.

OPS

On base plus slugging. THe sum of a batter's on-base percentage and slugging percentage.

wOBA

Weighted on-base average. Measures a player's overall offensive contributions per plate appearance. wOBA combines all the different aspects of hitting into one metric, weighting each of them in proportion to their actual run value.

Exit Velocity

The speed of the baseball as it comes off the bat, immediately after a batter makes contact.

Hard Hit Rate

A measure of contact quality from Sports Info Solutions. This stat explains what percentage of batted balls were hit hard vs. medium or soft.

Barrels/PA

The percentage of plate appearances where a batter had a batted ball classified as a Barrel. A Barrel is a batted ball with similar exit velocity and launch angle to past ones that led to a minimum .500 batting average and 1.500 slugging percentage.

Expected BA

Expected Batting Average.

Expected SLG

Expected Slugging Percentage.

Sprint Speed

The speed of a runner from home to first, in feet per second.

Ground Ball %

The percentage of balls put in play that are on the ground.

Line Drive %

The percentage of balls put in play that are line drives.

Fly Ball %

The percentage of balls put in play that are fly balls.
Advanced Batting Stats
Loading Advanced Batting Stats...
Games By Position
Defensive Stats
Loading Games Played by Position...
Loading MLB Defensive Stats...
Batted Ball Stats
Loading Batted Ball Stats...
Stats Vs Upcoming Pitchers
Past Fantasy Outlooks
2022
2021
2020
2019
2018
2017
2016
2015
2014
2013
2012
2011
2010
2009
Hosmer was only rosterable in the deepest of leagues in 2021. While he posted a decent batting average, that was the only positive to his 2021 season. Hosmer played in 151 games, but he hit just 12 home runs (a seven-year low 11.3% HR/FB) due in large part to his 55.5 GB%. The lack of production pushed him down the Padres' lineup and he didn't post over 70 runs or RBI. Additionally, he hit barely over replacement level (.676 OPS) against lefties. He's been this below-average player for years, but for some reason, teams continued to hit him high in the batting order so he used to be counted on for 80 runs and 100 RBI. Those days look to be over. There is a scenario where he could get back to hitting 20 homers, but that's his upside. With so many other first-base options, it's best to look elsewhere.
Despite a pair of stints on the injured list, Hosmer enjoyed his finest season as a Padre in 2020, playing a key role in helping to end the team's 14-year playoff drought. The veteran significantly altered his approach at the plate, as evidenced by pronounced jumps in his average launch angle (8.7 degrees) and pull rate (35.0%). Those adjustments helped fuel an increase in barrel rate and lifted Hosmer to a 15.9 AB/HR, easily the highest mark of his career. Fortunately, the newfound pop did not come at the expense of more strikeouts, as Hosmer's 17.9 K% was his lowest in three seasons. The end result was a 127 wRC+, his first above-average mark in that category since joining San Diego. Fantasy managers will understandably be wary of Hosmer's ability to extend the production over a full season, making him a potential value pick in 2021.
Hosmer may not ever eclipse the 25-homer mark in his career; if he could not do it in 2019, it may just never happen. He elevated the ball more than he did in 2018, but it was a return to his 2016-17 ways more than anything else. Just once in the past seven seasons has he had a GB/FB rate below 2.0. He fell one run shy of driving in 100 runs for just the second time in his career despite being an everyday player nearly his entire career. That ability -- the ability to play every single day -- is what his value hinges upon. He needs to compile to produce fantasy value as he does not have any one skill that can stand alone if the playing time suffers due to injury. He was the 20th-ranked first baseman at the end of 2019, and there is nothing in the Statcast numbers to say there is anything better for him hidden underneath. He is a low-risk, low-reward player, and there is safety in that for fantasy players.
The Padres signed Hosmer to an exorbitant contact, citing presence for their young and maturing clubhouse as the driving force. Unfortunately, there's no fantasy points for intangibles, rendering the move a bust, at least for the first year. Hosmer's 95 wRC+ was the second lowest of his career, ahead of only the 80 mark posted in his sophomore season. His K% spiked to a career-high 21.0%, fueling a .253 average, the second lowest of his career. After hitting 25 homers for two consecutive campaigns, Hosmer only knocked 18 out of the yard. His 141 combined runs and RBI was his lowest since 2014 when he missed 31 games. Players can struggle transitioning to a new team and a new league, especially those saddled with a new contract. His production has typically trailed that of other first baseman, but Hosmer is likely to rebound and his price will no doubt reflect the down year, so there's profit potential if you drafted power elsewhere.
Hosmer matched his career high with 25 long balls in 2017, but with the league-wide home-run rate also reaching a new apex, the first baseman's total didn't even put him in the top 60 in baseball. In spite of his non-elite power production, Hosmer still captured his first Silver Slugger award by chipping in 98 runs, 94 RBI and most notably, a career-best .318 batting average, which placed him second in the American League. Hosmer's hit tool has always made him a more stable producer in the average category than most of his contemporaries, but banking on another .300-plus mark from the 28-year-old may be asking too much. Though Hosmer showed improved plate discipline and used the opposite field more than ever before, his average was aided by a .351 BABIP, which was 35 points above his career mark. The expected decline in average dings Hosmer's outlook, but if he's able to maintain his power gains from the past two seasons, he could still offer one of the more well-rounded rotisserie profiles at first base.
Hosmer set a career high in homers and RBI in 2016, but then, who didn't? It's cliche, but the increased total was a matter of doubles and triples turning into homers, as his extra-base hits, slugging and isolated power all dropped. Hosmer's flyball percentage remained a low 25 percent; a 6.3 percent spike in HR/FB did the trick. The first baseman set another career high, fanning at nearly a 20 percent pace. This, in tandem with a low BABIP, especially against southpaws, led to his posting his second lowest batting average as a big leaguer (.266). All that said, Hosmer had a typical campaign, piggybacking the league trend of increased power and whiffs. He remains a fallback choice at first base, without the power usually attributed to the position but a volume contributor due to durability and an above average hit tool. If you miss out on the studs early, Hosmer remains a reliable consolation prize with a likely bounce-back in batting average, albeit with a drop in pop.
What feels like a career season for Hosmer was really more like a return to where he was in 2013 with a worse surrounding cast. The high average, high OBP and solid slugging percentage Hosmer put up in 2015 are things that he has done previously, but he had more runs scored and more runs driven in because he had a better team around him. The power that left him in 2014 came back last season and his HR/FB ratio returned to its previous levels, and he has now played in 150 games in three of the past four seasons. He could hit 20-plus homers in 2016, but there is little reason to believe a 30-homer season is anywhere in his future as long as he remains in Kansas City and his GB/FB ratio stays north of 1.5. Hosmer has to hit more flyballs to get there, and he's at his best when he is hitting line drives all over the park.
Hosmer's counting stats suffered a significant drop-off in his 2014 season, but this can be partially attributed to a stress fracture in his hand that cost him most of August. Though many thought the first baseman was poised for a breakout season, he ended up posting career-lows in home runs (nine), RBI (58), runs (54) and steals (four). His batting average dipped 32 points from the season before, but some bad luck was to blame, as he recorded his lowest BABIP (.312) since the 2012 season. By the time Hosmer was able to get hot in the playoffs, it was too late for fantasy owners, but a .983 postseason OPS is cause for optimism heading into 2015. His 83.4% contact rate was right in line with his career average, but his line drive rate dropped over five points to 16.9%. Prospective fantasy owners are surely hoping he'll square up the ball a little bit better in his age-25 season, and if he can do that, it wouldn't be overly surprising to see him return close to the .801 OPS he posted in 2013.
Who knows what exactly George Brett said to Hosmer when he took over as the Royals' interim hitting coach, but whatever it was, it marked the turning point for the young first baseman and transformed him from a struggling hitter barely able to maintain a .250 average to a .300 hitter with strong gap power and the added ability to hit the long ball. Even after Brett stepped down, Hosmer continued to rake and batted over .300 in each of the final four months of the season with 16 home runs in that span. At just 24 years old, Hosmer has so much more ahead of him. If he can simply maintain his current level of plate discipline and contact rates, the power should continue to develop, giving him a very strong chance to elevate his game to a higher level worthy of an eventual place among the top-10 at the first base position.
Last season quickly became one to forget for the now 23-year-old Hosmer, who failed to build on his rookie season success. Though he showed some flashes of power in the early goings, Hosmer struggled to keep his batting average above .220 for the first two months and found himself in a hole from which he just could not dig himself out. He pressed at the plate, saw his strikeout totals increase, and failed to make clean contact. He had moments during the second half where it looked like he had the potential to work his way out of his struggles, but ultimately he failed and finished the year with a .232/.304/.359 slash line and his ISO dropped nearly 50 points from his rookie year. Most of Hosmer's struggles stemmed from mental hurdles, an unusually low .255 BABIP, and a shoulder issue that occurred early in the year which apparently lingered until he was shut down in mid-September, so there is definitely hope that he shrugs off the poor sophomore campaign. His price tag on draft day should be significantly lower in 2013, which could turn him into one of the better bargains this year.
Hosmer spent nearly a month at Triple-A Omaha before he was unleashed on the American League to show what all the hype was about. He finished third in the Rookie of the Year voting as he posted 19 home runs, drove in 78 runs, hit .293 and even stole 11 bases. He possesses a disciplined eye at the plate with an ability to drive the ball for power, which should serve him well for seasons to come. The only concern for fantasy owners is that there may be too much hype surrounding the 22-year-old, and he may not be able to fulfill many lofty expectations. Hosmer should make strides in 2012 toward establishing himself as the face of the Royals organization.
Hosmer is the clear-cut first baseman of the future for the Royals, and it seems the future remains a year away. With Billy Butler holding things down at first and the team going nowhere in the immediate future, the Royals aren't in a hurry to get Hosmer to the majors and start his service clock. The 21-year-old has more than held his own at every level and looks to be a bright spot for an organization that is going through some dark times.
Hosmer had vision problems that led to a miserable hitting campaign for the 2008 first-round draft pick (No. 3 overall). He's a left-handed hitter with raw power and overall upside, but it may take some time and lots of at-bats to reach that potential. He needs time to refine his mechanics and work on his stroke with his newly corrected vision (he had corrective surgery after the season). Hosmer's overall bat speed is evident, but he needs to learn to recognize pitches and be more patient at the plate. He could be ready by late 2012, but probably not much sooner. His draft position alone dictates that the Royals will be patient and give him every chance to succeed at lower levels before they expose him to the highest quality pitching, but he'll need to regain his confidence in 2010.
The Royals drafted Hosmer third overall out of high school in the 2008 amateur draft, but his inaugural professional season was truncated to 11 at-bats because questions arose as to whether he signed his contract before the deadline. Despite this, he is already being labeled as one of the organization's top hitting prospects. He has a big league body (6-3, 210) and can hit for both power and average, but Hosmer could still start the season at rookie ball because of his lack of playing time last summer.
More Fantasy News