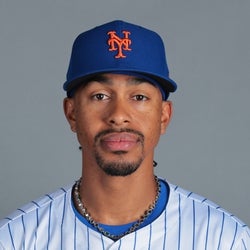 Rest-of-Season Projections
2023 Fantasy Outlook
Lindor's first year with the Mets in 2021 was the worst of his career, but he rebounded last season with a 127 wRC+ in 161 games. The 29-year-old totaled 26 home runs, 107 RBI, 98 runs and 16 stolen bases, and it's the first time in his career he's driven in more than 100 runs. The shortstop's resurgence played a major role in pushing New York to 101 wins and back to the playoffs, as he looked more like the player he was for Cleveland from 2017-19 than the player the Mets got in Year 1. However, Lindor also had a career-worst 18.8 percent strikeout rate and career-high .301 BABIP, which could temper expectations on him building on the 2022 production.
Read Past Outlooks
$Signed a 10-year, $341 million contract extension with the Mets in April of 2021.

Lindor went 4-for-7 with two walks, three home runs and six RBI across both games of Wednesday's doubleheader split with the Marlins.
ANALYSIS
The shortstop took
Braxton Garrett
deep for a two-run shot in the matinee as the Mets romped to an 11-2 victory before accounting for his team's only offense in the nightcap with solo shots off
Johnny Cueto
in the second and fourth innings. The power display has given Lindor his first 30-homer season since 2019 as well as his first career 30-30 campaign, and he needs just four more RBI over New York's final four games to add his second straight 100-RBI season to his ledger as well.
Read More News
Batting Stats
2023
2022
2021
2020
2019
2018
2017
2023 MLB Game Log

Calculate Stats Over Time
Just click on any two dates.
Scoring
FanDuel
DraftKings
Yahoo DFS
Loading Batting Game Log...
2022 MLB Game Log

Calculate Stats Over Time
Just click on any two dates.
Scoring
FanDuel
DraftKings
Yahoo DFS
Loading Batting Game Log...
2021 MLB Game Log

Calculate Stats Over Time
Just click on any two dates.
Scoring
FanDuel
DraftKings
Yahoo DFS
Loading Batting Game Log...
2020 MLB Game Log

Calculate Stats Over Time
Just click on any two dates.
Scoring
FanDuel
DraftKings
Yahoo DFS
Loading Batting Game Log...
2019 MLB Game Log

Calculate Stats Over Time
Just click on any two dates.
Scoring
FanDuel
DraftKings
Yahoo DFS
Loading Batting Game Log...
2018 MLB Game Log

Calculate Stats Over Time
Just click on any two dates.
Scoring
FanDuel
DraftKings
Yahoo DFS
Loading Batting Game Log...
2017 MLB Game Log

Calculate Stats Over Time
Just click on any two dates.
Scoring
FanDuel
DraftKings
Yahoo DFS
Loading Batting Game Log...
Minor League Game Log

Calculate Stats Over Time
Just click on any two dates.
Loading Minor League Batting Game Log...
Batting Order Slot Breakdown
#1
#2
#3
#4
#5
#6
#7
#8
#9
#1
#2
#3
#4
#5
#6
#7
#8
#9
Left/Right Batting Splits
OPS
PA
HR
RBI
AVG
Since 2021

vs Left

.812
576
30
84
.266
Since 2021

vs Right

.765
1340
47
184
.248
2023

vs Left

.916
204
16
38
.281
2023

vs Right

.756
482
15
60
.242
2022

vs Left

.784
208
9
30
.271
2022

vs Right

.789
498
17
77
.269
2021

vs Left

.715
164
5
16
.240
2021

vs Right

.743
360
15
47
.225
More Splits

→

View More Split Stats
Home/Away Batting Splits
OPS
PA
HR
RBI
AVG
Since 2021

Home

.759
941
39
125
.243
Since 2021

Away

.799
976
38
143
.264
2023

Home

.743
332
15
38
.225
2023

Away

.864
355
16
60
.281
2022

Home

.754
347
12
50
.258
2022

Away

.819
359
14
57
.280
2021

Home

.788
262
12
37
.244
2021

Away

.680
262
8
26
.216
More Splits

→

View More Split Stats
Stat Review
How does Francisco Lindor compare to other hitters?
This section compares his stats with all batting seasons from the previous three seasons (minimum 400 plate appearances)*. The bar represents the player's percentile rank. For example, if the bar is halfway across, then the player falls into the 50th percentile for that stat and it would be considered average.
* Exit Velocity and Barrels/PA % are benchmarked against 2019 data (min 400 PA) and Hard Hit Rate is benchmarked against last season's data (min 400 PA).
See here for more exit velocity/barrels stats
plus an explanation of current limitations with that data set.
BB/K

Walk to strikeout ratio

BB Rate

The percentage of plate appearances resulting in a walk.

K Rate

The percentage of plate appearances resulting in a strikeout.

BABIP

Batting average on balls in play. Measures how many of a batter's balls in play go for hits.

ISO

Isolated Power. Slugging percentage minus batting average. A computation used to measure a batter's raw power.

AVG

Batting average. Hits divided by at bats.

OBP

On Base Percentage. A measure of how often a batters reaches base. Roughly equal to number of times on base divided by plate appearances.

SLG

Slugging Percentage. A measure of the batting productivity of a hitter. It is calculated as total bases divided by at bats.

OPS

On base plus slugging. THe sum of a batter's on-base percentage and slugging percentage.

wOBA

Weighted on-base average. Measures a player's overall offensive contributions per plate appearance. wOBA combines all the different aspects of hitting into one metric, weighting each of them in proportion to their actual run value.

Exit Velocity

The speed of the baseball as it comes off the bat, immediately after a batter makes contact.

Hard Hit Rate

A measure of contact quality from Sports Info Solutions. This stat explains what percentage of batted balls were hit hard vs. medium or soft.

Barrels/PA

The percentage of plate appearances where a batter had a batted ball classified as a Barrel. A Barrel is a batted ball with similar exit velocity and launch angle to past ones that led to a minimum .500 batting average and 1.500 slugging percentage.

Expected BA

Expected Batting Average.

Expected SLG

Expected Slugging Percentage.

Sprint Speed

The speed of a runner from home to first, in feet per second.

Ground Ball %

The percentage of balls put in play that are on the ground.

Line Drive %

The percentage of balls put in play that are line drives.

Fly Ball %

The percentage of balls put in play that are fly balls.
Advanced Batting Stats
Loading Advanced Batting Stats...
Games By Position
Defensive Stats
Loading Games Played by Position...
Loading MLB Defensive Stats...
Batted Ball Stats
Loading Batted Ball Stats...
Stats Vs Upcoming Pitchers
Our full team depth charts are reserved for RotoWire subscribers.
Subscribe Now
Recent RotoWire Articles Featuring Francisco Lindor
See More
Past Fantasy Outlooks
2022
2021
2020
2019
2018
2017
2016
2015
2014
2013
2012
Lindor had the challenge of playing in the New York spotlight, amplified by the pressures of his massive new contract extension working against him in 2021, and it showed. Throw in the challenge of changing from the AL to the NL, and it is not surprising to see how Lindor struggled to come close to his level of production from his peak years in Cleveland. He accepted his walks more than ever, but also struck out at a career-worst rate, leading to the lowest batting average of his career by nearly 30 points. That said, this down year was against the backdrop of his amazing career trend; his 103 wRC+ still meant he was better than the league average last year. With a full season of adjusting to the brighter lights, bigger media and dealing with expectations that come with a $341 million contract extension, Lindor could very well step back to his 2017-19 levels of production.
The 2020 season was not an especially productive one for Lindor, who finished right at league average by wRC+, but we feel safe saying he is still one of the best shortstops in the game, both in real life and roto. That's saying a lot in 2021. After batting out of the leadoff spot in 2019, Lindor moved down to the three hole with the addition of Cesar Hernandez and did not run early on with just one (unsuccessful) steal attempt in his first 31 games. Lindor went on to swipe six bags in seven attempts over his final 29 regular-season games. Perhaps he wanted to show potential trade partners that he can still run; he showed that the instincts are still there, though it's worth noting that Lindor's sprint speed only ranked in the 65th percentile. We have no questions about his hitting skills and he will likely be motivated to stick it to his former employer before hitting the open market as a free agent.
Despite missing three-plus weeks, Lindor posted numbers most would be envious of. The shortstop opened the season on the IL with calf and ankle injuries, debuting April 20. After sitting the opener of a doubleheader, Lindor didn't miss another game all season, recording his third straight 30-home run season and second consecutive 20-steal campaign. Lindor possesses one of the most consistent skill sets in the league, rating above average in nearly every category, glued together by an excellent contact rate. However, he's also more of a compiler than most fantasy studs since he doesn't pop in any specific category. This is where Lindor's durability comes into play since his volume elevates counting stats into the elite range. There's always a chance he incurs another injury like last season, but so could anyone. His combo of skills, consistency and durability put Lindor firmly in first-round consideration.
Lindor has three full seasons in the majors, and has shown linear statistical improvement in nearly every category. In each of the past three seasons, his home runs, slugging percentage and RBI have increased year over year while his runs went from repeating to surging last season. He has shown a willingness to take his walks (9.4 BB%) and he puts bat to ball with consistency (14.4 K%). Lindor, teammate Jose Ramirez, Robinson Cano, and Nolan Arenado are the only players in recent seasons with at least 35 home runs and a strikeout rate no higher than 15%. His stolen-base attempts jumped from 18 in 2017 to 35 last season, but his success rate took a dive as he was caught 10 times, which may limit his ability to join Ramirez in the 30-30 club. The tools are all here for another outstanding offensive season even if continuing the statistical linear growth looks rather impossible given the level he has already achieved before his 25th birthday.
Lindor hit more homers last season (33) than he did in his first two seasons combined (27), but impressively, he did that without selling out at the plate to add pop as he accomplished that feat with the same strikeout rate (12.9 percent K%) and walk rate (8.3 percent BB%) that he had in 2016. The difference came from an increased ability to barrel up pitches, which Lindor did in 7.2 percent of his batted-ball events (4.1 percent in 2016). Somewhat surprisingly, Lindor's HR/FB rate wasn't through the roof (14.0 percent), he simply hit the ball in the air more often, improving his flyball rate from 28.4 percent to 42.4 percent last season. The flyball increase led to the drop in batting average, but the altered approach is a net positive for the Cleveland offense and to fantasy owners. Lindor was effective again as a basestealer, going 15-for-18 despite the increased power and a slight drop in OBP. The new level looks sustainable, making Lindor a top-25 fantasy player and potential MVP candidate.
The 23-year-old has quickly emerged as one of the best hitting shortstops in the game. He has utilized a steady contact-heavy approach to work counts and post a .306/.356/.454 career slash line in 1,122 plate appearances. As evidenced by his low strikeout rate (career 14.0 percent), Lindor seemingly understands that his game is more slash and dash right now than power, but he can still turn on a pitch and yank it out of the yard when a pitcher misses his spot (27 career long balls). In addition to the double-digit home-run pop, Lindor has shown an aptitude for stealing bases, going 31-for-38 over his first two seasons and reaping the benefits of manager Terry Francona's aggressive approach on the basepaths. Throw in the fact that he is split neutral and will continue to hit high in the lineup as he continues to fill out physically, and the sky is truly the limit for Lindor. He may add another level of power to come along to accentuate the high average, good speed, and run production, though it might not happen in 2017. Still, his floor already is lofty enough to put him within the top 50 fantasy picks.
Lindor's glovework helped solidify a shaky left side of the infield upon his callup to the big leagues in early June, but that was never in question. It was his ability to handle himself at the plate as a 21-year old that made him a viable Rookie of the Year candidate and a fantasy surprise in the second half of the season. Lindor had held his own in parts of two seasons at Triple-A Columbus, slashing .284/.350/.402 while sporting a nice BB:K ratio (25:38) in 59 games in 2015, but he took it to the next level once arriving in Cleveland. He posted a remarkable .835 OPS with 22 doubles, four triples and 12 homers in just 99 games for the Tribe and got better as the season wore on. His batting average was aided by a .348 BABIP, and that number might actually be somewhat sustainable given his speed and tendency to hit the ball on the ground (50.8% GB%), but that approach does not bode well for adding more power in 2016.
Cleveland chose to keep Lindor in the minor leagues for the entire 2014 season, despite a trade deadline deal that shipped Asdrubal Cabrera out of town. The move made sense, even if it may have disappointed baseball fans who have been waiting three-plus years to see the slick-fielding shortstop. Lindor has just 180 plate appearances at Triple-A under his belt, and his .273/.307/.388 slash line may look underwhelming. However, the "better in reality than fantasy" label that seems to stick to Lindor because of his elite defense does not do him justice. He hit 11 home runs with 28 steals in 126 games between Double-A and Triple-A, and he will debut in the big leagues this season as a 21-year-old. There is plenty of projection left in his bat, and his plus hit tool and speed combination should place him at the top of a big league lineup. He projects as an above-average offensive shortstop in his prime.
Lindor had another fine season splitting time between High-A Carolina (.306/.373/.410 with 20 steals in 83 games) and Double-A Akron (.289/.407/.395 with five steals in 21 games) before having his season cut short with a back injury. His glove makes him a fantastic prospect and he's certainly got plenty of time to add some pop to his bat, but it remains to be seen how much of a fantasy impact he will have, at least in that facet of his game. A lot of his value figures to hinge on his speed and power upside. Lindor offers good, albeit not great, speed and instincts on the basepaths and his power might eventually develop, but it's possible that he will peak as a 10-homer, 20-steal player with excellent defense at a premium position, offering a bit more to the Tribe in real-life value than to fantasy owners with his rotisserie contributions.
Lindor is easily the best prospect in the Indians organization and one of the top prospects in baseball, though much of his value comes from his work with the glove. He held his own at Low-A Lake County despite being just 18 years old. He's got a mature approach at the plate which might enable him to add some power to his game as he physically matures, but his bat may never be anything overly special. His ceiling may very well be that of a 10-homer, 15-steal guy at shortstop. Expect some growing pains at High-A Kinston this season.
The Indians selected Lindor with the eighth overall pick in the 2011 draft, and he was limited to just five games in the New York-Penn League as a 17-year-old last summer. Despite his age, Lindor already ranks as the top prospect in Cleveland's system. The switch-hitting shortstop should be a steady contact hitter and eventually develop some pop, while his plus-arm should lead him to become an above-average defensive player down the road.
More Fantasy News