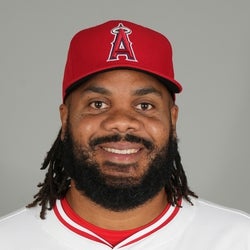 Rest-of-Season Projections
2023 Fantasy Outlook
Jansen wore a different uniform in 2022, but finished second in the league with 41 saves for Atlanta to bring his career total to 391, which ranks eighth all-time and second among active saves leaders. The 35-year-old has been fairly consistent over the past few seasons, with both his pitch mix and output. Jansen threw his famous cutter 65% of the time as his primary strikeout pitch, while occasionally mixing in a sinker (22%) that he mostly threw against left-handed batters, and a slider (13%). The veteran's arsenal yielded a respectable 3.38 ERA (2.76 SIERA), 1.05 WHIP and 32.7% strikeout rate, the latter being his highest since 2017. He also lowered his walk rate to 8.5% and his average velocity (93.7 mph) was surprisingly among the best of his career. If Jansen can maintain this level of production in his mid-to-late 30s, he's a lock to join the top five all-time saves leaders. He'll get the opportunity to do just that after signing a two-year, $32 million deal with Boston.
Read Past Outlooks
$Signed a two-year, $32 million contract with the Red Sox in December 2022.

ANALYSIS
Jansen tested positive for COVID-19 on Sept. 13 and will now return to Boston's bullpen after a 10-day absence, sending
Zack Weiss
back to Triple-A Worcester. The 35-year-old closer has allowed five runs in three innings across his last five appearances, and he hasn't recorded a save since Aug. 20.
Read More News
Pitching Stats
Loading Pitching Stats...
2023
2022
2021
2020
2019
2018
2017
2023 MLB Game Log

Calculate Stats Over Time
Just click on any two dates.
Scoring
FanDuel
DraftKings
Yahoo DFS
Loading Pitching Game Log...
2022 MLB Game Log

Calculate Stats Over Time
Just click on any two dates.
Scoring
FanDuel
DraftKings
Yahoo DFS
Loading Pitching Game Log...
2021 MLB Game Log

Calculate Stats Over Time
Just click on any two dates.
Scoring
FanDuel
DraftKings
Yahoo DFS
Loading Pitching Game Log...
2020 MLB Game Log

Calculate Stats Over Time
Just click on any two dates.
Scoring
FanDuel
DraftKings
Yahoo DFS
Loading Pitching Game Log...
2019 MLB Game Log

Calculate Stats Over Time
Just click on any two dates.
Scoring
FanDuel
DraftKings
Yahoo DFS
Loading Pitching Game Log...
2018 MLB Game Log

Calculate Stats Over Time
Just click on any two dates.
Scoring
FanDuel
DraftKings
Yahoo DFS
Loading Pitching Game Log...
2017 MLB Game Log

Calculate Stats Over Time
Just click on any two dates.
Scoring
FanDuel
DraftKings
Yahoo DFS
Loading Pitching Game Log...
Minor League Game Log

Calculate Stats Over Time
Just click on any two dates.
Loading Minor League Pitching Game Log...
Pitching Appearances Breakdown
How many pitches does Kenley Jansen generally throw?
What part of the game does Kenley Jansen generally pitch?
% Games Reaching Innings Threshold
% Games By Number of Innings Pitched
Left/Right Pitching Splits
BAA
K
BB
H
HR
Since 2021

vs Left

.192
102
35
59
11
Since 2021

vs Right

.187
121
39
62
6
2023

vs Left

.198
25
8
16
3
2023

vs Right

.273
27
8
24
2
2022

vs Left

.213
39
12
23
5
2022

vs Right

.175
46
10
22
3
2021

vs Left

.169
38
15
20
3
2021

vs Right

.136
48
21
16
1
More Splits

→

View More Split Stats
Home/Away Pitching Splits
ERA
WHIP
IP
K/9
BB/9
Since 2021

Home

3.72
1.13
92.0
12.3
3.3
Since 2021

Away

2.21
1.07
85.2
10.2
4.3
2023

Home

4.87
1.57
20.1
10.6
4.4
2023

Away

2.59
1.03
24.1
10.4
2.6
2022

Home

3.57
1.08
35.1
12.7
3.1
2022

Away

3.14
1.01
28.2
11.0
3.1
2021

Home

3.22
0.94
36.1
12.9
3.0
2021

Away

1.10
1.16
32.2
9.4
6.6
More Splits

→

View More Split Stats
Stat Review
How does Kenley Jansen compare to other relievers?
This section compares his stats with all relief pitcher seasons from the previous three seasons (minimum 30 innings)*. The bar represents the player's percentile rank. For example, if the bar is halfway across, then the player falls into the 50th percentile for that stat and it would be considered average.
* Exit Velocity, Barrels/BBE %, Balls Hit 95+ MPH %, and Spin Rate are benchmarked against 2019 data (min 30 IP).
See here for more exit velocity/barrels stats
plus an explanation of current limitations with that data set.
K/BB

Strikeout to walk ratio.

K/9

Average strikeouts per nine innings.

BB/9

Average walks per nine innings.

HR/9

Average home runs allowed per nine innings.

Fastball

Average fastball velocity.

ERA

Earned run average. The average earned runs allowed per nine innings.

WHIP

Walks plus hits per inning pitched.

BABIP

Batting average on balls in play. Measures how many balls in play against a pitcher go for hits.

GB/FB

Groundball to flyball ratio. The higher the number, the more likely a pitcher is to induce groundballs.

Left On Base

The percentage of base runners that a pitcher strands on base over the course of a season.

Exit Velocity

The speed of the baseball as it comes off the bat, immediately after a batter makes contact.

Barrels/BBE

The percentage of batted ball events resulting in a Barrel. A Barrel is a batted ball with similar exit velocity and launch angle to past ones that led to a minimum .500 batting average and 1.500 slugging percentage.

Spin Rate

Spin Rate is the rate of spin on a baseball after it is released. It is measured in revolutions per minute (rpm).

Balls Hit 95+ MPH

The percentage of batted balls hit that met or exceeded the 95 MPH threshold.

Swinging Strike

The percentage of pitches that result in a swing and a miss.
Advanced Pitching Stats
Loading Advanced Pitching Stats...
Loading MLB Defensive Stats...
Our full team depth charts are reserved for RotoWire subscribers.
Subscribe Now
Recent RotoWire Articles Featuring Kenley Jansen
See More
Past Fantasy Outlooks
2022
2021
2020
2019
2018
2017
2016
2015
2014
2013
2012
2011
Jansen is clearly no longer the lockdown force who averaged 100 strikeouts a year from 2011-2017, but he can still get the job done in the ninth innings, saving 38 in 43 tries last season. Jansen began throwing fewer cutters and more sinkers in 2020, then continued it last year. He was able to induce more groundballs, but he also recorded a 12.9% walk rate, the highest mark since his rookie season. His 30.9% strikeout rate was down from his salad days, but more than sufficient to remain one of the more dominating closers. Jansen's 288 saves since 2014 are by far the most in the league so it's likely he will displace Will Smith as Atlanta's closer after inking a one-year, $16 million contract in March.
Given the way in which Jansen's 2020 campaign ended -- he watched from the bench as other Dodgers relievers earned saves in the final two games of the World Series -- it's easy to forget the regular season qualified as a bounce-back for the veteran closer. Jansen posted tangible improvements in a number of statistical categories, including ERA (3.33), FIP (3.03), K% (32.4), xBA (.190), xSLG (.285) and HR/9 (0.74). He also converted 11-of-13 save opportunities, earned NL Reliever of the Month honors for August and once again ranked among the game's elite hurlers at limiting hard contact (82.7 mph average exit velocity). The postseason swoon and continued velocity drop are certainly concerning, but it's hard to imagine anyone except Jansen beginning the season as the closer for Los Angeles as he enters the final season of his five-year contract. Assuming he keeps the role, Jansen is still a top-10 closer.
Jansen continued his tumble down the closer ranks in 2019, ending the season with a 3.71 ERA and 73.6 LOB%, both career worsts. Though he placed eighth in the majors with 33 saves, Jansen also blew eight save opportunities, tied for second most in the league. The right-hander's decline has coincided with a 1.5-mph dip in velocity on his signature cutter since 2017. Jansen tried to compensate last season by throwing sliders at the highest rate of his career (12.2%) and held hitters to a .143 average on the pitch, providing some hope that he can adjust his arsenal to combat his falling strikeout rate and rising home run rate, though he has been famously stubborn about departing from his primary weapon. Jansen will open 2020 as LA's closer and should continue to see plenty of save chances, but his performance over the past two seasons suggests that his days as an elite option may be over.
Jansen entered 2018 as the undisputed top closer, but immediately tested that distinction. With his cutter down a few ticks coming out of the spring, Jansen blew two saves in his first seven outings. He regained some heat thereafter and converted 37 of his next 39 chances, but didn't quite resemble the relief ace of old. Most notably, Jansen's strikeout and walk rates moved steeply in the wrong directions, with his 22.5 K-BB% amounting to a 13-point decline from any of the previous three years. That contributed to Jansen finishing with an ERA above 3.00 for the first time ever, a mark that likely would have been worse if not for a .234 BABIP (career .268). The heart issue that cost Jansen time in 2011 and 2012 also popped up last August, though he's hopeful an offseason procedure remedied the matter. Still, Jansen's place among the top-tier closers no longer seems certain, despite the 2018 model being a fringe top-five option.
Jansen is one of the best closers of this generation, if not the best. The 2017 season didn't end as he'd hoped -- Jansen allowed runs in three consecutive appearances and blew a save in the World Series -- but the right-hander was absolutely dominant throughout most of the year. He posted a 1.31 FIP (best among all pitchers with at least 50 innings) and 39.5 K-BB percentage while going 41-for-42 in save chances during the regular season. The walk rate was the lowest of his career and his swinging-strike rate was his highest mark ever, so while it seems impossible for him to get any better, the skills are elite and there aren't even any yellow flags entering his age-30 season. The team context solidifies Jansen as the top closer option on the board.
In his walk year, Jansen posted career bests in saves (47), ERA (1.83) and WHIP (0.67). Batters were simply unable to properly square up the 29-year-old's cutter, which was regularly hitting the mid-90s by season's end. That isn't a new development, as Jansen's career low strikeout rate in the majors is 37.6 percent from his rookie year in 2010. His K-BB% (37.1 percent) and FIP (1.44) both ranked second among qualified relievers last season, solidifying his place in the very highest tier of MLB bullpen arms. The new development is he showed an ability to last multiple innings in a game during the playoffs, a la Andrew Miller, throwing 20.1 innings across seven postseason games. Jansen remained where he was comfortable, signing a five-year $80 million deal with the Dodgers this offseason, making his outlook pretty straight forward. He will remain one of the top closers on the board as long as his skills remain constant.
A foot injury resulted in Jansen's 2015 debut being delayed until mid-May, but once he returned, the right-hander once again provided a stabilizing influence in what was a less-than-stable Dodgers bullpen. Jansen converted 36-of-38 save opportunities, a total that projects to 48 saves had he played the full six months. His 13.8 K/9 represented his fourth consecutive 13.0-plus mark in that category, while his 1.4 BB/9 was less than half his 2.9 career mark. The Dodgers may add new pieces to the bridge in front of him before Opening Day, but there is little to suggest that the organization sees him as anything other than a lock to be their closer in 2016. At age 28, he's firmly in his prime and should be drafted as one of the first closers off the board.
Jansen allowed 45 percent of his season's runs in three outings. The trio of three-run outings was contained in just two innings of work and that was essentially the difference in his ERA from 2013 to 2014. Otherwise, he was still absolutely amazing with a career-high 44 saves, a 37.7% strikeout rate, and 5.3 K/BB ratio. Absent those three crazy outings and his out-of-whack .350 BABIP, he might have bested his 1.99 ERA from 2013. While his strikeout rate is technically dropping if you push out a decimal, from 39.3% to 37.7%, his swinging-strike rate is actually on the rise from 14.2% to 16.6%, meaning the strikeout rate could jump back up toward his obscene 44.0% mark from 2011. His stikeout and save totals will almost certainly fall this season, with Jansen expected to miss 8-to-12 weeks after undergoing surgery on his left foot in mid-February, but he should have no trouble regaining the closer role once healthy.
Well who knew Jansen would be a better closer than Brandon League last year? Okay, put your collective hands down. Jansen was spectacular, posting a 1.88 ERA, 0.86 WHIP, and an eye-popping 111:18 K:BB in 76.2 innings. Jansen has cut his BB/9 rate from 4.4 to 3.1 to 2.1 over the last three years while maintaining a 13.0 K/9 rate. He should be a top-five closer again in 2014 and should not have a problem topping the 2013 save total (28) with a full season handling the Dodgers' ninth-inning role.
Jansen's strikeout rate wasn't quite on 2011's historic level, but a 13.7 K/9 is still quite impressive. Jansen recorded 25 saves, 99 strikeouts, and checked in with a 2.35 ERA and impressive 0.85 WHIP. He had offseason surgery to correct a heart ailment and should be able to get through a full season in 2013 without a recurrence. Over the offseason, the Dodgers gave Brandon League a $22.5 million contract to be their closer, which sinks Jansen's fantasy value assuming that League pitches well enough to keep the job. Monitor this situation between now and Opening Day and slot Jansen accordingly.
Despite a minor heart ailment, Jansen had a breakout 2011, setting a single-season big league record with a 16.10 K/9IP (96 strikeouts in 53.2 innings) for pitchers with a minimum of 50 innings pitched. The converted catcher functioned primarily as a setup man for Javy Guerra last year, but it's likely he'll have the opportunity to compete for the closer slot come spring training. Jansen has the talent to be a top-five closer given the opportunity.
It was an eye-popping debut for the converted catcher in 2010, as Jansen rode a grand total of 56 professional innings to a key role in the Dodger bullpen. Routinely hitting the mid-90s and above, Jansen struck out 41 batters in 27 innings while posting a 0.67 ERA. Sure, the 15 walks were a few more than you'd like to see, but Jansen is still raw and improved command could easily come in time. He's set to pitch near the back end of the LA bullpen in 2011 and could find himself in the closer discussion depending on how things shake out with Jonathan Broxton's command and Hong-Chih Kuo's health.
More Fantasy News