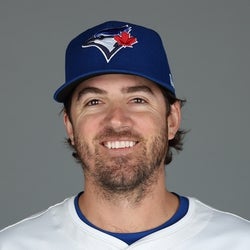 Rest-of-Season Projections
2023 Fantasy Outlook
After signing a five-year, $110 million contract with the Blue Jays last winter, Gausman had to pay his toll to the BABIP Gods. He did so in the form of a .363 BABIP, which inflated his numbers well beyond where they probably "should" have been. In fact, Gausman had the second-best FIP among all qualified starters at 2.38, trailing only Carlos Rodon. The split-finger pitch is what helped Gausman take his career to the next level, and it's not usual for splitter-slider pitchers to see a good deal of BABIP variance though Gausman is not a particularly heavy groundball pitcher. Gausman shaved his walk rate to a career-low 3.9% and the surface stats seem destined to get in line with the skills in short order. He will look for better results at Rogers Centre (4.57 ERA last season).
Read Past Outlooks
$Signed a five-year, $110 million contract with the Blue Jays in November of 2021.

Gausman did not factor into the decision Tuesday, allowing three hits and two walks over seven shutout innings against the Yankees. He struck out five.
ANALYSIS
This marked Gausman's second straight scoreless outing against the Yankees after throwing six shutout innings in a win against New York on Wednesday. Over the two starts, the 32-year-old righty was electric, recording 15 strikeouts over 13 innings while allowing six hits and five walks. Gausman is currently scheduled to start the last Blue Jays game of the regular season at home against the Rays on Sunday.
Read More News
Pitching Stats
Loading Pitching Stats...
2023
2022
2021
2020
2019
2018
2017
2023 MLB Game Log

Calculate Stats Over Time
Just click on any two dates.
Scoring
FanDuel
DraftKings
Yahoo DFS
Loading Pitching Game Log...
2022 MLB Game Log

Calculate Stats Over Time
Just click on any two dates.
Scoring
FanDuel
DraftKings
Yahoo DFS
Loading Pitching Game Log...
2021 MLB Game Log

Calculate Stats Over Time
Just click on any two dates.
Scoring
FanDuel
DraftKings
Yahoo DFS
Loading Pitching Game Log...
2020 MLB Game Log

Calculate Stats Over Time
Just click on any two dates.
Scoring
FanDuel
DraftKings
Yahoo DFS
Loading Pitching Game Log...
2019 MLB Game Log

Calculate Stats Over Time
Just click on any two dates.
Scoring
FanDuel
DraftKings
Yahoo DFS
Loading Pitching Game Log...
2018 MLB Game Log

Calculate Stats Over Time
Just click on any two dates.
Scoring
FanDuel
DraftKings
Yahoo DFS
Loading Pitching Game Log...
2017 MLB Game Log

Calculate Stats Over Time
Just click on any two dates.
Scoring
FanDuel
DraftKings
Yahoo DFS
Loading Pitching Game Log...
Minor League Game Log

Calculate Stats Over Time
Just click on any two dates.
Loading Minor League Pitching Game Log...
Pitching Appearances Breakdown
How many pitches does Kevin Gausman generally throw?
What part of the game does Kevin Gausman generally pitch?
% Games Reaching Innings Threshold
% Games By Number of Innings Pitched
Left/Right Pitching Splits
BAA
K
BB
H
HR
Since 2021

vs Left

.235
293
60
225
23
Since 2021

vs Right

.241
376
73
276
31
2023

vs Left

.250
103
28
80
11
2023

vs Right

.218
134
27
83
8
2022

vs Left

.244
76
6
69
4
2022

vs Right

.292
129
22
119
11
2021

vs Left

.213
114
26
76
8
2021

vs Right

.206
113
24
74
12
More Splits

→

View More Split Stats
Home/Away Pitching Splits
ERA
WHIP
IP
K/9
BB/9
Since 2021

Home

3.65
1.20
264.0
11.1
2.4
Since 2021

Away

2.60
1.10
287.2
10.7
1.9
2023

Home

3.07
1.16
99.2
11.8
2.9
2023

Away

3.27
1.20
85.1
11.2
2.4
2022

Home

4.57
1.41
80.2
10.6
1.6
2022

Away

2.30
1.09
94.0
10.5
1.3
2021

Home

3.44
1.05
83.2
10.8
2.7
2021

Away

2.33
1.03
108.1
10.6
2.1
More Splits

→

View More Split Stats
Stat Review
How does Kevin Gausman compare to other starting pitchers?
This section compares his stats with all starting pitcher seasons from the previous three seasons (minimum 120 innings)*. The bar represents the player's percentile rank. For example, if the bar is halfway across, then the player falls into the 50th percentile for that stat and it would be considered average.
* Exit Velocity, Barrels/BBE %, Balls Hit 95+ MPH %, and Spin Rate are benchmarked against 2019 data (min 120 IP).
See here for more exit velocity/barrels stats
plus an explanation of current limitations with that data set.
K/BB

Strikeout to walk ratio.

K/9

Average strikeouts per nine innings.

BB/9

Average walks per nine innings.

HR/9

Average home runs allowed per nine innings.

Fastball

Average fastball velocity.

ERA

Earned run average. The average earned runs allowed per nine innings.

WHIP

Walks plus hits per inning pitched.

BABIP

Batting average on balls in play. Measures how many balls in play against a pitcher go for hits.

GB/FB

Groundball to flyball ratio. The higher the number, the more likely a pitcher is to induce groundballs.

Left On Base

The percentage of base runners that a pitcher strands on base over the course of a season.

Exit Velocity

The speed of the baseball as it comes off the bat, immediately after a batter makes contact.

Barrels/BBE

The percentage of batted ball events resulting in a Barrel. A Barrel is a batted ball with similar exit velocity and launch angle to past ones that led to a minimum .500 batting average and 1.500 slugging percentage.

Spin Rate

Spin Rate is the rate of spin on a baseball after it is released. It is measured in revolutions per minute (rpm).

Balls Hit 95+ MPH

The percentage of batted balls hit that met or exceeded the 95 MPH threshold.

Swinging Strike

The percentage of pitches that result in a swing and a miss.
Advanced Pitching Stats
Loading Advanced Pitching Stats...
Loading MLB Defensive Stats...
Our full team depth charts are reserved for RotoWire subscribers.
Subscribe Now
Recent RotoWire Articles Featuring Kevin Gausman
See More
Past Fantasy Outlooks
2022
2021
2020
2019
2018
2017
2016
2015
2014
2013
Gausman was non-tendered by the Reds on Dec. 2, 2019. He agreed to a five-year, $110 million contract with the Blue Jays on Nov. 28, 2021. The payday was well deserved for Gausman, who emerged to become one of the National League's premier arms in his two seasons with the Giants. The name of the game with Gausman is the splitter which has proven close to unhittable in the low-80s while playing off his mid-90s four-seam fastball. He does not have the high groundball rate one might expect with the heavy split-finger approach (41.9 GB% the past two seasons), and that could prove somewhat problematic in the brutal AL East. However, there is nothing to suggest this new profile he's established will collapse soon from a performance standpoint, and he's been a workhorse, reaching 30 starts in four of his last five full seasons. Invest with confidence despite the relatively late career breakout.
Gausman doubled his salary with his 2020 performance, landing an $18.9 million qualifying offer for 2021 after signing with the Giants for $9 million last winter. The right-hander did not rack up enough innings during the shortened 2020 season to qualify, but among the 81 pitchers who threw at least 50 innings, Gausman ranked 11th in strikeout rate (32.2 K%) and 16th in FIP (3.09). Gausman leaned heavily on his split-finger pitch to balance his 95-mph four-seamer, and opponents combined to hit just .106 with a .202 SLG against the splitter (411 thrown). The west region was generally favorable with the geographical scheduling last season, though all but one of Gausman's five road appearances were against the Dodgers or Rockies. There are simply not a lot of holes to poke in his season, and Gausman's health history has been mostly spotless over the past half decade aside from some shoulder trouble in 2019.
Last year was a tale of two seasons for Gausman. Atlanta tried to get one more season out of him as a starter, but a sore shoulder in spring training was a sign of things to come, and he was waived by Atlanta in late July. He could still miss bats, but his two-pitch approach led to too many hits as a starter. Cincinnati claimed him off waivers and threw him in the bullpen, and that is when things got interesting. Gausman had a 26.8 K-BB% while striking out nearly one-third of the hitters he faced and reduced his opponents' batting average by 33 points while adding nearly two mph to his fastball. He was nonetheless non-tendered by the Reds and then signed a one-year, $9 million deal with the Giants. He will likely be given a chance to re-establish his value as a starting pitcher, with the fallback option of letting him dominate in the bullpen. Either way, he could be trade bait at the deadline.
Maybe it was leaving Camden Yards, the AL East, moving to the National League or simply the uplifting feeling of pitching on a playoff-bound team, but being dealt to Atlanta agreed with Gausman. After the deadline trade, he registered a 2.87 ERA and 1.14 WHIP despite fanning just 44 in 59.2 innings. Gausman recorded a 4.43 ERA and 1.38 WHIP with Baltimore, but his 4.06 xFIP before the trade was actually better than the 4.46 mark recorded after. His 16.7% HR/FB pre-deal was over twice as high as the 7.8% level post-swap. In addition, Gausman's BABIP with the Orioles was .317 compared to .260 with the Braves. The factors listed above likely helped Gausman's numbers, but he was due for some positive regression. With a full year in Atlanta on tap, expect another correction from last season's two-month sample. Unless he improves on last season's 19.1 K%, Gausman will remain subject to the whims of variance.
Following what seemed to be a sustainable breakout year, hopes were high for Gausman in 2017. Despite an unsightly 4.68 ERA and 1.49 WHIP, things weren't as bad as they appear. In fact, if you snatched him off waivers for the second half, you were rewarded with a 3.41 ERA and 1.20 WHIP. Gausman is on record as explaining he altered his mechanics mid-season, squaring his shoulders more towards home plate as opposed to edging a bit to the third-base side. He credits the change for gaining confidence in his splitter. The numbers agree as before the adjustment, he was sporting a 6.1 K/9 and 4.4 BB/9 as compared to 10.3 K/9 and 3.1 BB/9 after. Unfortunately, homers remained an issue until September when he only allowed three long balls in 35 stanzas, his only month with a HR/9 below 1.23. For the season, he surrendered 29 homers in 186.2 innings. It's a risk, but if you have some dependable innings in the bank, Gausman offers the kind of upside needed to win leagues.
Gausman was essentially the same exact pitcher in the 2015 and 2016 with a nine percent difference in strand rate accounting for the ERA drop. He also added 67 innings for a career-high 180. Despite a carbon copy final line, he improved in-season. His curveball went from being a disaster to a plus pitch in the final two months while his splitter went from plus to plus-plus. He wound up with a 2.83 ERA and 3.6 K:BB in 76.1 innings over those final two months. Homers have been a problem in three of his four seasons and he needs to keep the ball in the yard if he's going to cash in on the No. 2 starter upside of his stuff and skills. He did have a 1.1 HR/9 in that late season stretch, but that's only good in comparison to the 1.7 he had the first four months. Considering this was just his first full season and he's still only 26, we can grant him some leeway and still bet on the upside.
The growth of young players is not linear. It's a mantra worth repeating, especially for young pitchers. Perhaps it should be altered with the tag "in ERA" for them, because there is a case that Gausman did take another step forward and show some linear growth from his 2014. His strikeout, walk, swinging strike, groundball, and soft-contact rates all got better, but he tacked 0.68 runs onto his ERA and threw one fewer inning than 2014, so it doesn't feel like progress from a fantasy standpoint. This is why even 112 innings is still a small sample that can mislead, as two disaster starts cost him 0.75 runs in ERA. Those starts count, we can't just ignore them, but they have a disproportionate effect on his bottom line and obscure the good in his season. The ideal next step would be the Orioles leaving him in the rotation all season so he can improve the finer points of pitching, like sequencing and working through lineups three times. Shoulder tendinitis has his availability for his first turn in the rotation up in the air, so he should be slightly discounted on draft day.
Gausman's emergence is one of the reasons that Ubaldo Jimenez's flop didn't really hurt the Orioles last season. The young righty didn't even reach the majors until mid-May and he wasn't permanently installed in the rotation until early June, but they were still able to get a couple wins of value from their prized prospect in just 113 innings. He has a potent four-pitch arsenal, but he needs to learn to trust his changeup more and refine the slider so he isn't relying on his fastball nearly 70 percent of the time. Of course when you average 96 mph with your heater, it's easy to lean on that pitch as much as Gausman did. He is still learning to pitch, though, and he showed flashes of putting it all together, especially down the stretch with a 3.45 ERA and 3.0 K/BB ratio in his final 10 starts. There is frontline potential here, but it won't necessarily all come at once. As a result, don't pay for 200 innings of a low-3.00s ERA just yet.
The Orioles wasted no time in promoting Gausman after eight Double-A starts, but he floundered as a starter, before returning to help as a reliever as the Orioles contended down the stretch. A closer examination of his advanced stats reveals reasons to be encouraged, as he carried a 9.3 K/9 in the big leagues. One issue for Gausman was his 18.6% HR/FB, a number that will certainly come down as he continues to get experience. However, he maintained the velocity for which he was touted, flashing a fastball in the 96 mph range. The Orioles figure to enter spring training with a bevy of rotation candidates, but with an impressive spring showing, Gausman should make the rotation. If he struggles, he'll start the season at Triple-A Norfolk.
Widely regarded as the top college pitching prospect in the 2012 draft, Gausman made a brief set of appearances in short-season and High-A before starting a Double-A playoff game. Gausman throws a fastball and a changeup, but he alternated his use of a curveball and slider during his last college season. As a starter he will probably throw both of them going forward, but they need work. Gausman seems likely to start the season in Double-A with a midseason promotion possible. He could even see time in Baltimore at some point in 2013.
More Fantasy News