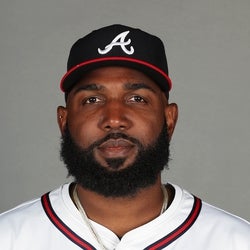 Rest-of-Season Projections
2023 Fantasy Outlook
Ozuna sat out most of 2021 with an injury and also served a suspension for violating MLB's domestic violence policy, but he returned to the fold for Atlanta in 2022 and played in 124 games. The veteran slugger clubbed 23 home runs but failed to hit with any consistency and had a .226/.274/.413 slash line. The power is clearly still there, but his strikeout rate (24.1 percent) and walk rate (6.2 percent) were near the worst figures of his big-league career. He should see most of his action at designated hitter given his poor and still-declining outfield defense, but William Contreras is also in that mix for Atlanta after broke out with 20 homers and an .860 OPS last season. Now entering his age-32 campaign, Ozuna remains under contract for $16 million in 2023 and 2024 and should at least see semi-regular playing time, but he may not be in the lineup every day, and his inconsistency makes him a volatile fantasy option, albeit with some upside given his previous success.
Read Past Outlooks
$Signed a four-year, $64 million contract with the Braves in February of 2021. Contract includes $16 million team option ($1 million buyout) for 2025.

Ozuna went 2-for-3 with two homers, a walk and four RBI in Sunday's 10-9 loss to the Nationals.
ANALYSIS
Ozuna got his day going with a three-run blast in the third before sending out his 40th home run of the season in the ninth. Ozuna finished with seven RBI over the final two games of the year and ends the regular season with 100 RBI for the first time since 2017. Ozuna also reached 40 homers for the first time in his career and has had a tremendous bounce back campaign. The 32-year-old heads into the playoffs slashing .274/.346/.558. His .904 OPS and .284 ISO were both his highest marks since the shortened 2020 season.
Read More News
Batting Stats
2023
2022
2021
2020
2019
2018
2017
2023 MLB Game Log

Calculate Stats Over Time
Just click on any two dates.
Scoring
FanDuel
DraftKings
Yahoo DFS
Loading Batting Game Log...
2022 MLB Game Log

Calculate Stats Over Time
Just click on any two dates.
Scoring
FanDuel
DraftKings
Yahoo DFS
Loading Batting Game Log...
2021 MLB Game Log

Calculate Stats Over Time
Just click on any two dates.
Scoring
FanDuel
DraftKings
Yahoo DFS
Loading Batting Game Log...
2020 MLB Game Log

Calculate Stats Over Time
Just click on any two dates.
Scoring
FanDuel
DraftKings
Yahoo DFS
Loading Batting Game Log...
2019 MLB Game Log

Calculate Stats Over Time
Just click on any two dates.
Scoring
FanDuel
DraftKings
Yahoo DFS
Loading Batting Game Log...
2018 MLB Game Log

Calculate Stats Over Time
Just click on any two dates.
Scoring
FanDuel
DraftKings
Yahoo DFS
Loading Batting Game Log...
2017 MLB Game Log

Calculate Stats Over Time
Just click on any two dates.
Scoring
FanDuel
DraftKings
Yahoo DFS
Loading Batting Game Log...
Minor League Game Log

Calculate Stats Over Time
Just click on any two dates.
Loading Minor League Batting Game Log...
Batting Order Slot Breakdown
#1
#2
#3
#4
#5
#6
#7
#8
#9
#1
#2
#3
#4
#5
#6
#7
#8
#9
Left/Right Batting Splits
OPS
PA
HR
RBI
AVG
Since 2021

vs Left

.711
337
15
35
.230
Since 2021

vs Right

.801
970
55
147
.250
2023

vs Left

.980
139
12
24
.278
2023

vs Right

.881
453
28
76
.272
2022

vs Left

.497
146
1
8
.200
2022

vs Right

.763
361
22
48
.236
2021

vs Left

.604
52
2
3
.188
2021

vs Right

.658
156
5
23
.221
More Splits

→

View More Split Stats
Home/Away Batting Splits
OPS
PA
HR
RBI
AVG
Since 2021

Home

.810
673
39
92
.250
Since 2021

Away

.743
634
31
90
.240
2023

Home

1.000
304
23
54
.301
2023

Away

.804
288
17
46
.244
2022

Home

.692
251
11
27
.222
2022

Away

.682
256
12
29
.229
2021

Home

.583
118
5
11
.182
2021

Away

.727
90
2
15
.256
More Splits

→

View More Split Stats
Stat Review
How does Marcell Ozuna compare to other hitters?
This section compares his stats with all batting seasons from the previous three seasons (minimum 400 plate appearances)*. The bar represents the player's percentile rank. For example, if the bar is halfway across, then the player falls into the 50th percentile for that stat and it would be considered average.
* Exit Velocity and Barrels/PA % are benchmarked against 2019 data (min 400 PA) and Hard Hit Rate is benchmarked against last season's data (min 400 PA).
See here for more exit velocity/barrels stats
plus an explanation of current limitations with that data set.
BB/K

Walk to strikeout ratio

BB Rate

The percentage of plate appearances resulting in a walk.

K Rate

The percentage of plate appearances resulting in a strikeout.

BABIP

Batting average on balls in play. Measures how many of a batter's balls in play go for hits.

ISO

Isolated Power. Slugging percentage minus batting average. A computation used to measure a batter's raw power.

AVG

Batting average. Hits divided by at bats.

OBP

On Base Percentage. A measure of how often a batters reaches base. Roughly equal to number of times on base divided by plate appearances.

SLG

Slugging Percentage. A measure of the batting productivity of a hitter. It is calculated as total bases divided by at bats.

OPS

On base plus slugging. THe sum of a batter's on-base percentage and slugging percentage.

wOBA

Weighted on-base average. Measures a player's overall offensive contributions per plate appearance. wOBA combines all the different aspects of hitting into one metric, weighting each of them in proportion to their actual run value.

Exit Velocity

The speed of the baseball as it comes off the bat, immediately after a batter makes contact.

Hard Hit Rate

A measure of contact quality from Sports Info Solutions. This stat explains what percentage of batted balls were hit hard vs. medium or soft.

Barrels/PA

The percentage of plate appearances where a batter had a batted ball classified as a Barrel. A Barrel is a batted ball with similar exit velocity and launch angle to past ones that led to a minimum .500 batting average and 1.500 slugging percentage.

Expected BA

Expected Batting Average.

Expected SLG

Expected Slugging Percentage.

Sprint Speed

The speed of a runner from home to first, in feet per second.

Ground Ball %

The percentage of balls put in play that are on the ground.

Line Drive %

The percentage of balls put in play that are line drives.

Fly Ball %

The percentage of balls put in play that are fly balls.
Advanced Batting Stats
Loading Advanced Batting Stats...
Games By Position
Defensive Stats
Loading Games Played by Position...
Loading MLB Defensive Stats...
Batted Ball Stats
Loading Batted Ball Stats...
Stats Vs Upcoming Pitchers
Our full team depth charts are reserved for RotoWire subscribers.
Subscribe Now
Recent RotoWire Articles Featuring Marcell Ozuna
See More
Past Fantasy Outlooks
2022
2021
2020
2019
2018
2017
2016
2015
2014
2013
2012
Ozuna was arrested May 29 of last year after police officers in Sandy Springs, Georgia, while responding to a 911 call, witnessed Ozuna attacking his wife. A felony charge was later dropped and Ozuna entered a diversion program in September. If he meets the resolution's conditions within six months, the misdemeanor charges stemming from the incident will be dropped, per the Fulton County DA. Major League Baseball suspended Ozuna in November, retroactive to Sept. 10, meaning he's already served the ban while he was on administrative leave. The expectation is that Ozuna will be back in Atlanta in 2022.
Ozuna signed a pillow contract with Atlanta once the free-agent market dried up for him last winter, and if not for his own teammate in Atlanta, Ozuna could very well have been the 2020 NL MVP. Ozuna had exactly the type of season a pending free agent wants to have as he was an absolute monster in the middle of the Atlanta lineup setting career highs in walk rate, batting average, OBP, SLG, ISO, and exit velocity. His Statcast measures for what happened when he made contact were all within the top 6% of the league in 2020. Now comes the challenge of which team is going to pony up the cash to sign this impact bat. The power plays anywhere; a universal DH would open up suitors considerably because he is a liability if he has to be in the field everyday. He was a 2020 bargain, but he likely won't slide past the fourth round in 2021.
Chances are, 2017 will always be the outlier for Ozuna. He slugged 37 homers that year and ranked as the 13th-best rate contributor in the game by wRC+ (143). He has largely underperformed in the three seasons around 2017, with wRC+ marks ranging from 107 to 110 despite elite batted-ball numbers. His BA dipped close to 40 points in his second season with the Cardinals, though his average exit velocity and hard-hit rate both ranked within the top 7% of the league. His xBA was .288. Ozuna walked at a career-best clip (11.3%) and ran more than he ever had in the majors, stealing 12 bases in 14 attempts. Even with the uptick in walks, Ozuna still lags a little bit in the OBP department, and his defense is shaky at times, but the 29-year-old will continue to play every day after signing a one-year deal with Atlanta and will see a significant boost in park factors. A return to $20 hitter status is entirely possible.
Compared to former outfield mates Christian Yelich and Giancarlo Stanton, Ozuna didn't make as much of a splash in his first year outside Miami. Ozuna eventually found his swing after a slow start to his Cardinals career, slashing .299/.346/.482 with 20 home runs from May 21 onward. It still marked a step back from the .924 OPS and 37 long balls he supplied in 2017, though regression was always coming after he needed a 23.4% HR/FB -- nearly nine points above his career rate -- to achieve that production. Moreover, Ozuna battled a sore right shoulder for a good portion of the second half that later required offseason arthroscopic surgery, further explaining the power downturn on some level. There's always a risk that such a procedure continues to sap his slugging output, but the improved contact skills Ozuna has displayed the last few years coupled with his guaranteed spot in the heart of the order give him a fairly dependable four-category floor.
Ozuna had shown flashes of greatness in the past, but few could have predicted his monster 2017. As a 25-year-old, Ozuna exceeded his home-run total from the previous two seasons combined while adding nearly 50 points to his batting average. He finished with a 142 wRC+ (15th among qualified hitters) and .388 wOBA, and the numbers from Statcast were generally encouraging; Ozuna had a .357 xwOBA and 90.7 mph average exit velocity, which ranked 15th among 237 players with at least 250 at-bats. He added to his walk rate, boosting it to a career-high 9.4 percent, but his BABIP was slightly inflated at .355 and it's possible Ozuna's average will settle closer to the .270s in the years to come. A .270 batter with 30-plus homers and 100 RBI isn't as rare as it used to be, but it's still plenty valuable. With Ozuna leaving Miami for St. Louis in a December trade, we feel even better about his chances for another $20-plus season.
Ozuna rebounded from a disappointing 2015 campaign to essentially match his breakout 2014 season, showing latent skills growth in the process. The 26-year-old's future is back on the upswing. He walked more and whiffed significantly less than in the previous season. It's the improved contact rate that's most intriguing. The only negative last season was a 20-point drop in BABIP for the second straight year. Assuming a great deal of that is variance, if Ozuna maintains most or all his contact gains, what looks to be a stable average in the .265 range could head north quickly with a BABIP reversion. While the power drop in 2015 can't be ignored, it can be discounted meaning there could be a buying opportunity if the market doesn't similarly adjust. Plus, Ozuna is lofting a few more flyballs away from challenging the 30-homer mark, and he's at an age where this often occurs. Don't hesitate to cast a line toward him.
The power Ozuna showed in 2014 dissipated in 2015, as he hit just 10 home runs in 494 plate appearances and saw his slugging percentage dip below .400 for the second time in three years. Ozuna's performance was so poor that the Marlins stashed him in the minors for 33 games, likely in an extremely Marlins attempt to game his service time clock. Giving up on Ozuna at this point would be a grave overreaction, however; he was a 24-year-old playing in one of the most difficult parks for power hitters in the game's recent history. Slumps will happen. Counting the minor leagues, Ozuna has four 20-homer seasons in the past six years, and he's far too young to give up on. His strikeout rates are concerning — he has yet to post one below 19.6 percent — but if the power he showed in 2014 and in the minors resurfaces, everybody will forget all about that right quick.
A surprise offensive breakout player during his 2013 rookie campaign, Ozuna managed to sneak up on us once again in 2014 as he made significant strides in most every aspect of his game. The 24-year-old outfielder re-discovered the power stroke he displayed throughout the minors and socked 23 home runs to go along with 26 doubles and five triples while tallying 83 RBI over 153 games during his first full season in the majors. Ozuna continued to swing and miss with regularity (26.8 K%), but also showed a slight increase in walk rate (6.7% in 2014 compared to 4.5% as a rookie). He continues to provide steady defense in the outfield and has settled in as the full-time center fielder after the team tried to mix and match defensive alignments early on. Ozuna should be fully recover from the ankle injury that cost him the last two weeks in September by the time camp rolls around, and he'll enter the season with ample RBI opportunities while batting in the middle of the Marlins' order.
Ozuna turned heads when he got the nod over some of the Marlins' more accomplished outfield prospects in late May and perhaps his presence on the 40-man roster played a role. Ozuna did, however, make the most of his opportunity, putting together a BABIP-fueled tear where he batted .336 over his first 33 games with the Marlins. More of a power prospect than a contact hitter -- Ozuna popped one home run every 20.9 at-bats in minors with a strikeout rate hovering around 20% -- it was no surprise to see his line dip to .265/.303/.389 before he was finally shut down with a thumb injury that required surgery in late July. Despite struggling during the end of his run in Miami, Ozuna gained some valuable experience as an everyday player, contributing solid defense in the outfield and showing the ability to handle right-handed pitching at the major league level. He is not quite of the Christian Yelich/Jake Marisnick ilk, but with a reduced strikeout rate, improved patience at the plate and some more authoritative contact, Ozuna could threaten 20 home runs annually as he hits his prime. Heading into the spring, Ozuna looks to be the favorite to earn the starting job in center field with Miami as he enters his sophomore season.
Ozuna spent his 2012 season at High-A Jupiter and followed up his fine season the previous year with more of the same. He continues to flash plus power, slugging 24 home runs over 489 at-bats last season while posting a strong .804 OPS. Ozuna has mashed 69 home runs over three minor league seasons and appears ready to take a jump to the next level in 2013. Though his 116 strikeouts in 129 games last season lend doubt to the notion that he will ever provide positive value in terms of batting average, his power is absolutely for real. Keeper league owners should invest now, as he'll likely spend his 2013 season at Double-A Jacksonville.
Ozuna is no Mike Stanton, but the 21-year-old has plus-power and began to develop other aspects of his game in 2011, upping his walk rate, cutting back on the strikeouts and stealing an impressive 17 bases in 19 attempts at Low-A. The plate discipline is still a work in progress, and Jupiter can be a tough place to hit so don't be shocked if his numbers at High-A take a bit of a tumble, but he's a legitimate prospect who would be among the best in the Marlins system even if it weren't depleted.
More Fantasy News