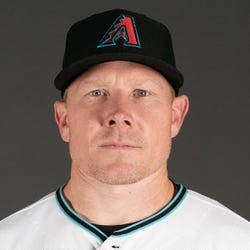 60-Day IL
Injury Shoulder
Est. Return 6/1/2023
Rest-of-Season Projections
2023 Fantasy Outlook
Melancon sandwiched four months of struggles between a strong start and finish to his 2022 season. The 37-year-old opened his first season with the D'Backs as their closer, but nearly lost the job by mid-May and lost sole ninth-inning responsibilities by early August. However, the veteran was still afforded save chances in a fluid closer committee and led Arizona with 18 saves. Melancon posted a respectable 3.00 ERA and 1.08 WHIP over the final month, but finished 2022 with 10 losses and his worst ratios since 2017. With declining velocity (91.2 mph average fastball) and skills (14.2% K% that was in the bottom 3rd percentile), he isn't worth rostering unless he's getting the majority of save chances, which is far from guaranteed.
Read Past Outlooks
$Signed a two-year, $12 million contract with the Diamondbacks in December of 2021. Contract includes $5 million mutual option ($2 million buyout) for 2024.

Melancon (shoulder)
began
a throwing program Monday.
ANALYSIS
Melancon was diagnosed with a subscapularis strain back in March. The pitcher said there were a couple of tears, but surgery would not be required.
Read More News
Pitching Stats
Loading Pitching Stats...
2023
2022
2021
2020
2019
2018
2017
2023 MLB Game Log

Calculate Stats Over Time
Just click on any two dates.
Scoring
FanDuel
DraftKings
Yahoo DFS
Loading Pitching Game Log...
2022 MLB Game Log

Calculate Stats Over Time
Just click on any two dates.
Scoring
FanDuel
DraftKings
Yahoo DFS
Loading Pitching Game Log...
2021 MLB Game Log

Calculate Stats Over Time
Just click on any two dates.
Scoring
FanDuel
DraftKings
Yahoo DFS
Loading Pitching Game Log...
2020 MLB Game Log

Calculate Stats Over Time
Just click on any two dates.
Scoring
FanDuel
DraftKings
Yahoo DFS
Loading Pitching Game Log...
2019 MLB Game Log

Calculate Stats Over Time
Just click on any two dates.
Scoring
FanDuel
DraftKings
Yahoo DFS
Loading Pitching Game Log...
2018 MLB Game Log

Calculate Stats Over Time
Just click on any two dates.
Scoring
FanDuel
DraftKings
Yahoo DFS
Loading Pitching Game Log...
2017 MLB Game Log

Calculate Stats Over Time
Just click on any two dates.
Scoring
FanDuel
DraftKings
Yahoo DFS
Loading Pitching Game Log...
Minor League Game Log

Calculate Stats Over Time
Just click on any two dates.
Loading Minor League Pitching Game Log...
Left/Right Pitching Splits
BAA
K
BB
H
HR
Since 2021

vs Left

.213
41
22
42
3
Since 2021

vs Right

.284
53
24
75
6
2023

vs Left

0
0
0
0
0
2023

vs Right

0
0
0
0
0
2022

vs Left

.278
17
13
27
3
2022

vs Right

.283
18
8
36
2
2021

vs Left

.150
24
9
15
0
2021

vs Right

.285
35
16
39
4
More Splits

→

View More Split Stats
Home/Away Pitching Splits
ERA
WHIP
IP
K/9
BB/9
Since 2021

Home

3.56
1.32
73.1
6.4
3.7
Since 2021

Away

3.04
1.39
47.1
8.0
3.0
2023

Home

0
0
0
0
0
2023

Away

0
0
0
0
0
2022

Home

5.79
1.65
32.2
6.1
4.7
2022

Away

3.09
1.29
23.1
5.0
1.5
2021

Home

1.77
1.06
40.2
6.6
2.9
2021

Away

3.00
1.50
24.0
10.9
4.5
More Splits

→

View More Split Stats
Advanced Pitching Stats
Loading Advanced Pitching Stats...
Loading MLB Defensive Stats...
Our full team depth charts are reserved for RotoWire subscribers.
Subscribe Now
Recent RotoWire Articles Featuring Mark Melancon
See More
Past Fantasy Outlooks
2022
2021
2020
2019
2018
2017
2016
2015
2014
2013
2012
2011
2010
2009
Melancon doesn't fit the typical closer profile, but he led the majors with 39 saves in 2021, elevating him to fourth place among active relievers with 244 career saves. He was one of the best relievers in baseball in March and April, but faded down the stretch for the Padres and finished with his worst walk rate (3.5 BB/9) in 12 years. Melancon didn't miss many bats with a 22.3% K% and 8.9% SwStr%, but still finished with a respectable 2.23 ERA and his 56.4% ground ball rate that ranked in the top 15 among qualified relievers. After his productive age-36 season, Melancon declined his $5 million mutual option with San Diego to become a free-agent and quickly signed a two-year, $14 million deal with Arizona in December. He's by far the most experienced high-leverage reliever on the Diamondbacks and is the favorite to close, just don't bet on him leading the league in saves again with the team still rebuilding.
Melancon provided another great reminder that the closer role is not always about who has the best stuff. Melancon led Atlanta with 11 saves, not because he had the best stuff, but because he had been there before. His 14.7 K% from last season is dangerously low for a closer, and the fact the league hit .306 off his primary pitch (the cutter) is not a good sign. Yet, they hit just .167 off his secondary pitch (curveball), and he allowed one home run the entire season. The batting average and the 7.4 K-BB% are big red flags for his 2021 potential, meaning any closer role he may land as a free agent this winter may not last long. His expected stats in 2020 offer some optimism given his xBA off that aforementioned cutter was 70 points better than his actual outcome. Still, there are obvious risks here given how reliant he is on batted-ball fortune.
Melancon avoided the injured list in 2019 after two seasons of poor health, but since the Giants were committed to Will Smith as their closer, the 34-year-old was largely off the fantasy radar until he was dealt to Atlanta on July 31. From thereon, Melancon turned back the clock, bringing stability to a shaky bullpen by converting all 11 of his save chances and posting a 3.86 ERA that belied stellar underlying numbers (2.16 xFIP, 24.7 K-BB%, 63.5 GB%). The peripherals were on par with those from his three All-Star seasons, and should be enough to give him the first crack at opening 2020 as the Braves' closer. However, he'll face a familiar competitor for the gig in Smith, whom Atlanta inked to a three-year deal in the offseason. Since Smith has displayed the superior skills of the two for much of the past two seasons, Melancon will need to show early on that his late-2019 flourish wasn't a flash in the pan.
Melancon underwent forearm surgery in September of 2017 and hit the disabled list with an elbow flexor strain in March. After returning June 1, the righty posted his lowest K/9 since his 2009 rookie year and his highest BB/9 since 2010. During the second half his cutter velocity kicked back up, but Melancon will need to fix his walk rate to help offset his diminishing strikeout punch. At least Melancon still has the groundballs -- he has posted at least a 50% groundball rate in all but one big-league season. To no one's surprise, the 34-year-old didn't opt out of his albatross contract, which may force San Francisco to keep him hovering around the closer discussion, but even with the improved form from late in 2018, his skills don't befit an endgamer. We'll bet on Will Smith taking the job, leaving Melancon to gather holds and vulture occasional wins in the middle innings.
Heading into the 2017 season, hopes were high that Melancon's reliable arm could cure San Francisco's bullpen woes. Unfortunately, a series of injuries shortened Melancon's season. Multiple trips to the disabled list with a recurring forearm and elbow injury limited Melancon to just 30 innings over 32 games, a significant decline after four straight seasons with at least 72 appearances. Ultimately, Melancon had season-ending pronator surgery in September to fix his elbow. When healthy, he wasn't as effective as he'd been previously as he picked up just 11 saves while blowing five opportunities and ended the season with a 4.50 ERA and 1.43 WHIP, his highest marks since 2012. However, bad luck could have played a role, as opponents posted a .374 BABIP with Melancon on the mound. Despite his down year, Melancon will serve as San Francisco's closer next season and should be fully healthy when spring training arrives, making him a prime candidate for a bounce-back season.
Melancon was once again dominant in 2016, and while his strikeout rate is no longer above 9.0 per nine innings, his elite cutter produces as much weak contact and as many easy outs as any pitch in the majors. He hasn't allowed a BABIP above .275 in three seasons, and a HR/9 rate above 0.47 in four. The 32-year-old right-hander didn't miss a beat after being dealt to the Nationals at the deadline, and his 98 saves over the last two seasons lead the majors. The Giants signed him to a four-year contract in the offseason, and while his lack of an overpowering fastball does cause him to get overlooked when the league's best closers get named, Melancon's track record of success is a match for anyone's. Expect him to continue his exceptional run in San Francisco.
Melancon led the majors with 51 saves in 2015, recovering from a shaky April when his fastball didn't touch 90 mph. The 31-year-old set a club record with 35 straight saves — he blew only two save opportunities all season — courtesy of a devastating cutter. His finished with a 7.28 K/9 rate, his lowest in seven years, but the results were never better. Neither Melancon nor the team ever stated what led to his diminished velocity, but he regained speed as the season went along. So long as the reliever demonstrates impeccable command — he boasts a 203:33 K:BB ratio in three years with Pittsburgh — there's reason to believe he'll remain one of the top closers in the majors.
Melancon finally took over for an ineffective Jason Grilli as Pittsburgh's closer in early May and never looked back. Armed with a cutter learned from former teammate, Mariano Rivera, the 28-year-old right-hander converted 33 of 37 save opportunities and added 14 holds. The Pirates seem to like Melancon more as a setup man but really have no one better to close out games. He allowed 51 hits in 71 innings and fashioned an impressive 71:11 K:BB ratio, compiling a 1.90 ERA and career-low 0.87 WHIP. He remains ahead of lefty Tony Watson in the bullpen pecking order and the team is still finding out how to use newcomer John Holdzkom, making it likely Melancon closes again for Pittsburgh in 2015.
Melancon is expected to serve as Pittsburgh's primary setup man for closer Jason Grilli again in 2014. He collected 26 holds during the first four months before a Grilli injury gave him a chance to close, where the cut-fastball extraordinaire saved 16 games. Melancon's numbers -- 1.39 ERA, 0.96 WHIP, 70:8 K:BB ratio -- show his dominance. Right-handed batters seemed to figure him out late in the year, taking his pitches opposite field to the tune of a .286 OBA. Lefties hit just .148/.168/.189 against the right-hander. Fantasy owners wonder whether Melancon's 4.22 ERA and 1.59 WHIP in September was a blip on the radar or a sign of future performance in 2014.
Melancon flamed out spectacularly in April last season and was sent to Triple-A Pawtucket before the month was over. He pitched better in his stay with the PawSox, and was eventually recalled to Boston in June. He had a sneaky good September, while closer Andrew Bailey finished poorly. Making things more interesting, Melancon was sent to Pittsburgh in December as part of the Joel Hanrahan deal. It's expected that Melancon will be the next in line for saves if Jason Grilli is unable to handle the ninth-inning role for the Bucs.
An injury to Brandon Lyon opened the door for Melancon to take over the closing duties for the Astros last season. He doesn't have overpowering stuff, but Melancon responded to the opportunity with a strong 2.78 ERA and 1.224 WHIP, while racking up eight wins and 20 saves. Melancon is an extreme groundball pitcher, posting the fourth highest groundball rate for a reliever pitching at least 70 innings in the National League last year. It's no wonder he's able to keep the ball in the park. The Astros traded Melancon to the Red Sox in December, where he'll set up for Andrew Bailey.
Melancon came over to the Astros in the deal that sent Lance Berkman to the Bronx. He has a live arm and a good mentality for the bullpen. Control has often been a problem, but continued success at making batters miss mitigates the impact. With Matt Lindstrom traded to Colorado, Melancon is one step closer to getting save chances should anything happen to Brandon Lyon this season.
Melancon carried over his 2008 success into 2009, posting a 2.89 ERA and 54:11 K:BB ratio in 32 Triple-A relief appearances. He was adequate in 16.1 innings with the Yankees, and the team still views him as a potential closer down the road because of his temperament and pitching arsenal, highlighted by a sinking fastball that can touch 95 mph and a power curve. He'll compete for a bullpen spot with the Yankees this season.
Returning from a missed season in 2007 due to Tommy John surgery, Melancon actually came back very strong last season while starting the year at High-A Tampa and eventually finishing at Triple-A Scranton Wilkes-Barre. Melancon racked up 96 innings of relief over three levels and managed to improve his strikeout rate at each stop. In his arsenal, Melancon has a low-90s fastball that can still touch 95 mph along with a power curveball and a tough changeup. A set-up role at some point in 2009 isn't out of the question and he could win an Opening Day spot in the bullpen. Long term, Melancon profiles as a potential successor to Mariano Rivera as the team's closer.
More Fantasy News