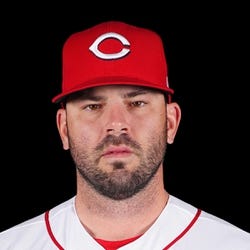 10-Day IL
Injury Forearm
Est. Return 9/25/2023
Rest-of-Season Projections
2023 Fantasy Outlook
Moustakas' season began with an April IL visit for a biceps strain, then ended prematurely with a calf issue. In between, he missed time with multiple trips to the COVID-19 IL. Moustakas posted his second straight below average campaign, mimicking his 2021 season in terms of final numbers. However, the pathways were different as last season, his splits were closer as opposed to 2021 when he handled righthanders much better than southpaws. Moustakas fanned at a career-worst 26.2% clip, offsetting his highest BABIP since 2015. Despite a career high 50% fly ball rate, Moustakas .131 ISO was his lowest since his rookie season. The Reds are on the hook for $18 million, but that didn't prevent the team from cutting him loose during the offseason. Moustakas should be able to latch on somewhere given he'll only cost his new team the major-league minimum, but he shouldn't have high expectations.
Read Past Outlooks
$Signed a one-year contract with the Rockies in March of 2023. Traded to the Angels in June of 2023.

Lands on IL with forearm strain
The Angels
placed
Moustakas on the 10-day injured list Friday with a left forearm extensor strain.
ANALYSIS
The injury could be a season-ending one for the veteran infielder, given that the Angels have just over two weeks left in their season.
Kyren Paris
has been brought back from Triple-A Salt Lake in a corresponding roster move ahead of Friday's series opener against the Tigers.
Read More News
Batting Stats
2023
2022
2021
2020
2019
2018
2017
2023 MLB Game Log

Calculate Stats Over Time
Just click on any two dates.
Scoring
FanDuel
DraftKings
Yahoo DFS
Loading Batting Game Log...
2022 MLB Game Log

Calculate Stats Over Time
Just click on any two dates.
Scoring
FanDuel
DraftKings
Yahoo DFS
Loading Batting Game Log...
2021 MLB Game Log

Calculate Stats Over Time
Just click on any two dates.
Scoring
FanDuel
DraftKings
Yahoo DFS
Loading Batting Game Log...
2020 MLB Game Log

Calculate Stats Over Time
Just click on any two dates.
Scoring
FanDuel
DraftKings
Yahoo DFS
Loading Batting Game Log...
2019 MLB Game Log

Calculate Stats Over Time
Just click on any two dates.
Scoring
FanDuel
DraftKings
Yahoo DFS
Loading Batting Game Log...
2018 MLB Game Log

Calculate Stats Over Time
Just click on any two dates.
Scoring
FanDuel
DraftKings
Yahoo DFS
Loading Batting Game Log...
2017 MLB Game Log

Calculate Stats Over Time
Just click on any two dates.
Scoring
FanDuel
DraftKings
Yahoo DFS
Loading Batting Game Log...
Minor League Game Log

Calculate Stats Over Time
Just click on any two dates.
Loading Minor League Batting Game Log...
Batting Order Slot Breakdown
#1
#2
#3
#4
#5
#6
#7
#8
#9
#1
#2
#3
#4
#5
#6
#7
#8
#9
Left/Right Batting Splits
OPS
PA
HR
RBI
AVG
Since 2021

vs Left

.506
183
1
12
.189
Since 2021

vs Right

.715
678
24
82
.240
2023

vs Left

.549
75
1
8
.225
2023

vs Right

.744
295
11
39
.259
2022

vs Left

.562
66
0
3
.207
2022

vs Right

.663
219
7
22
.216
2021

vs Left

.329
42
0
1
.086
2021

vs Right

.731
164
6
21
.236
More Splits

→

View More Split Stats
Home/Away Batting Splits
OPS
PA
HR
RBI
AVG
Since 2021

Home

.682
420
15
54
.208
Since 2021

Away

.661
441
10
40
.248
2023

Home

.744
192
10
35
.234
2023

Away

.660
178
2
12
.272
2022

Home

.554
133
2
9
.171
2022

Away

.707
152
5
16
.248
2021

Home

.721
95
3
10
.203
2021

Away

.598
111
3
12
.212
More Splits

→

View More Split Stats
Stat Review
How does Mike Moustakas compare to other hitters?
This section compares his stats with all batting seasons from the previous three seasons (minimum 400 plate appearances)*. The bar represents the player's percentile rank. For example, if the bar is halfway across, then the player falls into the 50th percentile for that stat and it would be considered average.
* Exit Velocity and Barrels/PA % are benchmarked against 2019 data (min 400 PA) and Hard Hit Rate is benchmarked against last season's data (min 400 PA).
See here for more exit velocity/barrels stats
plus an explanation of current limitations with that data set.
BB/K

Walk to strikeout ratio

BB Rate

The percentage of plate appearances resulting in a walk.

K Rate

The percentage of plate appearances resulting in a strikeout.

BABIP

Batting average on balls in play. Measures how many of a batter's balls in play go for hits.

ISO

Isolated Power. Slugging percentage minus batting average. A computation used to measure a batter's raw power.

AVG

Batting average. Hits divided by at bats.

OBP

On Base Percentage. A measure of how often a batters reaches base. Roughly equal to number of times on base divided by plate appearances.

SLG

Slugging Percentage. A measure of the batting productivity of a hitter. It is calculated as total bases divided by at bats.

OPS

On base plus slugging. THe sum of a batter's on-base percentage and slugging percentage.

wOBA

Weighted on-base average. Measures a player's overall offensive contributions per plate appearance. wOBA combines all the different aspects of hitting into one metric, weighting each of them in proportion to their actual run value.

Exit Velocity

The speed of the baseball as it comes off the bat, immediately after a batter makes contact.

Hard Hit Rate

A measure of contact quality from Sports Info Solutions. This stat explains what percentage of batted balls were hit hard vs. medium or soft.

Barrels/PA

The percentage of plate appearances where a batter had a batted ball classified as a Barrel. A Barrel is a batted ball with similar exit velocity and launch angle to past ones that led to a minimum .500 batting average and 1.500 slugging percentage.

Expected BA

Expected Batting Average.

Expected SLG

Expected Slugging Percentage.

Sprint Speed

The speed of a runner from home to first, in feet per second.

Ground Ball %

The percentage of balls put in play that are on the ground.

Line Drive %

The percentage of balls put in play that are line drives.

Fly Ball %

The percentage of balls put in play that are fly balls.
Advanced Batting Stats
Loading Advanced Batting Stats...
Games By Position
Defensive Stats
Loading Games Played by Position...
Loading MLB Defensive Stats...
Batted Ball Stats
Loading Batted Ball Stats...
Stats Vs Upcoming Pitchers
Our full team depth charts are reserved for RotoWire subscribers.
Subscribe Now
Recent RotoWire Articles Featuring Mike Moustakas
See More
Past Fantasy Outlooks
2022
2021
2020
2019
2018
2017
2016
2015
2014
2013
2012
2011
2010
2009
2008
The 2021 campaign was essentially a lost season for Moustakas. He spent time on the injured list early on with a non-COVID illness before going down with a right heel contusion. There were setbacks during his recovery and Moose ended up missing close to three months, only to make another trip to the IL to end the year with right plantar fasciitis. Moustakas is eligible at third base -- suddenly the thinnest position outside of catcher -- and he can also play first base capably. Now 33 years old, Moustakas can still do damage against right-handed pitching. However, he went 3-for-35 against left-handed pitching in his limited time on the field last season and found himself in a platoon role, where he seems likely to remain given his .705 career OPS against southpaws. The Reds are rumored to be looking to move Moustakas and the final two years of his contract. The addition of the DH in the National League improves his playing-time outlook only somewhat.
Moustakas missed a quarter of the season (16 games) between a quad strain, bruised foot and a non-COVID illness. When he was in the lineup his .230/.331/.468 line was commensurate with his career numbers, but short of expectations given that Moustakas was moving into a better hitting ballpark. When reviewing Moustakas's season, realize that between the shortened season and his multiple absences, he had only 105 batted balls, less than 25 percent of what he'd normally have in a given season. While we don't know yet what form the 2021 season will take, it will probably be closer to the form of a full season, and thus more likely to hew to a conventional line of stats. Like so many other bats in the Reds lineup, however, you can safely expect Moustakas to provide some power and on-base skills, at the expense of average and speed.
After signing one-year contracts in back-to-back years, Moustakas was finally able to land that elusive multi-year deal, which the Reds handed him coming off a season in which he posted the best ISO, BB% and OPS of his nine-year career. The power output wasn't totally a product of the short porch in right field at Miller Park, as he posted a markedly better OPS away (.920) than at home (.765) and hit 21 of his HR on the road. Moustakas provides almost no speed with 18 career steals, but his power should remain steady in a home ballpark that rates even more favorable for HR than his last. Moustakas spent most of last season at 3B, but he opened the campaign at 2B and held his own, so the Reds will slot him in there to kick off the 2020 campaign. He hit lefties better than righties last season, so expect him to slide into an everyday role with his new club and occupy a spot in the middle of the batting order.
After spending the first 11 seasons of his professional career in the Royals' organization, Moustakas was traded to the Brewers at last year's trade deadline. Milwaukee moved Travis Shaw to second base to accommodate Moustakas, and he served as the team's regular third baseman the rest of the way. Moustakas' batting average fell right in line with his career mark, but he set a new career high for RBI in a season and just missed hitting the 30-home-run plateau. Moustakas makes enough contact to overcome a low walk rate, though this will be his age-30 season, and most of his rate stats did fall off quite a bit last year. A free agent at press time, he figures to be signed to start somewhere, but if his pop continues to fall off, his fantasy value will do the same.
Following suit with the rest of the league, Moustakas went off in the power department last season, besting his previous career-high home-run total by 16. His hard-hit rate actually fell nearly six percentage points to 31.9 percent, but Moustakas got the ball in the air more often -- his flyball rate jumped from 39.6 percent to 45.7 percent -- and that was the driving force behind the homer spike. He was also a far more aggressive hitter, upping his Swing% from 42.1 percent to 55.6 percent, and while that led to a precipitous drop in walk rate, the new approach proved beneficial on the whole. The 29-year-old improved against same-handed pitching, batting .270/.296/.467 against lefties (.241/.291/.396 for career) and kept his contact rate over 80 percent. It may very well prove to be his career year, and the return to Kansas City is not ideal from a fantasy standpoint, but Moustakas does enough to warrant a starting spot in all mixed leagues.
A torn ACL suffered in a collision with Alex Gordon ended Moustakas' season in May, and served as a critically important blow to the Royals' bid to defend their World Series crown last season. Following a big step forward at the plate in 2015, Moustakas sustained the power increase he had shown (.470 SLG, 22 homers) with seven long balls and a .500 slugging percentage in his 113 plate appearances a year ago. Additionally, Moustakas continued to utilize the entire field more effectively as a hitter after showing heavy pull tendencies in 2013 and 2014, going to the opposite field at a career-high 30.8 percent clip. With his low strikeout rate, added pop, and improving approach, there's reason to believe that the 2015 numbers are his new baseline. A detailed timetable for Moustakas' return hasn't been revealed, but he's on track for Opening Day, which suggests that he'll be on the field when Cactus League play gets underway in March.
Many players come to spring training saying they are going to change only to fall back into tried and true habits once they break camp. Moustakas was not one of those guys. He talked about wanting to use all parts of the field and making more of an effort to hit the ball to the opposite field when pitched away, and it paid off in spades as he finally had the year we've been waiting for. He set career bests in batting average, on base percentage and slugging percentage a year after he had been demoted to the minors for bad hitting and in a year where he lost his mother to illness. The new approach at the plate helped to cure Moustakas' ails against lefties that had dominated him the past two seasons, as he hit 100 points higher against them in 2015 than he did from 2013 to 2014. We also have likely not seen his home run ceiling just yet as there is 30 homer upside in his profile.
Moustakas slashed a miserable .212/.271/.361 in 2014, mostly due to his inability to hit left-handed pitching. He had a .554 OPS against southpaws, and collected just eight extra-base hits on them all year. The third baseman struggled immensely early in the year, and a .627 first-half OPS eventually led to a brief demotion to Triple-A Omaha. He returned to the team when Danny Valencia hit the DL with a hand injury, and the Royals confirmed their faith in Moustakas when they shipped Valencia to Toronto in a late-season deal. Despite the slow start, the 26-year-old finished the year strong, connecting for five long balls in the postseason (compared to 15 total during regular-season play). There are other reasons for optimism heading into 2015, as he posted a three-year low in strikeout rate (14.8 percent), and a career-low .220 BABIP suggests some bad luck came into play as well. Moustakas appears to be in line to begin the season as the starting third baseman, but if he hits another prolonged slump, prospect Christian Colon may begin to threaten his playing time.
After breaking out with 20 home runs in 2012, there were lofty expectations for the Royals' young corner man heading into the 2014 season. He spent the offseason altering his approach at the plate, hoping to be more aggressive and hit more line drives and fewer ground balls, but ultimately, he overcompensated and spent the first month of the season hitting weak pop-ups to infielders. It took him to almost the end of June before he fixed his issues and by then his power had diminished to the point where he had just six home runs at the All Star break. Moustakas continued to work and made some slight improvements, but in the end, he finished the season batting just .233 with 12 home runs and 44 RBI. The Royals are nowhere near giving up on this 25-year old and will give him ample opportunity to return to his 20-home form from 2012. His struggles from last year will easily keep his 2014 draft position low, so look for him as a corner infielder late and hope that his corrected mechanics do the trick.
While Moustakas' power continued to develop and he reached the 20-home run plateau by season's end, he struggled to maintain a decent batting average and finished the year hitting just .242 with just a .296 on-base percentage. He posted a walk rate just below league average and watched his strikeout rate spike to 20.2 percent as he struggled to make decent contact due to an increased swing rate at pitches outside the zone. There is plenty to love about Moustakas' approach at the plate and because he does not have a high groundball rate, the potential for him to improve his plate discipline and produce a better line drive rate should help his BABIP and eventually, his batting average. The 24-year-old will open the season as the Royals' starting third baseman and should put together a complete season in his third big league season.
Moose spent the first two months of the season at Triple-A Omaha waiting patiently, before being called up and spending the rest of the season as the Royals' everyday third baseman. He struggled to adjust at the plate, until September came, when he hit .352/.380/.580 with four home runs and 12 RBI. He possesses an ability to hit for average with plus-power that should develop as he continues to grow as a player. At 23, Moustakas has the potential to help many fantasy owners, just don't count on him reaching the elite of position in his sophomore season as he's still honing his craft as a hitter.
Moustakas' star dimmed a bit after he struggled at High-A in 2009, but he responded with a great half season at Double-A last year and held his own once he advanced to Triple-A. He'll eventually be a candidate for Super Two status if the Royals push him aggressively up to the majors, so look for him to stay stashed away for at least the early months of the 2011 campaign. It would also behoove Kansas City to be sure that 2009 was just an off year and not more indicative of a deeper problem in Moustakas' development, but he'll get a long look at third base during spring training.
"Moose" is a former first-round draft pick (No. 2 overall) with good hitting mechanics. He regressed at the plate last season, striking out 90 times in 492 at-bats. A left-handed hitter who was switched to third base from short, Moustakas must show power and agility to be considered a future third baseman in the Royals' system. He has a wide body with the potential to gain weight and lose fitness if he allows himself to indulge, and he looked out of shape and lethargic in the Arizona Fall League. Moustakas flashes home-run power, but pulls too many pitches and has to learn to use the entire field. He can't afford another marginal season. Even though the Royals have an investment in him, he must show improvement at the plate to be considered for a callup by 2011.
The Royals' top pick from 2007 struggled out of the gates during his first full professional season, but seemed to figure it out after the All-Star break, hitting .321/.392/.557 with 13 home runs and a 39:26 K:BB ratio over his last 237 at-bats at Low-A Burlington. The only disappointment here is that he did not progress through the system at all, but he could find himself at Double-A Northwest Arkansas at some point in 2009.
The Royals drafted Moustakas out of high school with the second-overall pick, and he responded by holding out until the very last day that prospects could sign. Had agent Scott Boras had his way, Moustakas may be in the 2008 draft, but he signed and played 11 games for the team's rookie ball affiliate. Although the sample size was small, he showed a great bat at Idaho Falls, and could make his way up to Double-A this season. Since Alex Gordon most likely has third base locked up for a while, the Royals plan on moving Moustakas over to short, though he may end up in a different position depending on the time of arrival.
More Fantasy News