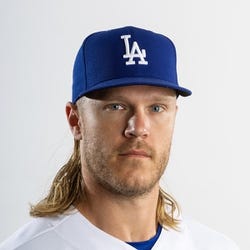 Rest-of-Season Projections
2023 Fantasy Outlook
Expectations were somewhat muted for Syndergaard heading into last season, as he missed all of 2020 and nearly all of 2021 due to Tommy John surgery. As it turns out, they may still have been too high. He remained healthy all season, but his performance on either side of a deadline-day trade to Philadelphia left much to be desired. In 24 starts and one relief appearance, he produced a 3.94 ERA, a mark made considerably more unimpressive by the league's overall drop in scoring. His primary problem was that his strikeouts all but evaporated. After carrying a career 26.4 K% into the year, he dipped all the way to a 16.8 K% last season. A significant drop in velocity was the primary culprit; his fastball and slider averaged 98.1 and 91.1 mph, respectively, prior to his surgery but dropped to 94.5 and 85.0 mph last season. His 5.5 BB% walk rate should keep him as a competent innings-eater, but don't be fooled by the name - unless the velocity returns, this isn't the Thor you remember. He joined the Dodgers on a one-year deal and will look to produce a similar resurgence to Tyler Anderson and Andrew Heaney, who turned strong 2022 seasons in L.A. into multi-year contracts in free agency.
Read Past Outlooks
$Signed a one-year, $13 million contract with the Dodgers in December of 2022.

Still dealing with blister
Dodgers manager Dave Roberts said after Syndergaard's start Wednesday against Cincinnati that the hurler is still affected by a blister and also broke a fingernail in the outing, per
Matthew Moreno of DodgerBlue.com
. Syndergaard gave up six runs on seven hits and no walks while striking out three in a no-decision.
ANALYSIS
It was another rough outing for Syndergaard, whose season ERA now sits at an unsightly 7.16. The veteran has given up five or more runs in each of his past three starts and has allowed six homers across 14 innings during that span. Syndergaard was bothered by a blister on his pitching hand during spring training and developed a cut on his right index finger during a start in early May, and it appears that he hasn't fully healed. According to
Jack Harris of the Los Angeles Times
, he may be headed for a stint on the injured list; even if that doesn't happen, Syndergaard could lose his spot in the rotation given his struggles, the eminent return of
Julio Urias
(hamstring) and the emergence of rookie
Bobby Miller
.
Read More News
Pitching Stats
Loading Pitching Stats...
2023
2022
2021
2020
2019
2018
2017
2023 MLB Game Log

Calculate Stats Over Time
Just click on any two dates.
Scoring
FanDuel
DraftKings
Yahoo DFS
Loading Pitching Game Log...
2022 MLB Game Log

Calculate Stats Over Time
Just click on any two dates.
Scoring
FanDuel
DraftKings
Yahoo DFS
Loading Pitching Game Log...
2021 MLB Game Log

Calculate Stats Over Time
Just click on any two dates.
Scoring
FanDuel
DraftKings
Yahoo DFS
Loading Pitching Game Log...
2020 MLB Game Log

Calculate Stats Over Time
Just click on any two dates.
Scoring
FanDuel
DraftKings
Yahoo DFS
Loading Pitching Game Log...
2019 MLB Game Log

Calculate Stats Over Time
Just click on any two dates.
Scoring
FanDuel
DraftKings
Yahoo DFS
Loading Pitching Game Log...
2018 MLB Game Log

Calculate Stats Over Time
Just click on any two dates.
Scoring
FanDuel
DraftKings
Yahoo DFS
Loading Pitching Game Log...
2017 MLB Game Log

Calculate Stats Over Time
Just click on any two dates.
Scoring
FanDuel
DraftKings
Yahoo DFS
Loading Pitching Game Log...
Minor League Game Log

Calculate Stats Over Time
Just click on any two dates.
Loading Minor League Pitching Game Log...
Pitching Appearances Breakdown
How many pitches does Noah Syndergaard generally throw?
What part of the game does Noah Syndergaard generally pitch?
% Games Reaching Innings Threshold
% Games By Number of Innings Pitched
Left/Right Pitching Splits
BAA
K
BB
H
HR
Since 2021

vs Left

.284
50
23
101
13
Since 2021

vs Right

.275
85
17
111
14
2023

vs Left

.302
19
8
39
8
2023

vs Right

.327
19
1
32
4
2022

vs Left

.272
30
15
61
5
2022

vs Right

.256
65
16
77
9
2021

vs Left

.333
1
0
1
0
2021

vs Right

.400
1
0
2
1
More Splits

→

View More Split Stats
Home/Away Pitching Splits
ERA
WHIP
IP
K/9
BB/9
Since 2021

Home

3.72
1.20
113.2
6.3
1.9
Since 2021

Away

6.66
1.48
78.1
6.4
1.8
2023

Home

4.45
1.24
32.1
6.7
1.7
2023

Away

10.96
1.74
23.0
5.5
1.2
2022

Home

3.47
1.20
80.1
5.9
2.0
2022

Away

4.64
1.34
54.1
7.0
2.2
2021

Home

0.00
0.00
1.0
18.0
0.0
2021

Away

18.00
3.00
1.0
0.0
0.0
More Splits

→

View More Split Stats
Stat Review
How does Noah Syndergaard compare to other starting pitchers?
This section compares his stats with all starting pitcher seasons from the previous three seasons (minimum 120 innings)*. The bar represents the player's percentile rank. For example, if the bar is halfway across, then the player falls into the 50th percentile for that stat and it would be considered average.
* Exit Velocity, Barrels/BBE %, Balls Hit 95+ MPH %, and Spin Rate are benchmarked against 2019 data (min 120 IP).
See here for more exit velocity/barrels stats
plus an explanation of current limitations with that data set.
K/BB

Strikeout to walk ratio.

K/9

Average strikeouts per nine innings.

BB/9

Average walks per nine innings.

HR/9

Average home runs allowed per nine innings.

Fastball

Average fastball velocity.

ERA

Earned run average. The average earned runs allowed per nine innings.

WHIP

Walks plus hits per inning pitched.

BABIP

Batting average on balls in play. Measures how many balls in play against a pitcher go for hits.

GB/FB

Groundball to flyball ratio. The higher the number, the more likely a pitcher is to induce groundballs.

Left On Base

The percentage of base runners that a pitcher strands on base over the course of a season.

Exit Velocity

The speed of the baseball as it comes off the bat, immediately after a batter makes contact.

Barrels/BBE

The percentage of batted ball events resulting in a Barrel. A Barrel is a batted ball with similar exit velocity and launch angle to past ones that led to a minimum .500 batting average and 1.500 slugging percentage.

Spin Rate

Spin Rate is the rate of spin on a baseball after it is released. It is measured in revolutions per minute (rpm).

Balls Hit 95+ MPH

The percentage of batted balls hit that met or exceeded the 95 MPH threshold.

Swinging Strike

The percentage of pitches that result in a swing and a miss.
Advanced Pitching Stats
Loading Advanced Pitching Stats...
Loading MLB Defensive Stats...
Our full team depth charts are reserved for RotoWire subscribers.
Subscribe Now
Recent RotoWire Articles Featuring Noah Syndergaard
See More
Past Fantasy Outlooks
2022
2021
2020
2019
2018
2017
2016
2015
2014
2013
Thor begins a new chapter after signing a one-year, $21 million deal with the Angels over the winter. His long road back from 2020 Tommy John surgery culminated in Syndergaard making a couple short appearances as an opener for the Mets at the end of last season. He struck out two of the eight batters he faced across those two appearances. A couple weeks into spring training and Syndergaard still has not been seen on a big-league diamond -- as of March 23, he had yet to make his Cactus League debut. He is throwing and has appeared in a minor-league game this spring, but until he's out throwing gas and punching out big-league hitters, Syndergaard will remain a great unknown for the 2022 season. Keep in mind the success rate from Tommy John surgery is high, but it's not 100 percent.
Many felt it was a matter of "when" and not "if" with Syndergaard. He was diagnosed with a torn UCL in his throwing elbow, requiring Tommy John surgery late last March. The timeframe is 12-16 months, with the prudent expectation being a return in late May or early June. Syndergaard has always been a high-velocity pitcher, even on breaking pitches, so it will be interesting to see if he makes any changes to his pitch mix. Performance expectations were already hazy after a 2019 season in which he lost a few ticks off his slider and curveball. Some speculated it was intentional, to prevent injury, while others viewed it as a harbinger of the inevitable visit under the knife. Assuming Syndergaard will magically transform back to Thor is precarious at best. In keeper leagues and those with a separate injured list, Syndergaard is a justifiable selection.
Was 2016 the summit for Thor's career? We've all expected bigger and better things from him and have drafted him based on his ceiling, but continue to be frustrated by the return on investment from the demigod. Last season was the second consecutive season where the expected stats were better than the actual outcomes, and the third consecutive season in which his ERA outpaced his FIP. He allowed four or more earned runs in 14 of his 32 outings last season despite multiple home runs in just six of his 32 outings. The stuff is too good for his results to be this inconsistent, leaving one to wonder if a change of scenery might do him good. He is already pitching behind a true staff ace, so that pressure is removed, but he continues to leave us wanting more from him. Stop drafting him as a low SP1, because he has not pitched like one in three seasons now. He is a good SP2 with upside.
Normally, when a pitcher of Syndergaard's ilk visits the disabled list twice, there's trouble. However, last season the respites were a blessing in disguise to manage workload, coming off a 2017 campaign in which he threw only 30.1 innings. Better yet, neither stint was related to his elbow or shoulder. The first was for a strained ligament in his right index finger while the second was due to hand, foot and mouth disease. Syndergaard finished with a reasonable 25 starts and 154.1 innings, paving the way for a year with no restrictions. His fastball and slider velocity dropped a tick, perhaps explaining a career-low 24.1 K%. There was talk new pitching coach Dan Warthen encouraged Syndergaard to back it off a bit, but there was no evidence the decline was by design. As always, the key with Syndergaard is health. His stuff remains filthy. If 32 starts were guaranteed, Syndergaard would be a top-five starter. As is, he'll be someone's fantasy ace.
It began on Opening Day as Syndergaard was removed after six scoreless innings with a blister. Two starts later, he left early again with a split fingernail. Then came a bout of tired arm, diagnosed as bicep tendinitis. After skipping a turn, he returned on April 30 and promptly tore his lat muscle. Rehab took longer than anticipated, but Thor returned in late September, tossing an inning against the Nationals before throwing two against the Phillies to end the season. Remember, Syndergaard opted not to have surgery last offseason to take care of a bone spur in his right elbow. It remains to be seen if that decision will come back to haunt him. There's no doubting his skills; the question is health. Some believe Syndergaard should ratchet down the velocity of his 98 mph heater and 91 mph slider. Realize Syndergaard only threw 30.1 innings last season, so he may not reach the total commensurate with his market price.
Thor established himself as the Mets' ace fairly early in his sophomore season, improving upon nearly all of his rookie metrics en route to leading all qualified starters with a 2.29 FIP. His elbow was examined in May, and in late June he was pulled from a start and it was revealed that he was dealing with a bone spur in his elbow. Syndergaard posted a 3.10 ERA and 108:31 K:BB in 92.2 innings after the diagnosis, compared to a 2.08 ERA and 110:12 K:BB in 91 innings prior, so it is possible that his control was negatively affected, although he still pitched like an ace. Surgery to remove the bone spur was deemed unnecessary in the offseason. Syndergaard still boasts two filthy pitches in his 98 mph fastball and 91 mph slider, so he should be one of the top five pitchers off the board heading into his age-24 season. The next hurdle for the best young pitcher in baseball will be to eclipse the 200-inning mark for the first time in his career.
"Thor" made his much-anticipated debut on May 12, and from Day 1, he was every bit as advertised. Using a fastball that averaged over 97 mph -- the highest ever recorded for a starting pitcher in a season with a minimum of 100 IP (according to FanGraphs) -- a curveball, a changeup, and a rarely-used slider, Syndergaard struck batters out at a 27.5% clip while issuing just 31 free passes in 150 regular-season innings. The 23-year-old had an above-average groundball rate, but the balls that got up did some damage -- his inflated HR/FB rate was really his only blemish. It's rare that you find a pitcher with Syndergaard's overpowering stuff and great control, the latter being the product of a remarkably clean, repeatable delivery. His talent is not in question, and after he tossed 179.2 combined innings between Triple-A Las Vegas and the majors last season, neither is his 2016 workload. Invest with confidence.
The big right-hander enters 2015 as the top pitching prospect in the minor leagues, and a borderline top-5 overall prospect. A lot was made of Syndergaard's "struggles" at Triple-A Las Vegas in 2014, but a 4.60 ERA pitching in some of the most hitter-friendly conditions in the minor leagues is not nearly as bad as it looks. He fell victim to a .378 BABIP and still posted a quality 145:43 K:BB ratio in 133 innings. His second-half numbers (3.54 ERA and 63 strikeouts in 53.1 innings) were particularly impressive for a 21-year-old in the Pacific Coast League. At 6-foot-6, 240 pounds, he is equipped to handle 200-plus inning seasons, and the Mets have said he will have a generous 185-190 innings cap on his age-22 season. The biggest question is where he will fit in the rotation. With Jacob deGrom's emergence and Matt Harvey's return, the Mets easily go five deep, so Syndergaard may begin 2015 back in Las Vegas awaiting a June callup.
Syndergaard, who was traded to the Mets along with Travis d'Arnaud for R.A. Dickey, has surpassed d'Arnaud as the Mets' top prospect. Syndergaard went 9-4 with a 3.06 ERA, a 1.15 WHIP and 10.2 K/9 rate in 23 starts between High-A St. Lucie and Double-A Binghamton and also started the Futures Game for Team USA. He has a mid-90s fastball that bears in hard on righties and mixes in a 12-to-6 hard-biting curveball, and but his changeup is still a major work in progress. Syndergaard should follow the same path as fellow top prospects Matt Harvey and Zack Wheeler the past two years; beginning the year at Triple-A before receiving a summer call-up. Syndergaard projects to be a No. 2 or No. 3 starter, but his ceiling may hinge on the development of his changeup.
After a brief taste in 2011, Syndergaard pitched the entire season at Low-A Lansing. Throwing 103.2 innings, he recorded a 2.60 ERA, a 1.08 WHIP and had 122 strikeouts against only 31 walks. Just 20 years old, the 6-foot-5 right-hander will likely be brought along slowly by the Mets despite a very high ceiling. In addition to missing bats at an elite clip, Syndergaard surrendered just three homers in his first full professional season and does a good job of getting many of his contact outs on the ground. Look for him to spend most of the next two seasons in the minors refining his secondary pitches before getting onto the radar in New York in late 2014 or early 2015.
More Fantasy News