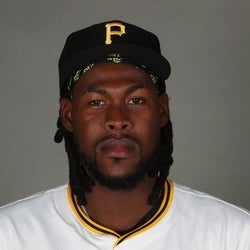 60-Day IL
Injury Ankle
Est. Return 2/1/2024
Rest-of-Season Projections
2023 Fantasy Outlook
Cruz is a walking highlight reel. He is a physical specimen at 6-foot-7, 210 pounds and packs some of the loudest tools you're ever likely to see on a baseball field. In late August, Cruz hit a batted ball at 122.4 mph, setting a new record for the Statcast era. His sprint speed ranked in the 98th percentile last season. As expected, there were some swing-and-miss issues (34.9 K%), though he shaved the strikeouts down over the season's final month and really took off (.288/.359/.525). The upside is obvious with the former top prospect, but it's important to remember that he's still just 24 years old and will be playing for a Pirates team without much around him in one of the game's worst ballparks for offense.
Read Past Outlooks
$Signed a one-year, $720,000 contract with the Pirates in March of 2023.

Ruled out for 2023 return
ANALYSIS
Cruz has run into a couple of minor setbacks in his recovery from early-April surgery to repair a fractured left fibula and will now shift his focus toward being 100 percent healthy for the beginning of the 2024 campaign. The dynamic 24-year-old shortstop went as a top-80 pick in most fantasy drafts this spring but wound up appearing in only nine games for the Pirates. He holds a career .751 OPS with 19 home runs and 13 stolen bases through 98 total major-league games.
Read More News
Batting Stats
2023 MLB Game Log

Calculate Stats Over Time
Just click on any two dates.
Scoring
FanDuel
DraftKings
Yahoo DFS
Loading Batting Game Log...
2022 MLB Game Log

Calculate Stats Over Time
Just click on any two dates.
Scoring
FanDuel
DraftKings
Yahoo DFS
Loading Batting Game Log...
2021 MLB Game Log

Calculate Stats Over Time
Just click on any two dates.
Scoring
FanDuel
DraftKings
Yahoo DFS
Loading Batting Game Log...
Minor League Game Log

Calculate Stats Over Time
Just click on any two dates.
Loading Minor League Batting Game Log...
Batting Order Slot Breakdown
#1
#2
#3
#4
#5
#6
#7
#8
#9
#1
#2
#3
#4
#5
#6
#7
#8
#9
Left/Right Batting Splits
OPS
PA
HR
RBI
AVG
Since 2021

vs Left

.555
122
3
12
.173
Since 2021

vs Right

.834
288
16
49
.263
2023

vs Left

1.314
7
0
1
.600
2023

vs Right

.636
33
1
3
.185
2022

vs Left

.532
111
3
11
.158
2022

vs Right

.837
250
14
43
.265
2021

vs Left

.000
4
0
0
.000
2021

vs Right

1.800
5
1
3
.600
More Splits

→

View More Split Stats
Home/Away Batting Splits
OPS
PA
HR
RBI
AVG
Since 2021

Home

.802
203
10
36
.270
Since 2021

Away

.700
207
9
25
.202
2023

Home

.684
13
0
1
.222
2023

Away

.768
27
1
3
.261
2022

Home

.795
181
9
32
.269
2022

Away

.690
180
8
22
.194
2021

Home

1.000
9
1
3
.333
2021

Away

0
0
0
0
0
More Splits

→

View More Split Stats
Stat Review
How does Oneil Cruz compare to other hitters?
This section compares his stats with all batting seasons from the previous three seasons (minimum 400 plate appearances)*. The bar represents the player's percentile rank. For example, if the bar is halfway across, then the player falls into the 50th percentile for that stat and it would be considered average.
* Exit Velocity and Barrels/PA % are benchmarked against 2019 data (min 400 PA) and Hard Hit Rate is benchmarked against last season's data (min 400 PA).
See here for more exit velocity/barrels stats
plus an explanation of current limitations with that data set.
BB/K

Walk to strikeout ratio

BB Rate

The percentage of plate appearances resulting in a walk.

K Rate

The percentage of plate appearances resulting in a strikeout.

BABIP

Batting average on balls in play. Measures how many of a batter's balls in play go for hits.

ISO

Isolated Power. Slugging percentage minus batting average. A computation used to measure a batter's raw power.

AVG

Batting average. Hits divided by at bats.

OBP

On Base Percentage. A measure of how often a batters reaches base. Roughly equal to number of times on base divided by plate appearances.

SLG

Slugging Percentage. A measure of the batting productivity of a hitter. It is calculated as total bases divided by at bats.

OPS

On base plus slugging. THe sum of a batter's on-base percentage and slugging percentage.

wOBA

Weighted on-base average. Measures a player's overall offensive contributions per plate appearance. wOBA combines all the different aspects of hitting into one metric, weighting each of them in proportion to their actual run value.

Exit Velocity

The speed of the baseball as it comes off the bat, immediately after a batter makes contact.

Hard Hit Rate

A measure of contact quality from Sports Info Solutions. This stat explains what percentage of batted balls were hit hard vs. medium or soft.

Barrels/PA

The percentage of plate appearances where a batter had a batted ball classified as a Barrel. A Barrel is a batted ball with similar exit velocity and launch angle to past ones that led to a minimum .500 batting average and 1.500 slugging percentage.

Expected BA

Expected Batting Average.

Expected SLG

Expected Slugging Percentage.

Sprint Speed

The speed of a runner from home to first, in feet per second.

Ground Ball %

The percentage of balls put in play that are on the ground.

Line Drive %

The percentage of balls put in play that are line drives.

Fly Ball %

The percentage of balls put in play that are fly balls.
Prospect Rankings History
Advanced Batting Stats
Loading Advanced Batting Stats...
Games By Position
Defensive Stats
Loading Games Played by Position...
Loading MLB Defensive Stats...
Batted Ball Stats
Loading Batted Ball Stats...
Stats Vs Upcoming Pitchers
Our full team depth charts are reserved for RotoWire subscribers.
Subscribe Now
Recent RotoWire Articles Featuring Oneil Cruz
See More
Past Fantasy Outlooks
Rarely has a 38 plate-appearance sample shifted the perceived value of a player to the extent we've seen with Cruz. He had a very strong run at Double-A last season, hitting .292/.346/.536 with 12 home runs, 18 steals, a 23.4 K% and 7.3 BB% in 62 games. Cruz was then rewarded with a six-game run at Triple-A followed by two games in the majors. He hit .466 with six home runs, nine strikeouts and eight walks in those eight games and propelled himself into the top 300 of early NFBC ADP in the process. His most bankable fantasy-relevant tool is 70-grade raw power that he utilizes to all fields. Cruz's lanky 6-foot-7 frame enables him to leverage the ball in a manner matched by few sluggers in the history of the game. His long levers will always lead to plenty of strikeouts, but he is not stiff at the plate and he has the flexibility to golf out balls below his knees for home runs. Cruz's physical dimensions make it impossible to confidently project his hit tool, and the massive gap in pitching quality at Triple-A and the majors can't be overstated. While his run at Triple-A and the majors can't be thrown out completely, his Double-A performance is a more relevant data point. Pittsburgh figures to give him the keys at shortstop early this season and while his plus-plus raw power and plus speed give him a very high power/speed ceiling, his batting average as a rookie could be anywhere from the .181 Jarred Kelenic logged to something above .250.
After spending the summer at the alternate training site, Cruz was arrested in the Dominican Republic after a car he was driving struck a motorcycle in an accident with three fatalities. This is a delicate subject, and Cruz, who was out past the country's COVID-19 curfew, is at best guilty of poor decision making. He went on to play winter ball and the team has said he should be a full participant in spring training. For those who weigh maximum exit velocity strongly, Cruz's offensive ceiling is up there with any prospect. However, at 6-foot-7, there will be holes in his swing for MLB pitchers to exploit. He has played shortstop so far, but right field seems like the best long-term fit. Cruz is also a plus runner, but his speed figures to trend down in the coming years. For a player who should spend most of his age-22 season at Triple-A, there is still a huge gap between Cruz's floor and ceiling.
Likely the tallest Double-A shortstop ever, the 6-foot-7 Cruz should be commended for not having to move off the position yet, but that still feels like an inevitability. His bat will profile anywhere if he reaches his ceiling. Unsurprisingly, given his size, he could develop 70-grade power. The big question is whether he will make enough contact against MLB pitchers to get to that power with any consistency. Since 1980, only six hitters 6-foot-6 or taller have had sustained success, so betting against Cruz has its merits. He had a 28.5 K% in 84 games at High-A, Double-A and the Arizona Fall League (he missed two months with a broken foot) but didn't turn 21 until October. Cruz is an excellent athlete and could steal 10-15 bases early in his career. We probably won't know for a couple years if his hit tool will play in the majors, but he could have an Aaron Judge-esque offensive profile if it all clicks.
While Cruz may eventually change positions, the fact remains he was a full-time shortstop in a repeat of Low-A, despite standing 6-foot-6 (roughly 180 pounds). There is no precedent for a player his size sticking up the middle, so let's assume he will move to a corner -- his 80-grade arm would fit nicely at third base or in right field. Despite repeating the level, Cruz was one of the youngest players in the Sally League, where his 134 wRC+ ranked sixth and his .201 ISO ranked 10th. His 22.6 K% was impressive, and his 50-grade speed led to 11 steals on 16 attempts. Of players who debuted in 1980 or later, Richie Sexson, Aaron Judge, Giancarlo Stanton, Corey Hart, Adam Dunn and Darryl Strawberry are the only position players 6-foot-6 or taller who have had prolonged success. Cruz has the same carrying tool (huge raw power) as those players and could join that group if he makes enough contact, but it's important to note how rare it would be.
More Fantasy News