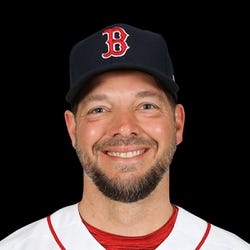 Rest-of-Season Projections
2023 Fantasy Outlook
Hill started 26 games last season for Boston, losing most of July with a knee issue. He averaged just under five innings per outing, but still managed to win eight games for the last place Red Sox. Much like Eddie Harris in Major League, Hill threw every piece of junk he could think of at 'em, save the snot. He'd flip his 88-mph fastball and 72-mph curveball to the plate from various arm angles. All things considered, his 13.7% K-BB wasn't terrible for the then 42-year-old southpaw. Hill finished the season on a high note, fanning 15 over his final two starts, each lasting six frames. He can help chew up innings for the Pirates after inking a one-year deal, but the days of being a fantasy asset are likely over, save for favorable matchups in deep leagues.
Read Past Outlooks
$Signed a one-year, $8 million contract with the Pirates in December of 2022. Traded to the Padres in August of 2023.

ANALYSIS
Hill made the revelation on Bradford's "Baseball Isn't Boring" podcast. The 43-year-old left-hander didn't have a great 2023 campaign, posting a 5.41 ERA, 1.52 WHIP and 129:58 K:BB over 146.1 innings for the Pirates and Padres. Hill will turn 44 shortly after Opening Day next year but should be able to find a club willing to give him a one-year contract.
Read More News
Pitching Stats
Loading Pitching Stats...
2023
2022
2021
2020
2019
2018
2017
2023 MLB Game Log

Calculate Stats Over Time
Just click on any two dates.
Scoring
FanDuel
DraftKings
Yahoo DFS
Loading Pitching Game Log...
2022 MLB Game Log

Calculate Stats Over Time
Just click on any two dates.
Scoring
FanDuel
DraftKings
Yahoo DFS
Loading Pitching Game Log...
2021 MLB Game Log

Calculate Stats Over Time
Just click on any two dates.
Scoring
FanDuel
DraftKings
Yahoo DFS
Loading Pitching Game Log...
2020 MLB Game Log

Calculate Stats Over Time
Just click on any two dates.
Scoring
FanDuel
DraftKings
Yahoo DFS
Loading Pitching Game Log...
2019 MLB Game Log

Calculate Stats Over Time
Just click on any two dates.
Scoring
FanDuel
DraftKings
Yahoo DFS
Loading Pitching Game Log...
2018 MLB Game Log

Calculate Stats Over Time
Just click on any two dates.
Scoring
FanDuel
DraftKings
Yahoo DFS
Loading Pitching Game Log...
2017 MLB Game Log

Calculate Stats Over Time
Just click on any two dates.
Scoring
FanDuel
DraftKings
Yahoo DFS
Loading Pitching Game Log...
Minor League Game Log

Calculate Stats Over Time
Just click on any two dates.
Loading Minor League Pitching Game Log...
Pitching Appearances Breakdown
How many pitches does Rich Hill generally throw?
What part of the game does Rich Hill generally pitch?
% Games Reaching Innings Threshold
% Games By Number of Innings Pitched
Left/Right Pitching Splits
BAA
K
BB
H
HR
Since 2021

vs Left

.233
79
44
72
4
Since 2021

vs Right

.264
309
106
355
55
2023

vs Left

.267
23
19
28
1
2023

vs Right

.284
106
39
137
22
2022

vs Left

.277
17
6
18
1
2022

vs Right

.255
92
31
107
14
2021

vs Left

.187
39
19
26
2
2021

vs Right

.251
111
36
111
19
More Splits

→

View More Split Stats
Home/Away Pitching Splits
ERA
WHIP
IP
K/9
BB/9
Since 2021

Home

4.98
1.38
229.2
8.9
3.1
Since 2021

Away

3.97
1.30
199.2
7.2
3.2
2023

Home

5.82
1.51
86.2
7.8
3.3
2023

Away

4.83
1.54
59.2
8.1
3.9
2022

Home

4.81
1.38
58.0
8.8
2.5
2022

Away

3.80
1.24
66.1
7.1
2.8
2021

Home

4.24
1.25
85.0
10.2
3.4
2021

Away

3.42
1.17
73.2
6.6
2.8
More Splits

→

View More Split Stats
Stat Review
How does Rich Hill compare to other starting pitchers?
This section compares his stats with all starting pitcher seasons from the previous three seasons (minimum 120 innings)*. The bar represents the player's percentile rank. For example, if the bar is halfway across, then the player falls into the 50th percentile for that stat and it would be considered average.
* Exit Velocity, Barrels/BBE %, Balls Hit 95+ MPH %, and Spin Rate are benchmarked against 2019 data (min 120 IP).
See here for more exit velocity/barrels stats
plus an explanation of current limitations with that data set.
K/BB

Strikeout to walk ratio.

K/9

Average strikeouts per nine innings.

BB/9

Average walks per nine innings.

HR/9

Average home runs allowed per nine innings.

Fastball

Average fastball velocity.

ERA

Earned run average. The average earned runs allowed per nine innings.

WHIP

Walks plus hits per inning pitched.

BABIP

Batting average on balls in play. Measures how many balls in play against a pitcher go for hits.

GB/FB

Groundball to flyball ratio. The higher the number, the more likely a pitcher is to induce groundballs.

Left On Base

The percentage of base runners that a pitcher strands on base over the course of a season.

Exit Velocity

The speed of the baseball as it comes off the bat, immediately after a batter makes contact.

Barrels/BBE

The percentage of batted ball events resulting in a Barrel. A Barrel is a batted ball with similar exit velocity and launch angle to past ones that led to a minimum .500 batting average and 1.500 slugging percentage.

Spin Rate

Spin Rate is the rate of spin on a baseball after it is released. It is measured in revolutions per minute (rpm).

Balls Hit 95+ MPH

The percentage of batted balls hit that met or exceeded the 95 MPH threshold.

Swinging Strike

The percentage of pitches that result in a swing and a miss.
Advanced Pitching Stats
Loading Advanced Pitching Stats...
Loading MLB Defensive Stats...
Recent RotoWire Articles Featuring Rich Hill
See More
Past Fantasy Outlooks
2022
2021
2020
2019
2018
2017
2016
2013
2012
2010
2009
2008
2007
2006
Hill continued his late-career renaissance in 2021, posting a 3.86 ERA and 1.21 WHIP over 32 appearances (31 starts) and 158.2 innings, the second highest number of starts and innings of his MLB life. SIERA (4.43), xFIP (4.70) and increases in exit velocity and hard-hit rate tell a slightly different story, but the 42-year-old right-hander gets by on guile. There's concerns about durability, as there should be for a pitcher in his advanced years. He's mostly a fastball/curveball pitcher, and the 88.1 mph four-seamer, up a couple of ticks from 2020, isn't going to blow past too many batters. He rejoined the Red Sox in 2022, the third time with the organization he grew up following as a native of Milton (Mass.). Boston's not going to count on a hefty number of innings, and manager Alex Cora plans to use a piggyback approach with Hill. He's slated to pitch as the No. 5 starter with Garrett Whitlock and other stretched out relievers bridging the gap to the late-inning relief corps.
Hill was set to miss the first few months of the season after recovering from elbow surgery, but instead was ready for the start of the delayed season in July. He was impressive in eight starts with a 3.03 ERA and 1.16 WHIP, but his underlying metrics were a cause for concern. Hill averaged a career-low 87.7 mph fastball, had a near career-low 7.2 K/9 and may have been lucky by allowing just three home runs (7.9 HR/FB). He also missed time with shoulder fatigue and needed extra rest often between starts at age 40. He's crafty enough to help a team at age 41 next season, but it's hard to expect him to stay healthy for a full season and there's significant risk it may have been his last hurrah.
Durability issues reared their ugly head for Hill again in 2019, as he started just 13 games due to injuries that lingered throughout most of the second half of the season. After undergoing Primary Revision surgery in October, Hill is expected to miss the first half of 2020. When he was able to take the mound in 2019, Hill was effective, recording a 2.45 ERA with a 72:18 K:BB in 58.2 innings. Even at age 39, Hill had a league-best 2,724 rpm spin rate on his pitches, compensating for modest fastball velocity (90.3 mph). A lot of the damage against him was done via the long ball, with a bloated 22.2% HR/FB rate being partially to blame. He recorded a 10.7% swinging-strike rate, his sixth straight year in double digits. Now with the Twins on a one-year deal, Hill should have a rotation spot waiting for him, but there will be nothing actionable in our game until he heads out on a minor-league rehab assignment.
Hill posted his highest ERA in a 100-plus-inning season since 2007 and spent 53 days on the disabled list before June 19 with -- you guessed it -- finger issues (cracked nail, blister). His prolonged absence turned out to be a blessing as well as a curse, however, as he discovered and corrected a mechanical flaw that helped him regain the elite spin on his curveball. In his final 108 regular-season frames, Hill pitched to a 3.08 ERA, 0.98 WHIP, 10.4 K/9 and 2.3 BB/9 while going 10-3. He had a career-best first-pitch strike percentage (65.3), which helped his sequencing. Considering the lefty's shaky health and Los Angeles' micromanagement of his workload, the 39-year-old's fantasy shareholders must prepare to backfill at least several starts. They also shouldn't ignore his two-year increase in home-run rate (1.36 HR/9 last season). That said, few midrange starters match his strikeout ability on a per-start basis.
Since unveiling a Statcast-breaking curveball with the Red Sox in 2015, Hill has combined for a 2.65 ERA, 10.8 K/9 and 2.8 BB/9 over 275 innings. For two-plus seasons, that is a light workload; his clubs have generally handled him conservatively and he infamously dealt with a blister issue which lingered from summer 2016 into the 2017 regular season. The Dodgers can afford to preserve the soon-to-be 38-year-old southpaw given their pitching depth, but Hill provides borderline elite numbers when on the mound, making up for the limited workload. Keep in mind: the shallower your fantasy league, the easier it'll be to invest in Hill's lower innings count and replace any missed time with players above replacement level.
In August 2015, Hill was pitching in independent ball after a long, mostly unremarkable career. He hadn't started a major league game since 2009. Then he signed a minor league deal with the Red Sox, impressed in four starts, signed a one-year deal with the Athletics, impressed even more, and was traded to the Dodgers to be their postseason No. 2 starter. By the end of the 2016 season, he had a 2.00 ERA and 165 strikeouts in 24 starts since that Red Sox deal. Unfortunately, he also missed significant time with a groin strain and blisters, the latter of which forced the Dodgers to limit his innings and pull him after seven innings of a potential perfect game. The driving force behind his reinvention is a monster curveball he throws for nearly half his pitches, dropping it in at any point in the count and from multiple arm angles. The injuries remain a major red flag for the 36-year-old, but he's found a unique way to prevent runs at an elite level.
Hill's 2015 season was a nice made-for-TV story. The 36-year-old left-handed reliever began the season in the Nationals' organization, pitching out of the bullpen for their Triple-A affiliate in Syracuse. He was released mid-season, hooked on with the Long Island Ducks of the Independent Atlantic League, and then signed with Boston in August. He had success as a starter for Triple-A Pawtucket and then made four strikeout-laden starts in September for the Red Sox. Using primarily a fastball and curveball mix, Hill's performance was a startling display of effectiveness for a guy that hadn't started in the big leagues since 2009. The Red Sox didn't re-sign him during their exclusive window, letting Hill hit the free-agent market where he generated a lot of interest and eventually signed with Oakland. He represents a low-risk, high-reward option as a back-of-the-rotation starter and potential trade bait for the A's if his success continues in the first half of 2016.
Hill made a quicker-than-normal return from Tommy John surgery in 2011 and was pitching well for Boston when a strained flexor muscle in his elbow shut him down for six weeks. The left-hander continued to pitch well upon his return. He finished with 21 strikeouts in 19.2 innings, so he could work his way into a high-leverage relief role.
Hill underwent a transformation to a sidearm delivery, pitching very effectively for both Triple-A Pawtucket and Boston before developing an elbow injury that led to Tommy John surgery in June. While it's tempting to think cause-and-effect, that the new arm slot caused the injury, Hill's doctor said stress on the elbow is the same regardless of arm slot. Hill will rehab into 2012 and resume his career as a sidearmer out of the pen.
The Orioles coveted Hill for quite some time, but he flopped when he tried to freshen up his career after a change of scenery. An elbow injury early in the season and a shoulder injury late in the season didn't help matters, but his line with Baltimore was so atrocious it is difficult to envision a future in which Hill revives his career.
Coming off a breakout campaign in 2007, Hill was viewed as a potential staff ace last season. But he struggled with his location during spring training and simply never got it back. As a result, he spent most of the year in the minors, but walked nearly a batter an inning at every level. Hill tried to straighten himself out this fall in the Venezuelan League, but the results were just as bad. At this point, it's unclear whether Hill will ever be able to resume his major league career.
Hill solidified his credentials as a borderline major league ace last year, repeating his robust strikeout rate and even cutting down on the walk rate. Hill's weakness is still his propensity to give up flyballs and hence home runs, but even in that department he improved -- upping his G/F ratio from .60 to .83. A lefty with a low-90's fastball and devastating curve, the 28-year-old is just hitting his pitching prime and could join the elite if he continues to improve.
After dominating the high minors but struggling during his major league call-ups, Hill finally broke through in the second half of 2006, striking out 79 batters in 80 major league innings after the All-Star break and walking just 24. Hill's second half ERA was 2.93, and his WHIP just 1.05, but he allowed too many fly balls, 11 of which left the park in the season's final three months. He throws in the low-90s and has a devastating curve ball, but his fly-ball rate could tie his fate to the volatile winds at Wrigley more than we'd like.
Hill posted ungodly strikeout rates in the high minors, but gave up too many home runs. In his 25-inning stint in the majors, Hill struck out nearly a batter an inning, but his walk rate skyrocketed, and he continued to serve up the long ball. Combine that with an unluckily high hit rate, and Hill's first go-around was a rough one. Hill throws in the low-90s and has a sharp-breaking curve ball, but until he learns to command his pitches better, he's a long shot to see a spot in the Cubs rotation.
More Fantasy News