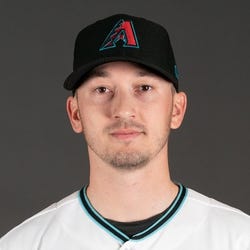 Rest-of-Season Projections
2023 Fantasy Outlook
Davies declined his $1.5 million option with Arizona for 2022, but he ultimately re-signed on a one-year, $5 million deal. The veteran right-hander made 27 starts for the Diamondbacks last season and was a solid rotation piece with a 4.09 ERA, 1.30 WHIP and 102:52 K:BB across 134.1 innings. He averaged just under five innings per start and recorded only two wins, which combined with his 17.9 percent strikeout rate leaves him as an unappealing fantasy option. Davies should make plenty of starts for Arizona again in 2023 but shouldn't be expected to provide much upside in fantasy beyond covering some innings given he profiles as a low-velocity pitcher with non-elite control.
Read Past Outlooks
$Signed a one-year, $5 million contract with the Diamondbacks in January of 2023. Released by the Diamondbacks in September of 2023.

The Diamondbacks
released
Davies on Friday.
ANALYSIS
Davies passed through waivers unclaimed after being designated for assignment Wednesday and will get an early start on free agency. The 30-year-old right-hander struggled to a 7.00 ERA and 1.66 WHIP in 82.1 innings (18 starts) this season with Arizona.
Read More News
Pitching Stats
Loading Pitching Stats...
2023
2022
2021
2020
2019
2018
2017
2023 MLB Game Log

Calculate Stats Over Time
Just click on any two dates.
Scoring
FanDuel
DraftKings
Yahoo DFS
Loading Pitching Game Log...
2022 MLB Game Log

Calculate Stats Over Time
Just click on any two dates.
Scoring
FanDuel
DraftKings
Yahoo DFS
Loading Pitching Game Log...
2021 MLB Game Log

Calculate Stats Over Time
Just click on any two dates.
Scoring
FanDuel
DraftKings
Yahoo DFS
Loading Pitching Game Log...
2020 MLB Game Log

Calculate Stats Over Time
Just click on any two dates.
Scoring
FanDuel
DraftKings
Yahoo DFS
Loading Pitching Game Log...
2019 MLB Game Log

Calculate Stats Over Time
Just click on any two dates.
Scoring
FanDuel
DraftKings
Yahoo DFS
Loading Pitching Game Log...
2018 MLB Game Log

Calculate Stats Over Time
Just click on any two dates.
Scoring
FanDuel
DraftKings
Yahoo DFS
Loading Pitching Game Log...
2017 MLB Game Log

Calculate Stats Over Time
Just click on any two dates.
Scoring
FanDuel
DraftKings
Yahoo DFS
Loading Pitching Game Log...
Minor League Game Log

Calculate Stats Over Time
Just click on any two dates.
Loading Minor League Pitching Game Log...
Pitching Appearances Breakdown
How many pitches does Zach Davies generally throw?
What part of the game does Zach Davies generally pitch?
% Games Reaching Innings Threshold
% Games By Number of Innings Pitched
Left/Right Pitching Splits
BAA
K
BB
H
HR
Since 2021

vs Left

.251
109
96
160
22
Since 2021

vs Right

.285
179
70
222
34
2023

vs Left

.287
31
23
51
5
2023

vs Right

.305
41
16
47
5
2022

vs Left

.222
34
29
49
7
2022

vs Right

.255
68
23
73
14
2021

vs Left

.251
44
44
60
10
2021

vs Right

.302
70
31
102
15
More Splits

→

View More Split Stats
Home/Away Pitching Splits
ERA
WHIP
IP
K/9
BB/9
Since 2021

Home

5.46
1.49
197.2
7.1
3.8
Since 2021

Away

5.39
1.51
167.0
7.1
4.5
2023

Home

6.27
1.57
56.0
7.9
4.0
2023

Away

8.54
1.86
26.1
7.9
4.8
2022

Home

3.16
1.25
57.0
7.1
3.2
2022

Away

4.77
1.33
77.1
6.6
3.7
2021

Home

6.48
1.61
84.2
6.7
4.0
2021

Away

4.83
1.59
63.1
7.2
5.3
More Splits

→

View More Split Stats
Stat Review
How does Zach Davies compare to other starting pitchers?
This section compares his stats with all starting pitcher seasons from the previous three seasons (minimum 120 innings)*. The bar represents the player's percentile rank. For example, if the bar is halfway across, then the player falls into the 50th percentile for that stat and it would be considered average.
* Exit Velocity, Barrels/BBE %, Balls Hit 95+ MPH %, and Spin Rate are benchmarked against 2019 data (min 120 IP).
See here for more exit velocity/barrels stats
plus an explanation of current limitations with that data set.
K/BB

Strikeout to walk ratio.

K/9

Average strikeouts per nine innings.

BB/9

Average walks per nine innings.

HR/9

Average home runs allowed per nine innings.

Fastball

Average fastball velocity.

ERA

Earned run average. The average earned runs allowed per nine innings.

WHIP

Walks plus hits per inning pitched.

BABIP

Batting average on balls in play. Measures how many balls in play against a pitcher go for hits.

GB/FB

Groundball to flyball ratio. The higher the number, the more likely a pitcher is to induce groundballs.

Left On Base

The percentage of base runners that a pitcher strands on base over the course of a season.

Exit Velocity

The speed of the baseball as it comes off the bat, immediately after a batter makes contact.

Barrels/BBE

The percentage of batted ball events resulting in a Barrel. A Barrel is a batted ball with similar exit velocity and launch angle to past ones that led to a minimum .500 batting average and 1.500 slugging percentage.

Spin Rate

Spin Rate is the rate of spin on a baseball after it is released. It is measured in revolutions per minute (rpm).

Balls Hit 95+ MPH

The percentage of batted balls hit that met or exceeded the 95 MPH threshold.

Swinging Strike

The percentage of pitches that result in a swing and a miss.
Advanced Pitching Stats
Loading Advanced Pitching Stats...
Loading MLB Defensive Stats...
Recent RotoWire Articles Featuring Zach Davies
See More
Todd Zola offers an update on the Underdog best-ball playoff contest and explains why he has so much exposure to Julio Rodriguez and the Mariners.
Todd Zola has Weekly Pitcher Rankings for the final week of the 2023 season, with plenty of scenarios in play for pitchers who could get pulled from starts based on their teams' playoff status.
Todd Zola rocks and fires with his Weekly Pitcher Rankings, including a two-start week for Milwaukee's Freddy Peralta.
Past Fantasy Outlooks
2022
2021
2020
2019
2018
2017
2016
Davies made 32 starts for the Cubs last season and was unable to replicate his 2.73 ERA from the shortened 2020 campaign, and he finished with a 5.78 ERA, 1.60 WHIP and 114:75 K:BB across 148 innings. Making half his starters in the Windy City certainly didn't help, but the right-hander's issues went deeper as he posted a career-high 11.2 percent walk rate, which is especially poor since he's a low-velocity pitcher who relies on hitting his spots. Davies is with the Diamondbacks on a one-year deal, and he won't offer much upside even if he regains his 2020 form since he still won't produce much for strikeouts or wins.
Davies was shipped from Milwaukee to San Diego last offseason, and the significant upgrade in park seemed set to boost his fantasy value. That did indeed happen, as he produced a very strong 2.73 ERA in 12 starts after posting a 3.91 ERA in his five years as a Brewer. His improvement was more than just a change in park, however. After producing a career-low 15.2 K% in 2019, he smashed his previous high in 2020, posting a 22.8 K%. His 6.9 BB% was his lowest mark since 2017. Those changes came with a shift in his repertoire, as his changeup usage soared to 41.3%, ahead of his fastball (38.5%). That means there's a good chance his short-season gains stick, though we still shouldn't get too ahead of ourselves. Even his improved strikeout rate remained below-average, and his ERA came with a modest 3.88 FIP, so don't expect another sub-3.00 mark, especially now that he'll call hitter-friendly Wrigley Field home.
Injuries limited Davies to just 13 starts in 2018, but he bounced back in 2019, leading the Brewers with 31 starts and 159.2 innings pitched. Davies became the first pitcher in Brewers history to begin a season 7-0, compiling a 2.41 ERA, 1.25 WHIP and 48 strikeouts in his first 74.2 frames. The right-hander labored through his next 10 starts before briefly landing on the IL with a back injury. Davies righted the ship upon his return, posting a 2.92 ERA and 0.95 WHIP over his final eight appearances (37 innings). He finished the season with a career-best 3.55 ERA, though the estimators say he was pitching over his skis (4.56 FIP, 5.20 xFIP). Davies should enter spring training with the inside track on a rotation spot for San Diego following a November trade. While he doesn't miss many bats (career 6.6 K/9), Davies has tallied 10 or more wins while posting a sub-4.00 ERA in three of the past four seasons.
Davies started 61 games for the Brewers across the 2016 and 2017 seasons, so it was thought that he would be a regular in the Brewers' rotation all last year. However, thanks to injuries and managerial decisions, he made just 13 starts, and only saw action in one postseason game. Davies' underlying numbers in 2018 weren't all that different than the year before -- he averaged 89 mph on his fastball, and his 4.43 FIP was just a tick higher than the 4.27 FIP he posted in 2017 -- so not much has changed with his profile. Davies will head into spring training as a favorite to come away with a spot in the team's rotation to open the regular season. He accumulated 28 wins across 2016 and 2017 for teams not as talented as the current Brewers' version, so he could be a sneaky producer in that category should he stay healthy in 2019.
Davies struggled throughout the first half of 2017, as he gave up a surprisingly high number of homers (1.39 HR/9) and also missed bats at a significantly lower clip than he did in 2016, with his strikeout rate falling from 7.4 K/9 to 5.8. Fortunately for the Brewers, he was much more effective in the second half, lowering his ERA by more than two full runs (2.87) despite similar strikeout and walk rates thanks to a big step forward with the long ball. For the season, Davies improved his groundball rate (50.2 percent), and managed to reduce his home-run rate from 2016 in a year where the league-wide surge in homers pushed most pitchers in the other direction. The lack of overpowering stuff and a low swinging-strike rate (7.2 percent) make a spike in strikeouts unlikely, and widen the range of outcomes for him as he's very dependent on the defense behind him. Davies commands his arsenal well, and he should remain a fixture in the Milwaukee rotation throughout 2018.
For the second straight season, the rail-thin righty turned in an above-average performance out of Milwaukee's rotation. Davies may not have big velocity (89.3 mph average fastball), but he can change speeds and use his offspeed pitches to close out counts when he gets ahead. It was also impressive to see Davies respond positively after an utterly atrocious start. He allowed five runs over just 2.1 innings in his first start April 17 and finished April with an 8.78 ERA in three starts. He went on to allow more than three runs just four times in his final 25 starts, going 11-4 with a 3.54 ERA in 150 innings over that span. His lack of dominant stuff limits his ceiling, but Davies is already looking like a solid mid-rotation pitcher -- at just 24 years old no less.
Davies earned six starts after rosters expanded in September and steadily improved throughout his stint, as he posted three consecutive quality starts to finish off the season, including two starts of at least six shutout innings. Davies is rail-thin, listed at 6-feet and 160 pounds, and his fastball averaged just under 90 mph. But he induced an extreme amount of groundballs (57.6%) and was just crafty enough to keep the ball in the yard, as he surrendered just two home runs. His changeup looked particularly nasty, as hitters swung and missed at more than one in every four he threw, and he picked up 13 of his 25 strikeouts with the pitch. Davies will have to remain crafty without a big fastball, but he has the diverse repertoire necessary to succeed in the majors, even if he lacks a top-end ceiling.
More Fantasy News