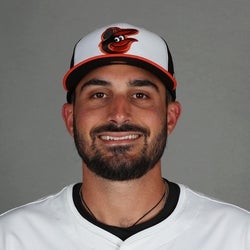 Rest-of-Season Projections
2023 Fantasy Outlook
It was a nice moment when Eflin, who'd endured more of the Phillies' playoff drought than most, recorded his first career save in the game which clinched the the team's first playoff berth since 2011, but the fact that he was pitching in relief in the first place is unfortunately what fantasy managers should be primarily concerned with. Knee issues limited Eflin to 18 starts in 2021, and they didn't go away in 2022. He finished with 13 starts and seven relief appearances. When healthy, he was the same unexciting but capable pitcher he's been for the past several seasons, as his 4.04 ERA and 20.8 K% were both near matches for the 4.12 ERA and 21.4 K% he managed from 2019 through 2021. His 4.8 BB% was excellent, as usual, but while many low-whiff, low-walk pitchers become durable back-end starters, Eflin's injuries mean he lacks that reliability. The Rays are betting on some untapped potential and gambling on his health, as they gave him the richest free agent contract in team history (three years, $40 million). He should open the year in the middle of the rotation. Eflin's sinker and cutter show some intriguing movement qualities and he excelled at limiting hard contact last season (96th percentile average exit velocity), so perhaps the Rays can extract a career year with the aid of a massive home park upgrade.
Read Past Outlooks
$Signed a three-year, $40 million contract with the Rays in December of 2022.

ANALYSIS
One of the top breakout arms of 2023, Eflin finished strong with a 2.98 ERA, 0.99 WHIP and 54 strikeouts over 45.1 innings in his final eight starts.
Tyler Glasnow
is starting Game 1.
Read More News
Pitching Stats
Loading Pitching Stats...
2023
2022
2021
2020
2019
2018
2017
2023 MLB Game Log

Calculate Stats Over Time
Just click on any two dates.
Scoring
FanDuel
DraftKings
Yahoo DFS
Loading Pitching Game Log...
2022 MLB Game Log

Calculate Stats Over Time
Just click on any two dates.
Scoring
FanDuel
DraftKings
Yahoo DFS
Loading Pitching Game Log...
2021 MLB Game Log

Calculate Stats Over Time
Just click on any two dates.
Scoring
FanDuel
DraftKings
Yahoo DFS
Loading Pitching Game Log...
2020 MLB Game Log

Calculate Stats Over Time
Just click on any two dates.
Scoring
FanDuel
DraftKings
Yahoo DFS
Loading Pitching Game Log...
2019 MLB Game Log

Calculate Stats Over Time
Just click on any two dates.
Scoring
FanDuel
DraftKings
Yahoo DFS
Loading Pitching Game Log...
2018 MLB Game Log

Calculate Stats Over Time
Just click on any two dates.
Scoring
FanDuel
DraftKings
Yahoo DFS
Loading Pitching Game Log...
2017 MLB Game Log

Calculate Stats Over Time
Just click on any two dates.
Scoring
FanDuel
DraftKings
Yahoo DFS
Loading Pitching Game Log...
Minor League Game Log

Calculate Stats Over Time
Just click on any two dates.
Loading Minor League Pitching Game Log...
Pitching Appearances Breakdown
How many pitches does Zach Eflin generally throw?
What part of the game does Zach Eflin generally pitch?
% Games Reaching Innings Threshold
% Games By Number of Innings Pitched
Left/Right Pitching Splits
BAA
K
BB
H
HR
Since 2021

vs Left

.240
158
30
160
20
Since 2021

vs Right

.257
192
25
184
22
2023

vs Left

.210
80
13
69
9
2023

vs Right

.259
106
11
89
10
2022

vs Left

.277
29
9
38
4
2022

vs Right

.209
36
6
32
4
2021

vs Left

.264
49
8
53
7
2021

vs Right

.286
50
8
63
8
More Splits

→

View More Split Stats
Home/Away Pitching Splits
ERA
WHIP
IP
K/9
BB/9
Since 2021

Home

2.89
1.02
193.0
9.5
1.3
Since 2021

Away

4.88
1.22
166.0
8.0
1.5
2023

Home

3.30
1.04
103.2
10.4
1.2
2023

Away

3.77
1.00
74.0
8.0
1.2
2022

Home

1.73
0.74
41.2
8.4
1.3
2022

Away

6.88
1.59
34.0
6.9
2.4
2021

Home

3.02
1.20
47.2
8.3
1.3
2021

Away

5.12
1.29
58.0
8.5
1.4
More Splits

→

View More Split Stats
Stat Review
How does Zach Eflin compare to other starting pitchers?
This section compares his stats with all starting pitcher seasons from the previous three seasons (minimum 120 innings)*. The bar represents the player's percentile rank. For example, if the bar is halfway across, then the player falls into the 50th percentile for that stat and it would be considered average.
* Exit Velocity, Barrels/BBE %, Balls Hit 95+ MPH %, and Spin Rate are benchmarked against 2019 data (min 120 IP).
See here for more exit velocity/barrels stats
plus an explanation of current limitations with that data set.
K/BB

Strikeout to walk ratio.

K/9

Average strikeouts per nine innings.

BB/9

Average walks per nine innings.

HR/9

Average home runs allowed per nine innings.

Fastball

Average fastball velocity.

ERA

Earned run average. The average earned runs allowed per nine innings.

WHIP

Walks plus hits per inning pitched.

BABIP

Batting average on balls in play. Measures how many balls in play against a pitcher go for hits.

GB/FB

Groundball to flyball ratio. The higher the number, the more likely a pitcher is to induce groundballs.

Left On Base

The percentage of base runners that a pitcher strands on base over the course of a season.

Exit Velocity

The speed of the baseball as it comes off the bat, immediately after a batter makes contact.

Barrels/BBE

The percentage of batted ball events resulting in a Barrel. A Barrel is a batted ball with similar exit velocity and launch angle to past ones that led to a minimum .500 batting average and 1.500 slugging percentage.

Spin Rate

Spin Rate is the rate of spin on a baseball after it is released. It is measured in revolutions per minute (rpm).

Balls Hit 95+ MPH

The percentage of batted balls hit that met or exceeded the 95 MPH threshold.

Swinging Strike

The percentage of pitches that result in a swing and a miss.
Advanced Pitching Stats
Loading Advanced Pitching Stats...
Loading MLB Defensive Stats...
Our full team depth charts are reserved for RotoWire subscribers.
Subscribe Now
Recent RotoWire Articles Featuring Zach Eflin
See More
Past Fantasy Outlooks
2022
2021
2020
2019
2018
2017
2015
2014
Eflin was more interesting than ever last offseason, as he'd just seen his K% jump by over 10 points to 28.6, helping him to a career-best 3.97 ERA, a number which could have been considerably better according to the ERA estimators. He was unable to repeat the feat in 2021, producing the unremarkable numbers we've seen from him throughout his career. He did show excellent control, with his 3.6 BB% leading all pitchers who threw at least 100 innings, but his K% fell back to a below-average 22.4%. That added up to a 4.17 ERA, though the ERA estimators were again about half a run more optimistic. Eflin's standout control keeps him somewhat interesting heading into this season, but he now comes with injury concerns, as a patellar tendon issue kept him out for most of the second half and eventually required surgery. His availability for Opening Day is up in the air, though he's trended in the right direction early on in spring training and may not miss much time, if any, to open the season.
There weren't too many bright spots on the Phillies' pitching staff in 2020, but Eflin was certainly one of them. He trimmed his ERA for the third consecutive year, finishing with a 3.97 mark in 59 innings. His improvement in that category in 2019 wasn't backed by his underlying numbers, but it was this time, as his 3.39 FIP and 3.23 xFIP suggested that he actually deserved a far better ERA. The 26-year-old struck out just 17.6% of opposing batters in his first four big-league seasons, but he jumped all the way up to 28.6% in that category last season. He didn't sacrifice any control to get there, posting a strong walk rate (6.1%). He also recorded a career-high 47.4% groundball rate. Just how much of Eflin's short-season gains stick around in 2021 remains to be seen, but he could be developing into an entirely new tier of starter rather than the boring back-end option he'd settled in as before last season.
Eflin took a major step forward in 2018, going from looking unplayable to looking like a solid back-end starter. Despite cutting his ERA from 4.36 to 4.13 in 2019, he didn't exactly improve again in his age-25 season. He briefly lost his spot in the rotation as his underlying stats took a turn for the worse. His FIP rose by more than a run (from 3.80 to 4.85), while his strikeout rate fell from 22.5% to 18.3%. He did at least keep his walk rate low, posting a 6.8% mark for the second straight year, and he did improve in one area, posting a career-high 44.6% groundball rate, but that figure is still merely above-average. If Eflin can't improve his strikeout numbers next season, he still might be good enough to stick in the back of the Phillies' rotation, but he won't do much to excite fantasy owners, as low-strikeout starters whose ERAs are just good enough to be playable aren't hard to find.
Eflin entered 2018 offering little reason for optimism, having recorded ERAs of 5.54 and 6.16 (with similarly ugly FIPs) in two 11-start cameos in the majors. He had shown good control, walking just 5.3% of batters, but hadn't shown any ability to put hitters away, recording just a 12.0% strikeout rate. In 2018, however, he was a new man. Thanks in part to a fastball which jumped from 92.7 mph to 94.3 mph, he suddenly had the ability to strike batters out, managing a league-average 22.5% strikeout rate in 24 starts. Combined with a walk rate that took just a small step back (to 6.8%), he finished with a solid enough 4.36 ERA and a 3.80 FIP, suggesting room for even more improvement. His spot in the rotation going forward isn't guaranteed, as Jerad Eickhoff should be healthy this season and the Phillies could bring in more competition in the offseason, but Eflin should remain a competent (if unexciting) option if given the chance.
Eflin continued to struggle in his second year in the majors. He followed up his 5.54 ERA in 2016 with a 6.16 ERA last season, and the high number was well-deserved. He posted a K/9 of just 4.9, well below the major-league average. He did manage a solid walk rate (1.7 BB/9) and an average groundball rate (44.1 percent), but it's hard to succeed as a starter in the big leagues without missing bats. Eflin battled injuries in each of the past two seasons, but he's still just 23 years old, so it's too early to write him off completely. The Phillies remain short on quality starting pitching, so Eflin will likely be given another chance to earn a rotation spot in 2018, but will have to show considerable improvement to stick around with the big-league club.
Eflin entered last season with minimal expectations after his strikeout rate dropped to 4.7 K/9 at Double-A Reading in 2015. He got off to a great start at Triple-A Lehigh Valley, thanks in part to a spike in his strikeout rate which Eflin attributed to better command of his fastball along with learning to set hitters up. That improvement earned him a shot with the Phillies in June. Eflin was terrible in his first start, but settled in after that, going 2-3 with a 2.08 ERA over his next seven starts before things went south in his final three appearances. He was placed on the disabled list in early-August with patellar tendinopathy in his knees, a condition he has dealt with since he was a child, along with a fractured foot. It is possible the injuries had some impact on his struggles over his final three starts. Eflin had surgery on both of his knees toward the end of last season and is expected to be ready for spring training. He will need another spike in his strikeout rate to inspire confidence as he managed just a 4.4 K/9 in the majors last season. It may require him to develop another one of his pitches to go with his slider, as both his two-seam and four-seam fastballs were quite hittable last season.
Eflin completed the second full season of his professional career as a 20-year-old at High-A Lake Elsinore, where he fared well against much older competition. His greatest skills growth came in his ability to get opposing hitters to pound the ball into the ground more consistently, as he posted a 1.67 GO/AO mark after showing flyball tendencies (0.76 GO/AO) in the Midwest League in 2013. At 6-foot-4, there is still projection remaining for Eflin, who typically works with a low-90s two-seam fastball, but has the ability to reach back and dial up his four-seamer to 97 mph. He also throws a good slider and an improving changeup, rounding out an arsenal that may eventually enable him to miss more bats. At the low end, he should develop into a steady innings eater, but he's very advanced for his age and could develop into a No. 3 starter. Traded to the Dodgers in December before being included in the package that sent Jimmy Rollins to Los Angeles, Eflin will begin his first season in the Phillies' organization pitching in the rotation at Double-A.
After an atrocious April in which he faltered his way to a 6.06 ERA in four starts, Eflin settled in nicely, posting a 7-4 record, 2.20 ERA, 1.13 WHIP, and 74:23 K:BB ratio in 102.1 innings covering 18 starts. Don't be surprised if he takes the next step in his age-20 season by starting 2014 at High-A Lake Elsinore. A supplemental first-round pick in 2012, Eflin could make a quick ascent up the Padres' organizational prospect rankings if he fares well in the California League.
More Fantasy News