Yesterday afternoon, Jose Valverde became just the latest in a long list of closer casualties as he was forced to leave with back tightness before he could convert the save. Octavio Dotel – the same Octavio Dotel that's owned in 3% of Yahoo leagues – finished the game, recording the final out as well as his first save of the year.

With over half of the teams in baseball changing their closer at some point or another this year, the unclaimed save has been something of a common refrain. Players like Scott Downs and Casey Janssen and especially Dale Thayer were nowhere near the radars of fantasy players, and in some cases their ascension into the closer role hasn't been particularly clear.

This is resolved pretty quickly in competitive daily leagues, of course – the dissemination of closer news is a big part of why RotoWire even exists in the first place, and such news travels fast once it's out there. Still, in Yahoo Pro League 134319 – just an example of one of the competitive leagues I'm in – 234 of the 272 saves so far this season have actually gone to teams, or 86%. That is, just over one out of every eight saves has gone unclaimed, despite the fact that with a $100 entry fee you see owners scrambling for closers at the mere hint of a change. Joaquin Benoit was gone in these leagues within half an hour of Valverde's injury, and we don't even know for sure what the situation will be in Detroit.

In weekly leagues, even more saves have gone without a home. I took a look at two of the running staff leagues here at RotoWire, an 18-team keeper league, aptly titled "Staff Keeper," and a 14-team redraft league titled "Staff League 2." Even with 18 teams, Staff Keeper is behind the save efficiency – the rate at which saves are converted into the standings by the league – of my daily league, with just 223 saves (82.0%) credited to owners. In Staff League 2, that number dives further to 209 converted saves, or 76.8% save efficiency.

This has been a significantly different environment for closers than we've seen in recent years, but fantasy players adapt and survive. Right? Well, there's only so much we can do, and at least in these two weekly leagues, save efficiency is well below its normal levels: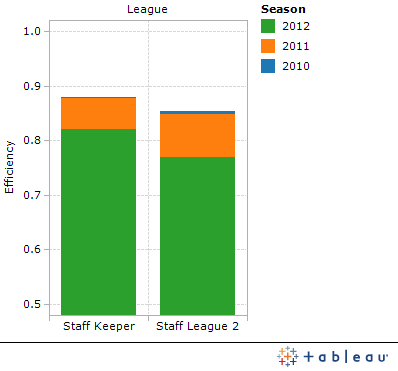 These two leagues were in the mid-to-upper 80s in save efficiency over the last two years before going down in flames along with half the league's closers this season. This has allowed a few pitchers to really separate themselves from the pack when it comes to relief value – specifically, Fernando Rodney, Jim Johnson, Craig Kimbrel, Chris Perez and Jonathan Papelbon have all reached double-digits, and as such all five rank in the top-125 players overall on Yahoo.

As such, whereas other owners may have had to devote three, four or five spots to closers in order to compete in saves, those who have had two of these players have found themselves in a good spot in the category, allowing them plenty of freedom to employ other tactics besides just loading up on closers. For example, they can employ the rate buzzsaw that is Aroldis Chapman (15.71 K/9, 0.00 ERA, 0.60 WHIP in 18.1 innings). Or they can take a chance on a guy like Addison Reed or Kenley Jansen who, until the last couple weeks were just high-quality middle relievers.

Either way, the result has been a dramatic shift in reliever value from where we expected it to be coming into the season. According to our new in-season dollar value tool, only 11 Opening Day closers have been worth a positive dollar value, and just six have been worth more than $1. Check the list:

Jim Johnson $10
Craig Kimbrel $7
Jonathan Papelbon $5
Jason Motte $5
Rafael Betancourt $4
Chris Perez $3
Javy Guerra $1
Brett Myers $1
Jonathan Broxton $1
Joel Hanrahan $1
Brandon League $1

Johnson, Myers and Broxton were the type of relievers who could be had for extremely cheap in early drafts or auctions, as they were formerly in unstable situations. Although Myers is likely to be traded (and Broxton could be as well), all three have performed well enough in their roles to quell talks of a usurping for now.

These aren't the only relievers to add value this year – ten other relief pitchers have earned a positive dollar value so far:

Fernando Rodney $16
Aroldis Chapman $11
Pedro Strop $8
Kenley Jansen $8
Logan Ondrusek $5
Wilton Lopez $4
Robbie Ross $3 Alexi Ogando $3 Darren O'Day $3 Henry Rodriguez $2

Rodney, Jansen and Rodriguez have been the most productive of the crew of closer replacements. Ondrusek, Strop and Lopez have been the classic beneficiaries of early-season circumstances, getting odd save opportunities (due to ineffectiveness or hospital-grade flu symptoms) or just lucking into wins like Lopez, O'Day and Ross. Chapman has seen Jonny Venters and raised the stakes of what it means to be the ultimate middle relief value (and picked up some wins of his own along the way).

Relievers have never been a particularly trustworthy breed, but this year has taken things to a completely new level. Will things get better? In a few of these cases – Jansen as the best example – we have a very good idea of who will close for the rest of the year. But in many others, injuries continue to wreak havoc, and logjams could be created by trades and players returning from injuries.

The lesson? Although individual closers can be extremely valuable, it is a population with the highest variance of any in fantasy baseball. We are forced to make bets on closers every single season, however, as we are held slave to the save. Just know that things can change any minute, and be ready to pounce when the next value shows its face.