I had all intentions of making this piece about how I love what
Derek Holland
is doing this season but
Scott Kazmir
went and screwed that up with his most recent start. Kazmir's start against Oakland on Thursday was something straight out of a time machine because it reminded me a lot of what I would see from him in most starts when he was with Tampa Bay. Apparently I was not the only one:
When last we saw Kazmir before this season, he started just one game for the Angels before they pulled the plug on him and he vanished from the major league scene. From that point until camp this season, Kazmir had done everything from pitch for the Sugarland Skeeters to work on the television sets in Hollywood. There were reports out of camp that Kazmir was looking like his old self, but it wasn't until Thursday that we actually saw the old Kazmir without some of his old flaws.
Things started going south for Kazmir in 2008 early when he had a scare that spring with a forearm strain. The Rays were still confident enough in his abilities to sign him to a three-year contract extension that same month but Kazmir really never looked like his old self that season. His fastball was missing its zip, his slider was almost non-existent, and he became a two-pitch pitcher who had trouble putting hitters away for the first time in his career. His last start with the Rays was a 10 strikeout gem against Toronto just two days before the Angels made the trade to acquire him. Until yesterday, that had been the last time Kazmir struck out 10 hitters in a major league game.
As a fan of Kazmir throughout the years, he simply became unwatchable when on the mound in late 2010 and by 2011, looked done. Until yesterday, there were some good and bad things with Kazmir in his 2013 starts. On the plus side, he was once again throwing over 90 mph with regularity, up to 94 at times. On the bad side, he was still rather inefficient with his pitches averaging nearly 20 pitches per inning which always kept him from working too deeply into games. Yesterday, not only was he efficient (compared to his other 2013 starts), but he actually pulled a
Justin Verlander
and got stronger within the contest. This is his velocity chart from yesterday's start from BrooksBaseball: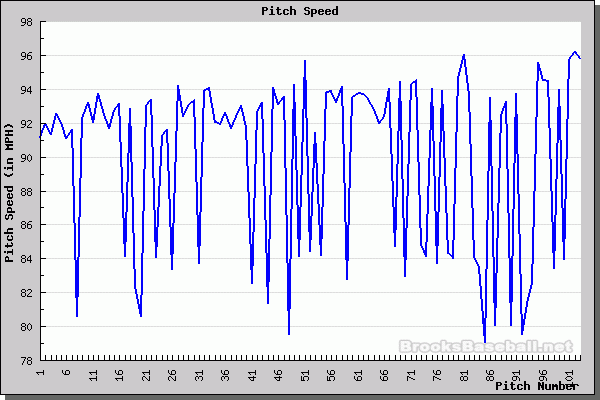 As impressive as that is, the fact he had 19 swings and misses yesterday, 13 of which came off fastballs, was eye-popping. This is what Kazmir's swing-and-miss percentages look like by pitch from 2007 to this season (data via BrooksBaseball):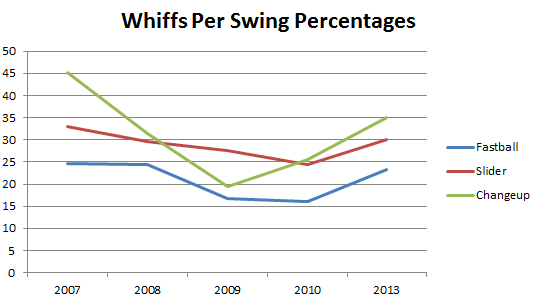 It is worth noting that the A's had a lineup that looked a lot like a split-squad lineup yesterday. That may have allowed Kazmir to pitch with more confidence in the strike zone than before, but that does not damper the excitement of seeing what was considered a wild card project throwing 96 mph in the sixth inning after 100 pitches. Just look at his average fastball velocity trend before disappearing and where it is now in his 2013 resurrection.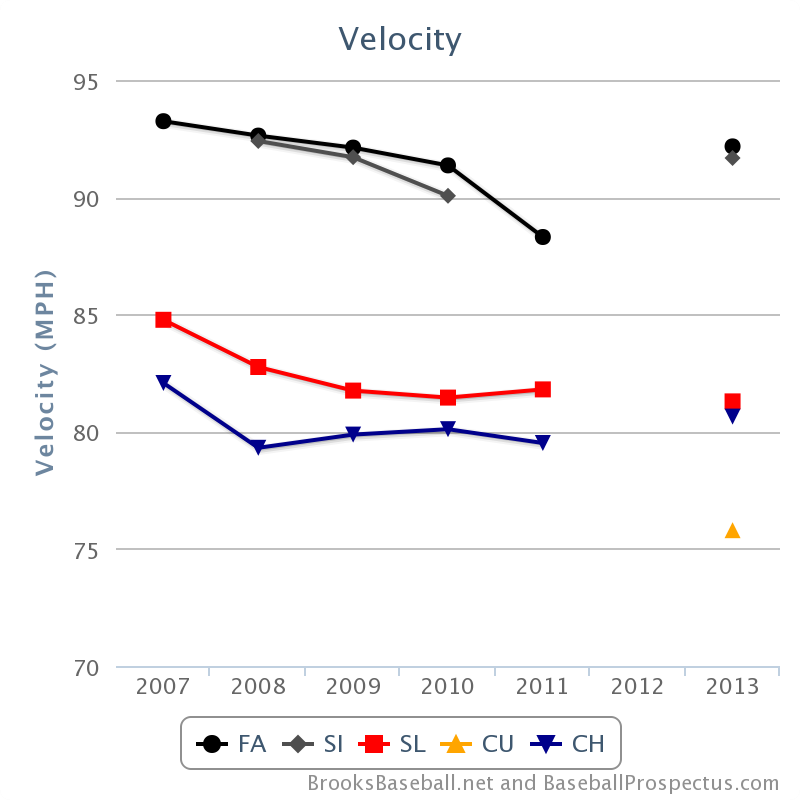 Kazmir needs the velocity to make his other pitches work so that he has enough separation on his fastball and changeup to get hitters to swing over the top of it. The increased velocity comes from some tweaks to his mechanics; his overall delivery does not look much different than it ever has. What I see when watching him now is better posture throughout his windup and a better finish so he gets out over top of his front foot and can really drive the ball toward the plate. This is what Kazmir's numbers look like in 2013 compared to the dark years of 2009-2011:
| | | | | | |
| --- | --- | --- | --- | --- | --- |
| SPLIT | K% | BB% | IN PLAY% | MISS% | STR% |
| 2009-11 | 15.60% | 10.50% | 39.80% | 19.40% | 61.80% |
| 2013 | 28.40% | 6.80% | 29.50% | 25.90% | 65.80% |
He has shown me enough stuff so far that I think he has a role with the Indians all season, in some capacity. The positive production is very nice to see even if he has yet to have a start without allowing a home run. Through four starts, he has not faced more than 23 batters in a single game so as you watch him pitch, remember that he has yet to turn through a lineup three times this season and has not done so since July of 2010.
There absolutely has to be some concern for a guy that has pitched so infrequently over the past two seasons about holding up over the long haul of the season. His first start in 2013 was the first time he had taken the mound since his one and done appearance in 2011 and it too was an ugly one. Since then, 21 strikeouts, three walks, and 15 hits in 17 innings. That'll do, Kid K, that'll do.