Zombies are all the rage these days. There are plenty of zombie-related television shows and movies for one to view and a few popular zombie apps on phones for people to enjoy playing. I am so cool that I do not know the names of any of them! It is fitting that zombies are in style now because they are certainly all the rage in fantasy baseball in 2013.
Matthew Berry and Nate Ravitz have been using the term, "Fantasy Zombie," as long as I can remember on the ESPN fantasy podcasts. A fantasy zombie
is defined
as, "a guy left for dead who has somehow risen from the grave to actually have real, legit fantasy value again." We have a few examples of that happening in 2013 at the quarter-way point as
James Loney
leads baseball in batting average with a .367 average while slugging .542.
John Buck
already has 10 home runs,
Mark Reynolds
has one-upped him, while
David DeJesus
has a higher slugging percentage than
Albert Pujols
and
Josh Hamilton
.
On the pitching side of the ledger,
Ryan Dempster
has the third-highest K/9 in baseball,
Kevin Slowey
has a lower ERA than
Jon Lester
,
Cliff Lee
, or
Stephen Strasburg
.
Jeremy Guthrie
has more wins than
Justin Verlander
or
Chris Sale
, and
Scott Kazmir
is hitting 96 miles an hour on the radar and partying like it is 2008 all over again.
That said, the leader of the fantasy zombies in 2013 has to be
Vernon Wells
. Wells was dead, and buried under the 50 feet of crap that was his fantasy production from the previous two seasons with the Angels and when the Yankees traded for him, pundits (raises hand) and Yankee haters everywhere pulled oblique muscles laughing heartily at the acquisition. Wells is currently hitting .295/.354/.527 this season with 10 home runs, 21 runs scored, 23 runs driven in, and has stolen four bases.
How does a guy go from the fantasy grave to the fantasy pedestal so quickly?
At a skills level, there are a few things Wells is doing differently from the last two seasons. Here is how his 2011-2012 numbers stack up against what he is doing so far in 2013:
SPLIT
K%
BB%
SW%
MISS%
CHASE%
11-'12
15.30%
4.50%
48.90%
19.30%
32.90%
2013
13.70%
8.70%
50.20%
22.90%
33.70%
The most notable difference is the walk rate as Wells has nearly doubled it since joining the Yankees. Yet, he is swinging a bit more frequently as well as missing more frequently on those pitches despite striking out fewer times overall. It is not like the American League does not know how to pitch to him as he has been in the league his entire career and the same pitchers that got him out with ease the past two seasons are suddenly struggling to get him out. In terms of the types of pitches he is seeing, the league is throwing him the same mixture this season as they did over the previous two. Even the pitch location has not changed that much as the goal still appears to elevate pitches on him and get above his swing plane.
Here is how the batted ball outcomes look for Wells in the same timeframe:
SPLIT
GB%
LD%
FB%
HR/FB
11-'12
40.40%
13.80%
45.90%
12.20%
2013
37.90%
20.20%
41.90%
18.20%
The line drive rate speaks to how well Wells is hitting the ball this season compared to the previous two seasons. Additionally, Wells is not as pull happy this season and is using right field more than he was, which is a great thing considering his new home ballpark. After all, he is moving from a pitcher park in Anaheim to a hitter haven in New York. Compare his spray charts below: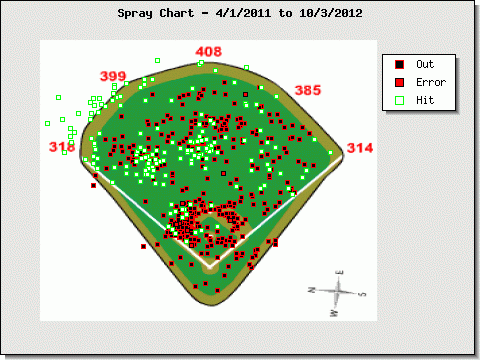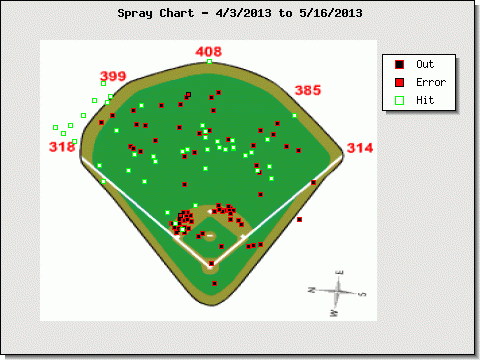 Overall, Wells has hit balls the opposite way six percentage points more this season than he had in the previous two seasons. This is a deliberate change that
he discussed
with MLB.com's Richard Justice late in spring training:
Wells studied hours of video to compare his swing from the last couple of seasons against his best seasons. He immediately saw the difference.

"You get caught up in hitting home runs and seeing how far you can hit 'em and your swing changes," Wells said Tuesday afternoon as he prepared to play his first Spring Training game for the Yankees.

And that was the focus of Wells' offseason. To shorten his swing. To hit the ball to right field. To stop worrying about home runs.

"It was a time to kind of reflect on a lot of things and digest a lot of things that took place over the last couple of years," Wells said. "When I saw my contact point over the last couple of years, I was far too out in front. Everything through the course of the offseason was hitting the right side of the cage. Doing that will allow me to still use that field with authority."
Compare these two video clips - do these look like the same player?
Three things stand out when reviewing those clips (if you use Chrome as your browser, downloading
GIF Scrubber
makes this MUCH easier), his pre-pitch movement and what his hands are doing as the pitch is released. In the first clip against
Justin Verlander
, note the amount of pre-pitch movement he has at the plate versus what he did against
Hisashi Iwakuma
earlier this week. Secondly, you'll notice a slight hitch in 2012 as he drops his hands just as Verlander is delivering the ball. Thirdly, note that Wells has opened his stance up just a bit this season and how the bat rests flats throughout most of his pre-swing behaviors compared to the gyrations from the previous season. He doubled off Verlander while homering off Iwakuma.
While not worrying about hitting home runs, he is actually hitting home runs and not even taking advantage of the short porch in Yankee Stadium as all of his home runs have either been to left field or dead center. Contracts in baseball are guaranteed money so Wells did not have to do anything if he did not want to, but showed professional pride in his craft and did his own work as well as worked with the hitting whisperer/batting coach Kevin Long to make the necessary changes to bring back his career from the dead.
The sample sizes are still not large enough to legitimize what he is doing so far or to even predict what he will do for the rest of 2013, but there is a noticeable change in process here which is leading to a dramatic change in results of a player who was all but dead to fantasy players.