At the time he was traded for Michael Pineda, the reviews on Jesus Montero were mostly positive.

Jim Bowden had this to say:

Montero should develop into the Mariners' everyday catcher with designated hitter being an unfortunate option if catching does not work. Montero has a huge frame and is going to hit with power. He has a strong arm behind the plate but a slow release. He still needs help with footwork and calling a game, but his bat will play, and in time he should become adequate behind the plate. He has great bat speed, a smooth path to the ball and consistent sweet-spot contact. Montero should become a .300 hitter with 20-25 HR power in the major leagues.

Keith Law had this to say:

Law estimated that Montero has the potential to eventually hit 25-30 home runs a year, a number Law thinks would be even higher if Montero were to play in a park that isn't as hard on right-handed hitters. "If this guy can't hit for power in Safeco, then I don't know if there is a right-handed-hitting prospect who is going to hit for power in Safeco," Law said. While Law thinks Montero may not reach his full power potential right away, he said Montero's "advanced approach at the plate" should translate into a high on-base percentage right away.

Fast forward to May 23rd, and the former can't-miss prospect finds himself in his vehicle driving down Interstate 5 on his way to the Tacoma Rainiers where he will spend some time as a DH and a first baseman and put an end to his catching days. He goes down to Triple-A with .258 career batting average and just a .699 OPS in 732 career plate appearances. Where did it all go wrong?

Jesus Montero's preseason player profile had this to say about the young "catcher":

Montero's final 2012 numbers didn't knock anyone's socks off, but he held his own for the most part as a rookie. He had two primary liabilities at the plate: he struggled against right-handed pitchers (.609 OPS) and he struggled at home (.605 OPS). The latter problem could be taken care of by moving in the Safeco Field fences this year as many of his left-center drives should now fly away, or at least not turn into warning-track outs. The former problem is another story. Montero could not lay off the low-and-away junk righties offered last season, chasing way too often out of the zone. Until he fixes that issue, right-handed pitchers will continue to give him trouble.

In terms of hitting right-handed pitching, Montero actually did that better than he did lefties this season. In 76 plate appearances, Montero hit .225 but had an anemic .615 OPS while striking out 16 times. He hit three home runs, including a 441-foot monster home run off Brad Peacock, but many of his batted balls were either singles or routine flyballs. Montero has a rather unique natural swing as his nitro zone tends to be toward the right-center field gap. In reviewing his batted flyballs, he hit just two of them to left field while everything else went to center field and the other way. When Montero faced lefties, he hit just .167 with a .531 OPS. He had just 10 flyballs against lefties, and only one even challenged the warning track.

Montero's hitting was also better at home than it was on the road. He hit .220 at Safeco with a .670 OPS and just .200 with a .534 OPS on the road. In all, Montero had just five extra-base hits in 110 plate appearances. Some thought that his struggles behind the plate may have affected his numbers at the plate but the splits, albeit in a small sample size, do not play that out. When Montero caught, his career slash line is .281/.325/.447 in 348 plate appearances. Montero had a slash line of just .240/.284/.353 in 380 career plate appearances as a designated hitter.

The strange thing is the league is not pitching him terribly different this season from last year. They are throwing him more fastballs this season, but the frequency of where they are located is essentially the same yet he is doing worse with them. Here are the plate appearance results for Montero against fastballs in 2012 versus 2013:
SPLIT
PA
BA
OPS
SWING%
MISS%
GB%
FB%
2012
247
.282
.768
49%
12%
36%
41%
2013
54
.204
.645
45%
17%
41%
36%
Young hitters will often struggle against off-speed stuff, and while Montero has had his issues with those pitches, he has been able to do absolutely nothing with fastballs either. He is coming up empty much more frequently this season and pounding those pitches into the ground rather than lofting them which speaks to being late and/or tied up with hard stuff. This is not what prognosticators had in mind when they were projecting him as a middle of the order bat for years to come.
The video tape shows a couple of things that Montero is doing differently in 2013 from last season. Last season, his squat was more pronounced at the plate while his hands and bat had a lower starting position. This season, Montero is more upright, and he has moved the starting position of both his bat as well as his hands.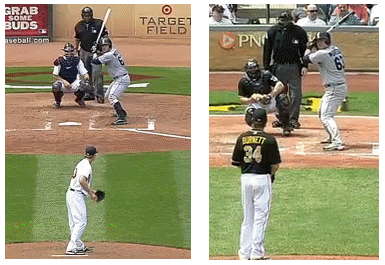 In animated form, the 2012 crouch (top) is more pronounced as the plate appearance develops and never shows up in 2013 (bottom).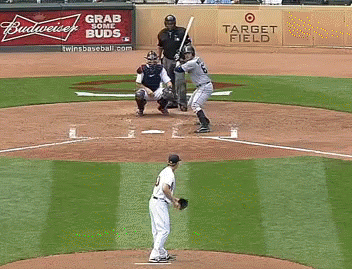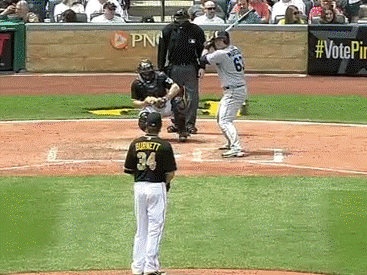 One other thing that stands out to me is when Montero is starting his trigger. Last season, even though it was a routine flyball against Minnesota, Montero's front foot does not come up until the pitcher's front foot has nearly struck the ground and the pitcher is about 50 percent into his rotation to home plate. This season, in the at-bat against
A.J. Burnett
, his front foot is coming off the ground just after Burnett starts his rotational process to the plate and is back down on the ground nearly at the same time Burnett's lead foot revisits the mound.

Lastly, the bat wrap. Unless you use GifScrubber, you can't slow down the animations above but review them again. This time, focus on the 2013 plate appearance and notice the angle of the bat over his head just before he opens up to the ball to swing at it. If it is still too quick for you, this is what I am talking about: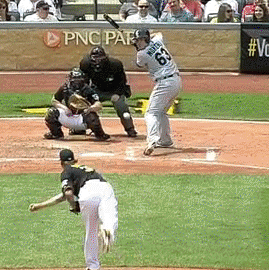 Yes, he did hit a home run off this pitch, which is more a testament to his raw power than anything mechanical because this was far from a textbook. This was a fastball that was supposed to be away that drafted middle-in and Montero hit it out with a 1-iron type swing. In short, I firmly believe he is fixable, but the Mariners simply can't give him enough playing time at the majors to get it done. Sending him back down to the minors and letting him work with the instructors there and rebuild his confidence is the right thing to do.
If you own him in a reset league, it is almost safe to say that he will not be back up with the team until either roster expansion time in September or an injury before then. They want him to play some first base and DH in the minors, and unless
Kendrys Morales
or
Justin Smoak
are moved or injured in the next few months, Montero is better off getting regular plate appearances to work out his issues over riding the bench. I feel your pain as I spent $17 on him in AL Tout Wars. If you are in a dynasty league, you can work to acquire him or stash him because he still maintains his catcher eligibility for the 2014 season as he has caught 26 games in 2013.