If it seems as if baseball is off to a slow start this season, you are right. Baseball has had a lot of fun stories this year from surprise teams to amazing months from players such as Justin Upton in April, Domonic Brown in May, and Miguel Cabrera and Chris Davis all season. Yet, something is lacking so far, and that is the stolen base.

Most teams are 61 games into the 2013 season, and baseball has seen 964 bases stolen so far. That total is the lowest over the past five seasons

2009: 1178 steals
2010: 1127 steals
2011: 1248 steals
2012: 1189 steals
2013: 964 steals
This topic was discussed last month over at Baseball Prospectus by Sam Miller. He had asked the internal listserv for reasons why steals were down and all of us debated reasons why, none of which held up much in the face of
the research
Miller did. There was no shift in league-wide philosophy, it was not the cold weather, nor was it a lack of speedy players. The fact remained, steals were WAY down in April.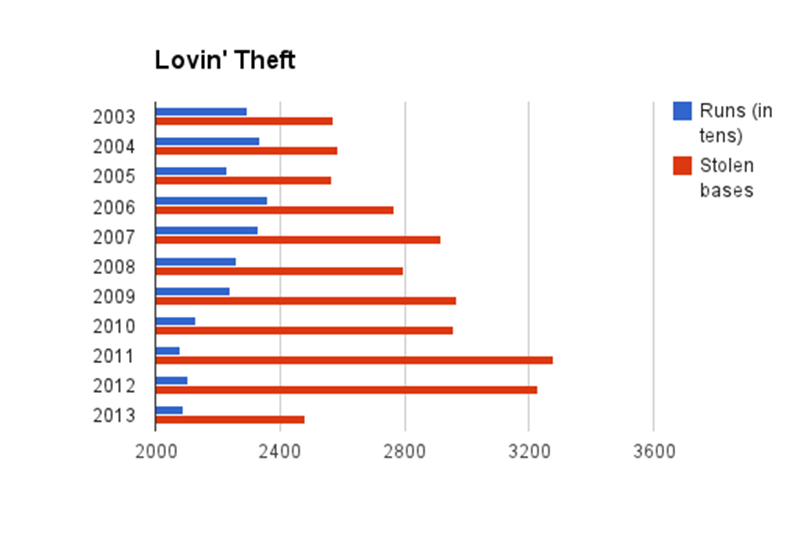 Consider that in 1980, the top ten individual stolen base totals added up to 745 steals, with three players -- Rickey Henderson, Ron LeFlore, and Omar Moreno -- each stealing at least 95 bases. That number may not be reached by at least one-third of the league in 2013.
Everth Cabrera
leads baseball with 26 stolen bases in 2013 at the start of play on June 7th. That individual total is higher than the collective efforts of ten major league teams: the Reds, Cardinals, Braves, Tigers, Diamondbacks, Twins, Mariners, Mets, Angels, and Nationals. That is why Cabrera's value is sky high this season. He is currently ranked 7th overall in the ESPN Player Rater and Rudy Gamble of Razzball.com
tweeted at me
today to tell me he has Cabrera's current value at $43 in 12-team NL-only leagues.
In an NL-only league, Cabrera owns six percent of all steals in the league. If you were to have rostered he and someone like
Juan Pierre
, you would have nine percent of all steals in the National League in your pocket. Scott Wilderman is one of the 12 owners in the NL Tout Wars league. He drafted Cabrera as well as
Starling Marte
and
Ben Revere
; Wilderman has 27 more stolen bases than any other team in the league with those three players doing all of the heavy lifting. At this point in the season, he could trade away any one of them for help in another category and still finish at or near the top in stolen bases by season's end.
On the American League side of the ledger, you have
Nate McLouth
. McLouth's stole 23 bases in 152 games in 2008 to set a career high. Friday night, he takes the field to play his 53rd game of the 2013 season and is just three steals away from eclipsing his career high. In McLouth's case, he is taking advantage of the opportunity to run as much as possible. Baseball-Reference.com tells us that McLouth has been on first or second base with the next base unoccupied 91 times this season. He has attempted 22 stolen bases, being caught just once all season. Compare that to someone such as
Austin Jackson
, who has attempted just five steals in the same number of situations, or
Lorenzo Cain
who has attempted just 12 in 92 chances.
The pace that Miller calculated in late April has not improved much. At the current rate, the league will produce 2560 steals by season's end. That total would be the lowest in the last ten seasons by approximately 200 stolen bases, and around a 20 percent reduction from last season's total. If you own one of the speedy players in 2013, you have every right to demand a premium price for their services as steals are a scarce commodity. If you have a team that is struggling in steals, you may consider punting the category and maxing out your other areas because it will be tough to make up ground if you are already in a deep hole.
I will be on the RotoWire radio show on SiriusXM Fantasy tomorrow at 5pm ET tomorrow to talk about this topic and other fantasy topics. Tune in!