This may not be the first time I have brought it up, but I was definitely on board with Ron Shandler's argument that Mike Trout's 2013 campaign would be a step back. The "regression to what?" question seemed like a fair one to ask, and a well-reasoned argument focused on the historical norms of players Trout's age were enough to keep me away from him in draft and auction formats where he would require a top-three pick, or command the highest bid in the player pool.

Five months later, plenty of intelligent people are rightfully debating the possibility of the now 22-year-old outfielder becoming the greatest player of all-time.

In this day and age, where the quality of the content on the airwaves and screens around us is trumped by editorial decision-making designed solely to generate revenue with click-inducing headlines and claims that will send viewers to their smartphones to fire off their rebuttals, it easy to pass over debates of Trout's greatness.

Sensationalization numbs our minds in a way that keeps us from being impressed or surprised by anything.

The leaderboards at FanGraphs are an excellent resource of slicing up data in different ways, but there is one very clear indicator of Trout's greatness.

Over the past calendar year, a span that has included 163 games played mostly at age-21, Trout has checked in with a 10.4 WAR. There are a few ways to frame what that means, but let's take a quick look back at the leaders among hitters in that category over the past five seasons.

2012

1. Mike Trout (10.0)
2. Robinson Cano (7.8)
3. Buster Posey (7.7)
4. Ryan Braun (7.6)
5. David Wright (7.4)

2011

1. Jacoby Ellsbury (9.1)
2. Matt Kemp (8.4)
3. Jose Bautista (7.7)
4. Dustin Pedroia (7.6)
5. Ian Kinsler (7.3)

2010

1. Josh Hamilton (8.4)
2. Evan Longoria (7.6)
3. Carl Crawford (7.4)
4. Albert Pujols (7.0)
T-5. Joey Votto and Ryan Zimmerman (6.8)

2009

1. Albert Pujols (8.7)
2. Ben Zobrist (8.5)
3. Chase Utley (8.0)
4. Joe Mauer (7.7)
5. Evan Longoria (7.5)

2008

1. Albert Pujols (8.6)
2. Chase Utley (8.0)
3. Lance Berkman (7.6)
T-4. Carlos Beltran, Grady Sizemore, Hanley Ramirez and Chipper Jones (7.2)

Aside from a few of the surprises littered throughout the top-five (Ben Zobrist in 2009!), that Trout's 2012 was nearly a full win better than Jacoby Ellsbury's outstanding 2011 season is very impressive.

Miguel Cabrera (who ranked seventh in 2012 at 6.9 WAR), has been raking to the tune of a .353/.440/.658 line over the past calendar year, but he's still nearly a win-and-a-half below Trout during that span, despite nearly a two-win gap between Cabrera and Adrian Beltre, who ranks third at 7.2 WAR.

Perhaps the better way to appreciate Trout's achievements to this point are to put them in a more historical context. Using the Play Index at Baseball Reference, I searched for other players since 1901 that have hit .300 or better, with 50 or more home runs and 75 or more steals over their first three big league seasons.

Trout was the only player to meet that criteria at .317 with 55 homers and 77 steals to this point – and he still has seven weeks left to better those totals.

Lowering the thresholds to a .280 average with 40 homers and 50 steals over the first three seasons of a big league career, we get 13 additional players to join the group: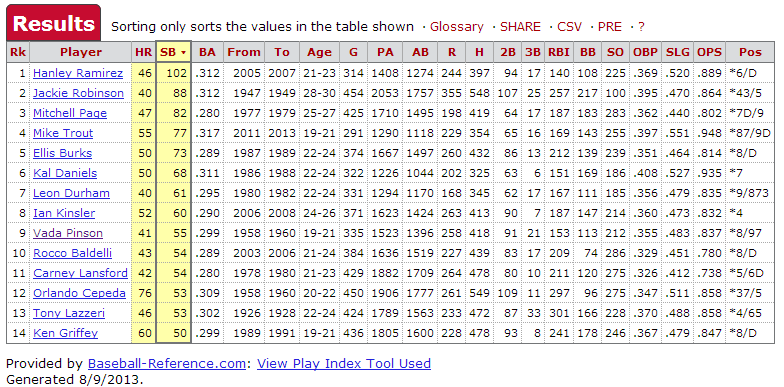 There's no shortage of good company on that list, and note that only Vada Pinson and Ken Griffey Jr. reached those levels at Trout's age range (19-21).

Hands down, Trout should be the consensus first overall pick in 2014. Unless you are buying into a repeat performance from Cabrera or Chris Davis. Perhaps the 49-for-54 mark that Trout posted as a basestealer in 2012 will go down as the best season he ever has in that particular category, but increasing power and improved plate discipline with the possibility of a healthier Albert Pujols behind him in the order can only improve Trout's counting stats.

For what it's worth, Davis' past year is currently a .300/.372/.658 line with 56 homers, 136 RBI and 110 runs scored despite a 29.5% strikeout rate.

There are plenty of other numbers since early-August of last year that should get our attention:

Alfonso Soriano ranks 10th with 32 home runs. Surprisingly, he's also picked up 14 stolen bases. By comparison, Mark Trumbo has hit 29 homers while driving in fewer runs (93), scoring fewer runs (74) – and without running (two steals). Both players carry sub-.300 on-base percentages, while Soriano's advanced age will likely jeopardize is playing time going forward. Nevertheless, he has likely returned significant profit for those who picked him up as a cheap outfield filler.

Edwin Encarnacion's plate discipline has become elite. In addition to walking (13.3%) more frequently than he strikes out (11.4%), he has taken advantage of his opportunity in the heart of a potent Toronto lineup and rankings behind only Davis and Cabrera in homers (43) and RBI (125). Even though he only steals bases occasionally, the artist formerly known as E-5 looks like a top-10 player for 2014 despite a .276 average. Consider that the league-wide drop in that category (.253) and the number of players available later capable of contributing more on that front.

Billy Butler highlights the way a good hitter doesn't necessarily have to be a good power hitter. With 17 homers over his last 678 plate appearances, the 29 taters served up by Country Breakfast in 2012 are destined to be an outlier. After a surge in his HR/FB from 10.4% in 2011 to 19.9% in 2012, Butler's HR/FB mark this season (11.2%) is nearly identical to his career mark (11.3%). Combine that with an increase to his already-high groundball rate (51.4%), and it's easy to see why Butler is on pace to top out at 15 homers by season's end.

Keep a very close eye on the destination of Kendrys Morales in free agency this winter. With a .292/.344/.502 line, 27 homers, 90 RBI and 74 runs scored, it's almost a certainty that his 2014 value will exceed his ADP. His ISO has dipped slightly with the move from Anaheim to Seattle (.194 to .185), but a more hitter-friendly home park and/or landing in a better lineup could increase his production across the board.

Bryce Harper's ISO (.270) ranks fourth behind Davis, Cabrera and Encarnacion, and the various injuries he's dealt with have chipped away at his counting stats.

With a .284/.363/.554 mark, 29 homers, 67 RBI, 87 runs scored and 11 steals in 127 games, Harper's counting stats would increase to 37 homers, 85 RBI, 111 runs scored and 14 swipes over a full complement of 162 games.

Everth Cabrera had 62 stolen bases over his last 141 games, by far the most in baseball over the past year. Currently serving a 50-game suspension for his admitted use of PEDs, it would hardly be surprising if the market on draft day overcorrected for those transgressions and overlooked the elite speed he offers at a premium position, along with a steady .348 OBP. The Padres have a strong farm system, but lack a shortstop on the organizational depth chart primed to push Cabrera for his job next season barring a trade or free-agent addition.

Player A: 9.5 K/9, 3.0 BB/9, (or 25.2% K%, 8.0% BB%), 3.28 xFIP
Player B: 8.9 K/9, 3.1 BB/9, (or 23.2% K%, 8.0% BB%), 3.63 xFIP

The answers will be posted below.

Corey Kluber was nowhere near my radar going into this season, and his injury may ultimately become a big factor in the Indians' eventual slide away from the Tigers in the Central. With any pitching breakout, one of the first numbers to check out is the xFIP. Kluber ranks 14th among qualified starters with a 3.25 mark over the past year (his ERA is 3.97 during that span). Expected to miss the next four-to-six weeks with a sprained finger, his absence may suppress his draft day cost next spring, but his skills are very good including a 22.3% strikeout rate (equal to Adam Wainwright) and 5.5% walk rate (lower than that of Max Scherzer).

No qualified starters has a lower LOB% than Edwin Jackson (61.3%) during the past year. Not surprisingly, he has significantly underperformed his 3.49 xFIP with a 5.00 ERA. The skills otherwise point to a rebound, but further study of Jackson's work from the stretch with runners on base is necessary to determine if it's entirely bad luck, or if he simply becomes a different pitcher mechanically in those situations.

The Twins are highly unlikely to move Glen Perkins because of his team-friendly contract, but figuring out the plans in Minnesota in the event of a Perkins injury has always been a mystery. Casey Fien has fanned a greater percentage of the batters he's faced (27.9%) than Sergio Romo (27.3%), Rex Brothers (25.1%) and Addison Reed (25.1%) – three very dominant closers. With a cutter that he's thrown 45.5% of the time this season, Fien has jumped his swinging-strike rate from 9.4% last season to 13.9% in 2013 – tying him for 15th among qualified relievers.

From the A/B above...

Player A: Jeff Samardzija
Player B: Justin Verlander

In case you missed it, we have a new RotoWire baseball podcast called Short Hops that I host with Bernie Pleskoff. You can check out the latest (second) episode here and subscribe via iTunes.

Have a question you would like to hear answered on the podcast? Fire it my way @DerekVanRiper.