The beautiful thing about fantasy baseball is there really is no offseason. As the real baseball ends, you start preparing for the next season. Some leagues have their own version of winter meetings, and the industry has offseason events to help you prepare for the next season. Jeff and myself will be heading out to Arizona at the end of the month for the First Pitch Forums hosted by BaseballHQ for the umpteenth consecutive year. I am once again looking forward to participating on the pitching panel and teaming up with my buddies Paul Sporer and Eno Sarris to review new ways to evaluate pitchers in fantasy baseball.

An active offseason also means trades between owners as fantasy players try to pare down their keeper lists. Players are traded because they are too young, too old, too expensive, too injured, or any other excuse someone will use to talk themselves into or out of a player. The same player that you loved as he helped win you money suddenly looks different when you give that player a once-over statistically. Conversely, someone you considered trash during the season and refused to pick up or dumped off on some other sucker becomes your new precious that you must have. In short, fantasy players are no different than compulsive car buyers who love their car until they drive by something else they like better.

The 2013 postseason is over halfway over, but I am already getting electronic communications from friends. The most recent one was from a friend who plays in a NL-only league that uses OBP instead of batting average (I wish my leagues did that) who is sitting on a $28 Jayson Werth. Someone asked for him in a trade and my gut reaction was to do it.

There is a lot to like about Werth, with his magnificent facial hair at the top of the list. After all, can you believe these two pictures are of the same person? Talk about a career transformation!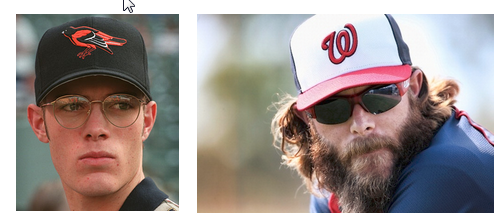 The last five seasons have involved most of Werth's career bests and worsts. In 2009, he had a career-high 36 home runs as well as a 14 percent walk rate. In 2010, he eclipsed the .900 OPS barrier for the first time in his career in a prototypical walk year heading into free agency. In 2011, he hit a career-worst .232 trying to justify the seven-year, $126 million contract the Nationals had given him in every swing he took. He struck out a career-worst 160 times and his .330 OBP was 33 points lower than any of his other full-season efforts. Then, his 2012 was spoiled by a wrist injury that sapped his power upon his return as he hit just five home runs that season after four consecutive seasons of 20-plus home runs.

In terms of regression drafting, Werth was a primary draft target in 2013 because only injury and the first-year free agency curse had derailed what had been a rather productive career. That said, the injury and the poor production made me turn my nose up when Paul Sporer IM'd me on LABR draft night telling me he had selected Werth in the eighth round of our 15-team mixed league. Oops.

Werth finished 2013 with the highest batting average and slugging percentage of his career as well as a full-season low strikeout total. His comeback was a combination of health, skill retention, and skill improvement. The first thing that should be focused on is dispelling something you're going to see in a lot of quick analysis this offseason: his batting average on balls in play.

Werth hit a career high .318 in a season where he had a career high .358 BABIP in a season where the league had a collective .297 BABIP. You will see a lot of, "his BABIP will regress to the mean and that batting average will come down," and you should treat that advice like your siblings treat you when you lecture them about the good old days. Werth himself has a .328 BABIP over the past five seasons, and it is only that low because of the .286 in the year he wasn't healthy. In three of the past four seasons, his BABIP has been over .350 because he hits the ball HARD. He has never had a full-season BABIP lower than .304. Players can create their own norms, but they are still not immune to randomness. That said, the only time Werth was below league average was when he was recovering from an injury.

Overall, Werth's skill set at the plate is incredibly stable, which is what normally happens for players from ages 30-34. The skills have developed and now it is a matter of maintaining them as long as possible. We see more random fluctuation in statistics in the 20's as cream rises to the top and then we are left with consistent veterans trying to fight off Father Time. Here is what Werth's skills look like over the past five seasons:





That's stability! The one area of slight variance that Werth's game sees is in his home run to flyball rate. If we ignore the five percent rate from his injury-marred 2012 season, his HR/FB rate has ranged from 12 to 17 percent over the past five seasons. The wrist injury is infamous for sapping power, but Werth is clearly beyond the traumatic injury of 2012.

One reason he is able to maintain his power despite being on the older side is some changes he made in his process. Adam Kilgore of the Washington Post covered this last month as he talked about Werth's journey in recovering from his broken wrist.

Werth began this season at a pedestrian rate. He batted .260/.308/.400 through May 2, at which point he landed on the disabled list and missed a month with a strained hamstring. In mid-June, nine games after he returned, his average bottomed out at .244.

At about that time, he watched Bryce Harper swing in the batting cage. Harper held his hands high, away from his body. Werth pored through old footage and realized, yes, he once started his hands in a similar place — level with his ear rather than armpit level. He made the switch.

"You always want to have your hands come up to come down through the ball," Davey Johnson said. "When he was starting them low, he would bring them up. But sometimes he wasn't comfortable with the position he'd get into when he was bringing them back up. Now he's starting closer to the area where he's going to pull the trigger, and he's really confident his timing is going to be better."

Sure enough, the numbers play out if we split his season in half using June 15th as the mid-point:





Players can go on hot streaks, and that second half is 383 plate appearances worth of fantasy gold.

The battle against Father Time is a battle every baseball player eventually loses, but the ones that make consistent hard contact make that drag that fight out longer than others. Werth has always had the ability to barrel up a baseball and hit it hard. His 2013 will likely be looked back on as the apex of his playing career so his current owners are in the envious position of being able to either maximize his current trade value or enjoy the safety of his consistency as only another injury would lead to a rapid acceleration into has-been land.