In sticking with last week's theme about a baseball insider's view of the Winter Meetings, I have written a column detailing some basic fundamentals of scouting baseball players.

Please note that this column focuses on the very basics of scouting and is not meant to provide anything more than a cursory view. With that being said, the reader with very limited knowledge of scouting baseball players should have ample background to identify different tools and skills after reading this article.

The Body: Angular vs. Square

There are a number of different traits a scout uses to describe a player's body type. For the novice, a good separator is differentiating between an angular body and a square one. This will immediately allow you to identify what sort of projection the body carries. One of the first tasks you should have when arriving at the park to scout is identifying the body. Scouting one's body lays the foundation for a lot of how you will project the player.

An angular body looks like a triangle and creates asymmetrical parts and unusual proportions. This sounds negative but it's actually good to have an angular body. Taijuan Walker is a good example of an angular body. He's tall, lean, and v-shaped with long limbs. He has broad shoulders with a very long torso. His mid-section is very compact and creates leanness throughout his body. Walker, while not your prototypical strong-bodied workhorse body type is oozing with all kinds of projection. His hands are enormous, his legs extend forever and his arms look like "go-go gadget arms." His hands are so big that when he grips a baseball, I have trouble seeing the seams. All of this creates limitless projection and as Walker's body matures and he gets stronger, he'll have plenty of room to add strength to his frame and not lose his flexibility.

There are a lot of examples of square body types but the one that always stands out for me is Matt Holliday. Square body types are usually the strongest looking and come equipped with large shoulders, barrel chests and a straight torso. The arms are usually medium length and while an angular body type is typically "small-boned," the square body type has large bones, creating bigger and sometimes the illusion of a stronger frame. Their uniforms will fit their bodies better whereas an angular body type will sometimes appear looser and less filled out. Tim Lincecum is an angular body and looks like he has no muscle or strength. While he is not a massively strong human being, his biceps are huge and he is "cut" and carries all of the necessary body traits that are useful for a pitcher. Holliday, on the other hand carries all of these square body characteristics and is quite possibly the strongest looking player in the major leagues.

From a projection standpoint, the angular body type is one that should be expected to project well.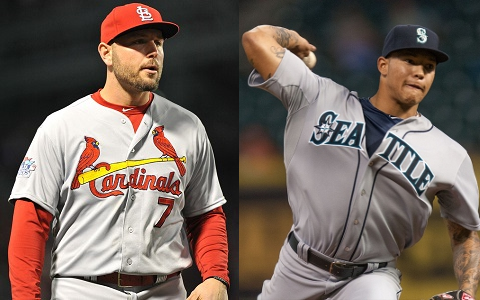 There are other typical body types like Prince Fielder who is circle shaped. It's not a bad body type, however, because he is proportionate throughout and has a strong, athletic lower half that supports his large body. Bartolo Colon is another example of this body type. His body works well too because of his extreme athleticism.

Getting back to Walker, I had the privilege of seeing him a lot as an amateur. He was on the Angels Elite Team run by Steve Hernandez (no relation). The Angels Elite program consists of the best and most talented high school players in southern California. The first time I saw Walker was on a Wednesday night at Angels Stadium in November of 2009. The season had ended, and a few times a year the Elite games would be held at the stadium. I was sitting with Bo Hughes behind home plate, the Angels West Coast scouting supervisor at the time. After spending the previous two seasons as an advance scout I was excited to be getting more involved in the amateur scene. The best amateur pitcher I had ever seen before that night was Brandon Morrow. I caught him at a game when Cal-Berkeley came down to play UC Irvine in 2006. Walker was extremely raw and mechanically flawed, but his body reminded me of Dwight "Doc" Gooden.

I immediately began dreaming on him and was more enthusiastic when about every fifth or sixth pitch everything about his body would line up. He maintained balance, created good drive and was in line to the plate, had a soft landing, the arm was on time and in a good three-quarters slot and he had nice rotational follow through. When the parts were all working his ball would zip out of his hand with great authority and angle to the plate. I was clocking him up to 97 mph, but he was mostly throwing quality strikes in the 92-93 range. Then, and this was when I turned to Bo and gave him the biggest "wow" look I've ever given. Walker snapped off a 12-to-6 bender with hard break, amazing depth and late tilt. To this day, I swear I heard the seams zipping through the strike zone. I didn't see it again but it was enough for me to throw down a Doc Gooden comp. Brandon Morrow would have to move aside.

The Arm

The arm is tough sometimes to distinguish and that is why you will generally see a lot of average grades. There are a lot of players with above average arms but for reasons like throwing mechanics, accuracy and length of release, they are graded out lower. It's great to have a plus arm but if you don't get to the ball quickly, are not accurate or have a long, slow release, it doesn't matter. What good is it to have a great arm if you can't release the ball in a timely manner or can't throw a strike to a base? The best amateur arm I have ever seen is Michael Lorenzen. I saw him in Fullerton, CA when he was still in high school back in 2010. He was playing center field and he threw a ball home that never got higher than five feet off the ground and appeared to rise as it approached home plate. It appeared as though his arm was a sling shot and his effort was very minimal. Raul Mondesi was the best big league arm I have ever seen and he had a similar zip like Lorenzen. Mondesi displayed a bit more effort in his throws because he wasn't as mechanically sound and I believe he did his little two-step to create some Latin flair. Nonetheless, the ball would sling shot out of his hand and like Lorenzen, have a great carry as it approached its destination. When I say good carry, I mean that it appears to be gaining speed towards the end.

You'll know when you've seen a plus arm, but what actually makes it grade out as a plus arm is the accuracy and time it takes to release. When projecting an arm, taking into account mechanics is helpful. If a player has poor mechanics but a strong arm it's probably safe to project a grade higher because if the player corrects his mechanics and lines up his throws better, it will create accuracy and allow for the chance to actually throw a runner out. A helpful tool is to really concentrate on the effort level of a player's throwing mechanics. Take Robinson Cano for instance. When he ranges behind second base and into center field, he is able to whip the ball across his body with pin point accuracy and carry. It almost looks like he is exerting no effort at all on his throws. For me, this is a plus arm and if you put Cano at shortstop or third base his arm would be on full display and we would appreciate it more. Adrian Beltre is another great example. His uncanny ability to throw a ball from his ankles matches what most average arms look like when they are throwing from a normal three-quarters position.

Let's discuss the arm of a pitcher. I am not going to concentrate on arm strength here, but rather a very important factor in determining a pitcher's overall ability. I'll use the Walker example and compare him to Peter Tago. Tago was drafted in the same year as Walker and was also on the Angels Elite team. Tago was drafted four spots behind Walker in the 2010 draft. Tago has more arm strength than Walker, but Walker's arm works better than Tago. It's one of the major reasons why Walker is a big leaguer and why Tago is still stuck in Rookie Ball. Tago has a very long, windmill like arm path. As a hitter, you can see the ball for a very long time. Basically, from the time he breaks his hands from his glove and brings his arm back, his path is wide open to the hitter. This has created a big problem for Tago as even though he throws in the mid-90s there is no deception. Walker, on the other hand has a much quicker, shorter path. He hides the ball behind his ear better and it is so quick that the hitter is left with very little time to track it. Arm strength and velocity is great, but a big separator and why some pitchers have success versus others who don't is the deception and arm path of the pitcher. After you have read some radar gun readings, put the gun down and really concentrate on the path. Try and track the ball as if you were the hitter. Gauge how quick the arm is and you'll be on your way to projecting a pitcher's fastball ability.

There are many, many more distinguishing factors to look for when going to the yard and picking up on a few nuances about a player. The body type is a major one in determining the projection in a player. Seeing arm strength and how well the arm actually works is extremely important. If, in your first look you can walk away with those two elements, you will know a lot about the player. There are devices that you can use that will allow you to gather more intel on a player. The stopwatch and radar gun are obviously great tools. Knowing the body and the arm will be two foundational pieces that will help guide you in how you grade out a player's physical tools by just using your eyes.

I will try and continue this series throughout the winter and add more scouting information to act as a guide for the novice.