This week, two of the more popular top 100 prospect lists were published – the Top 101 from Baseball Prospectus and Keith Law's Top 100 list. Noticeably rare on both lists - prospects that play first base.

BP's list had just one, Jonathan Singleton at 57. Law's list had Dominic Smith from the Mets organization at 37 and Singleton listed at 78. That was it.

A dip in first base prospects is not unusual in reviewing historical data from Baseball America, but since they began publishing a Top 100 list, this is the lowest three-year run for the position.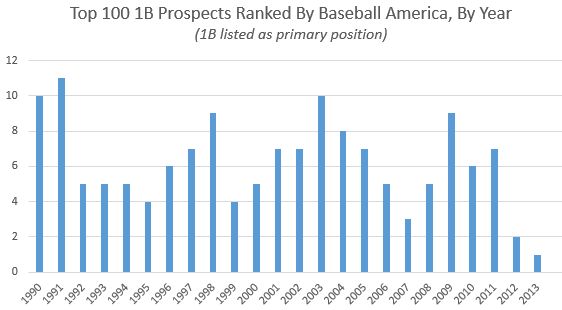 Their 2014 list is not available, but only Jose Abreu and C.J. Cron are ranked higher than fourth in any one organization and Singleton is ranked seventh in the Astros' Top 10 making it unlikely he appears in the final top 100.

Quite frequently, the top 100 prospects that reach the major leagues will do so at a position different from the one they played as a prospect. Adam Jones and B.J. Upton were both drafted, and played in the minors, as shortstops. Paul Konerko was originally a catcher. Players are often shifted on the defensive spectrum when one skill or another does not play well at a certain position. Nate Silver diagrammed this idea from Bill James in 2007 when Silver wrote at Baseball Prospectus.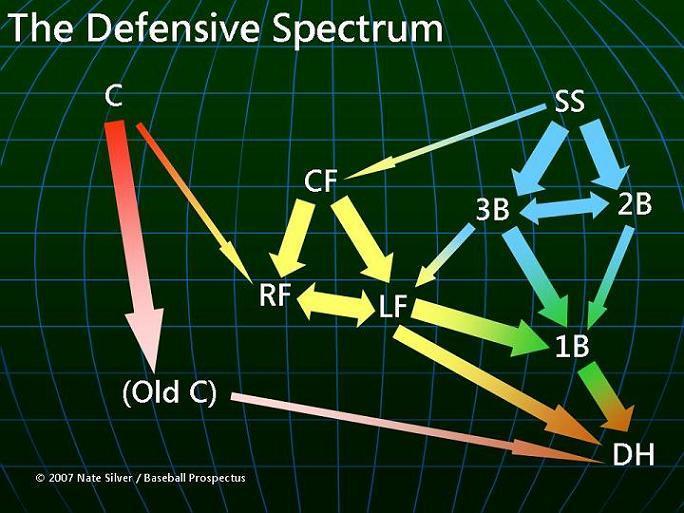 Players can move from any position on the field to first base, before reaching the final destination of being a DH in the American League. This is why organizations tend to wait as long as possible before moving a player to the position. If a guy is too big to play up the middle and lacks foot speed, he becomes a third baseman. If his reactions are too slow or his arm strength is not good enough, he becomes a first baseman.

Some of the players currently labeled as third basemen or outfielders on prospects lists may indeed become first basemen before it is all said and done. Mike Olt, or even Kris Bryant, two prospects within the same organization, could both very well end up elsewhere. Both are considered third basemen, so at least one will have to move off the position. If Javier Baez has to slide over from shortstop, one could end up in left field and the other at first base assuming all three stay in the organization.

This is relevant to fantasy keeper leagues for two reasons. One - any time a player is asked to change their position, it delays their promotion to the big leagues. Rarely can a player just flip a switch and learn how to play a new position. If you ask someone to go from the infield to the outfield, they have to learn how to read flyballs, hit their cutoff men, understand who owns the gaps on plays to those areas, etc. That is something Billy Hamilton had to do once the Reds moved him off of shortstop, and he's still learning the aforementioned aspects of his new position. If you own a prospect and that prospect gets moved to another position, his defensive development at the position will dictate when he is called up and not the immediate need of the big club at the position. Even if that move is to first base, it's not just something you can ask someone to do quickly. I've witnessed teams put a decent young outfielder at first base and put him through a workout that was not easy on the eyes. All development takes time.

Secondly, if you play in a keeper league, the dearth of first base prospects may affect how you tender your long-term contracts at the position in your league. I have played in leagues where someone gave Ryan Howard a five-year extension when it came time to extend his contract. If I owned a young first basemen such as Paul Goldschmidt right now, I might consider doing the same.

In 2009, there were 16 players that played first base at least 50 percent of the time that hit 25 or more home runs. That number last season was just six: Chris Davis, Edwin Encarnacion, Prince Fielder, Paul Goldschmidt, Brandon Moss, and Mark Trumbo. There were just 29 batters in baseball in 2013 that had as many as 25 home runs; that total is 13 fewer than any other season since baseball last expanded. From 1999 to 2001, at least 61 batters had that many homers in a season.

Simply put, power is at a premium in baseball these days, even at a position that is traditionally known for it. If you have one of the young first basemen at the major league level, cherish him, because you have a big step up on the competition and that advantage could be yours for several seasons.