Danny Salazar went for $19 in the AL LABR auction. He went for $17 in the AL Tout Wars auction and went for $16 in the Mixed Tout Wars auction.

To say the Danny Salazar 2014 World Tour is not going well would be a bit of an understatement. Through his first four starts, Salazar is 0-3 with a 7.85 ERA, a 1.96 WHIP. He has stranded just 66% of his baserunners and has a .420 batting average on balls in play. His FIP is 5.70 and his xFIP is 4.12, but even both of those numbers are higher than his owners imagined. This is not a misprint – batters are hitting .347/.409/.627 against him this season over 88 plate appearances.

Salazar has only faced 88 batters, which is only enough to look into his strikeout rate. That is the one area of his game so far that is holding up as he has struck out 26.1% of the batters he has faced. The rest of it is a mess. What is going on here?

Is it a velocity issue?

His velocity is down a tad from where it was last year. Where he averaged 96-98 mph last season, his average fastball velocity through the first four starts has been at 95 miles an hour.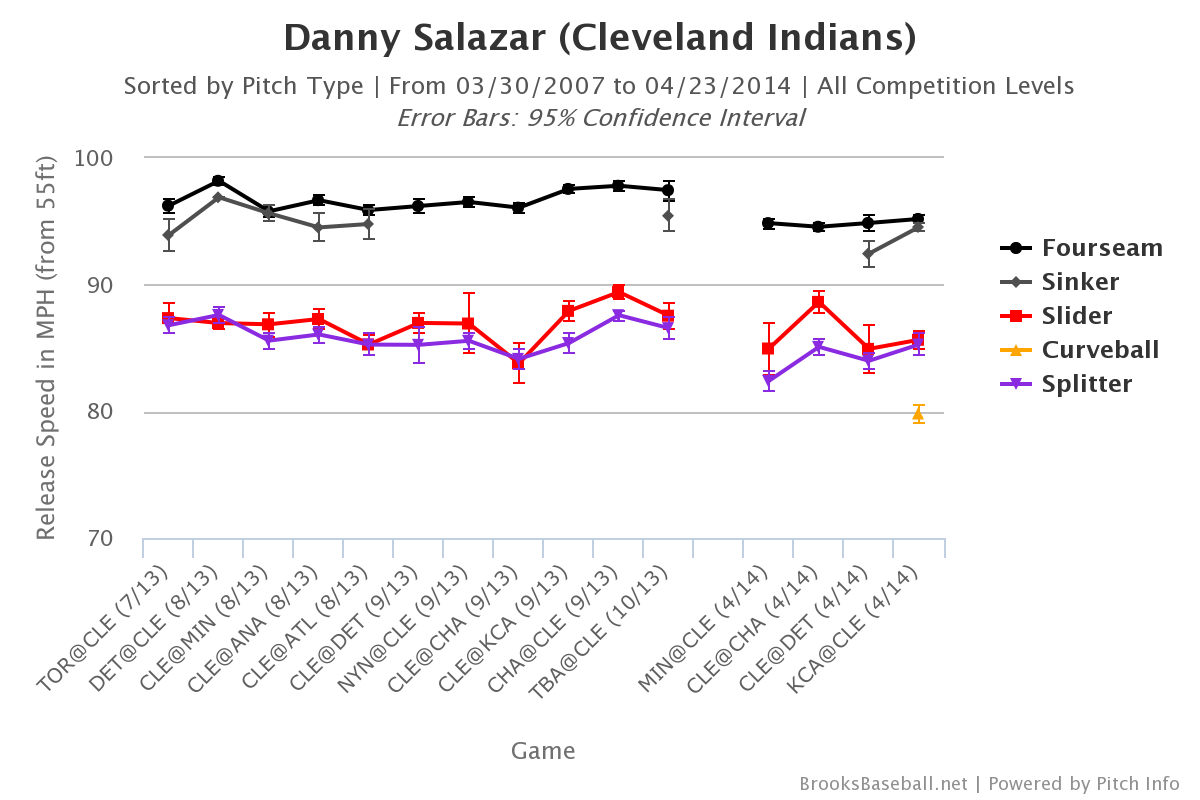 A decrease in velocity would certainly affect performance, but this is certainly not the only thing working against him on the mound.

Is it a mechanical issue?

Salazar is mostly throwing with a higher arm slot this season and has shifted a bit on the mound in terms of where he starts on the pitching rubber. His delivery also looks slightly different. Here he is in the first inning of the Wild Card Game start against Tampa Bay when he blew a fastball by Wil Myers:



Now, here he is earlier this season against Chicago throwing a changeup in a 3-2 count to Dayan Viciedo:



If you click on the animations, you can use the small plus & minus sign in the bottom right corner of the images to slow those down. If you can't, focus on the front leg of his delivery in 2014 compared to 2013. That front leg is remaining more stiff throughout the delivery as it looks like he has altered the length on his stride. He is also showing a cleaner finish to his delivery this season as on that changeup to Viciedo, he was able to get out over that front leg and pull down on that changeup to give it that excellent late fade.

The images below show his release point from both of the animations above. You can see the slightly higher arm slot in the image on the right as well as how Salazar is a little more over his front leg in his delivery than he was in 2013: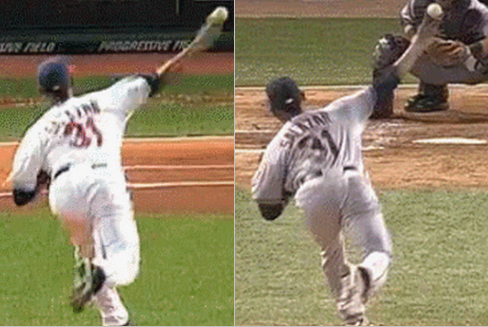 Is it a sequencing issue?

To me, this is one of his biggest problems. The following table shows the percentage of pitches that Salazar throws in specific situations:


| | | | |
| --- | --- | --- | --- |
| SITUATION | FASTBALL% | CHANGEUP% | SLIDER% |
| First Pitch | 81% | 14% | 5% |
| Ahead in Count | 59% | 24% | 17% |
| Even in Count | 73% | 23% | 4% |
| Behind in Count | 93% | 4% | 3% |
When you throw 95+ as Salazar does, you are going to want to use that fastball a lot. Salazar uses that fastball to set up his wipeout changeup and his slider. The problem is, he does not command it very well. The percentage of fastballs he has thrown for strikes this season ranks in the lower 25th percentile, so more often than not, he is behind in the count. When he falls behind, he relies even more heavily on fastballs, and the advanced scouting reports know this. Batters only have to guess location, and not pitch type when they get ahead in the count. The problem is, he has been removing the guesswork on location.
Salazar's player page on ESPN has a Hot Zone tool that allows you to look into where Salazar is working in the strike zone. This is where Salazar is locating his pitches when he is behind in the count and throwing fastballs: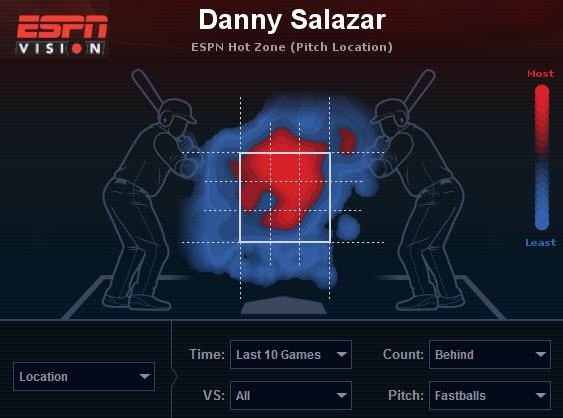 When ahead in the count, batters know what pitch is coming, and where it is going to end up. Compare the outcomes on his fastballs when Salazar is ahead in the count versus when he is behind in the count:
| | | | | | |
| --- | --- | --- | --- | --- | --- |
| SITUATION | AVG | OBP | SLG | BABIP | CHASE% |
| Behind | .615 | .647 | 1.000 | .538 | 19.4% |
| Ahead | .278 | .263 | .333 | .500 | 33.3% |
It does not matter how hard Salazar throws; he is doing the hitters a great benefit by eliminating the guesswork for them when they have the advantage in the count. Veteran pitchers aren't afraid of throwing 3-1 changeups or breaking balls to catch up in the count; Salazar is. When batters gain the advantage in the count, they know they can look fastball and they know where to look for it. The only question is if they time their swing right and can put the ball in play. When Salazar is ahead, batters still have a high BABIP on his fastball, but he also gets them to chase one of every three fastballs out of the zone. When Salazar is behind in the count, the BABIP on his fastball is even higher and batters chase just one of every five fastballs because they have a better idea of where that pitch is going to be.
In Tuesday night's struggles against Kansas City, Salazar threw just 17 non-fastballs. He induced eight swings, got six swings and misses with them, and only one was put into play. That one pitch was a hanging slider to
Mike Moustakas
, arguably the coldest hitter in baseball, which resulted in a three-run home run.
The other issue in play here is exposure. All pitchers suffer statistical degradation with repeated trips through a lineup, but Salazar's are a bit more magnified. This season, he has held batters to a .219/.279/.531 line the first time he sees them, striking out 14 while walking just three. The second time through, that line jumps to .367/.444/.500 with five walks and seven strikeouts. The third time through, it is even higher at .615/.625/1.154 with just two strikeouts and two walks.
More balls in play is not a good thing when pitching for Cleveland as their team defense is off to
a horrible start
this season.
What the Pro Says
I spoke with former big league reliever
Jensen Lewis
last night, who covers the Indians for Fox Sports Ohio and STO, after this particular tweet last night:
Lewis agrees with me that until Salazar starts using his other pitches when he's behind in the count, he will continue to struggle to get batters out. One thing that puzzled Lewis was how Salazar has not followed up the elevated heaters with a deep breaking ball or more changeups. Changing eye levels is an important part to pitching, yet Salazar has chosen to remain mostly elevated in the zone.
Lewis sees a lot of
Trevor Bauer
's struggles from 2012 and 2013 in Salazar this season. As he pointed out, young pitchers tend to fall back on what worked for them previously when they struggle. The fastball is what got Salazar to the big leagues and it's what has kept him there so far. A pitcher with lesser stuff and these results would likely already be on his way back to the minors to work on his approach, but that has not yet happened for Salazar as he fights through his struggles.
Consistency is a big part of his woes, and he is failing to control his pitches and command them in the strike zone. Lewis feels that Salazar's fastball is good enough that he can pitch with it as much as he does IF he also works down in the zone and elevates the offering less frequently.
He also feels that Salazar needs to spend more time watching video of his idol,
Justin Verlander
. Verlander is a pitcher who will throw his secondary pitches to work his way back into the count, move his fastball around the zone, and throw pitches that look like strikes out of the hand but end up out of the zone.
Hitting is all about timing and pitching is all about disrupting that timing. Unpredictability is the best weapon a pitcher has to do that, and Salazar is leaving it in his back pocket. Salazar has the tools to be a very successful major league pitcher, but he needs a realignment to what made him successful last season. The slight decrease in velocity is not as much of a concern as the decrease in his ability to execute and sequence his pitches on a consistent basis.