As April ends, we are still faced with many statistical oddities this season. No player has more than 128 plate appearances and no pitchers has faced more than 177 batters. In terms of sample size, that gives us
enough to stabilize
the strikeout rates and walk rates of some pitchers, but everything else is up in the air. As a result, many of these oddities comprise the engine that is fueling some of the more surprising and disappointing starts to the 2014 season.
BABIP craziness
There are 750 players in the major leagues, I would have given you 749 guesses and you still would not have guessed the current leader in batting average on balls in play.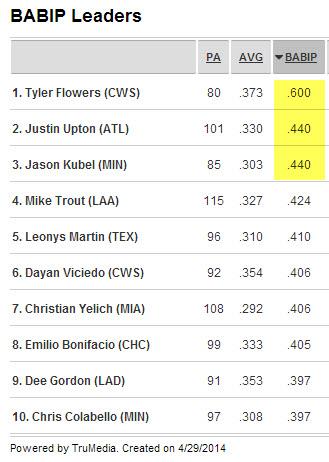 What?? How?? Flowers is 28-for-75 this season and is hitting .373/.412/.440 – all of this while striking out in 36% of his plate appearances. Thus far, 25 of his 28 hits have been singles and he is using all parts of the field for these singles. Even with his 20-foot speed, Flowers has an infield single. This is going to come crashing down as no player can aim the ball this well for this long. If you were uncomfortable with
Chris Johnson
's .394 BABIP last season, then Flowers at .600 should make you downright itchy.
Others on this list should raise eyebrows as well.
Jason Kubel
's batting average on balls in play the past few seasons has been .327, .280, .326, .296, .311, and now .440 this season.
Dayan Viciedo
in his two full seasons has had BABIP's of .286 and .308, and now has a .406 BABIP. Players such as Trout and Upton have established records of high BABIP's because they consistently hit the ball hard; the other names on this list should all be names you are actively trying to deal, or at least are making contingency plans for if they are carrying your team in batting average or on-base percentage.
On the other end of that spectrum are guys struggling to find the holes in the defense. Some guys you expect to see on that list, while others you do not.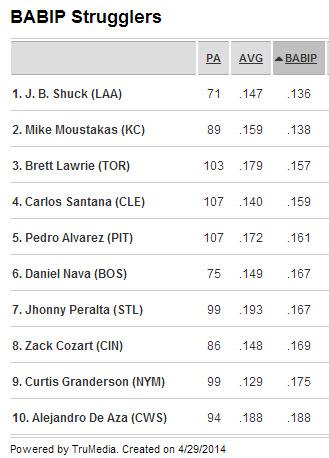 Maybe this list should be renamed, "GO GET THESE GUYS NOW!" OK, don't rush out to get
Zack Cozart
, but you get my point. Each of these guys currently have BABIP's well below their career norms and will get an upswing in batting average in the coming weeks as things normalize. The lowest recent season of a BABIP this poor was 2001 when Mark McGwire had a .171 BABIP for the season in 299 plate appearances. He hit 29 homers, but struck out 118 times and hit .187 on the season. He,
Andy LaRoche
,
Jermaine Dye
,
Drew Butera
(UCF!),
Aaron Hill
, and
Willie Harris
are the only players since the league expanded to 30 teams to have a sub .200 BABIP in at least 250 plate appearances. I'll give Cozart good odds to join that list if the Reds give him enough plate appearances, but the rest of the players should be able to avoid that fate.
High Average/High Strikeout Rate?
Hitting at least .300 with a strikeout rate of 25% or higher is a tough thing to do. It has only
been done eight times
in baseball history for players with at least 250 plate appearances in a season. The next season, each player suffered at least an 18-point drop in their batting average.
Carlos Gonzalez
is the most recent player to do so as he hit .302 last season with a 27% strikeout rate. This season, he is hitting .232 over his first 106 plate appearances even though he has dropped his strikeout rate to 22%.
There are seven players that are currently hitting at least .300 with a strikeout rate of at least 25%:
Tyler Flowers - .373
Justin Upton - .330
Jason Kubel - .303
Mike Trout - .327
Mike Napoli - .304
Chris Colabello - .308
Michael Morse - .300
Odds more than Trout are doing so by the All-Star break = 2.0%
Where's the Beef?
The table below shows some notable players that have yet to hit their first home run in 2014, the number of flyballs they have hit this season, and their career home run to flyball ratio:
Let's assume April is complete, so one of the six months is gone. If these players were to hit the same rate of flyballs over the remaining five months AND flyballs became home runs at each player's historical rate the rest of the season…none of them would hit 15 home runs the rest of the way. Hosmer comes the closest at 14, and Venable is next at 12. None of the others would eclipse 10 home runs, but that is still more power than they are producing now. Their home run totals will get better, but if you were looking for a repeat 20-homer season from Schierholtz or for Hosmer to reach that level for the first time in his career, it is unlikely to happen unless their HR/FB fortunes shift in the opposite direction the rest of the way.
Not A Good Mix
The league-wide strikeout rate is 20.8% this season and the league-wide Chase% (chasing pitches out of the zone) is 27.8%. When we find a player who has a high strikeout rate and a low Chase%, we have someone that is struggling to make contact in the strike zone. It is one thing to get yourself into trouble chasing pitches out of the zone, but if you are striking out at a high rate on pitches in the strike zone, you are in trouble over the long-term. Here are some players doing exactly that:
On that list, Almonte is the most concerning because he is striking out well above league-average despite not chasing pitches. Seattle is playing him every day, hitting him leadoff nearly every day, and he is hitting .204/.250/.306. It is no wonder they have one of the worst records in baseball. If Seattle had a better option, Almonte would be out of the lineup, but they do not have a very athletic outfield so he is stuck playing a lot more often than he should. He currently leads all of baseball with 36 strikeouts in just 98 at-bats. Needless to say, sis days as an everyday player are numbered.
Next time, we'll take a look at the pitching oddities and how they are happening. Lord knows there are plenty to look at there!