Carlos Santana
is one of the biggest fantasy disappointments in 2014. The consensus top-50 pick is currently hitting .176/.340/.321 as we reach mid-June, but he's showing some signs of statistical life.
Jensen Lewis
made a
rather emphatic plea
for owners to pick up Santana:
Marinate on this: Santana has struck out 48 times, yet walked 47 times in 2014. Typical star-power hitters don't have near that kind of plate discipline. Many fantasy GMs are sitting at the end of May scratching their heads, wondering about Santana and the "power-outage" he's experienced early on this season. I'm here to tell you that you're in for quite the second half run. In his young major league career, CSan reached 20 HR's 2 of his first 3 full seasons, while driving in 74+ RBI's each year. His K/BB ratio is ridiculously good for a middle-of-the-order bat (110/93 in '13, 101/91 in '12). His career OPS is .798 and all of these numbers lead me to warn you all in advance: if you can get your hands on him, GET HIM. The Tribe will be in the thick of the division and wild card races all the way to the end of the season. Carlos Santana will be a central figure in their success.
Jensen is onto something here...
Santana's season has been disturbed by two events - changing positions and a concussion. Making the transition from catcher to the hot corner is not an easy transition and
Justin Morneau
recently showed us how a concussion can linger and affect someone at the plate for a long time.
Before Santana hit the disabled list with a concussion, his numbers were beyond abysmal. He hit .136/.303/.264 and some thought he was just unlucky as he had a .144 batting average on balls in play. It is tough to have that low of a BABIP for even a span of 75 plate appearances, but he had it for 155 plate appearances. While some of it could have been bad luck, the fact of the matter was that Santana was not hitting the ball very hard. Santana had just a 14% line drive rate and 61% of the balls he put into play were hit to his pull side. With such a low line drive rate combined with a low BABIP and a high frequency of pulled balls put into play, one does not even need to watch a game to visualize what Santana's batted balls looked like. This is what the spray chart and batted ball type looked like: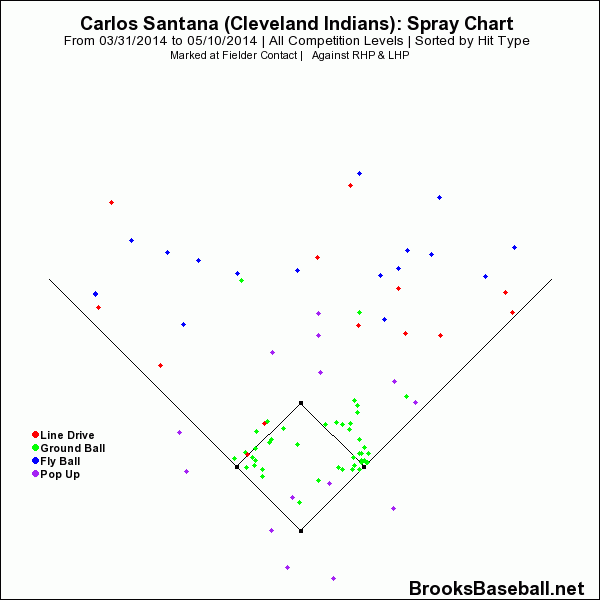 Most of his flyballs were not very deep and a heavy percentage of his batted balls were dead pull groundballs with very little utilization of the middle part of the field. That type of player will be overshifted frequently by teams, which is a huge factor in suppressing a player's batting average on balls in play. In short, it made Santana a three-true outcome player: 20% strikeout rate, 19% walk rate, and an 87% out rate.
Since coming back from the disabled list, Santana's slash line has turned around. His batting average is still low, for him, at .250 but that's a huge improvement over the .136 effort. His on-base percentage is a strong .400 while his slugging percentage is a more respectable .417. The spray chart below shows how his balls in play have been since returning from the disabled list.
Santana's groundballs are not as pull heavy as they were, he is showing more utilization of the middle part of the field, and his flyballs have more distance to him as he makes harder contact. His strikeout rate and his walk rate are nearly identical to what they were before the disabled stint.
Here's the dirty secret - so are pretty much every other one of his indicators.
| | | | | | |
| --- | --- | --- | --- | --- | --- |
| SPLIT | PA | K% | BB% | SWING/MISS | CHASE RATE |
| Pre-DL | 155 | 20.0% | 19.4% | 23.0% | 16.8% |
| Post-DL | 90 | 21.1% | 18.9% | 23.5% | 16.7% |
The old pop in his bat is coming back, while all the while, the strike zone command never left. As Jensen said, the numbers are still ugly enough to suppress his value for those not paying attention to what Santana is doing of late. Buy, Mortimer, buyyyyyyyyyyyy.
Editor's Note: "Collette Calls" will return on a regular weekly schedule during the first week of July.