The Sabermetrics versus Scouting battle is mostly fought by stalwarts these days. Most level-headed folks understand that the two camps are more symbiotic than isolated while talking heads still live on to throw a side under the bus in order to fit narratives.

If you are still one of those who think that you can play fantasy baseball without reading the input of scouts, you're likely not a very successful fantasy player. Admittedly, I thought I could do things based on stats and ignore the clichés that were reported by writers via scouts in days past, but I became a better fantasy player when I listened to EVERYTHING that was out there. If a scout is saying something, listen. Case in point – Michael Brantley.


Michael Brantley
finished 2013 with a career best home-run total (10) and stolen-base total (17) in his third full season in the major leagues. As the "first half" of the season came to a close Sunday, Brantley has hit 15 home runs, stolen 10 bases, driven in 63 runs, scored 63 runs, and has hit .322/.382/.519. He is 27, but this is no age-27 breakout season, as that is junk science. This is simply a player doing extremely well and justifying the contract Cleveland
gave him
this past February.
Where did Brantley's amazing 2014 season come from?
Brantley has a rather simple swing, but it doesn't mean he doesn't keep working on things each year. It helps when
your father is a former major league hitter
. This year, it looks like Brantley has added a little more crouch to his stance while also closing things up a bit. The image on the left is from 2013 and the one on the right shows the stance he's using this season.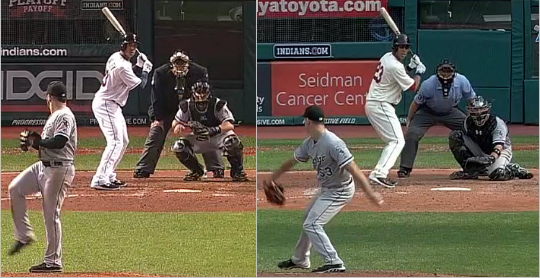 Both images are home runs hit off a lefty, which is a rather rare event for Brantley. He has just six homers against lefties since 2009 in 780 plate appearances, and four of those happened this season. For his career, Brantley has hit righties better slugging .429 against them while slugging just .340 against lefties. This season, he has a career best .450 slugging percentage against lefties and that could be a benefit of staying closed a bit longer against lefties.
His numbers against righties are even more impressive. Over the past five seasons, Brantley hit .286/.337/.408 against righties, but has hit .343/.392/.550 heading into the break. His plate discipline has remained rather consistent, but a noticeable change has been how Brantley is pulling the ball more in 2014 than he has in the past.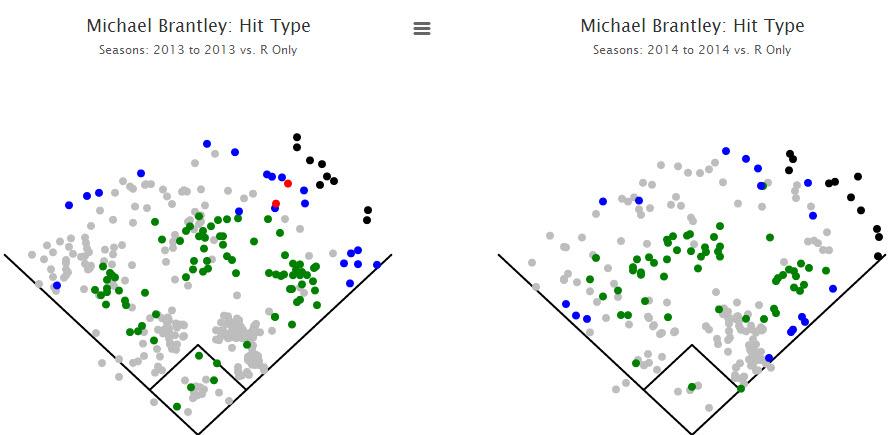 The
actual numbers
back up the spray charts as Brantley has nearly equaled the number of pulled balls in play versus all pitchers this season than he had last season.
While he is hitting the ball harder this season, he is not exactly hitting it much further. According to HitTrackerOnline, Brantley's average home run distance last season was 397.5 feet. This season, that has dropped to 387 feet. That same
data source
credits Brantley with four "just enough" homers meaning that those home runs were fence scrapers that were inches away from being an extra-base hit. That's how a batter's home run to flyball ratio can go from 6.8% to 17.6% the next season. If we were to take those four homers and keep them in the park, Brantley's HR/FB ratio becomes 12.9%.
Dr. Smooth, as Brantley is known in Cleveland, is holding a clinic this season. A tweak in his stance and hitting with pull power has helped the young outfielder flourish in the first year of his new five-year deal. Scouts know a few things, and you would be wise to listen to everything they have to say.