A week ago, Pat Jordan wrote a great piece for Sports on Earth on the "Decline of the Curve". In the article, he covers a number of reasons why the curveball is being used less frequently. This week, I am going to concentrate on a few of the remaining curveball pitchers, those who throw the humpback curve, and overall effectiveness of these pitchers.

While I don't want to repeat all of Jordan's article, a couple points need to established. First, fewer pitchers throw a curve now than in the past for several reasons: the strike zone is smaller, teams discourage using the pitch, the mound is lower, it's easier to learn a slider or cutter, and pitchers don't trust such a slow pitch.

Second, since hitters don't see many pitchers who throw curveballs, let alone good ones, the pitchers who do throw them are at an advantage. It has gotten to the point where the curveball is the new cutter since hitters rarely see it, and it is becoming more effective.

There are basically three variations of the curveball being thrown in the majors. The first one fits the mold for Corey Kluber. It can be identified by its high speed and late break. Jeff Sullivan at FoxSports.com recently examined Kluber and similar curveball pitchers. The second one is the slurve, which is the combination of a slider and curveball. I am going to focus on the final curve, the humpback curve. It is thrown slower and starts higher before diving at the plate. Adam Wainwright's curve is probably the best example as seen here:



Also, here is a nice video on Wainwright going through how he throws the pitch.



Wainwright's curve has a 16.5% swinging strike rate this season. It is just plain nasty. I went searching around the internet to find pitchers who threw curveballs similar to Wainwrights's curve. Eventually, the best way I discovered to find these pitchers was to use a custom leaderboard at FanGraphs.

The key to find the Wainwright clones was to search for pitchers with the highest downward break (CU-Z(pfx) on the table). The break values are set with 0 being the average break on a pitch. Curveballs will then have negative values since they break downward more than the average pitch. Any value less than -8 will indicate a curveball with break near Wainwrights's -9.3 value.

Additionally, pay attention to percent usage. I would only consider pitchers who throw their curve 10% or more of the time. If it is a weapon to get hitters out, it needs to be used regularly. Here are the pitchers who meet the above criteria so far in 2014 (min 20 IP).



The list is filled with some of the biggest 2014 breakouts, Jake Arrieta, Collin McHugh and Tanner Roark. Also, the game's two best pitchers, Clayton Kershaw and Felix Hernandez, are included. Just remember a big curve doesn't just make a pitcher. With the curve, it may break a lot, but it may not be disguised enough to fool the hitter. If the pitcher can't throw strikes to save his life (see Paul Clemens or Nick Masset), the effectiveness of his curve will not matter.

Here are my thoughts on three of the pitchers listed above.

Alex Cobb: He has one of the best curveballs in the game with a 61% GB% and a 13% swing-and-miss percentage. With Cobb, even as good as his curveball performs, it is his second best best pitch to his changeup (64% GB%, 22% swinging strike). I would not be surprised at some point if Cobb gets some amazing infield defense and puts up a Cy Young type season.

Josh Fields: He has all the signs of a great closer except the ERA. He is striking out about a third of the batters he faces while walking only 7.5%. His K%-BB% is 17th in the league. He has just been extremely unlucky with a .355 BABAIP and 56% LOB%. Just to show how sequencing has destroyed him, in August he has allowed seven baserunners, four singles, a double, and two walks. Of those seven baserunners, five have come around to score. Fields has the right process, just bad results.

Jeremy Hellickson: After five starts, he looks like his previous self, only better. While his ERA is a nice shiny 2.03, I like his 2.03 BB/9 better (yep, they are same value). Additionally, he has gone from being a flyball pitcher (38% for career) to an extreme flyball pitcher (31% in 2014). I would not be surprised to see Hellickson follow fellow flyball pitcher Chris Young and have an ERA lower than than his ERA estimators.

---

Well, it is a little too late to jump on the Arrieta or McHugh bandwagon, but new breakouts can be found. Use the link to the above leaderboard, set it for just one month with a minimum innings pitched to 10 and presto, a current set of leaders. Use this information to help find new potential breakout pitchers with a curveball.

A pitcher on the linked list of August pitchers is David Buchanan. He just barely made the list with 11% usage in August (8% for the year). The increase in curveball (and change) usage is because of a decline in the amount of four-seam fastballs he has thrown.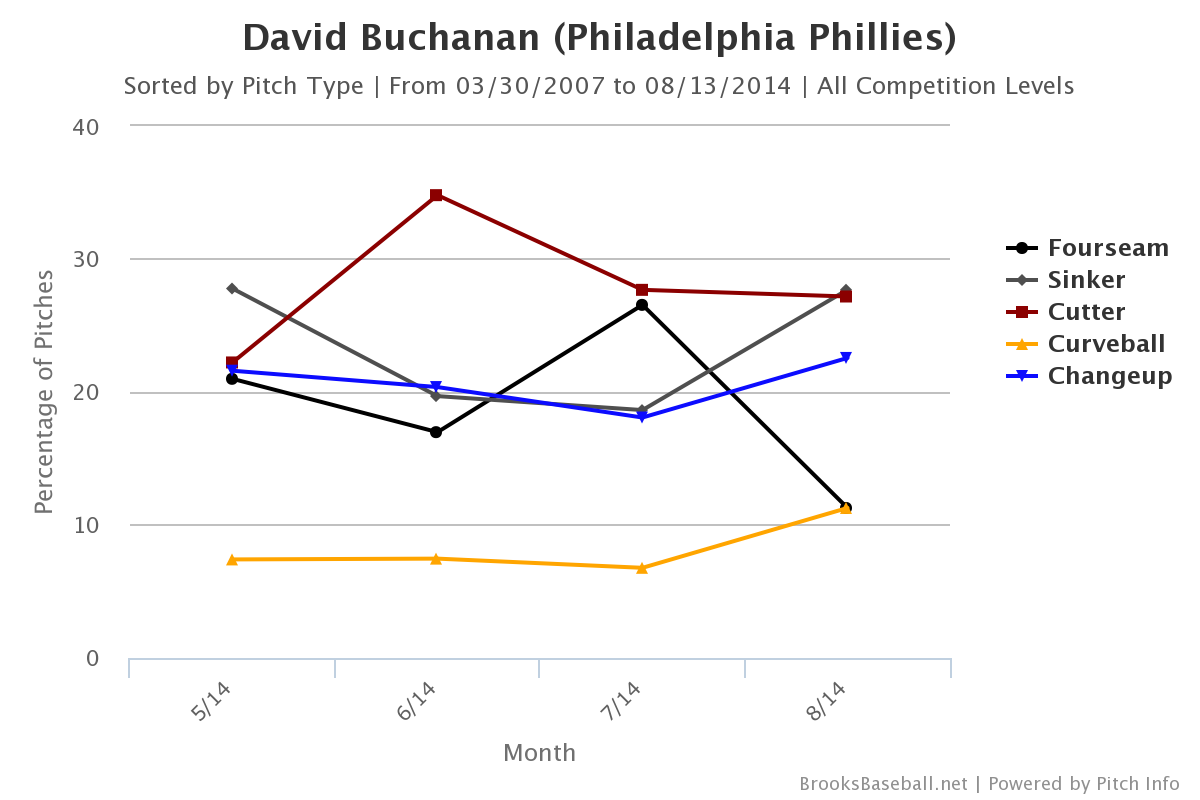 The results have been obviously better:

Month: K%-BB%, GB%
May: 4%, 42%
June: 9%, 49%
July: 12%, 46%
Aug: 17%, 55%

He is beginning to slowly improve his production as the season goes along. His August numbers (small sample size alert) are similar to Brandon McCarthy (17%, 54%) and Jeff Samardzija (16%, 50%).

Now his curveball can't take 100% of the credit. Dropping the four-seamer and moving to the cutter, change and curve are all part of the adjustment. Having a better understanding of what grades out as a good curveball allowed me to look further into pitchers to find the possibility of a breakout for this season, and for 2015.

When looking at pitchers with the biggest downward breaking curveballs in the game, the list is full of good pitchers. Instead, concentrate on some of the lesser known names. This is where pitchers can be found who can help turn your season around. As rosters are expended and the 2015 season begins, use a simple search for big breaking curves to find potential pitchers on the rise.