This is the third annual installment of my AL Bold Predictions post.
I hit .300 in 2015
, getting 10 of the 30 predictions correct as I made a prediction for a hitter and a pitcher from each squad. Last year, I only made a prediction for one player per team, nailing 2 of 15 while coming in the ballpark for another handful of predictions.
The process of doing these predictions began years ago
in a thread
where I said (then) B.J. Upton would go 20/50 and score 100 runs,
Joel Peralta
would save 20 games and
Edwin Encarnacion
would lead the Jays with 34 home runs. That thread was designed as a BOLD predictions thread where you had to put something down the player had never done before. Encarnacion hit 34 homers … divided by two, Peralta saved 14 fewer games than 20, but Upton gave it a fighting chance hitting 23 homers, stealing 36 bases and scoring 82 runs.
I typically wait until after the Tout Wars draft to announce these picks, but given my finish the last two seasons, that strategy clearly is not helping me. Therefore, I will be calling some shots very early out of the gate this year and letting people know where I stand even before Paul Sporer and I participate in the Mixed LABR draft Feb. 13.
While there is safety in making mainstream predictions, these will be more along the bold types.

Baltimore Orioles

The easy path would be to say
Zach Britton
takes a step back down the ladder coming off his amazing 2016 season, but that is not what this piece is about. I'll say that
Kevin Gausman
earns $20 in AL-Only formats in 2017. He earned $11 last year in standard single-league formats, which is not bad considering he opened the season on the disabled list. He made 30 starts and struck out 23 percent of the batters he faced with a 3.61 ERA. Gausman's fastball comes in hot and it helps set up his nasty splitter, but the lack of a third pitch has consistently left him prone to righties who have
hit him hard
throughout his career primarily because he throws 70 percent fastballs against them. Gausman
recently told the local market
he is continuing to work on his curveball and is playing with different shapes on the pitch. The success of that pitch is the final hurdle for him as an effective third pitch against righties will help pull down his damage in a hurry.

Boston Red Sox

In 2015,
Tyler Thornburg
was a disaster at -$17. 2016 saw him drop the minus as he moved from the rotation to the pen, winning 8 games and saving 13 for the Brewers. In 2017, he will once again produce a double-digit positive dollar value out of the pen. He will be used in many high-leverage situations with his nasty swing and miss stuff to set up Kimbrel or step in for him should the closer have another injury flare-up as he did last season. There is not going to be much room to take Boston players for profit this year with their stacked lineup unless you buy in on
Pablo Sandoval
rising from the dead. The reliever volatility should hold down Thornburg's draft day value, but the strikeouts and ratios will allow him to be more profitable than many starting pitchers taken late in drafts.

Chicago White Sox

The beauty of teams in a rebuild is that they let their kids play. There are a few vets on this team who might not be there for much longer. I love
Nate Jones
from a skills point of view, but he is still very much blocked by
David Robertson
. However,
Tim Anderson
is blocked by nobody and that is why he is my pick to click in 2017. He held his own in his rookie debut despite little time in Triple-A to prepare. His plate discipline was horrendous, but he has made that work throughout his minor league career and the higher strikeout rate can be somewhat written off to being a rookie and seeing that ungodly breaking stuff and exploding sliders Crash Davis mentioned in Bull Durham. Anderson has the wheels to run as he stole 49 bags in Double-A and 21 over all of 2016 with 13 homers. The batting average is going to be closer to the .265-.270 range this season, but I think he goes at least 15/20-plus in homers and steals with at least 75 runs scored.

Cleveland Indians

Tyler Naquin
ends up back in Columbus before the All-Star Break. That's a bold prediction for a rookie who debuted with a .296/.372/.514 line, but I have a few concerns with him. Even though he was set up for success in platoon situations, he struck out 31 percent of the time. He changed things up and went for power and saw his HR/FB ratio end up at 22 percent and his BABIP at a more amazing .411 by season's end. There is a lot of regression built in there with those rates and it is not like his defense is going to demand he stay on the roster because the metrics are not kind to his fielding efforts.
Bradley Zimmer
is not far off and could make this a battle in Arizona the next two months.

Detroit Tigers

This is honestly a tough team to make a prediction with because it is so laden with veterans. I could say any one of them show their age, or that
Nick Castellanos
takes the next step. Instead, I'll go bold and predict
Steven Moya
hits at least 15 homers. That would triple his career totals in the big leagues, which all came last year in 100 plate appearances. He has to get enough playing time to do that, which is tough to do in a lineup full of vets. Vets also get injured, so an opportunity could come about for him or a trade of
J.D. Martinez
opens up a spot as well. Moya is teetering on the Quad-A cliff as someone who continues to hit for big power in the upper levels but struggles to put the barrel on the ball in the majors as he has struck out in 50 of his 120 major league plate appearances.

Houston Astros

There is so much to like in Houston in 2017 that is tough to pick just one. I love
Alex Bregman
if he hits up in the lineup and dislike
Evan Gattis
the more he plays because power gains will be offset by a big drop in batting average.
Last week, I said
why I liked
Yulieski Gurriel
so I won't repurpose that here, so I will instead say that
Ken Giles
is the most valuable AL Closer in 2017 by R$. Yes, he got off to a disastrous start that ultimately cost him the full-time job, but by season's end, his strikeout rate was better than ever and he had gotten over the gopheritis that plagued him in April. From May 1 on, Giles struck out 38 percent of the batters he faced, held the rest to a .208 batting average and allowed four homers in 234 batters faced. One bad month skewed his value and now presents a buying opportunity. He is 10th by ADP for closers in NFBC with an ADP of 100 and going 40-50 picks after Chapman, Jansen and Britton.

Kansas City Royals

I just can't quit Nate Karns. I loved the growth of his changeup when he was with Tampa Bay in 2015. Despite the growth in that pitch to go along with his fastball and curve, he was sent to Seattle for
Brad Miller
and
Danny Farquhar
. The move to Seattle was a step backward in performance and he was shipped to Kansas City in the offseason where he will try to put it together again. FanGraphs' Eno Sarris
did a terrific job
in showing what affected Karns – mainly that his fastball lost life which affected his changeup. It appears as if Karns was struggling with health, mainly with a back strain. If he can get his release point and arm slot back up to where it was in 2015, he should be able to crack the 150 strikeout mark which he has yet to do in his career. Dave Eiland was able to do similar work for other Royals pitchers and as it were, Karns still has a top 30 strikeout rate for starting pitchers the last two seasons. He has the three pitches to succeed and work deeper into games, but needs to get and stay healthy to make it all work. If he can do that, a 3.50 ERA, a 10-plus win season and 150 strikeouts are attainable in Kansas City.

Los Angeles Angels

I know I have picked a lot of pitchers already, but I dare you to find one Angels hitter worth writing up. They're either deity, terminators or dead weight. Meanwhile,
Matt Shoemaker
showed us something last year that does not show up in his nine-win 3.88 ERA season. He has a 4.45 ERA and a 1.32 WHIP in the first half while posting a 3.00 ERA and a 1.12 WHIP in the second half of the season. The adjustment he made in season was that he realized he could not live off his fastball and started using his splitter as his primary pitch and threw it a ton until his season ended in September with a liner off his head.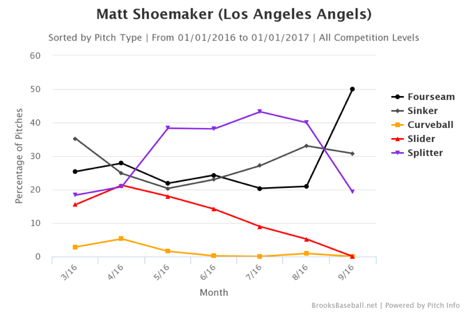 He earned $12 in 2014 when he was given a win in 16 of the 27 games in which he pitched with solid ratios. 2015 and 2016 were not as fortunate, but the second half adjustment put him back in line skills-wise with where he was in 2014. Good strikeouts, few walks, and if he keeps the ball in the yard, he gets back to double-digit R$ in 2017. I say he earns at least $12 again whereas he was $9 last year.

Minnesota Twins

Sometimes we fantasy analysts get accused of watching more spreadsheets than we do games. Poppycock. We watch games to verify what we see in the numbers. Sometimes while watching those games, certain players make an impression on us and for me, that was
Max Kepler
in an early series against Tampa Bay in Minnesota. I attended two of the four games in that series and watched the other two on television. He had a hit in three of the four games, but I was impressed with his tools and his approach at the plate. He had just been recalled from the minors after a late April demotion and went on to hit all 17 of his homers after that recall. He spent the season in the majors while his age peers were in High-A or Double-A and yet had a better than league average walk rate and a league-average strikeout rate. Put me down for at least a .270 batting average and 20 homers.

New York Yankees

Easy prediction:
Gary Sanchez
does not break Barry Bonds's home run record in 2017. Bold, right? In all seriousness, it is the guy behind him in the projected lineup that I like quite a bit.
Matt Holliday
as a full-time DH should rake in 2017. If
Brett Gardner
,
Jacoby Ellsbury
and
Gary Sanchez
do their jobs in front of him, Holliday should have a lot of ducks on the pond to drive in and will not have to worry about plodding in the outfield and becoming injured. He hasn't hit fewer than 20 homers in a full season since 2005 but has also only eclipsed 25 homers once in the last six seasons. That streak ends in 2017 as he hits at least 25 homers, drives in 85-plus runs and plays in 140-plus games. He is 60th in ADP for outfielders, and there is little risk with him in the DH bubble this season.

Oakland Athletics:

I'm
already on record
about why I like
Rajai Davis
in 2017, so I won't repurpose that. I will forever like
Matt Joyce
as long as he doesn't face lefties. Instead, put me down for
Chad Pinder
finishing in the top five for AL Rookie of the Year. Second base is held down by
Jed Lowrie
, but that is on a day-by-day basis depending on his health and that track record is terrible. His 2016 cup of coffee was not pretty, but he can play both spots up the middle and has a decent hitting track record in the minors. He isn't the empty stick that many middle infielders can be.

Seattle Mariners

James Paxton
is going to be a beast for Seattle. Last season, the growth of his cutter, changing his arm slot and a velocity increase all made his stuff play up. He had a career-high strikeout rate, cut his walk rate in half, but some BABIP misfortune and stranding runners led to a 3.79 ERA. Paxton has 18 wins, a 3.43 ERA, a 1.28 WHIP and a 21 percent strikeout rate for his career. I firmly believe he will at least equal all of those totals in 2017. Look at this particular pitch that
Mike Zunino
calls for on the inside black to
Mike Napoli
, who feats on fastballs. The pitch came in at 100, the glove doesn't move, and Napoli is left frozen like a statue.

Tampa Bay Rays

This is honestly a tough one to forecast because the team seems to be stockpiling bargains and will look to maximize platoon advantages. They've already added
Colby Rasmus
to potentially platoon with
Steven Souza
Jr. and may go with a
Nick Franklin
/
Tim Beckham
platoon at second base. That is, unless they go get
Mike Napoli
or
Chris Carter
, which would then shift
Brad Miller
to second base. The dreaded lineup by committee could be present. Fading
Brad Miller
is too easy, but saying
Kevin Kiermaier
will hit 15 homers, steal 25 bags and hit .270 doing so is not because he has never done any of those things. He looked like a changed man in the second half of 2016 on the basepaths stealing 15 bases in 16 attempts and got on base 34 percent of the time. The power flashes at times, and if can start going the other way more frequently with pitches and stop chasing heat up in the zone, the numbers will get better.

Texas Rangers

Elvis Andrus
posted a career-high .362 on base percentage last year but stole a near-career low 24 bases. Now we know why; he
was dealing with a sports hernia
from mid-May on. He said it particularly bothered him running the bases which explains why he attempted only 13 steals despite a .380 OBP in the second half of the season. Andrus has not stolen more than 27 bases since 2013 but that drought ends in 2017 as he steals 30-plus bases and once again scores 90-plus runs as he also did in 2013.

Toronto Blue Jays

Devon Travis
is going to be very good, but
I used him last week
so he is off the board for this article.
Kendrys Morales
was a bad real baseball signing, but I think he is going to work out very well as a fantasy asset. He's been a run producer in Kansas City driving in many of the runners that has been on base in front of him the last two seasons. Now, he will be hitting behind Travis,
Josh Donaldson
and
Jose Bautista
. Those guys do not always clear the bases on their own, but they do know how to get on base at a high rate and that is when Morales shines. He slashed .335/.416/.596 in 2015 with runners in scoring position and .311/.389/.576 last season. He now gets to do that in a park more conducive to power and a division that helps lefty pop. Hitting with runners in scoring position is not a skill as much as it is an opportunity, but Morales has done is very well the last two seasons. If he hits cleanup with those guys in front of him and
Troy Tulowitzki
behind him, he could repeat the 30 homers from 2016 and the 100-plus RBI from 2015. The market does not see it that way as he sits 171 in ADP.