This article is part of our Rebound & Rant series.
Ho-hum, another Pats championship. I guess that was a nice game….just kidding, that game was WICKED AWESOME. Now that football is over, we can fully focus on Hoops. What an excellent time to highlight one of my favorite all-time players, Manute Bol!
Damn, The Warriors Are Good
I know there were some Mark Jackson haters out there, but did anyone really expect Steve Kerr to be this successful in Golden State? If you said "Yes" you are lying. By now, the "should I sell high on Draymond Green?" question has been answered – you should have, but only if you could get top-35 talent. Sure, Green's stats have dipped from his December peak of 11.4 points, 8.9 rebounds, 1.9 blocks, and 2.1 steals per game, but owners have absolutely nothing to gripe about. Even at January's more expected numbers of 10.4 points, 7.8 rebounds, 1.3 blocks and 1.7 steals a game, he's playing at a Per-Game Average Yahoo rank of 52. Pretty good considering his Yahoo ADP of 129.
What's the difference for BDD between December and January? Andrew Bogut. The brittle aussie played only four games in December due to a knee injury. I would argue that another injury to Bogut seems inevitable. Remember, Bogut has averaged only 37 games played per season for his three years by the bay. Now is the time to buy low on Green, before Bogut gets hurt again. Green's 1.4 threes and 1.4 blocks per game are worth giving up major talent for.
Wait, did someone say "blocks"? Did you realize Manute Bol averaged a mind boggling 3.7 blocks per game in the 160 games he played for the Warriors? It's true. And to celebrate that achievement and the awesome season the Warriors are enjoying this year, they had a Manute Bol bobblehead night last Tuesday. The first 10,000 fans got a 10-inch BolBobble. But even cooler, they had a 7-foot-7-inch lifesize Manute Bol bobblehead built for Oracle Arena's main concourse. Dig it, baby:
You can do what @andrewbogut is doing here if you come to Tuesday's #ManuteBobblehead game » http://t.co/nwI1rEDUwBpic.twitter.com/f5yhG0d94X

— Golden St. Warriors (@warriors)

January 26, 2015
Who Needs Big Media Markets?
The Lakers, Sixers and Knicks are horrible, which is news to no one. But miserable, roster demolition teams make for nice free agent pick-ups. With turmoil comes changing lineups and playing opportunity. Exhibit A is
Robert Covington
in Philly, who averaged only 12 minutes per game in November, but is now starting and playing 31+ minutes a night.
Covington should be long-gone in your league, but who is the next Covington? Take a long look at the Lakers' Wayne Ellington. He's been handed the starting shooting guard position now that Kobe Bryant's egomaniac tour is over. And more importantly, Ellington is averaging 15 shot attempts and 35 minutes since Bryant's injury.
The Knicks have revolving doors at both the center and power forward spots. The latest big men to get a chance are Jason Smith (again) and Lou Amundson. Amundson is the real curiosity. Unceremoniously included in the three-team Waiters-Smith-Shumpert deal, Amundson has gone from riding the pine in Cleveland to starting the last seven games for the Knicks. Really, he's starting. His play was rough at first but is now serviceable for deep leagues.
You know, of course, that Manute Bol played three+ seasons with the Sixers? See teammate Charles Barkley have some fun at Manute's expense:
And here are some kick-ass highlights from Manute's first playoff game, starting at center for my beloved Bullets against his future Sixers team. How sweet are those Bullet unis? Bol swats Dr. J, baby. Dig it:
Not A Spur-gasm®©
Even the Championship Spurs lay an egg some nights. Such was the case Saturday when they got beat by 20 at home to the Clippers. Pop was not happy with the effort, and headed towards the locker a tad early, presumably to prepare a boisterous "get-your-sh*t" together halftime rant for the squad. Unfortunately, Boris Diaw's full-court shot went a little off the mark:
This is my annual warning to sell high on whichever Spurs you have on your roster before you get into the fantasy playoff time period. Expect coach Pop to rest his main guys yet again before they hit the real playoffs. This will drive you insane as you try to win your title.
How About a Holy Handoff?
FYI, here is hands down the best Super Bowl tweet from an NBA Player. Well said, Elfrid, and I am not a religious man:
Jesus Himself the only person that would have kept me from giving marshawn lynch the ball and He would have had to come down and tell me.

— elfrid payton (@elfrid)

February 2, 2015
I know I've referenced Manute Bol here as a Warrior and Sixer, but he'll always, ALWAYS be a Washington Bullet in my heart. Bol played 241 games for Washington (215 for Philly, 160 for GSW, and oddly eight for Miami,
per Basketball-Reference
). Manute may have reached his entertaining best when sharing the floor with the 5-3 Muggsy Bogues. This picture is pretty much all you need to know about the late 80's Bullets: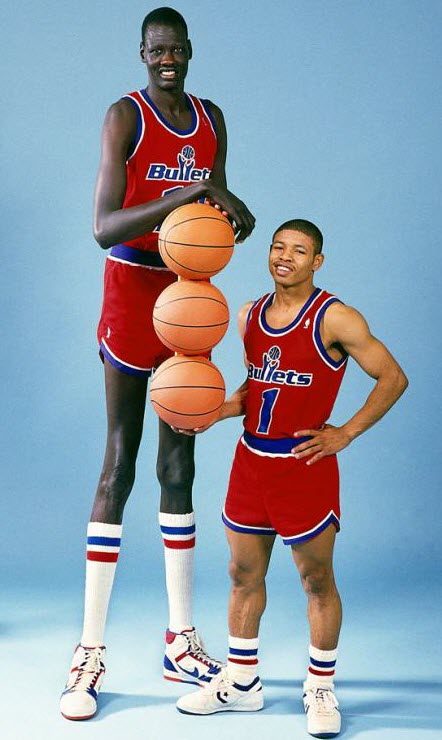 Peace out!