This article is part of our NBA Draft Kit series.
Earlier this week, I took part in an NFBKC Main Event Draft. Perennially, this is one of my favorite leagues to play in, and it's easily the most competitive. As always, the draft was rigorous, and with a field this strong it's difficult to ever truly feel like you're getting great value.
With that said, I emerged from the draft with a team I feel at least semi-not-horrible about. Here's how the 12-team, 16-round draft played out: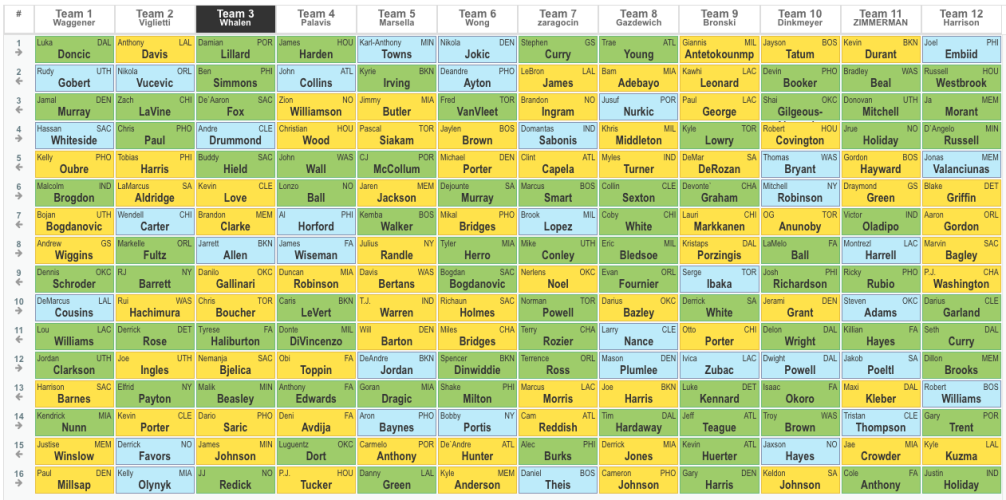 As you can see, I had an opportunity to grab James Harden at No. 3 – a major rarity over the last half-decade. I knew passing on Harden would be risky, but keep in mind that The Photo from Tuesday's preseason game had surfaced on Twitter mere minutes before the draft began. I was already iffy on Harden for a number of reasons, and that sealed the deal.
Is there a chance passing on Harden blows up in my face? Absolutely. Despite cosplaying as Rick Ross, Harden looked pretty good in his debut. No matter what shape he's in, Harden is always going to get his numbers when he's on the floor. But for me, the situation in Houston is a bit too combustible. I don't know if Harden would go as far as to sit out games as some sort of protest, but it's definitely in play. And if his wish is granted and he's dealt to Brooklyn or Philadelphia, he'll no longer be the one-man show that's pushed him to the top of the fantasy basketball mountain.
With all of those thoughts in mind, I passed on Harden and took one of the most durable and dependable players in fantasy basketball. No one is claiming Lillard's ceiling is as high as peak-Harden's, but in a high-stakes contest, I wanted to lock up a player I could trust.
The rest of the first round played out as expected, though LeBron James tumbling all the way down to 18 was a relative surprise. With my second pick at 22 overall, I was really hoping to land Bam Adebayo or Deandre Ayton, both of whom came off the board midway through Round 2. I settled for Ben Simmons, hoping I could offset his two major deficiencies (FT%, 3PM) with Lillard's strengths.
I'm OK with the Simmons pick, but in a third-round-reversal league, I wish I would've targeted a big man. It would've been a slight reach to grab Jusuf Nurkic at 22, but he's the player I really wanted.
In Round 3, I went with yet another guard in De'Aaron Fox. At that point, I felt like he was the best value on the board and could help me secure some steals and more assists. Entering Round 4, I was the only manager who hadn't taken a frontcourt player, so I knew I had to look for a forward or, preferably, a center. Figuring I already had one major drag on free throw percentage in Simmons, I opted to double-down and add Drummond. Perhaps I was overcompensating, but I took Buddy Hield in Round 5 to keep me afloat in three-pointers.
After grabbing another high-volume three-point shooter in Round 6 (Kevin Love), I was thrilled to get Brandon Clarke in the seventh. Ultimately, I'm not sure how high Clarke's NBA ceiling might be, but the Grizzlies made virtually no roster improvements this offseason, and Clarke should walk into a starting spot with Jaren Jackson Jr. sidelined to begin the year.
In need of a second center, I went with Jarrett Allen in Round 8. At 87th overall, I knew Allen might be a slight reach, but I'm banking on the Nets eventually coming to terms with the fact that DeAndre Jordan is not the answer. We'll see about that one. With that pick, I also considered Kristaps Porzingis but ultimately deemed it too much of a risk. Porzingis will probably miss less than a month to begin the season, but he's a virtual lock to sit back-to-backs, in addition to whatever other minor injuries pop up throughout the season.
After snagging Danilo Gallinari in Round 9, I took some chances with my next few picks. I took Chris Boucher in the 10th, banking on him usurping the starting job from Aron Baynes at some point. In the 11th, I took Tyrese Haliburton, the rookie I'm highest on, fantasy-wise, this season (with the possible exception of James Wiseman). Killian Hayes came off the board earlier in Round 11, and LaMelo Ball (a stay-away for me) was gone in Round 8, so I felt plenty comfortable rolling the dice with a rookie.
In the 12th round, I took Nemanja Bjelica. Not really sure why I did it, and it wasn't until after the draft that I realized I'd built an accidental Kings stack. Usually not a great sign.
Late in the draft, I locked up some scoring (Malik Beasley) and took chances on Dario Saric (a decent stopgap for a week), James Johnson (look, you never know) and J.J. Redick, just in case he has a career year at age 36.
All in all, it was far from a perfect draft. Taking Simmons and Drummond with two of my top four picks was not the plan, but in a league like this one, nothing ever plays out exactly like you hope it will. As always, I'm cautiously optimistic. If I'm being honest, though, I don't look at my team and think I came away with the best roster. Navigating free throws and threes is going to be an uphill battle, but if there's one thing I'm happy with, it's that I was able to successfully avoid most of the league's riskier players. Outside of Love, I mostly steered clear of players with concerning injury histories or those I felt would be at an elevated risk of load-managing in a condensed season.
Here's the full roster breakdown: