For the past three years, the editors of Basketball Reference have published the results of what they call the Simple Projection System (SPS). Based off of Tom Tango's Marcel projections for baseball, the SPS is -- again, just like Marcel -- "the most basic forecasting system you can have, that uses as little intelligence as possible."

Basically, all it entails is using a player's past performance, with the most recent year weighted most heavily, to project the next season's stats. There's absolutely zero editing or modification. The idea isn't to produce accurate projections, but just to establish a baseline of performance for a player. The result -- the per-36 minute lines for about 450 players -- does roughly that. (See the 2010-11 projections here).

Because, again, the point is merely to establish a baseline of performance -- what a player would produce if he showed entirely generic aging trends, basically -- the SPS numbers can be helpful for understanding how a player has improved or declined beyond what we might otherwise expect.

Now 60-plus games into the NBA season, we have a considerable amount of data for comparing the SPS projections to the actual stat lines that actual NBA-ers have posted.

Which players have surpassed their per-36 numbers? Which players have failed to reach same?

To answer those questions, I subtracted the 2010-11 SPS projections from actual per-36 averages of players in six different categories: points, rebounds, assists, threes made, steals, and blocks. The result from this is the raw differences in those same six categories. To make those differences relevant to fantasy play, I divided the result in each category by the standard deviation for all NBA players in the category (a concept I discussed more deeply in mid-January). Averaging together the six results of that, I was able to get a sense of who's improved and declined beyond expectations.

Here are the most improved fantasy players by this measure (300-plus minutes):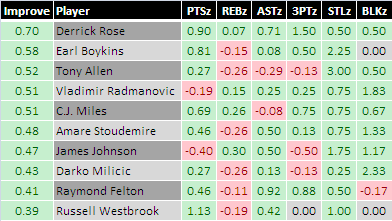 Here are the worst decliners: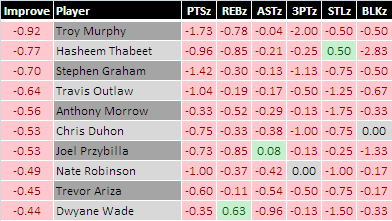 Notes:

• After Dwyane Wade at 10th, teammate LeBron James is 14th among the laggards and Chris Bosh is in the mid-20s (out of 300 or so qualifiers).

• Derrick Rose has improved beyond expectations in every category -- and improved by at least half a standard in five of the six categories.

• One way to play below expectaions is to become a Net, apparently. Anthony Morrow, Troy Murphy, and Travis Outlaw: all joined the team in the offseason, and seriously underperformed their historical numbers on a per-minute basis.