As we near the end of the basketball -- and, therefore, fantasy basketball -- season, it's not entirely improper to cast our gaze ahead to the next season. Even if we don't memorize the profile of every player in the league, it's a good practice to assess how things have changed from the beginning of the season, so that we might, as it were, "recalibrate" our understanding of the player pool available to us as fantasy owners.

To that end, I've decided, for this revolutionary edition of the Nerd Alert, to look at players who make the jump as role players in one season to regular contributors in the next. Using numbers alone (sans context) to assess such a thing is far from perfect so far as methodology goes, but so long as we recognize the limitations of same and temper our conclusions accordingly, there's no shame in this particular game.

For the sake of the present article, I've defined "part time" as players who average 15 or fewer minutes and "regular" as players who average 25 and more. For each of the last five full seasons (2004-05 through 2009-10), I found the players who jumped from these part-time to regular roles, and found the differences from one year to the next in the eight most common fantasy categories.

Below are (a) my findings and (b) some wandering ruminations on same.

• The first discovery is probably the most surprising one. As I set out to isolate this population of players -- i.e. the ones jumping from part- to full-time roles -- I assumed that something like 20 or 30 players each year would meet the criteria outlined above. In fact, this wasn't the case at all. Rather only 23 players over the last five years have met this criteria. That's fewer than five player per season.

• Because there are so few, I'll actually include them all here. Below you'll find the 23 players who've played fewer than 15 minutes per game in one season and then more than 25 per game the next. The "year" in question is the latter of those two seasons (the 25-plus one). The numbers are the per-36-minute stats in the latter season minus the per-36 numbers in the former. (So, for example, Kevin Martin played more than 25 minutes per in the 2005-06 season after averaging fewer than 15 in 2004-05. He scored 4.2 more points per 36 minutes in 2005-06 than the previous season, but average 0.3 fewer steals.)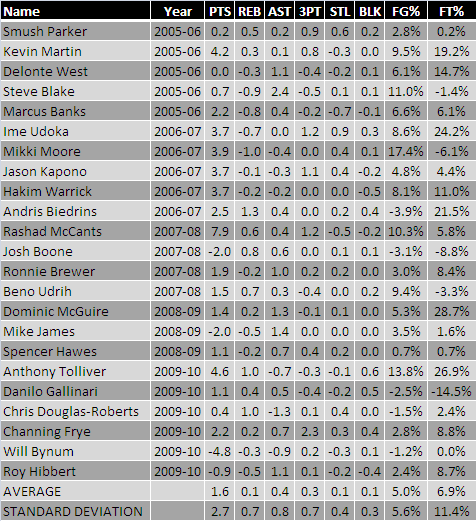 • The averages (and standard deviations) you see at the bottom of that list are helpful. One sees there that players who are promoted to something like a full-time role are likely to improve, on a per-minute basis, across the board.

On the one hand, this might be surprising: it's generally the case that a player's efficiency decreases as his usage increases. On the other, it's likely that these players received more playing time precisely because they're producing more. (If you're wondering, it's true: this is precisely what Churchill when he invoked the "riddle wrapped in a mystery inside an enigma.")

• Going back to the first bullet, it makes sense to ask why there are so few players who make the jump in question. To this, there's no easy answer, although something along the lines of "pedigree" might be the easiest explanation. Smush Parker (Fordham), Kevin Martin (Western Carolina), Ime Udoka (Portland State): these are players who weren't necessarily given the benefit of the doubt coming out of college.

• A natural question is this one: who might we see making the jump next year to something like a full-time role? Again, it's not an easy question to answer, depending to a great degree on roster construction, coaching staff, etc; however, there are certainly some players who fantasy owners would like to see getting more playing time in 2011-12.

Here are three such players:

Player: Marreese Speights, PHI
Comments: Speights averages a double-double (16.8 points, 10.5 rebounds) for every 36 minutes played. In addition to a 50.0 FG%, he also shoots 75.8% from the line for his career -- an excellent rate for a big.

Player: Patrick Mills, POR
Comments: Only 22, Mills has shown skills that could certainly make him a rosterable point guard, given ample playing time. Per 36 this season, Mills is averaging 15.7 points, 5.5 assists, 1.9 threes, and 1.3 steals. The percentages are only the low side and will be the thing to watch going forward.

Player: Brandan Wright, NJ
Comments: Picking Wright is actually cheating a little, as he averaged 17.6 minutes per game back in 2008-09. For his career, though, he average 15.9 points, 8.5 rebounds, and 2.0 blocks per 36 minutes. His 54.7 FG% is also pretty attractive.