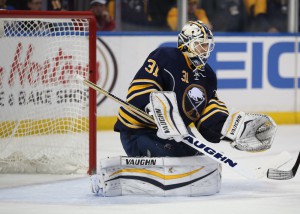 Do you find yourself bottom feeding your league standings with the Holiday Break coming upon us?
You are in luck. Lew is in the holiday spirit and in a giving mood!
Every night this week, I will "gift" you a player who can turn that season around toward the playoffs! Five nights -- five positions: Goalie, Defenseman, Left Winger, Right Winger, and Center.
Be forewarned. These picks are not for the feint of heart. These picks are--most likely available-- high risk reward picks--to lift your fantasy hopes for the New Year!
One player per position. Please add your own suggestions and comments at the end of the article! No time for trades here either. These "gift picks" are based on their likely immediate availability on most free agent wires.
Ready to unwrap?
Your first "player present" of the five positions is arguably the most important on your new roster...Goalie. You want to be "that guy" at the end of the year that has the goalie that nobody else in your league had the guts to pull the trigger on. A Devan Dubnyk gift if you will ...
Lew's Clues goalie gift to you:
Chad Johnson: The Sabres seem to have found their number one goalie for this year to compliment a feisty team that is maturing ahead of schedule. Johnson has posted a 1.71 Goals Against Average in the past two months. While one official shutout is on Chad's stat sheet; he has taken three games to a shoot-out with the scored knotted at 0-0 earning him three "fantasy shutouts." Don't laugh too hard or scoff indignantly. With Johnson between the pipes, the Sabres have defeated the likes of Tampa Bay, Detroit, Arizona, Philadelphia, and Nashville. Alright, the aforementioned teams are certainly not the powerhouses of the league. However, they are certainly the middle of the road teams that make up the majority of any team's schedule. Not many would have expected the Sabres to have consistently beaten middle of the pack teams as well as the bottom feeders such as Carolina and Toronto. Now, the Sabres are competing with the big dogs.
Johnson's most recent 0-0 shootout loss to the Chicago Blackhawks may become your newly acquired goalie wins entering 2016.
Return tomorrow for your second gift pick of 2015.
Happy Holidays and Happy New Year from Eric Lewandowski -- Lew's Clues.