We had our annual League of Alternative Baseball Reality (LABR) AL draft last night - a 12-team 5 x 5 league with standard 23-man active rosters and six reserves. Click on the grid below for the full results: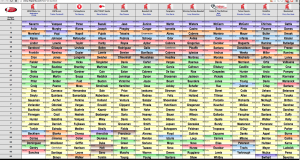 My plan going into the auction was simple: Buy a discounted-due-to-his-foot-injury Miguel Cabrera at $31-$34, get a lot of Yankees and Orioles bats, particularly Brian McCann, Matt Wieters and Manny Machado, and get Chris Sale who I figured would be unduly discounted (about $21) due to his ankle injury. I also wanted to get Prince Fielder for $25-$27-ish, and everything else would fall into place later.
But that's not entirely how things went down:
For starters, Cabrera was the second player out, and I went to $32 on him immediately. Larry Schechter went to $33, I went to $34, and when Larry said $35, I didn't have a sense of relative values yet. (I don't typically do rigid dollar values for these auctions, preferring instead to rely on my historical knowledge of player prices and value players relative to one another.) Even though I love Cabrera this year, $36 seemed close to retail, and I narrowly let it go, while knowing the lynchpin of my strategy was off the board. Fifteen nominations later, When Sale went for $25 and Machado for $21, I officially had no strategy - and no players.
That was okay as long as I were able to buy 3-4 expensive players around market value to make sure I got money off the table, and hopefully I'd save enough for the end game where there were likely to be a few bargains given the higher-than-expected prices at the top. So I went in on Jacoby Ellsbury at $30. Someone said $31, and I held my nose and went to $32. But Glenn Colton and Rick Wolf bid him to $33. Another quasi-target to cross off the list. I went to $32 on Jose Bautista. He also went for $33.
I guess I wasn't getting any stars then, but that's okay in an AL-only league. Moreover, with all the overspending at the top, there were almost sure to be bargains as the auction went on. But 40 players in, I still didn't have a single player. Finally, Kyle Seager came up, and I went to $24, not expecting to get him after Evan Longoria (essentially Seager without the steals) went for $28. It stuck, and I thought, "Okay, here come the bargains!" But I was wrong.
Jason Kipnis went for $27, Carlos Carrasco for $20, Alex Cobb for $23 and finally my other big target, Prince Fielder, came up as the 57th nomination. I went to $27, happy to get a big power bat for roughly market value and spend some money, but Shawn Childs and Greg Ambrosius went to $28. I said $29, figuring I'd overpay slightly for one of my guys, but Shawn said $30, and that was that.
We were now 57 players in, and I had Kyle Seager and $236 left. While I bought the next player up, David Ortiz, for $23 (I was fine with the price, but it's never good to clog your utility so early in an auction - more on that later) my only resort was to exercise excruciating restraint the rest of the way, waiting for bargains on players the room didn't want or who came up after everyone was too broke to fight for them. I had to walk a fine line that entailed letting players who were market value or higher go, but making sure I spent all $260 of my budget on a dwindling talent pool. Because while it's great to buy 10 $10 players for $5 each, if you buy 23 $10 ones for $5 each, you have the most cost effective roster in league, but you've gotten $230 worth of value for your $260 while leaving $145 on the table you don't get to take with you.
But at least I had Ortiz now and $213 left, and I expected to get heavily into the fray over the next couple nomination orbits. Wrong again.
McCann went for $19, Wieters for $18, Dustin Pedroia for $22 and Elvis Andrus for $20. I was in all of them, but forcing the issue would squander whatever chance I had to recoup profits later. After 100 players were off the board I still had only Seager, Ortiz and $213 in cash. I had my Twitter mentions open, and people were starting to wonder:
I am a bit late to the party but what is @Chris_Liss doing? #LABRpic.twitter.com/PsDzAfvQSc

— Daily Fantasy Sports (@DFSLinks) March 8, 2015
We assure you that indeed @Chris_Liss is alive & well at the 2015 AL #LABR draft despite only having two players taken so far....

— Fantasy Sports Radio (@SiriusXMFantasy) March 8, 2015
@lawrmichaels@Chris_Liss - At first I thought he might still be stuck in Santa Barbara.

— Jeff Erickson (@Jeff_Erickson) March 8, 2015
@ctmbaseball@Chris_Liss Almost ways ends in disaster, better start yelling out numbers

— Steve Giufre (@bucky104) March 8, 2015
@byrkesestok@Chris_Liss It's possible. It's a very fine line you have to walk to play the way he is now. If done right, it can be deadly

— Derek Carty (@DerekCarty) March 8, 2015
I bought the 101st player out in Koji Uehara for $17, in my opinion a better value than the overpriced mediocre closers who had gone ahead of him, my "ace" Colin McHugh for $12 at No. 106 and Tyler Flowers for $7, Joe Nathan for $8, Adam LaRoche for $20, Jose Ramirez for $8 and Phil Hughes for $13 all in the next 20 nominations. Yes, it was ugly, but I had spent some money, and I still had by far the most left with some remaining targets on the board. We took a break for dinner, and the Sirius XM broadcast guys (Derek VanRiper and Kyle Elfrink) had me explain my thinking (audio).
We resumed 10 minutes later, but I wasn't out of the woods. I was in on Melky Cabrera and Shin-Soo Choo, two of the best players left on the board, but the former went for $19 and the latter for $18, market value in my opinion. I got Alex Gordon for $18, Carlos Beltran for $12, Billy Butler for $13 (filling up my corners), Oswaldo Arcia for $14, Rajai Davis for $12 and Coco Crisp for $11, filling up my outfield. I was down to $48 left for five pitchers, a catcher and two middle infielders, and felt a sense of momentary relief; I had managed to get bargains in most of my lineup and spent enough money.
A moment later, that relief gave way to near panic: wait - I had filled up my entire OF, CI and UT? Who am I going to spend $48 on now when I can't even nominate a 1B, 3B or OF? The pitching had thinned quite a bit, and I was still in jeopardy of leaving serious cash on the table. I needed five pitchers, and so I had to get the best ones left, regardless of what I thought about them. I'd let the market dictate in part who those were and simply go a dollar more, as I was pretty sure no one else was aware of my predicament. As a result I bought four of the six pitchers thrown from nominations 172-177, in Ervin Santana $8, Taijuan Walker $8, James Paxton $10 and Drew Pomeranz $6. Now I was down to $16 for a pitcher, a catcher and two MI, and I knew I'd be able to spend every last cent, leave with my fair share of bargains and be among the leaders in projected at-bats and innings, a big predictor of success in an AL or NL-only league.
Here's my final roster - with reserves:
C: Tyler Flowers $7/Robinson Chirinos $8
1B: Adam LaRoche $20
2B: Jose Ramirez $8
3B: Kyle Seager $24
SS: Brad Miller $4
CI: Billy Butler $12
MI: Stephen Drew $2
OF: Alex Gordon $18/Oswaldo Arcia $14/Carlos Beltran $12/Rajai Davis $12/Coco Crisp $11
UT: David Ortiz $23
P: Phil Hughes $13/Colin McHugh $12/James Paxton $10/Taijuan Walker $8/Ervin Santana $8/Drew Pomeranz $6/JA Happ $2/Koji Uehara $17/Joe Nathan $8
Bench: Alex Meyer/Edward Mujica/Blake Swihart/Mark Appel/Danny Hultzen/Jose Berrios